It's Time to Feel GOOD in Your Clothes!

Develop Your Signature Style and Discover Your Inner Confidence: Transform Your Look with the Youniform Framework™
UNDERSTAND YOUR PERSONAL STYLE, CHOOSE CLOTHES THAT FLATTER YOUR BODY, AND LOOK PUT TOGETHER EVERY DAY
EXPERIENCE THE 3 MONTH STYLE PROGRAM FOR CHRISTIAN WOMEN
to create a new outfit every day.
It's time to discover your personal style so you can look put together every day. Learn how to dress your body type, identify and integrate your unique style into your clothes, create signature looks that suit your lifestyle, and dress for what God's calling you to do.
A style uniform takes the capsule wardrobe concept and ramps it up 10 notches. Developing your own sense of style and repeatable outfits will serve you in every season of life. Forever. There is no set number of items or wardrobe essentials. Style uniforms allow you to save time, look stylish, and be uniquely you. Not to mention, it's easy, logical, and makes your closet into a place full of joy. Be an #outfitrepeater.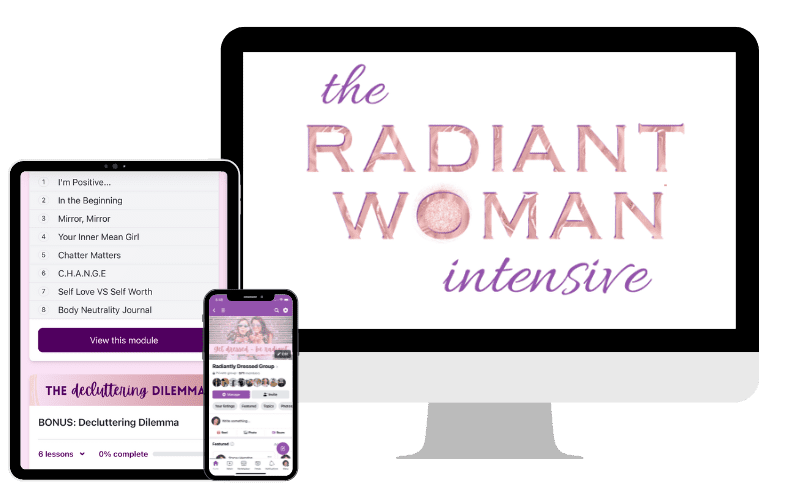 Getting dressed should be easy. It's Not You...
The fashion industry wants you to feel overwhelmed…The reality is that it's financially beneficial for them if you feel unhappy with your wardrobe every day when you open the closet. Influencers and social media compound this problem by showcasing the latest fad, regardless of whether or not it's your style.
At Radiantly Dressed, the goal is that you NEVER have to copy someone else's style. You'll travel a path to discover the colors that make you shine, identify a personal style profile that is genuine and authentic, and develop the tools to build a wardrobe that you love.
I can't state enough how kind, loving, and insightful Stacey has been during the RWI course. She has taught me so much about self-awareness. Before I met Stacey I was wearing all of the wrong colors and dressing for a body that I do not have. I hated getting dressed and shopping for clothes because no matter how hard I tried I didn't look or feel pretty. After spending 12 weeks in the RWI course I now know the colors, and styles to dress myself in and might I say "I like shopping and getting dressed for the day!" Thanks Stacey.
I was so impressed with all the information provided and particularly the depth with which we went into each area of color, shape, style, lifestyle, and then each clothing piece!!! This really helped me to define my shape and style to be able to chose the best clothing styles for me. I was also very impressed with all the bonus lessons on shopping, decluttering, hair and makeup, etc.
Since getting my style uniform nailed down and the clothes that look best on me, I have cleared so much headspace in my life. I no longer feel decision fatigue and the simplicity of a uniform has helped me in finding the time to write my book, which is being published Spring 2023.
The Radiant Woman Intensive is NOW
enrolling for September 2023
JOIN THE SEPTEMBER 2023 GROUP EXPERIENCE
THERE ARE LIMITED SPOTS AVAILABLE EACH SEASON
Video training, LIVE coaching calls, self-discovery, and wardrobe transformation. 60-minute focus calls each week, plus weekday Voxer access when you need immediate help.
The Radiant Woman Intensive was created for
the busy Christian woman who wants to be well dressed to carry out her life calling.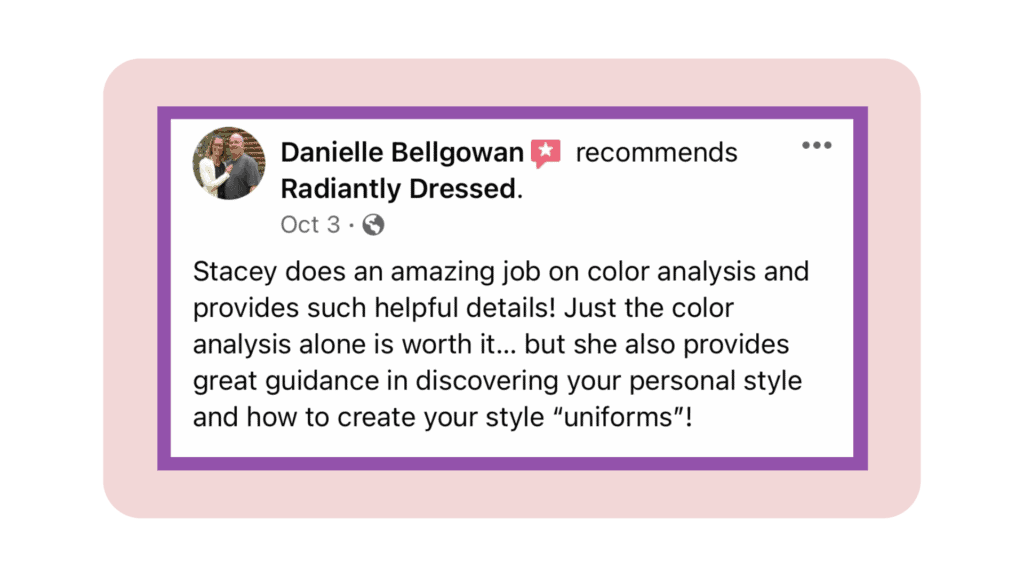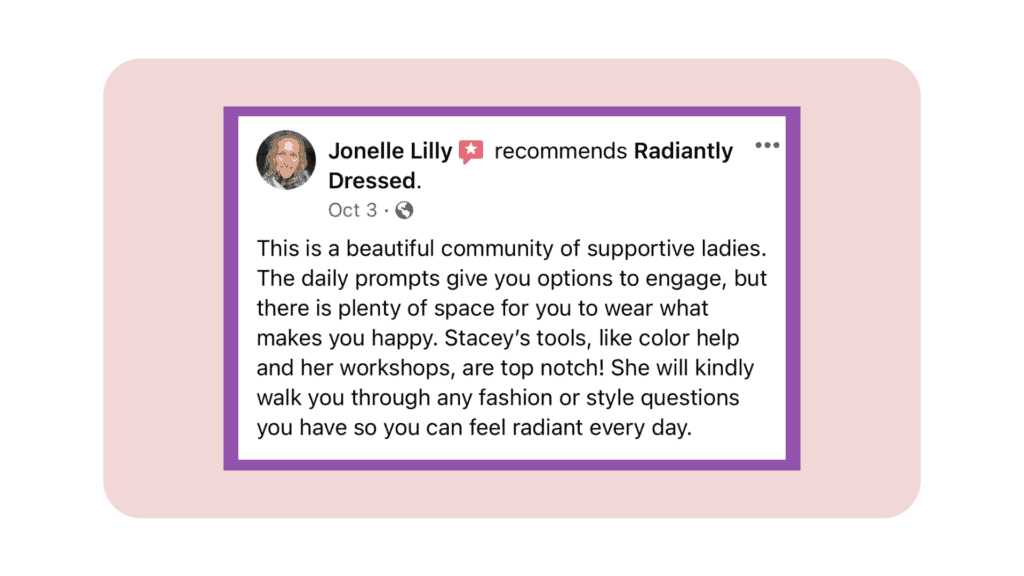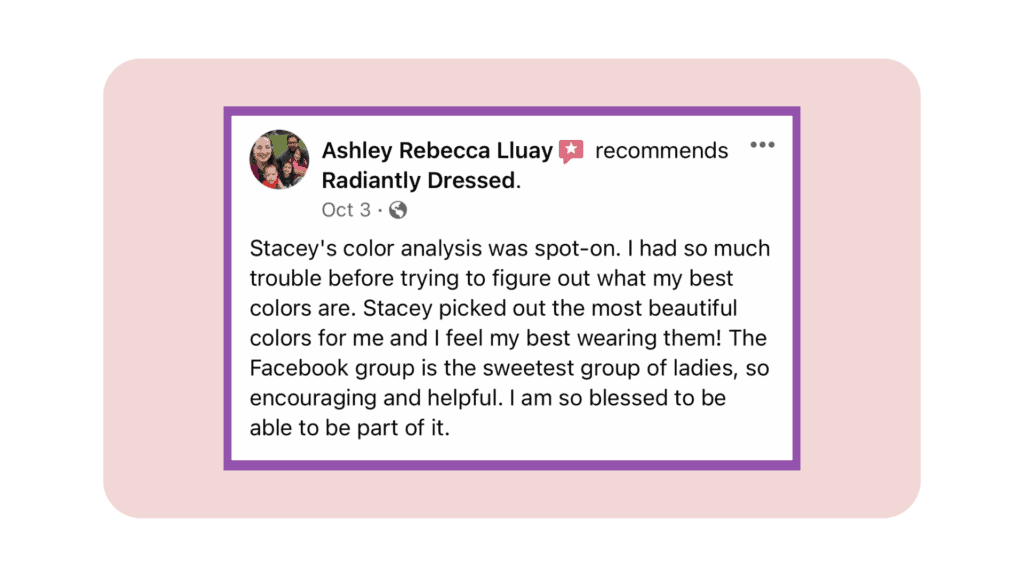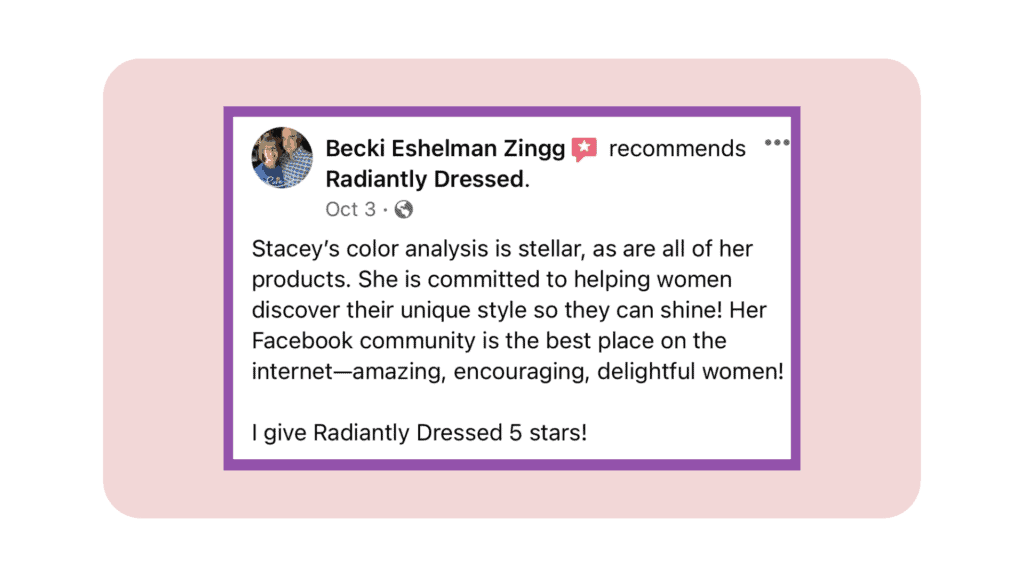 IF YOU'RE READY TO STOP WASTING TIME EVERY DAY DECIDING WHAT TO WEAR, THROWING AWAY MONEY ON THE WRONG CLOTHES, AND NOT BEING AUTHENTIC WITH YOUR WARDROBE
a style uniform is the way to go
Hey there, Radiant Woman!
I know what it feels like to feel like you hate your clothes (or maybe they hate you). To be frustrated with capsule wardrobes and "essential" items that sit in your closet with the tags still on.
I was obsessed with capsule wardrobes way before it was cool. I started during a pregnancy with a naturally small wardrobe and found it easy. But as time went on and fashions changed I found myself carried away into closet chaos and #leggingsforlife.
Desperate to start feeling like myself after back to back babies, I started to contemplate how to create a wardrobe that served me and my full life without being overly complicated. 
I started with a dress, and added a cardigan. Then I bought 3 more dresses and 5 more cardigans and realized I had inadvertently created a uniform. Curious if this could really be a "thing" I did it again when it got cold. Athletic leggings, hooded sweatshirt, puffer vest. 
It was in that moment of clarity that I realized I had actually been doing this my whole life. I had joined the ranks of other highly successful people who decided that the time it took choosing clothes was less important than the impact they were created to have.
I want this simplicity for you. A life of simple choices that make you feel your best and equip you to be the woman you were born to be. 
If you are ready to stop chasing trends and dressing for everyone else, then you are in the right place. I am here for you.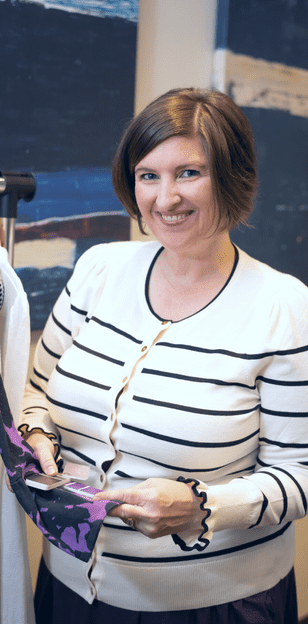 You know your wardrobe shouldn't be complicated or confusing.
Create a style uniform for your life.
It's time to discover your own style, build a wardrobe that's easy, and feel confident every day. You ARE a Radiant Woman.
THE BIBLE MENTIONS BEING "SET APART" OVER 25 TIMES.
WE ARE TO BE DIFFERENT IN EVERY WAY, INCLUDING HOW WE LOOK.