Encouragement and tips to look your best when you're struggling with depression, anxiety, or health issues.
Valley seasons are no fun. It is so hard to be in a difficult place in your life. These valleys can be mental health struggles, physical illness and ongoing sickness, seasons of loss, and various other trials.
Today I want to both encourage you that God sees you in the valley and promises to be with you and give you hope. I'm sharing 7 verses He laid on my heart just this morning for when we go through tribulation.
I'm also providing 4 concrete tips to help you get up, get dressed, and feel good about yourself in these times of trial or illness.
Hey guys, so today I'm gonna be talking about those really hard life seasons, they come in all shapes and sizes, but when you're in a valley, you know it.
Disclaimer: I am not a mental health or medical professional, and my thoughts are merely a reflection of my experience and not in any way to be considered as medical advice or mental health advice of any kind. 
From an experience perspective, I absolutely know this struggle because my body has been betraying me for over a decade now. It's been completely crazy and doing all kinds of things I never expected, through a lot of life seasons.
For a long time, I used to hear people say, "Oh, you should still get dressed. You should still get ready every day even if you're feeling bad. You should still do this for your own well-being, and I've fought it for a really long time. I was the queen of pajama days or "introvert days".
These are days where I would just wear pajamas, often three or four days a week. Lots of pajamas. Lots of dry shampoo.
I still use dry shampoo, even on the good days, but here's the thing…
I still have bad days. The difference now is that I do see how taking a little bit of time and trying to put on some clothes can actually help you to tackle the day. Getting dressed can help you push through that valley that you're experiencing.
Now, I was going to just jump right into my four tips for how to get dressed in these really difficult seasons.
But this morning, as I was in my prayer time, I saw the word tribulation jump out of the page of me, and I thought, Oh God, what else do you have to say? Because this is exactly what I'm talking about this week. What other verses do you have for me…
I found a lot of verses, but I really felt led to these seven that I'm going to share with you first.
Biblical Encouragement for Trials and Tribulation
This morning I was working on Romans 12, and it was a verse 12 that jumped out to me.
"…rejoicing in hope, persevering in tribulation, devoted to prayer… "
What I found so interesting was what came right before and right after that portion about persevering in tribulation. Before tribulation we are encouraged to rejoice in hope, because we do know that trials aren't forever. They are short-term, and we can have hope that something better is coming for us, whether it be in this life or in the life to come.
Also right after tribulation, it says that we should be devoted to prayer. Honestly, I have never been closer to God than when I'm in the middle of a valley. Those prayers are just so heartfelt and so genuine. They feel like these last effort sometimes to make yourself feel better, and they always deliver.
God always delivers that hope and that promise.
This entire passage here in Romans 12 is really full of lots of advice for how we ought to live. It's so full of wisdom, but I just found there was something precious before the tribulation and something really solid afterwards. We can bookend our trials with these two other concepts.
The next verse is Romans, 5:3, which says,
"…And not only this, but we also exalt in our tribulations, knowing that tribulation brings about perseverance."
Didn't we just talk about perseverance in tribulation? We surely did, and here we are again talking about perseverance. When it comes to how you manage your daily activities, consider the small, tiny steps of perseverance that you can do to keep showing up in these really difficult times that you're facing.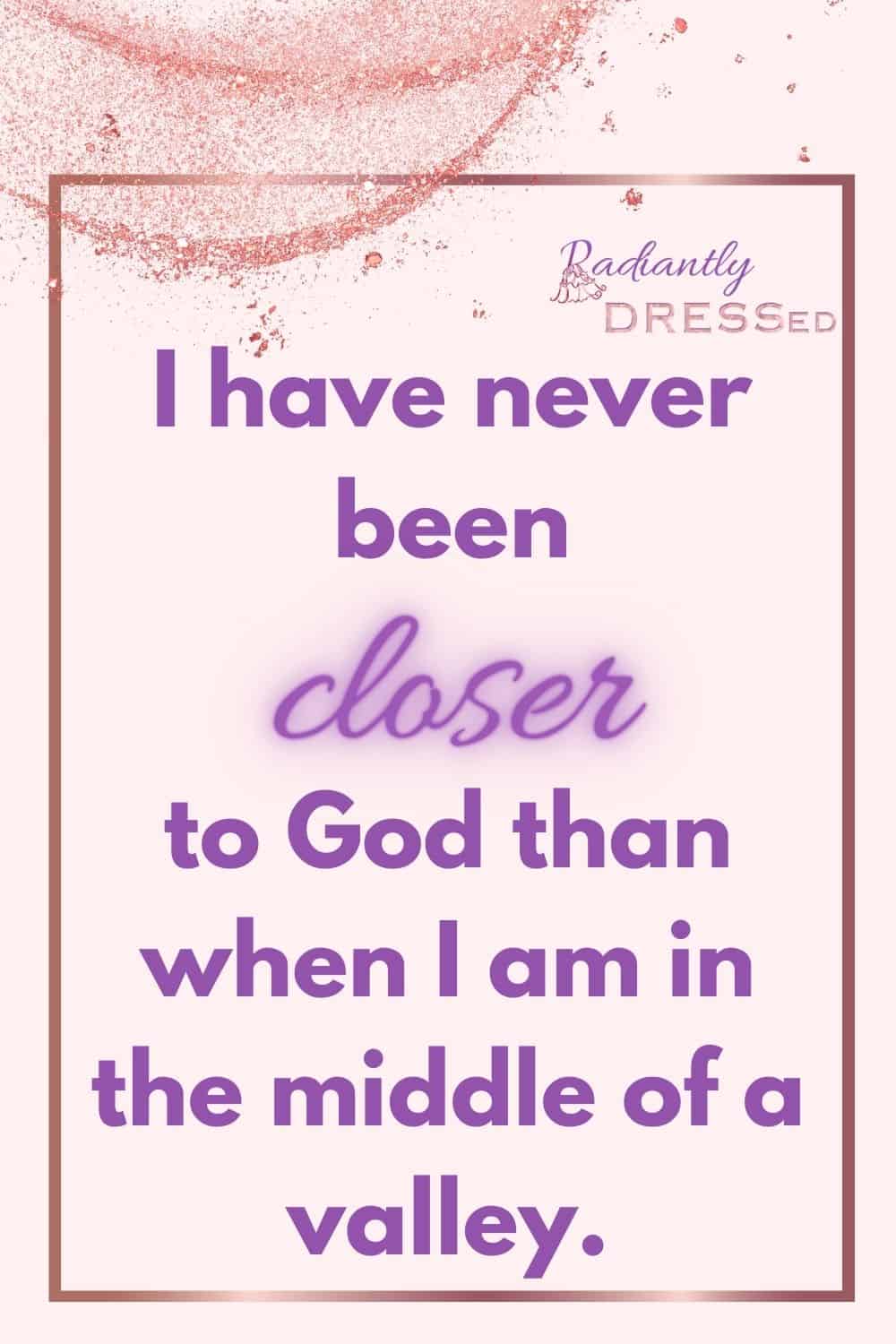 The next verse that I'm sharing with you is another reference to the hope that we can have, in John 16:33:
"These things I have spoken to you, So that in me, you may have peace. In the world, you have tribulation. But take courage. I have overcome the world."
The words of Jesus telling you, you're gonna struggle, you're gonna have trials, and you're gonna have these moments in the valley, but it's okay. You can just keep looking to Jesus and everything is going to be okay. Maybe not today, maybe not tomorrow. And it may be a long time before it's okay, but our hope in him is everlasting!
The next verse shows that we can expect this to happen to us. 1 Peter 4:12 says,
"Beloved, do not be surprised at the fiery ordeal among you, which comes upon you for testing as though some strange thing were happening to you."
Depression, anxiety, deep mental health issues, illness, loss… These are the seasons that will test us in our faith, they will force us to reconcile who we think God is with with who He really is. They're tough, but we can try to embrace them as seasons of growth and change.
I know that the God who loves us cares about everything we're feeling and experiencing.
Heading back into Philippians 4; this chapter is just laden with some good riches. There are actually several verses in Philippians 4:
Verse 7, "the peace of God, which surpasses all comprehension will guard your hearts and your minds in Christ Jesus."
Verse 13, "I can do all things through Him who strengthens me." Side note: that's not all things… You can't do all the things, you can do all the things He's called you to do. But don't try to do all the things just because.
In verse 19, "my God will supply all your needs according to His riches and glory in Christ Jesus."
Think about all of these three verses in the context of trials and tribulations. He is always looking out for us. We can get through what He has put on us because He is with us. If we ask and we seek Him, that peace will come no matter what valley you are in. He is good and he is faithful to give you that peace.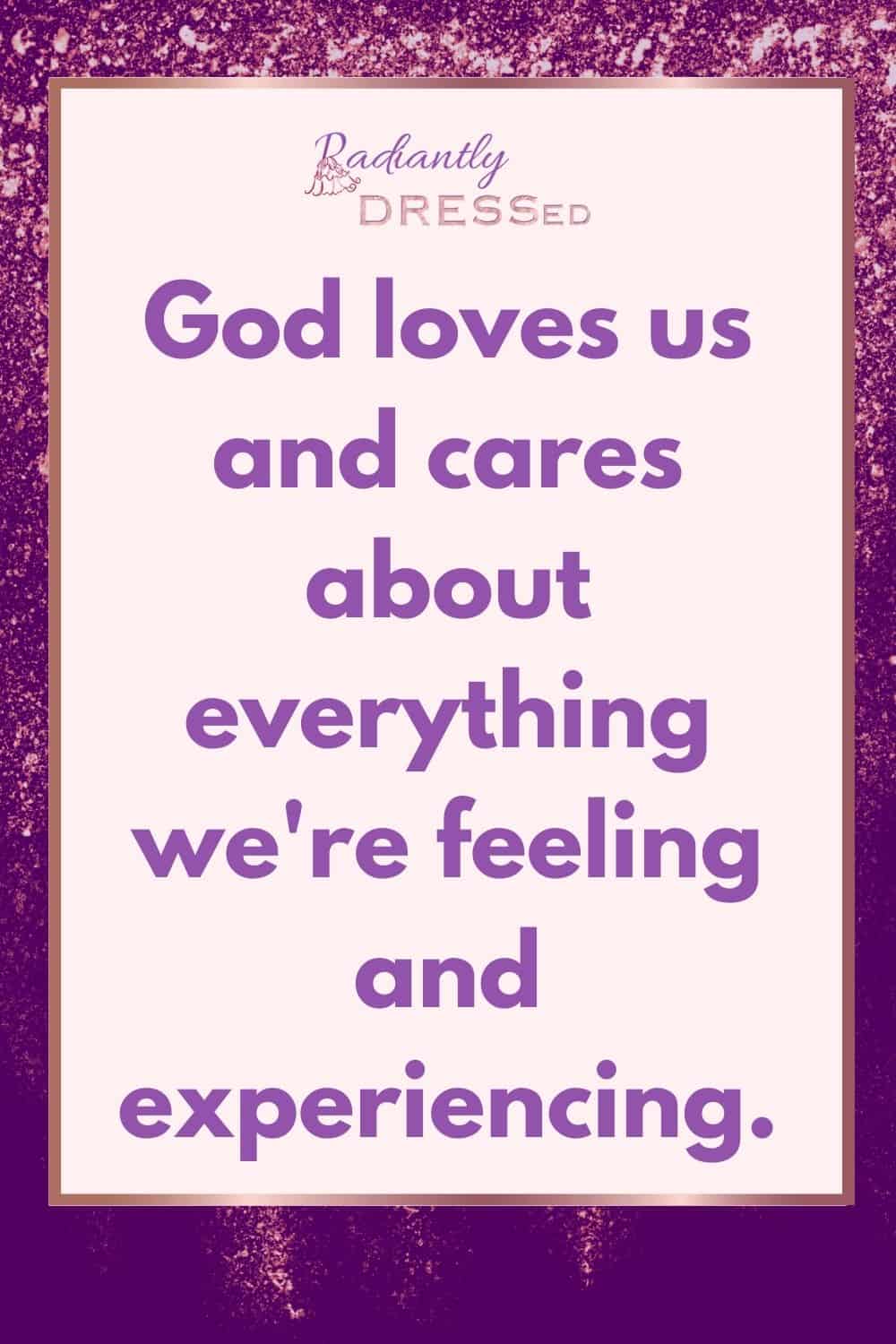 Back to 1 Peter, verses eight through ten, reminds us,
"Be of sober spirit, be on the alert, your adversary the devil prowls around like a roaring lion, seeking someone to devour. But resist him firm in your faith, knowing that the same experiences of suffering are being accomplished by your brethren who are in the world. After you have suffered for a little while, the God of all grace, who called you to His eternal glory in Christ, will Himself perfect, confirm, strengthen and establish you."
Amen, I don't have anything to add to that. I'm gonna let that rest as it is. Hallelujah.
The final one I have for you is from Paul, 2 Corinthians 12:7,
"…to keep me from exalting myself, there was given me a thorn in the flesh, a messenger of Satan to torment me – to keep me from exalting myself."
God has laid me low sometimes in my affliction, and I have nothing to do but to rest on Him to remind myself that I am not capable in my own power of doing pretty much anything. Sometimes I need to just slow down (and he's gonna make me slow down) so that I can hear his voice and rest in him. I pray for you that you would see God in the midst of your struggles, that you would feel His presence, that you would feel His peace. That you would know that no matter what happens in this world and in this life, God is still good, He still loves you, He's still for you, and He still has fabulous plans for you, in Jesus name. Amen.
Alright, so let's get down to some specific tactics now. You're going through the valley, you're struggling, you're finding your peace in the Lord, you still wanna try to show up, you're ready to get out of bed and put some clothes on. It's ongoing. It's not ending. You just need to move forward.
Do you need help getting dressed and feedback with your personal style? Come be encouraged by a community of sweet Christian women and learn how to show up beautifully and authentically. Join the Radiantly Dressed Facebook Group.
Tip #1: Loungewear you Love
My very first tip for you is to have a loungewear uniform you love. I am giving you permission to dress down because it's really valuable sometimes. I do recognize that some days you don't have it in you for a hard pants (not that I ever do!).
You need to have a lounge wear uniform or outfit that you really like. Do not include traditional pajamas here.
Something like nice leggings and a nice sweatshirt, if you want to be warm and cozy. Often when you're struggling with illness, your body temperature is off, so you want to be warm and cozy. You could also choose an athleisure type outfit here, basically you want to stick with something that has a stretchy waistband and forgiving shape.
It's  needs to be fairly loose, but comfortable, not form-fitting. If you can splurge and buy yourself something with really nice fabric, it is  a small luxury that makes your loungewear even better.
Then go ahead and be an outfit repeater. Buy three versions of your uniform, so you have a couple of them for those days when you just really can't do real clothes. When you can't fully adult in your struggles and you just need a pass to relax.
Tip #2: Choose your clothes the evening before.
Tip number two is something you can do ahead of time to make your mornings a little bit easier. Decide and lay out your clothes the evening before.
I used to plan my outfits a week in advance and I would write them on my calendar, but that didn't always work. Sometimes when the morning hit me and I was feeling terrible, I would just scratch it all together and stay in the pajamas – just like I told you guys not to do.
What I have found is that taking 5 minutes in the evening to choose my clothes and lay them out, takes away a lot of the thought in the morning. I no longer have that mental battle in the morning about what I want to wear.
Most of my clothes are fairly comfortable because I've built a wardrobe that I absolutely love on style uniforms, and I just repeat the same thing all the time.
But taking that time in the evenings has really made the mornings so much easier. It's taken one thing off my plate.
I highly recommend this tactic for basically anybody, but especially if you're struggling and you're just trying to reduce your mental load a little bit when you're dealing with these difficulties.
Tip #3: Put on one piece of jewelry.
My third piece of advice is to put on one piece of jewelry.
It doesn't have to be elaborate and it doesn't have to be huge, but a good pair of earrings does a lot for my mood. It can take me from feeling it frumpy in something to feeling like even my lounge outfit is elevated.
How we feel about how we think we look has a huge impact on our mindset. When I'm walking around in my favorite earrings I feel at least 50% better just because I feel like I've put a little bit of effort in.
It doesn't have to be earrings for you; it could be a really fantastic unique artisan necklace, or a fun bracelet. Pick one accessory and add it to whatever you're wearing, even if you're in pajamas.
Give this one a try, I promise. It's good.
Tip #4: Put on your shoes.
My final tip that I have for you is to put on your shoes.
This is another one that I really fought against for a really long time. I did not want to put on my shoes; I had excuses about babies in the house and dirty feet on the floor, but…
Putting on your shoes makes you feel more productive. It makes you feel like you can do more things if you have your shoes on. You get it out of the chair, and automatically take a few extra steps, grabbing things along the way. You do a little bit more, just the smallest extra thing.
Some people out there that will tell you that your shoes need to be laceup, so you can't kick them off. I see the value in that. I prefer a pair of slip-on sneakers because to me they are mom work shoes. 
In my home, around the house, I'm working. I'm officially on duty and I don't take them off until it's time to put on pajamas at the end of the day.
Final Thoughts to Look Your Best in Difficult Seasons of Life
I've given you my tips and what I would love for you to do is to commit to trying… Just one of these in the next three days, if you've been struggling with getting up and getting fully dressed, and I just wanna remind you, God is with you, he sees you and he knows you're struggling, and there's probably something really great on the other side of that struggle.
Related Style Articles:

It can be difficult to look your best when you don't feel it, and these 4 tips can help you when you're struggling to get dressed.
Stacey is the owner and creator behind Radiantly Dressed. She is a certified image consultant and AICI member focusing on creating simplicity in wardrobes via color and style.