Now that we've made it through Christmas and New Year, it's time to start thinking of the next holiday! The love holiday is up and I have compiled a list of Valentine's Day Gifts for him, her, and the kids. 
I can remember as a kid Valentine's Day Gifts were basically a multi pack of cheap cards to hand out at school, plus some candy, maybe a lackluster party, and that was it. I don't really recall receiving presents as a kid, but as a romantic teenager it seemed so exciting. 
As an adult it's often a holiday mostly reserved for new loves, and I admit to ignoring it for the most part as an "old married lady." But I do like pretty things, so maybe my husband will see my list!
For the men, I try to be practical. Men seem to get the most enjoyment from gifts that are both sentimental and useful, and striking that balance can be hard. My husband is the hardest person to give gifts to, and for so many reasons. Many of the things I've included are tried winners at our house! 
For the littles, well I have five, and we have everything so I'm somewhat of an expert on toys that are great versus those that make you lose your mind! The majority of these I would willingly allow in my house again!
I didn't include teens, but you could choose some items from the kid or adult list to please those elusive almost adult humans!
Without further ado, here are my 42 picks for Valentine's Day Gifts for women, men, and kids.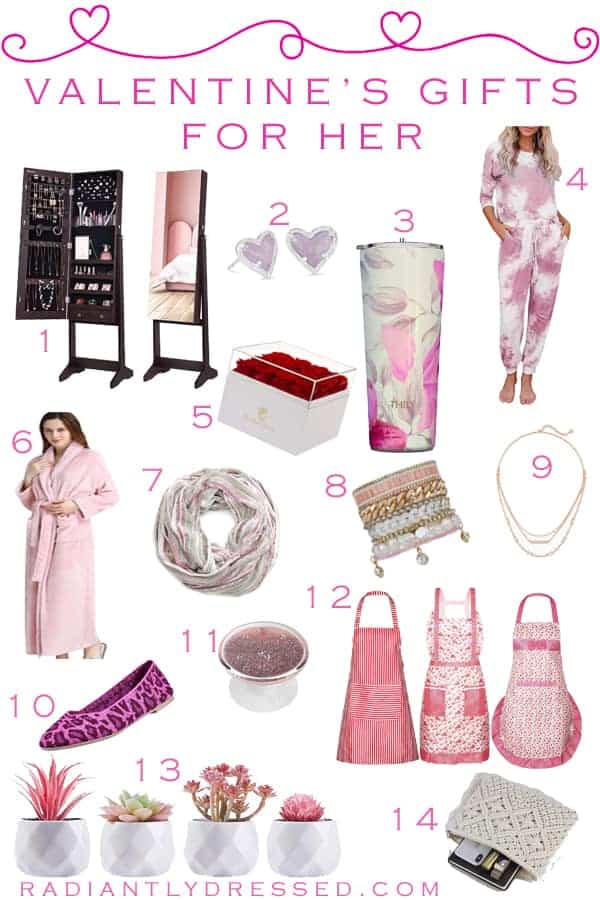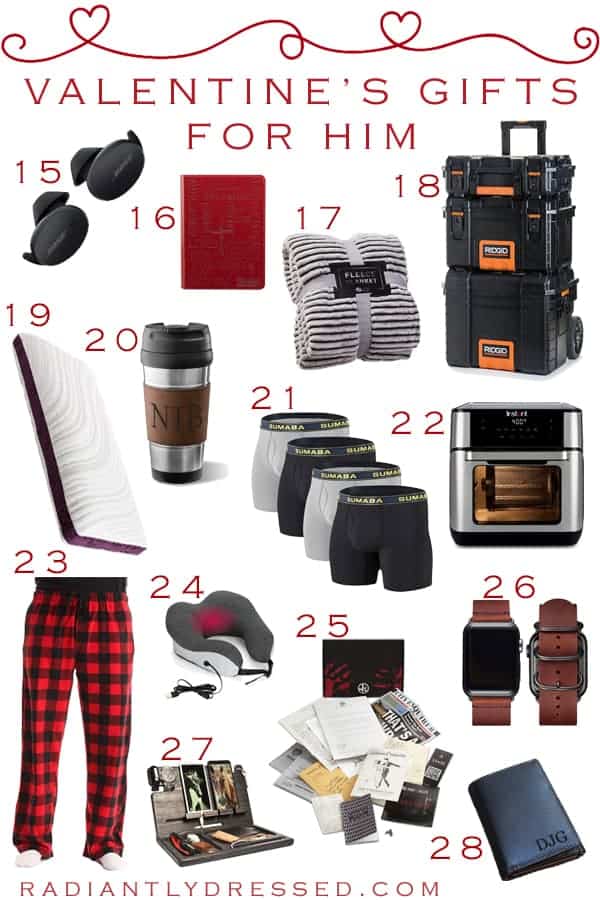 Gifts for Him
15. Bose Earbuds ~ Bose is known for quality sound and these sport earbuds will provide a listening experience like none other.
16. Jesus Journal ~ If he enjoys taking notes during sermons or church podcasts this red embossed journal would be perfect.
17. Plush King Blanket ~ Forget those tiny throw blankets! A king size cozy blanket is perfect for snuggling up together.
18. Ridgid Tool Storage Stack ~ Every man longs for a quality storage solution for his tools. This one is portable and easily stored in a closet.
19. Lavender Bliss Memory Foam Pillow ~ We bought some scented memory foam pillows when we purchased our bed and my husband genuinely loves this thing!
20. Leather Wrapped Tumbler ~ Men a love a good tumbler for coffee too, and this leather wrapped option is both masculine and useful. Plus you can have it customized!
21. Bamboo Boxer Briefs ~ This is another husband pick! After years of searching mine swears this are the best underwear he's ever owned. Skip the cheapo themed boxers and buy these, he'll love it!
22. Instant Vortex Air Fryer ~ Why is the kitchen appliance for the man? Because my husband also begged me to buy one of these! An air fryer, I mean! I scoured the reviews and landed on this one. Mine will be here tomorrow, and I'm hoping the hubby chooses to use it too!
23. Fleece Pajama Pants ~ Well, now I'm starting to sound like a broken record, but again a husband favorite. I purchased these for him for our family pajama theme this year and he loved them so much he requested more!
24. Heating Neck Massage Pillow ~ If he gets headaches from neck strain then a support pillow is a great idea! This one goes above basic with a heated element and memory foam.
25. Hunt a Killer Set ~ Date nights in are still a thing and society approved! These sets are perfect for a twist on the usual, as you solve a crime together. It's a fancy grown up Clue!
26. Leather Apple Watch Band ~ Upgrade his Apple Watch with this nice inexpensive leather band.
27. Wood Docking Station ~ Avoid the cluttered landing zone of keys, phones, cords, and other items with this wood docking station.
28. Custom Trifold Wallet ~ This was a purchase I made last year for Father's Day, and it's been great. It's a beautiful leather wallet with customization and still looks brand new.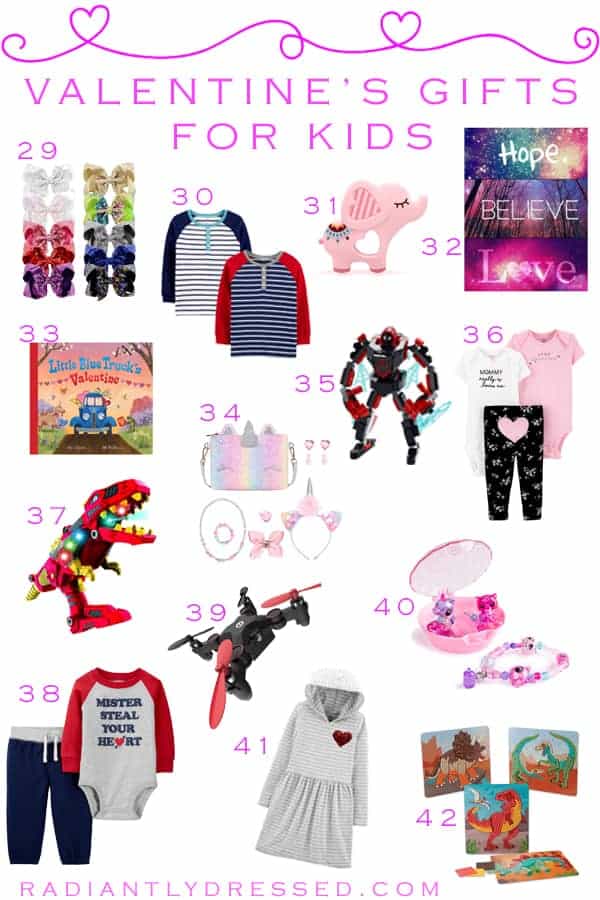 Gifts for Kids
29. Sequin Hair Bows ~ We bought these hair bows 2 years ago for Christmas and they're still going strong! What little girl doesn't love bows??
30. Striped Henley Set ~ Every time I give my boys clothes as a gift they immediately toss them to the side. But I'd rather buy something that they will use longer than a toy and Carter's delivers as always.
31. Elephant Teether ~ We're currently in the stages of teething over here and silicon teethers are amazing! This cute pink elephant is perfect for Valentine's Day.
32. Diamond Art Inspirational Sign ~ If you have a girl that loves to craft these diamond art projects will keep her busy and result in a beautiful piece of art she can hang on her wall.
33. Little Blue Truck Valentine Book ~ My boys love the Little Blue Truck, and this one is decorated and features all of Blue's original farm friends.
34. Purse and Accessory Set ~ I picked up something similar to this on a whim one day for my oldest daughter and she still loves her bag with earrings and jewelry.
35. Lego Spiderman Miles Morales ~ The Spiderverse movie is a favorite over here, and my kids love lego projects any time.
36. 3 Piece Heart Set ~ After 5 kids I only buy clothes for babies from Carter's, and these 3 piece character sets are one of my favorite items.
37. Drill Assembly Dinosaur ~ I hesitated to buy a drill assembly toy for my boys, but they love them so much, and the screws are really that bad if you store them correctly!
38. Boys Outfit Set ~ I've got a little guy that will look smashing in this set from Carter's.
39. RC Drone for Kids ~ Shhh, don't tell my kids about this, I'm 100% sure they would want it desperately! We haven't yet reached drone stage, but this one is designed for kids.
40. Twisty-Petz ~ As I sit typing, four of my children are currently fighting over my daughter's collection of Twisty-Petz. I love these things, and they're less obnoxious than some of the other throwaway collectible toys curerntly on the market.
41. Hooded Dress with Heart ~ My girls love to wear dresses, and I'll be ordering this one for both of mine!
42. Sticky Mosaic Dinosaur ~ This is a hidden craft gem! I think it's perfect for an advanced 3 year old and up. Using numbers to match stickers, it takes up a lot of time and is loads of fun!
There you have it! My best picks for Valentine's Day Gifts for men, women, and children. Do any of these seem perfect for your loved one? Did I miss a hidden gem that you'd like to share?
Tell me in the comments what you're planning to buy your sweetheart this Valentine's Day!