Explore a real world colorful winter capsule wardrobe featuring 33 pieces for the season.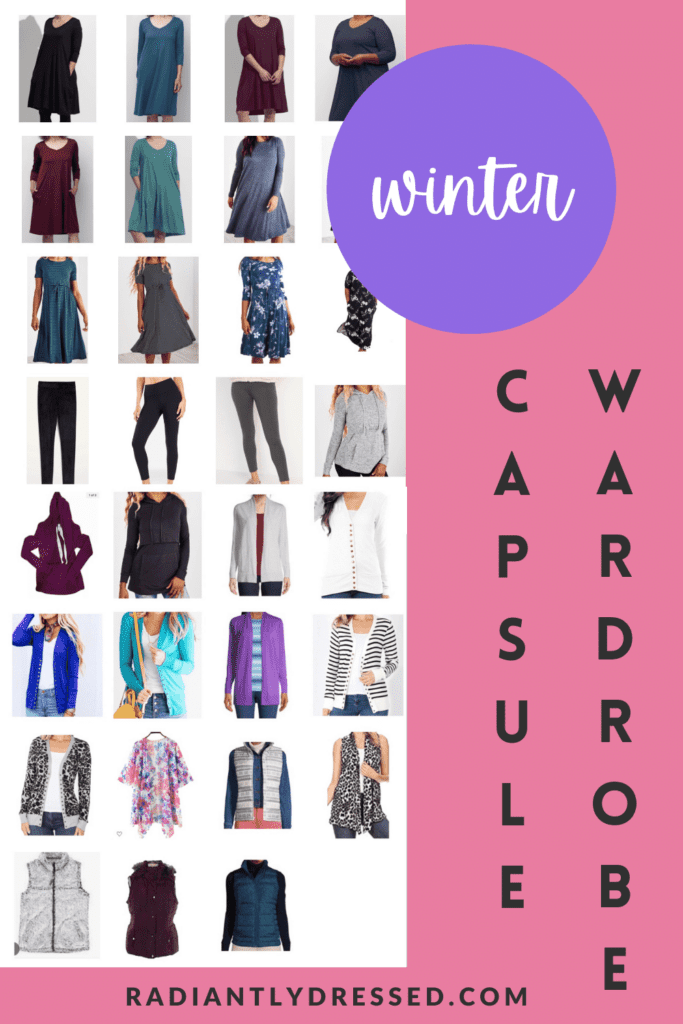 This post contains affiliate links. By clicking on them I may receive a small commission at no extra cost to you! Thank you for your support!
I'm a little late to the party this year, as I waited until January 1 to start my winter capsule wardrobe. In my defense, winter still hasn't really "arrived" down here on the gulf coast, although we're finally having a 50 degree week.
I always find it really helpful to see how other people have curated a small seasonal wardrobe, so I love sharing mine here on the blog.
I went about it a bit differently this year, since I've adopted a style uniform based wardrobe. 
I also will likely only wear this until around March 1 since we're expecting a new baby and I"ll be living the loungewear life. Hopefully by April I'll be ready to put together another seasonal capsule for spring!
What is a Capsule Wardrobe?
I first came across the concept of a capsule wardrobe in 2015 when I was pregnant with my second child. I'm ever drawn towards minimalism, regardless of my high failure rate in that area. 
The capsule wardrobe that I found was the Project 333 Version, which is what I currently use, slightly adapted.
The basic premise is that you choose 33 pieces from your closet, pieces that you love and wear, that make you feel and look good, and you commit to wearing only those clothes for the next season. Then you put everything else away, and you mix and match your 33 pieces.
The original 33/3 method asks you to include clothes, shoes, accessories, and jewelry, but I personally find that a bit too limiting. I am only including clothing this go around, because I've fully embraced my maximalist love of shoes and accessories! 
I just finished re-reading Project 333 and I can't recommend it enough. If you really want to dig into your motivations for dressing more simply and with less, this is the book for you!
Choosing a Color Palette for a Capsule Wardrobe
One crucial element of creating a capsule wardrobe that cannot be overlooked is cohesiveness. You're going to wear these 33 items of clothing for around 90 days. You want them to go well together, and avoid having items that stand out and don't go with anything else.
I have a pretty simple formula for a winter capsule wardrobe that includes 6 colors.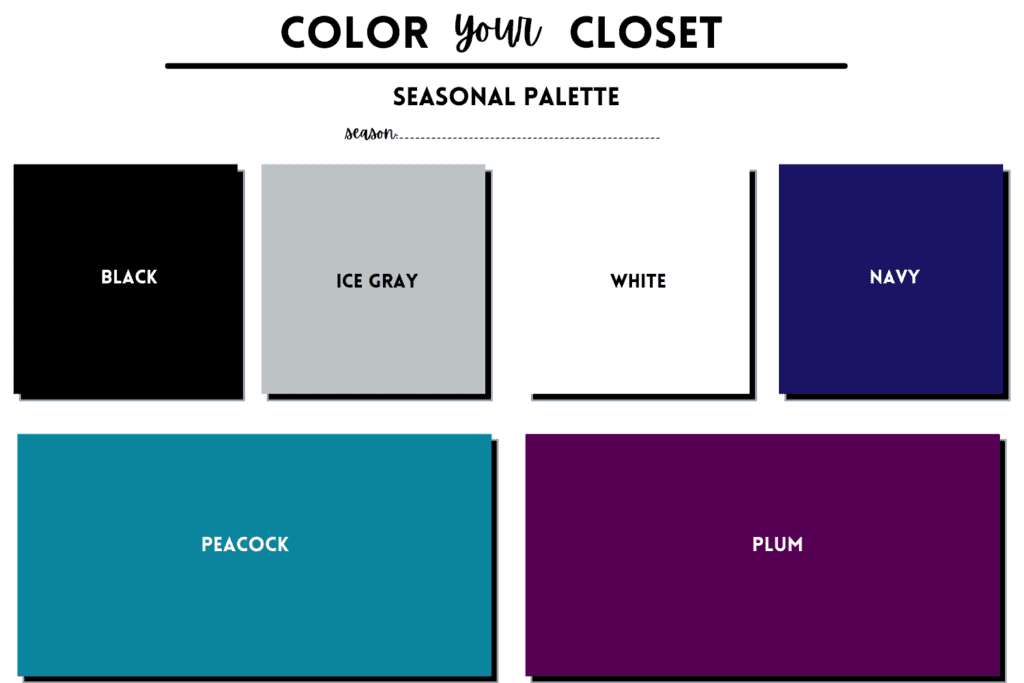 I include 3 neutrals within the same color family, which are black, gray, and white, plus a bonus neutral. I really like navy on myself as a bonus neutral, but some other ideas include olive, blush, camel, or cognac.
For colors I only allow 2 in a seasonal capsule, and they have to coordinate with each other. For the two colors I designate one the main, and the other as accent. 
The main color is one that I know is extremely flattering on me, one of my power colors, and one I can move throughout the seasons if I choose. In this color I will buy any piece of the wardrobe, from core elements to trend items, to accessories. Knowing that I can transfer it across my entire yearly wardrobe.
The accent color is one that fits my color season, but perhaps isn't one of my best colors. Since it may not return in the next season, or even the next year, I limit it to 3-5 items and try to keep them low cost.
Since I've pulled this capsule from my larger year round wardrobe, I went with peacock and other similar blues, and plum and other similar purples. 
Since I didn't limit shoes or accessories, I can indulge my love of bold color by adding different elements that go. My entire wardrobe is cohesive due to a year round palette.
The Elements of a Capsule
A capsule wardrobe is really personal to each person's individual style and aesthetic. For a winter capsule these are the items I've included.
12 dresses
3 heavyweight leggings (2 velour + 1 fleece lined)
3 sweater hoodies
7 cardigans
2 lightweight layers (crucial for hot climate)
4 vests
If you're doing the math, it's actually only 32 items. I left one undecided hanger in case I felt like something was missing. So far so good!
Although it isn't part of the official 33, my capsule also encompasses the following ad-ons:
Shoes
Scarves
Earrings
Necklaces
Tank Tops (for nursing moms)
Bras & Underwear
Leggings for layering
Loungewear for at home days
Winter Coat
Well let's get to all the elements!
Dresses
When it comes to dresses, I actually own at least double this amount. However, when creating a capsule wardrobe I like to narrow it down.
When I did the first 30 day dress challenge I didn't limit myself at all, and I wore about 15 dresses through that month. I'm working on curating a collection of dresses I 100% love so I'm practicing limitation in the seasonal capsule.
Some of these are all season staples, while others are specific to winter because of weight, styling, sleeve length, or pattern.
I've included the following 12 dresses in my winter capsule:
Wool& Willow Dress in Black, Teal, Plum, Ocean Teal, Washed Navy, and Marionberry
Long Sleeve Gray Sweater Dress from Latched Mama
Black Polka Dot 3/4 Sleeve Dress from Latched Mama
Teal Stripe Dress from Latched Mama
Navy Stripe Dress from Latched Mama
Navy Floral Dress from Latched Mama
Black Floral Maxi Dress from Latched Mama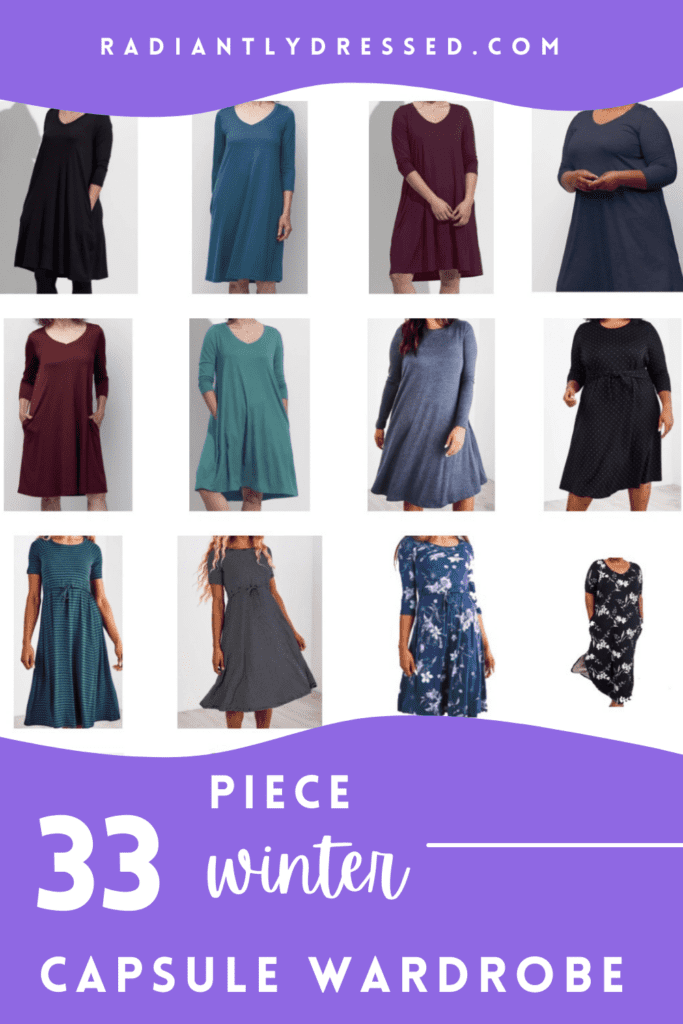 Tops
I include a few separates in my capsules, with leggings are the bottom in the winter. These do double duty for layering with dresses in addition to thinner leggings not included.
Truthfully, however, I much prefer the ease of dresses. Therefore, when I choose my tops, I'm mostly looking for acceptable athlesiure options.
My three sweater hoodies are all from Latched Mama for nursing use. It's the everyday hoodie in graphite, blackberry, and heathered gray.
Bottoms 
So…I don't like real pants lol. Haven't worn them in over a year! But I do love athleisure and comfort!
I'm a stay at home homeschooling mom of 5, and some days I just want to stay in pajamas. The thick athletic leggings are not only good for layering to stay warm, but also for those at home lazy days. I'd much rather answer the door in "real" clothes that include full coverage leggings than my pajamas with no bra. Plus, if I put on clothes I usually tame my hair on put on simple earrings and I'm ready to tackle the day.
The official leggings inclusion include 3 thick pair and 1 cropped pair. I fell in love with the velour leggings from Old Navy this last year (confession: I bought 5 non-maternity pair to last me after this pregnancy too!). 
I also love the fleece lined version and wish I had grabbed more before they sold out! 
I love to wear these with the sweaters and vests in this capsule!
Layers
This is where you wardrobe can really explode! I love third or completer pieces! They take an outfit from basic to brilliant. My style is a bit more classic with a touch of whimsy, but for some of these items you could choose a different but similar item to create a sporty look, or boho vibe.
I'm slightly obsessed with vests, so you'll see there are 3 puffer, 1 sherpa, and a thin knit version.
Your cardigans could be all oversized, or all fitted, and each one creates a different look with your clothes. I have both, but I definitely look a bit more put together with a fitted cardigan.  
For jackets I live in a warm climate so I like a denim jacket for casual days.
I also included a colorful kimono because the weather will definitely be warm enough many days before April!
Shoes
I just want to stop and say right now that it's impossible for a woman to have too many shoes. I love shoes. They're the greatest accessory in my honest opinion. 
I like to have a good pair of fashion/casual sneakers when I want a sporty dress look.
I have tons of colorful ballet flats, but I've found that good loafers are a classic shoe to own and wear, and the heel gives a bit more elevated look than flats. 
When choosing boots, I have a few quick tips. Ankle boots look best with dresses when they have a bit of notch in the front. Otherwise they can shorten the appearance of your legs and create a stumpy look. 
I have both black suede and cognac leather wedge riding boots. Unfortunately since Covid I haven't really had a place to wear either, although I love boots with a dress. It creates a beautiful layered look for winter.
Accessories
Your accessories are the final touch to your outfits, and can make the same outfit look completely different. I'm not limiting my accessories, and I own 9 scarves that I wear in rotation. 
Blanket Scarf Pro Tip: Cut it in half along the diagonal to reduce weight and improve the look.
Like shoes, I have quite a bit of jewelry. Most of my pieces are Kendra Scott and I wear a version of the Lee earrings almost every day!
I also have flashier leather drop earrings, tassel earrings, and I enjoy small dainty necklaces if I get avoid being choked by a toddler! 
Longing for a supportive community to work on style and fashion? Come join us in the Radiantly Dressed Facebook Group!


Final Thoughts on a Winter Capsule Wardrobe
Although I've structured my closet based on a style uniform concept, the reality is that I'm still a work in progress. 
After a wild and crazy black Friday MONTH, I was feeling overwhelmed as I looked at all the things I had acquired. 
After many returns, I decided to streamline my life during this season by going back to the simplicity of a capsule wardrobe.
I find that seeing others' inspiration was always a lot of fun, especially to see variations on all neutrals, or lots of separates.
My hope is that you'll be inspired by color and something a little different next time you create a capsule wardrobe.
Related Style Articles: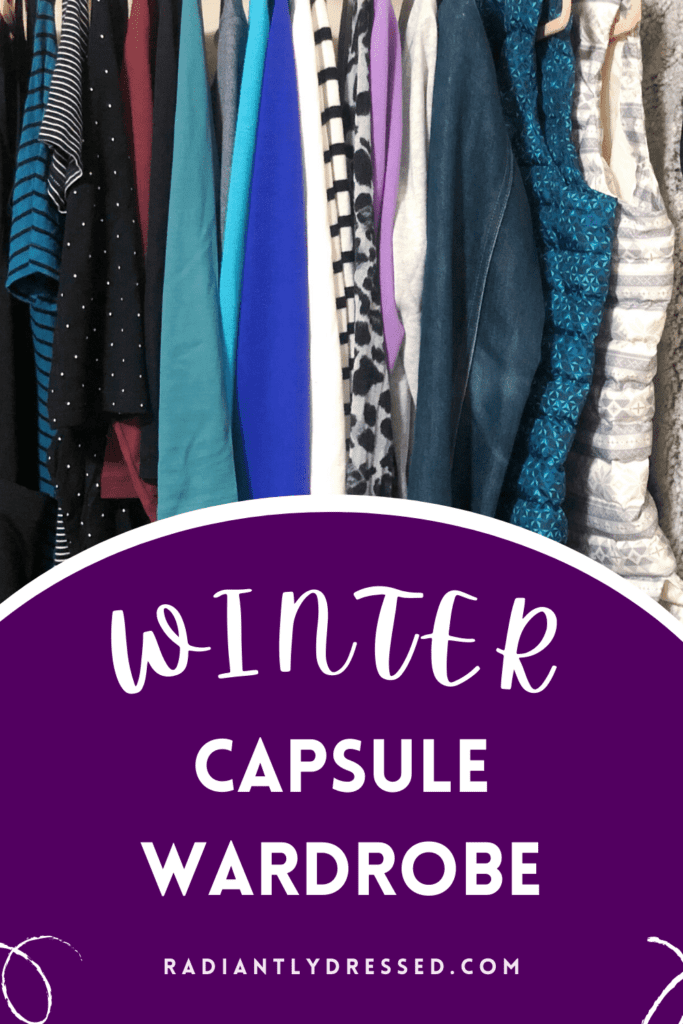 A Capsule Wardrobe can be as unique as you, and this 33 piece version is based primarily on dresses.
Stacey is the owner and creator behind Radiantly Dressed. She is a certified image consultant and AICI member focusing on creating simplicity in wardrobes via color and style.