Choose your signature color by considering those that flatter you and that you already love.
Do you have a signature color: a color that makes you look fabulous, you love wearing it, and it gives a boost to your energy and mood? In this episode you'll learn exactly how to choose a signature color so that you can get compliments and build your wardrobe based on your best color.
Using Colors in Your Color Palette
I'm super excited to talk about color palettes and specifically creating a signature color for your color palette. When it comes to your clothes in your closet, your signature color is one that takes up about as much space as each of your neutrals.
For example, if you've chosen black, white and, navy as your neutral colors, your signature color would also be about as prolific in your wardrobe. A good rule of thumb is that neutrals should take up 50 to 70% of your wardrobe, and the other colors take up the rest of that space at different percentages.
If you want to know more about color palettes, I invite you to use my free resource to create your own wardrobe color palette, where you will get a template and advice on how to create a color palette based on neutrals, a signature color and seasonal accent colors.
Today, I'm focusing on choosing a signature color because this is a question that I've actually been asked a lot recently. It be overwhelming because you have an infinite number of color variations and ways to go about choosing the colors that you want to wear.
My favorite method is to use seasonal color analysis to determine your best colors and then choose your signature color from your full seasonal pallete of optional colors.
However, people still get stuck because it's really hard to know which color you want to choose.
Today I'm sharing three different ways that you can choose your signature color based on what you love and the colors on your body.
Choosing a Signature Color: Use Your Favorite
The first thing to consider when looking for your signature color is your favorite color. Maybe this should be obvious, but people often let this go.
When you discover seasonal color analysis and learn about your personal attributes, you realize your favorite color is not in you season. For example, I really love the color lavender, but it is definitely not in my overall winter color palette, and it makes me look terrible.
Instead of focusing on that exact favorite color, choose another color in the same color family that has the attributes that are the same as yours. For example, if you are dark in value and you love baby blue, you might choose a deeper blue, like royal blue or cobalt blue.
These colors are darker than your favorite, and could be your signature color. Don't discount your favorite color just because it seems like it doesn't flatter you.
There's always a way to take your favorite color and modify it in a way that works for you and makes you look great. So feel free to embrace that as your signature color.
Let's move beyond preferences and look at the natural beauty God gave you. I encourage you to look around nature and see how well the color palette works together. Whether is a Macaw with its bright, striking colors or the shades of spring flowers next to green leaves, everything God created is harmonious and beautiful.  Just like He created you.
You can look at different aspects of your eyes and skin to find colors that make you look gorgeous and stunning, and choose one of these for your signature colors.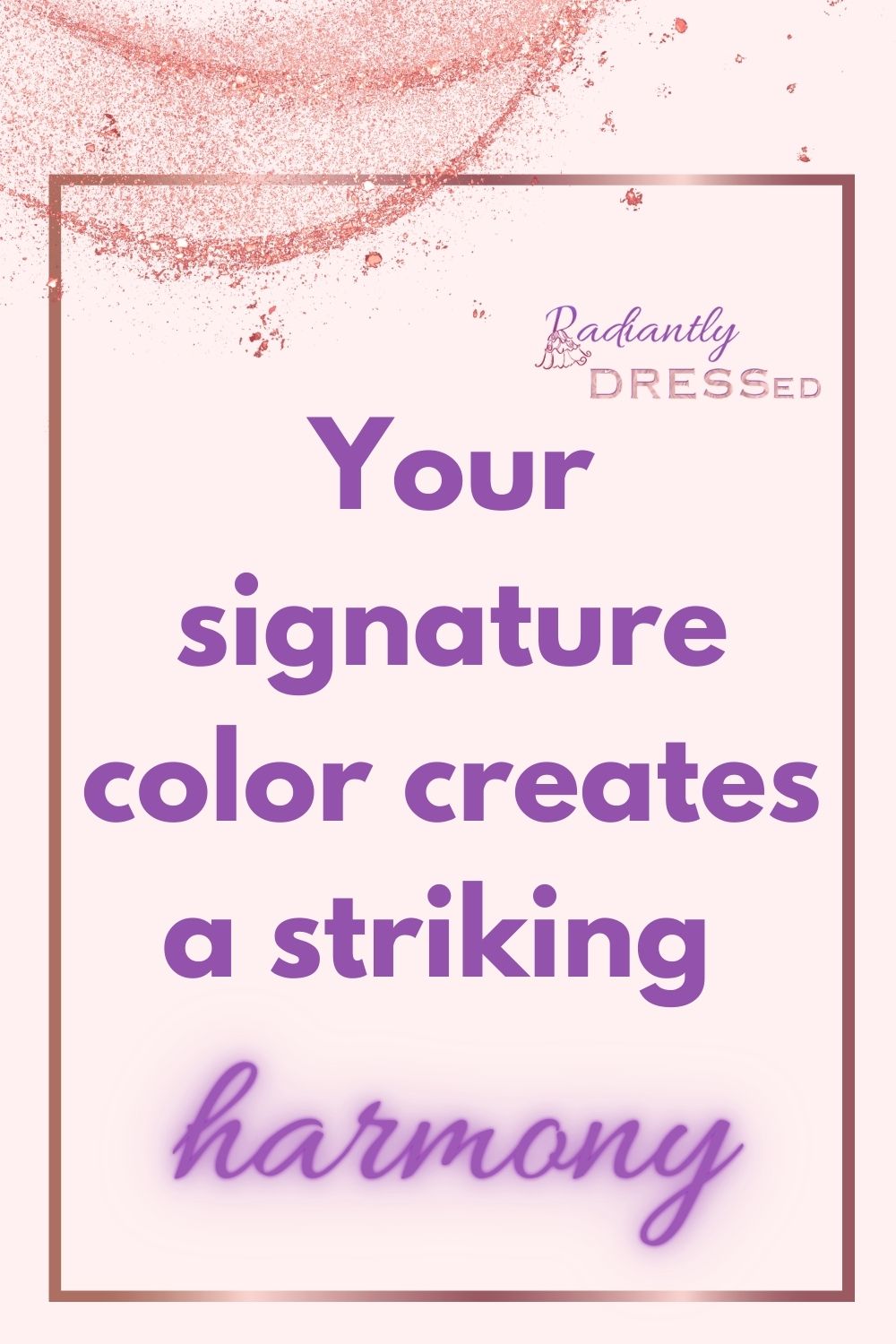 Choosing a Signature Color: Colors in Your Skin
The first area to examine is your skin overall.
Now, if you know a little bit about color analysis, you know that the skin is really the determining factor as to how colors look on you. It has nothing to do with your eyes, your hair or anything else.
While we can use these areas to determine your signature color. I do want to note that these are not a direct correlation to color seasons. This is completely separate advice to help you find colors that are harmonious with who you are and how God created.
There are three areas of the skin you can examine to find a signature color. These will all be somewhere in the red, blue, green, purple color family, most likely.
The first one is your natural blushing color. When you get upset or exercise or your skin gets flushed, you'll notice that your cheeks tend to turn a brighter reddish color.
This could be a pinkish red,  a cool purple-red, or a deeper rust color. This color will be extremely flattering, because it's something that your skin does naturally. If you like pinks and reds, this could be a great option to choose for your signature color.
Secondarily, another place that you can look is your lips. Examine the outer rim of your lips or just inside your mouth to see what shades of pink and red you find there.
These two colors – the natural blush and lip colors –  should be harmonies with each other. There may be some overlap here, but choosing one of these will give you an option in the red, pink, or orange range, depending on your undertone.
The third area to look for a signature color within your skin is to look at your vein color.
Now, I've said it before, and I'm saying it again, your visible vein color is absolutely not an indicator of whether you're cool or warm. But it can help you to chose a signature color that looks really flattering on you.
Look at the veins in your wrist and see what color they are, likely a blue or a green color. I also encourage you to look at other areas of your skin where it is more thin, such as your inner elbow or the palm of your hand.
You may notice that your capillaries are a different vein color, such as purple or a red. My signature color is a deep eggplant/plum color that I have pulled from my capillaries because they're a deep dark purple.
You can use the colors of your skin: your natural flush, your lip colors, and the colors of your visible veins to help you determine a signature color for your wardrobe.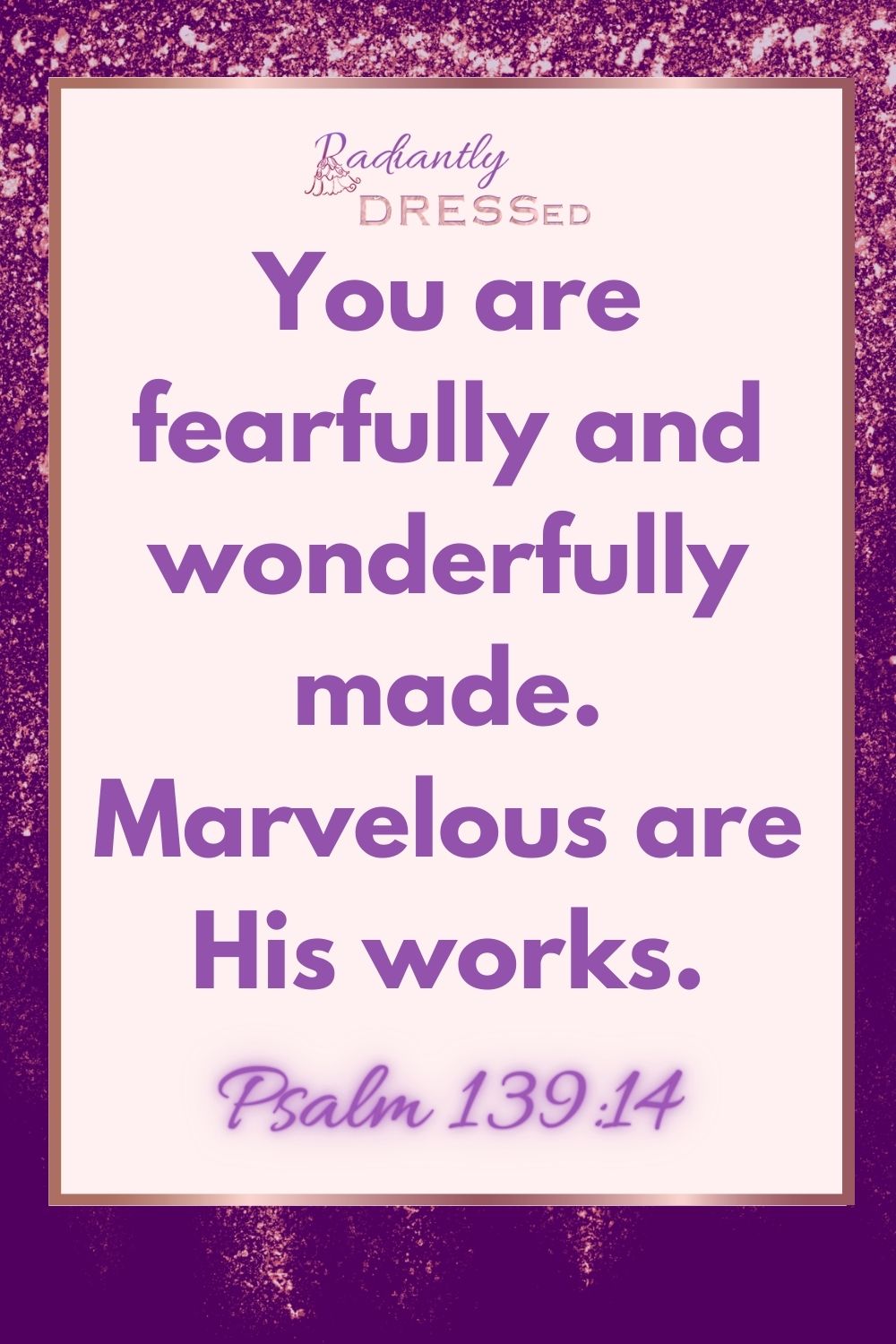 Choosing a Signature Color: Colors in Your Eyes
There's another area of your body you can examine that will help you come up with a signature color. This one is likely to be best bet overall…your eyes.
Eyes are super cool, the patterns in your iris are actually as unique as fingerprints. They have a lot of correlations with your color season, as well.
If you've ever worn something and got a complement like, "Wow, that really makes your eyes pop!" , then you're probably wearing a color that's in your eyes. The first tie you study your eyes you'll see so many really cool patterns, they are so fascinating!
Study your eyes and you'll notice they have quite a few different colors. You'll notice an outer ring, most likely on the outsiode of your iris, it's probably darker than the colors inside.
You can use that color or any of the other colors that you find in it your iris. You may see shades of blue, green, or brown, yellow, lime green or rust colors,  and some people even have violet in their eyes.
Take a really good look at your eyes, take a picture so you can study them more in depth. A good pic zoomed in gives you lots to see.
These colors that are in your eyes are going to be truly amazing on you because they're pulling out your natural coloring. Choosing a signature color based on your natural beauty makes your eyes stand out and creates a striking harmony with your natural coloring.
Final Thoughts on Choosing a Signature Color
Creating a color palette gives you guidelines and structure when it comes to buying clothes and building out your wardrobe. Designating a signature color helps to add interest to your neutrals and gives you a signature look that others recognize.
Your favorite color or the natural colors of your skin and eyes give you great starting places to find your signature color. You don't have to know a single thing about color analysis to do this.
All you have to do is look in the mirror and search within yourself.
Imagine if your closet made sense with great neutrals and then a bunch of things in your signature color.
You could put them on and go out knowing that you look put together because it's so flattering to who you are. You'll get compliments and be known for your signature color.
The trick to having a signature style of any type is to have things that you go back to over and over again because they are just right for you!
When it comes to choosing a signature color, I would love to leave you with one of my favorite verses in Psalm 139:14. You know this verse, it's on every coffee mug and t-shirt with Christian inspiration, but I want to provide a new take on the end of it.
I will give thanks to you for I am fearfully and wonderfully made. Wonderful are your works, And my soul knows it very well.
Yes, you are fearfully and wonderfully made, and it's wonderful, and it's marvelous because God did it. Just like He paints the sunset to be harmonious and beautiful, he painted all the features of you to be harmonious and beautiful as well. Pulling from these is a fantastic way to choose colors that look amazing on you and give you an option to add a signature color to your wardrobe.
Related Color Articles: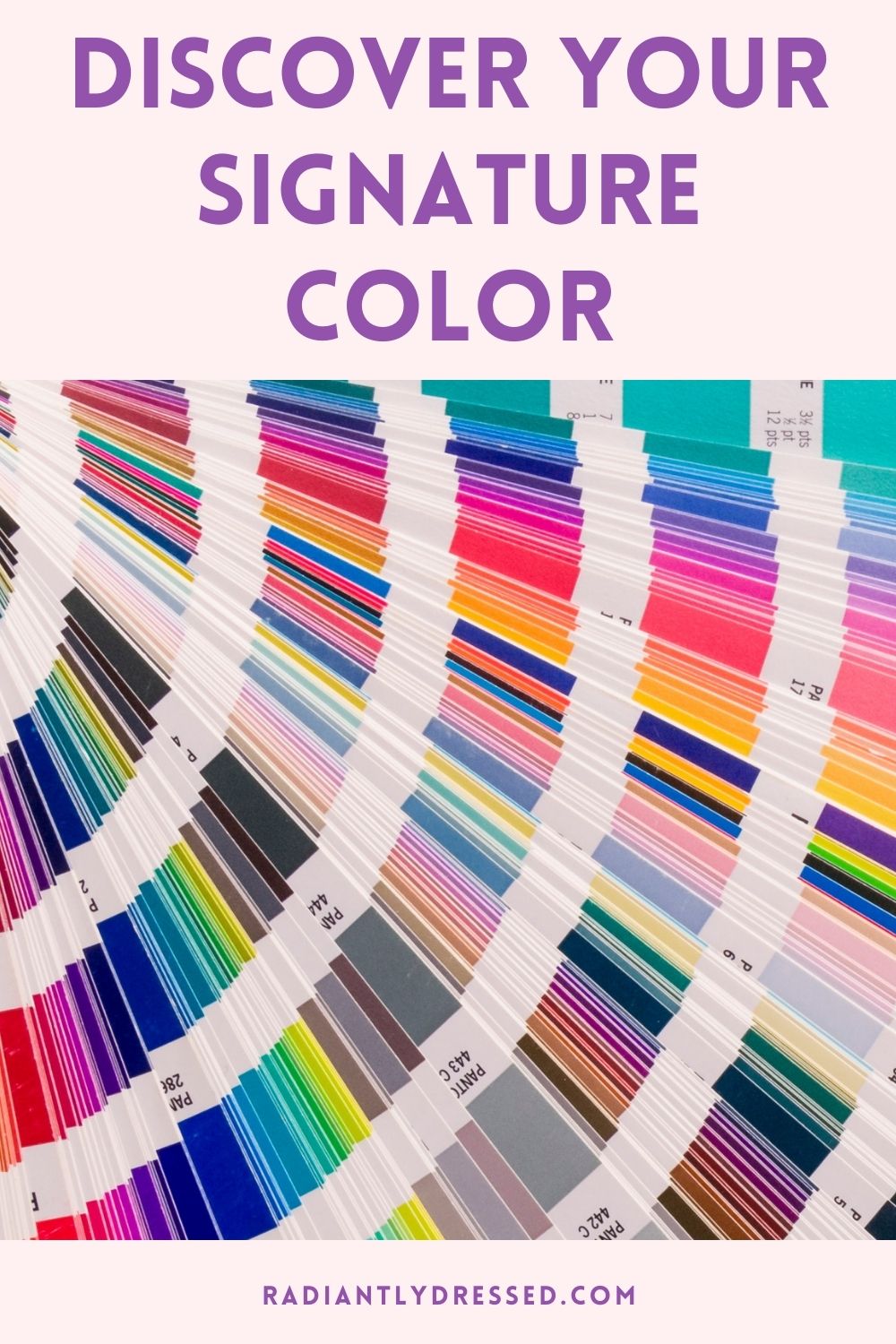 Use your favorite color or those that flatter your eyes and skin to choose a signature color.
Stacey is the owner and creator behind Radiantly Dressed. She is a certified image consultant and AICI member focusing on creating simplicity in wardrobes via color and style.