The Color Organized Closet: 3 Stages to Organize Your Closet to Get Dressed Fast
Create a color organized closet to find new appreciation for your clothes and get more use out of what you have.
There's no point in having a great wardrobe if it's a complete mess and you can't find anything.
In today's episode I'm discussing closet organization so that you can walk into your closet and feel peaceful and joyful, AND get ready faster because everything makes sense.
I'll be sharing 3 stages of organizing your closet, ending in a colorful array of well placed items.
Today we are talking about messy closets. It's confession time; I just want you to know that there was a time when I had clothing in three different bedrooms in my house. That doesn't even include the dressers and the shelves, or shoes (but we don't talk about that).
Partially, this was because I had too many clothes and I didn't really know where to put them all, but it's also because I lacked a good organization system. It made it really hard to plan my wardrobe and get dressed every day because I didn't know where things were.
I would miss place them easily, wondering where something was located. Then I would get an idea of an outfit that I wanted to wear and be unable to find the green sweater because I didn't know where it was hiding.
I would like to share with you the wisdom that I have found in organizing my closet in a way that's visually appealing, and it makes it really easy for me to find the things that I need all in one place. Everything lives together now.
There are three stages for organizing your closet so you can get dressed fast to avoid missing your clothes or wishing you could find something.
Stage 1: Organize Your Clothes Into Two Seasons
First you're going to organize your hanging clothes by season, but not in a four-season manner. Organize them into two seasons, spring/summer and fall/winter.
If you have enough space, definitely keep them all in one place. During the transitional seasons of spring and fall, you may find that you're carrying over pieces from your entire yearly wardrobe. You can mix your pieces from each season to get a transitional look, for example, shorts and a long sleeve shirt in the spring.
So if you can, keep everything together, but separate them into the warmer months (spring and summer) and the cooler (fall and winter). If you do have a space issue and you need to store some stuff away, definitely stick to the two seasons method because that'll help you out a lot.
Now that everything is organized in a two season way, we're going to organize further within each season.
Stage 2: Organize Your Clothes by Type
The next step that you're going to do is separate within each seasonal set by clothing type. The most visually pleasing order is to start with pants and then move to skirts, then shirts and tops, next dresses, and finally your completer pieces like cardigans, jackets, blazers, etcetera.
I use these velvet hangers and I fold my pants and skirts over them so everything looks cohesive.
This creates a nice size gradient as you move from left to right, so you can see where everything is sitting in your closet.
Stage 3: Organize Your Closet by Color
The final step to organizing your closet is really going to make it look beautiful and functional and attractive to you, and help you see how you use color in your wardrobe.
It will also show you if you have any color holes in your wardrobe that you want to fill, or gaps in your all important neutrals.
A common misconception in a color organized. closet is that is should be the rainbow, or ROYGBIV.
I want you do it a different way because I find that when you follow the ROYGBIV method, you end up with all your colors bunched in the middle and neutrals at the end. This is jarring a little bit and they don't flow together as well, so I'm sharing a different spectrum for organizing your clothes.
The spectrum that we're using is a modified light to dark variation. You'll do this for each type of clothing, pants, skirts, tops, dressed, and completer pieces. 
In each section, organize your clothes in the following way:
White (includes everything from optic white to cream, light gray and light brown)
Yellow
Orange
Pink
Red
Purple
Blue
Green
Brown
Gray
Black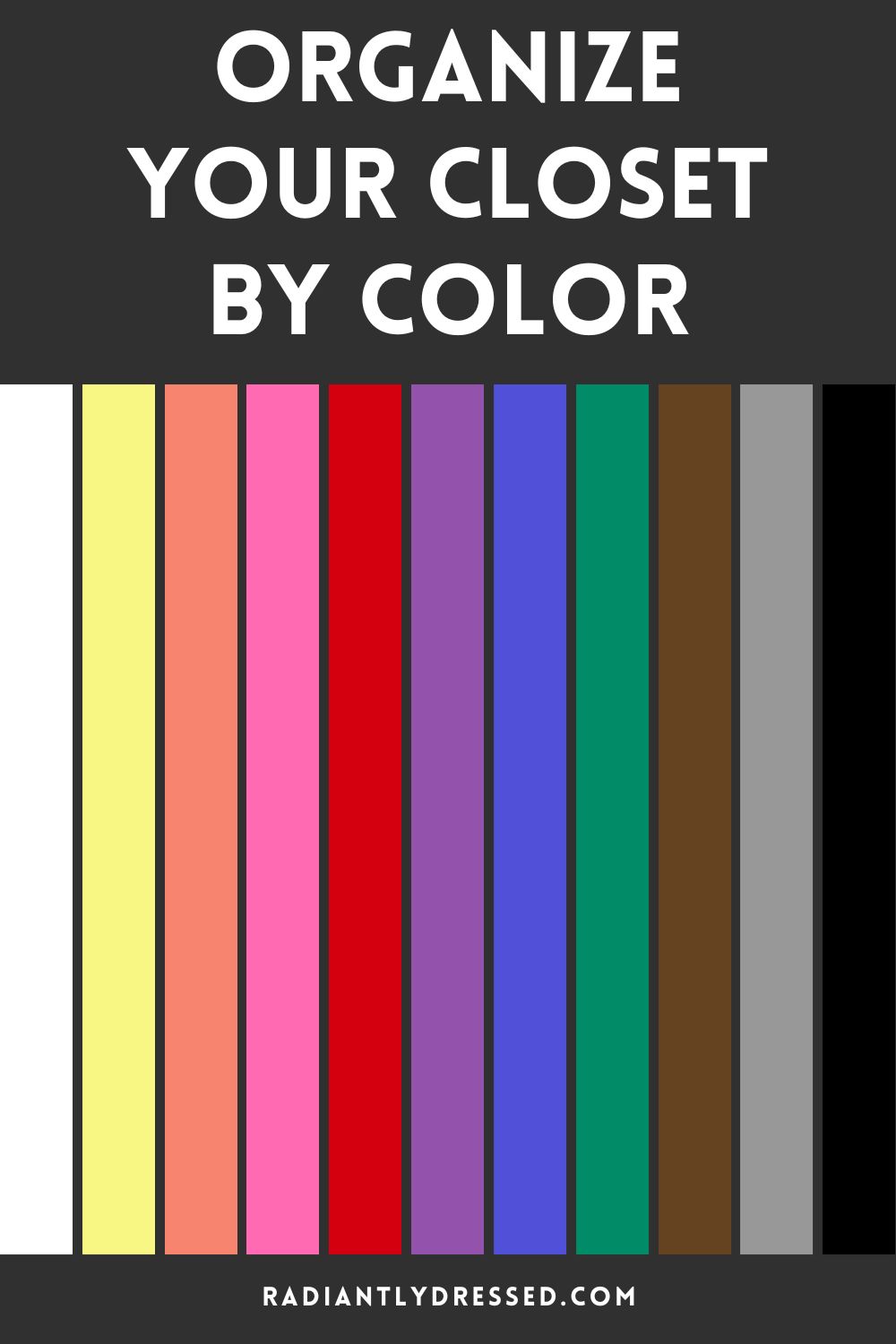 If you don't have some of the color families, that's ok! Just skip it and move on to the next you do have. You should be working from a customized color palette anyway, and it's better to have 3 solid signature colors than the entire rainbow.
If you have prints in your closet, choose the dominant color in your print and use that to decide where it goes. I like to sit my prints at the back of the solids, so I see lots of solids with the occasional print. If you have more prints than solids, you should definitely consider adding some of these neutral wardrobe staples to your closet!
If you are really particular, you might find that you want stick your prints in the gradient within the color family. For example, if you are organizing the blue section and you have a print with aqua and turquoise, you may want to stick that closer to the front of the blues to stick with the light to dark gradient.
Organizing your clothes by color gives you the ability to walk into your closet and look at your clothes and appreciate them, displayed for you in a beautiful way.
It also helps you to save time, because if you know you want to wear a black pair of pants and you need a shirt that matches, you can see all your options right there in front of you. If you're in the mood for a certain color, it's right there to grab and go. It show you if you're missing things, or have too much of something and need to start minimizing that particular color.
It gives you a lot of clarity into your clothing and what you have to wear.
Final Thoughts on How to Organize Closet by Color
A messy closet full of beautiful clothes is useless unless it's well organized and you are able to find what you want to wear.
You can follow three stages to organize your closet, starting with a two season method, then arranging by type of clothing, and finally going all in with a value based color coded system.
You will find new enjoyment for your clothes, and discover clarity in what you have, what you need, and what you need to declutter.
I would love to see your newly organized closet! Come share it in the Radiantly Dressed Facebook Group so we can cheer you on!
Related Wardrobe Articles:

Organizing your closet by color is an easy 3 stage process so you can see what you have and get more enjoyment from your clothes.
Stacey is the owner and creator behind Radiantly Dressed. She is a certified image consultant and AICI member focusing on creating simplicity in wardrobes via color and style.