How a Merino Wool Dress Changed My Wardrobe
A merino wool dress makes a great staple in any fashionable wardrobe.
This post contains affiliate links. By clicking on them I may receive a small commission at no extra cost to you! Thank you for your support!
Over a year ago when I swore off pants and started wearing dresses, I never imagined how my clothing desires would change. I began to be more intrigued by the concept of sustainability in my wardrobe.
Merino wool became a fabric of interest because of its wearability and seemingly magical properties.
When I discovered that it came in dress form, I was sold! Read on to find out about my experience with the merino wool dresses from Wool&.
Understanding Merino Wool
Merino wool comes from the Merino sheep, which are primarily raised in Australia. This type of wool is highly valued for its softness, breathability, and moisture-wicking properties, making it an ideal choice for a wide range of clothing items, including dresses.
One of the key characteristics of Merino wool is its fineness, which is typically measured in microns. The Merino sheep produce a high caliber and extra-fine wool that ranges between 11.5 and 24 microns. To put this into perspective, human hair is around 50 microns. This fine fiber makes Merino wool incredibly soft and comfortable to wear against the skin.
In addition to its softness, Merino wool is also known for its remarkable temperature-regulating properties. It can keep you warm in cold weather, but it also has the ability to keep you cool in warmer climates. This makes it an excellent fabric choice for a dress, as it can be worn comfortably all year round.
Merino wool is also a natural and sustainable fiber, which can be an important consideration for eco-conscious individuals. Since it is derived from sheep, it is biodegradable and renewable. Furthermore, the Merino sheep industry in Australia is highly regulated, ensuring the well-being of the animals and responsible land management.
When considering a Merino wool dress, it's worth noting that there can be variations in the quality of the wool. Superfine Merino wool is a more premium option, as it comes from sheep that produce wool fibers with an even smaller micron count. This results in a softer, more luxurious feel and can enhance the overall comfort and quality of the dress.
In summary, Merino wool is a unique and versatile fabric, particularly suitable for dress-making due to its softness, breathability, temperature-regulating properties, and sustainability. With its origins in Australia, this outstanding fabric is perfect for creating comfortable, natural, and stylish garments that can be worn and enjoyed in any season.
Why I Love Merino Wool Dressses
The first time I heard about the 100 day challenge it seemed crazy to me because I knew nothing about wool. I perused a bit and noted that it was a supposed "miracle" fabric in several ways.
As I got ready for my own challenge last year I read more and realized that merino wool in particular has several special properties.
Merino wool is frequented by those in outdoor adventure hobbies such as hiking and backpacking both for its durability and resistance to odor.
As a mom of almost 7 the concept of less laundry is something very appealing to me. My own experience with merino wool dresses has exceeded my expectations.
I have soaked several areas in sweat and after a quick overnight air out there is no discernible body odor. Moderate dirty spots such as a bit of food or kid snot was easily wiped off with a wet washcloth.
Heavier duty food stains or grease stains I chose to treat immediately with dish soap, then the dress got washed to avoid any potential dye bleeding.
The dresses are lightweight and both warm and cooling at the same time. I feel comfortable inside the house where we keep it 68 without a bunch of layers. It's also perfect for 90+ degree days in Texas.
As a long time mostly dress only wearer, I love the versatility of their different styles and how many color options are available now to cater to everyone (and every color season).
Why Choose a Merino Wool Dress
As a fashion enthusiast, I've found that merino wool dresses are a must-have in my wardrobe due to their unique style and versatility. Here's why I believe choosing a merino wool dress is a great decision:
First, a merino wool dress can elevate my style effortlessly. The natural drape and soft texture of merino wool give the dress a luxurious and polished look. From sleeveless to long sleeve styles, these dresses offer a variety of options that can complement any wardrobe. Whether it's an A-line dress with patch pockets or a classic shirt dress, there's a merino wool dress for every preference.
Second, merino wool dresses are a fantastic addition to any travel wardrobe. Merino wool is famous for its temperature-regulating properties, which means it keeps me warm in colder climates and cool in warmer ones. This quality makes it a versatile fabric while traveling, as it adapts to different environments. Not to mention, merino wool is also wrinkle-resistant, so it's low maintenance when it comes to packing and maintaining a fresh look during my trips.
In addition, I appreciate the breathability and moisture-wicking properties of merino wool. These features not only make the dress more comfortable to wear, but they also contribute to its hypoallergenic and odor-resistant qualities. So, even after long days of wearing my merino wool dress, I can still feel fresh and free from irritating allergens.
Lastly, another reason why I enjoy wearing a merino wool dress is its long-lasting nature. The fibers of merino wool are known for being strong and resilient, which means that with proper care, these dresses can be a staple in my wardrobe for years to come.
In conclusion, adding merino wool dresses to my wardrobe has definitely changed the way I think about my daily outfits and travel ensembles. Its unique properties allow for great style, comfort, and longevity in a single piece of clothing.
7 Days with Rowena
I completed a 100 day challenge with Wool& back in the fall, so to explore the Rowena I decided to do a 7 day mini challenge!
Rowena was provided to me free of charge for an honest review. The opinions contained here are mine and unbiased by Wool&.
Check out how I styled her each day and any maintenance or issues I noticed during the process.
Day 1: I excitedly opened up the package to check out the color. I've been dying to see the Pine in color since people started posting about receiving it. It did NOT disappoint! It's a beautiful deep green with a teal blue undertone. I love that many of the darker Wool& colors are suitable as a black substitute that can be worn universally.
The fabric is the same as my other dresses, so I was excited to try out the fit. I've reached a point in life where I appreciate a higher neckline and Rowena does not disappoint! Although it's listed as a boat neck, I've heard they tightened up the neckline due to complaints about width. It's just right and perfect, somewhere between a scoop and boat width. Narrow enough to cover my bra straps, which is always a plus!
In my Facebook group I host single item outfit challenges, and today's is to wear an item with a color print (I.E., a print that isn't neutral) so for a last warm day before freezing temps, I chose a print scarf and coordinating solid flats. I feel so comfortable and happy with Rowena on day 1!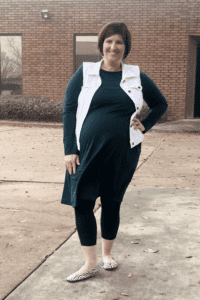 Day 2: I definitely wasn't able to complete the outfit challenge today which included a puffer vest. It's 70 degrees in Texas but a chill is coming tomorrow!
In the spirit of the challenge I went with a neutral outfit with high contrast, grabbing a white vest and black/white shoes. Today's schedule included visits to my midwife and chiropractor, which require leggings under dresses.
The Rowena was perfect today when I got home as the house felt really chilly! Unlike short or ¾ sleeves, I was completely warm in the full sleeves and higher neckline of Rowena!
Today I did notice the faint wet fabric smell I lovingly refer to as "wet sheep". This is something I've noticed fades after several washes, and doesn't linger once the fabric has dried.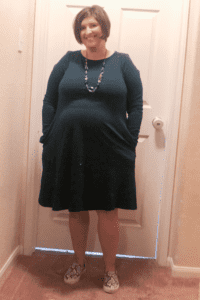 Day 3: Today was busy with a course call and recordings. I tend to get overheated when I'm recording under lights I kept it simple with a necklace and earrings.
It's about as cold as it gets in Texas and I had to step outside a few times. My bare legs were icicles but my upper half was toasty warm.
The dress took a heavy sweat soaking during the calls, and again I noticed the wet sheep smell, but I spritzed with an alcohol/water mix and hung up overnight.
I had to hit a few more toddler food spots today and they all easily wiped away with water.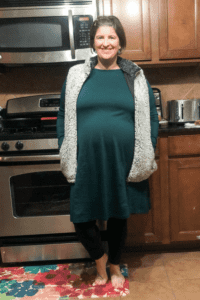 Day 4: Today was another client call day, but the cold weather has persisted long enough that my house is feeling it too.
As I get dressed today I was truly freezing, so I added velvet leggings for a warm luxe bottom, and a sherpa vest for cozy, comfy warmth.
The spots keep being added each day, so I know it needs a spot treatment and a spray.
Even though Rowena isn't showing any signs of this normal use, my brain is starting to want to wash the dress because I perceive it to be less "fresh". Nonetheless, in the absence of any true meses, I am going to hold off washing for the full 7 days.
I even made chili today, and used an apron to keep the dress from taking the heat.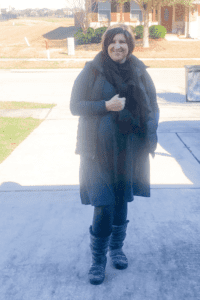 Day 5: It's still so cold!!!!!! I'm not built for this weather, and neither is my wardrobe!
Today's outfit challenge was a monochrome outfit, which means wearing colors in the same color family, like black/gray, or all blues. Since my dress is green, I used it as a black monochrome.
I'm constantly shocked how warm I stay in my merino wool dresses. The fabric is lightweight but does a fantastic job of regulating my temp, even on cold days. The rest of my clothing doesn't do such a great job!
Which is one of the many reasons I'm a merino convert for life!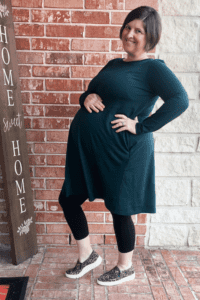 Day 6: I have officially reached the point of pregnancy where I'm just over everything, so having a designated piece of clothing to wear today is a lifesaver. I don't even have the energy for hair and makeup beyond being clean.
I grabbed crop leggings and added some fun with cheetah print fashion sneakers. The weather fluctuates from cool mornings to lovely days so I don't need layers.
I'm enjoying this mini challenge and still adore this pine color. I hope they make it in more options soon!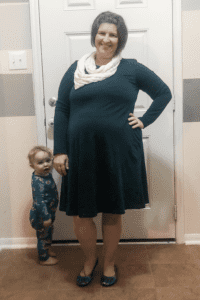 Day 7: Today is the final day of my mini challenge for this review. I still have not washed Rowena and she has done well with spot cleaning, even shaking off a bit of vegetable soup today.
I do personally like to wash my merino wool after about 5 wears just as personal preference and because I feel like the fibers relax a bit with multiple wears. But with several items this is such a sustainable choice to rotate and wash once a month.
I have really loved Rowena, from the high neckline to the full sleeves. It's true perfection, even over a very pregnant body!
Meet the Wool& Merino Dresses
It's no secret that I love my Wool& Merino Dress. But if this silhouette and style isn't for you, they have so many other fantastic in stock options, which I'll cover below.
You can check out the style archive for sold out styles they will possibly bring back. There is also a design studio, where signing up for alerts allows you to "vote" for styles in consideration for the future.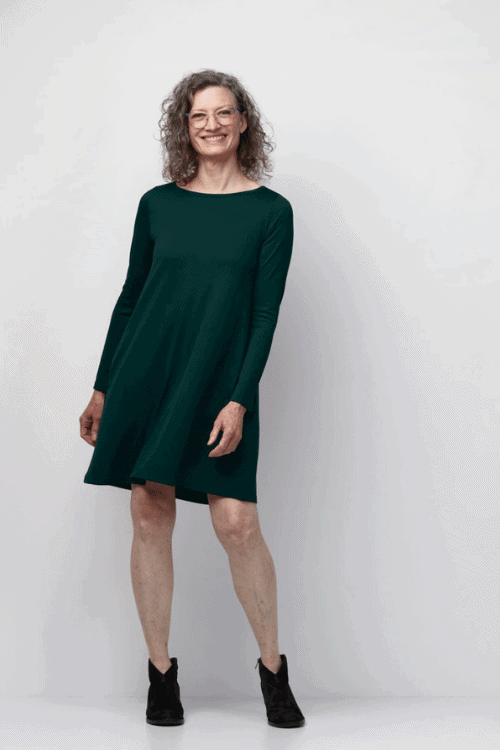 Rowena is a long sleeve swing style in a blend of 78% merino wool and 22% nylon. It features a narrow boat neck and  a yoke back for beautiful drape. It is currently offered in 14 colors, and also comes in a long length.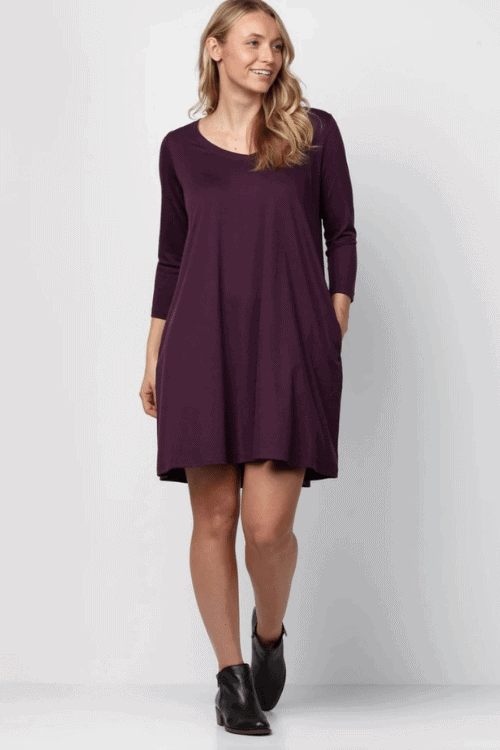 Willow is my favorite style! It is a 3/4 sleeve vneck silhouette in the same 78/22 blend. It also has the yoke for beautiful drape. It is currently offered in 13 colors and also comes in long length. I own 6 of these in the long version.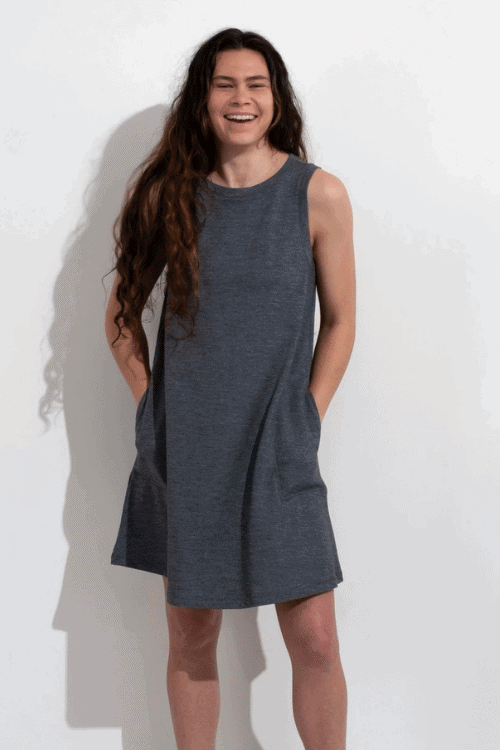 Sierra is a sleeveless dress in a thicker French Terry blend of 75% merino, 22% nylon, and 3% spandex. With patch pockets and a smooth back this A-line style is a favorite! It is currently offered in 12 colors and comes in a long version.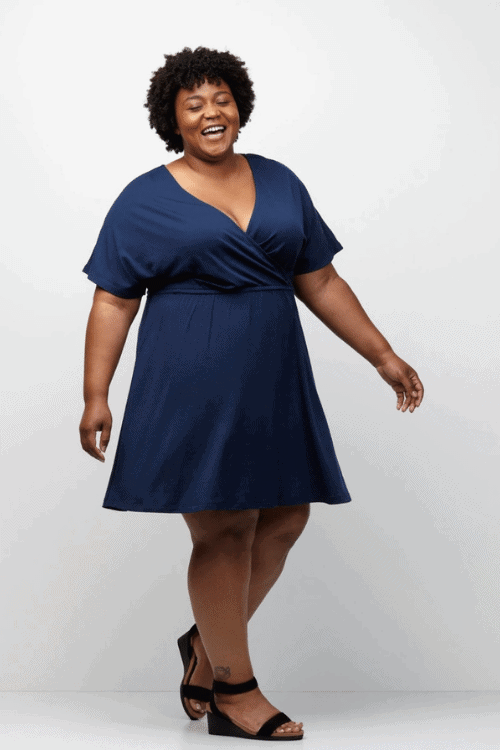 Brooklyn is a fun, flirty, reversible dress in the 78/22 blend. This dress is reversible and comes in 2 lengths, but no pockets. It is currently offered in 12 colors and will soon also have a long length.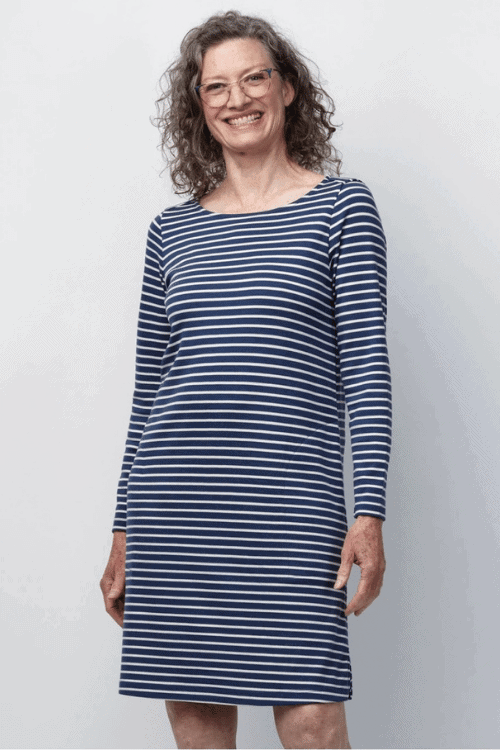 Margo is a shift dress in a medium weight 78/22 blend, thicker than the original fabric. This style features bracelet length sleeves, a boat neck, and the patch pockets like Sierra. It is available in 7 colors.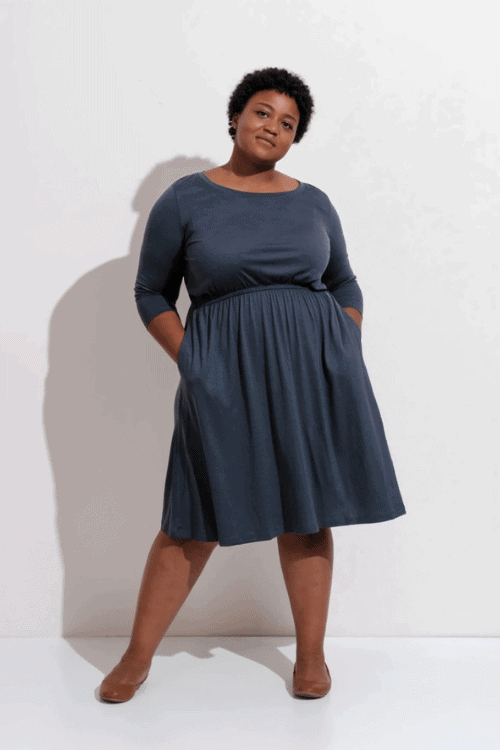 Fiona boasts a lovely fit and flare silhouette in the original 78/22 fabric. It is midi length with an elasticized waist, 3/4 sleeves, and a scoop neck. It is currently available in 4 colors.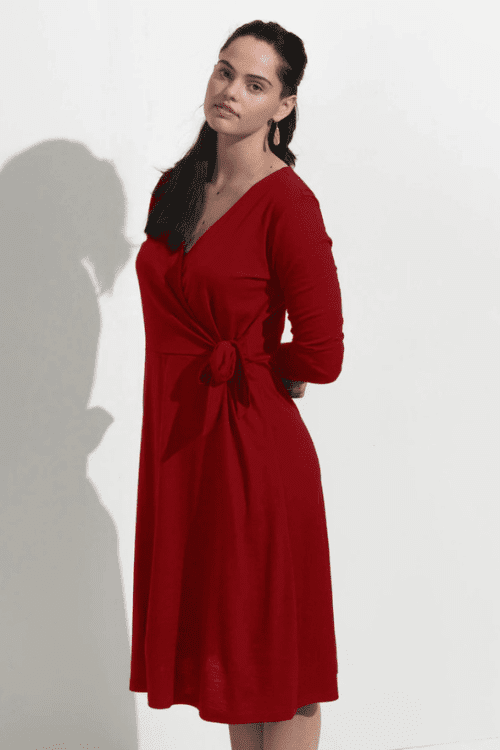 Ellie has a lovely bit of sex appeal, in the 78/22 original fabric. It features a deep neck wrap with a beautiful tie. It is midi length with 3/4 sleeves. It is currently available in 3 colors.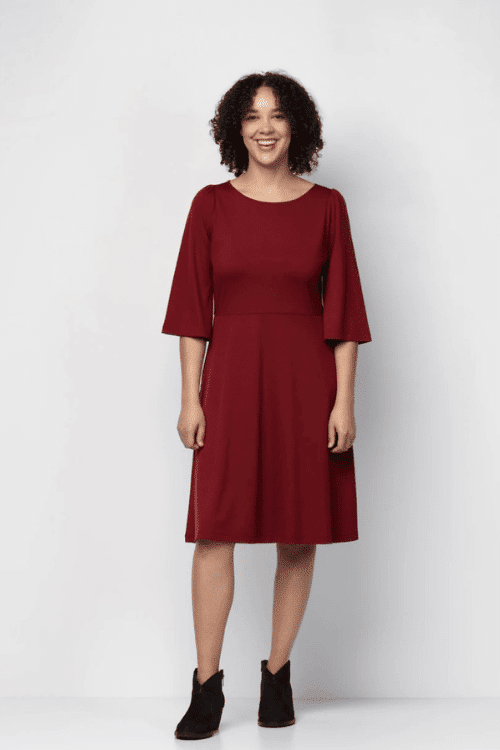 Renata is a flattering fit and flare style with a hidden elastic waist. In the lightweight 78/22 blend, this knee length dress features elbow length bell sleeves. It is currently available in 3 colors.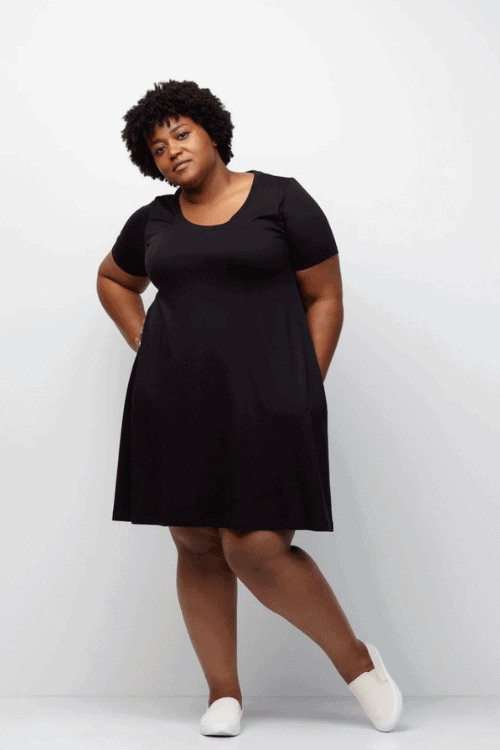 Maggie is a short sleeve swing dress style in the same lightweight 78/22 fabric. It is cut a bit slimmer than Rowena and Willow, and features a scoop neck. Currently available in 8 colors, this also comes in a long version.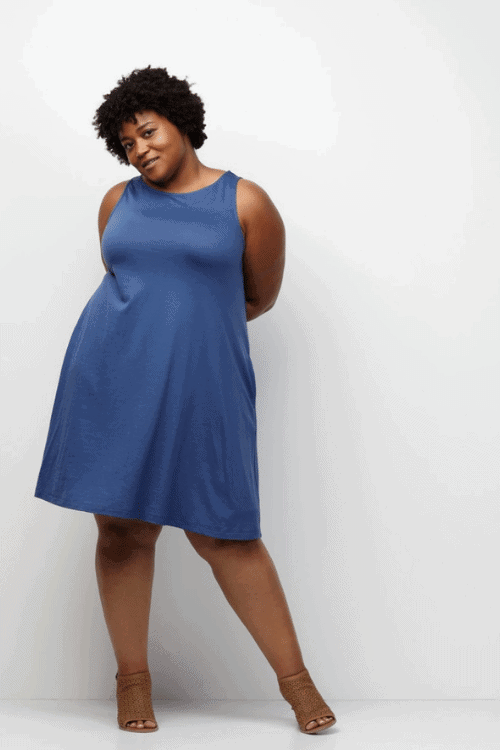 Camellia is a lightweight swing dress in the 78/22 fabric. Similar in cut to the Rowena and Willow, with thinner straps than the Sierra. It currently comes in 2 fabric variants, and a total of 5 colors. There is a long length available.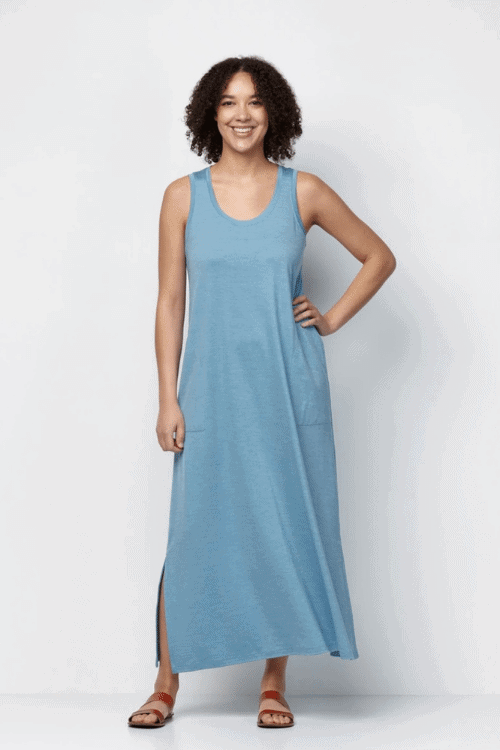 Audrey is the only maxi dress in the lineup! This sleeveless scoop neck comes in a blend of 49% merino, 33% Tencel, and 18% Nylon. It is currently available in 2 colors. *It also now comes in the 78/22 blend in additional colors.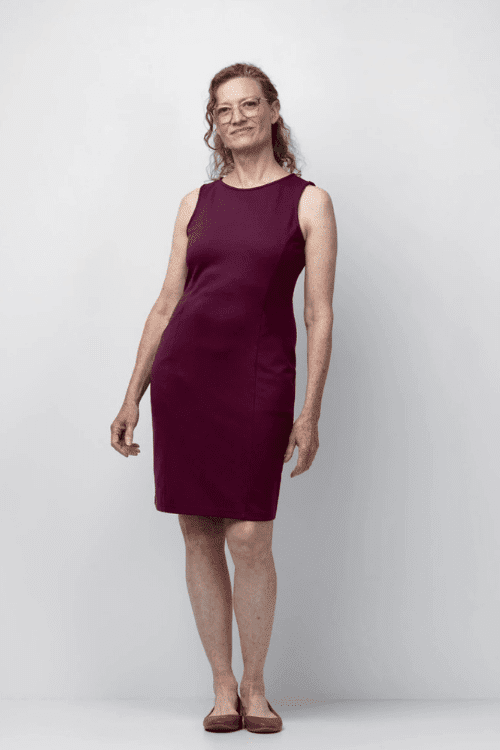 Kalle is a thicker ponte knit dress in a 75% merino, 22% nylon, and 3% spandex blend. This sheath dress is sleeveless, knee length, with patch pockets and a zippered back. It is available in 3 colors.
Wool& Colors for Seasonal Color Analysis
After several requests as a color analyst, I am happy to post this update that shares which colors of fabric from Wool& are good for which season.
Spring Seasons – Oatmeal Heather, Berry Pink, Washed Navy, Ocean Teal, Cinnamon, Marine Blue, Cerise, Aegean Teal, Lapis Blue, Modern Red, Spruce Green, Iris Blue, Teal, Apricot, Natural White, Ice Blue
Summer Seasons – Purple Sage, Cobalt, Berry Pink, Dusty Blue, Pacific, Ice Blue, Gray Heather, Odyssey Gray, Mauve, Ocean Teal, Spruce Green, Charcoal Heather, Washed Navy, Marine Blue, Wisteria, Aegean Teal, Lapis Blue, Vintage Blue, Iron Gray
Autumn Seasons – Plum, Modern Red,  Marine Blue, Spruce Green, Thyme, Marionberry, Burgundy, Aegean Teal, Redwood, Emerald, Cinnamon, Mauve, Canyon Red, Apricot, Oatmeal Heather, Natural White, Cool Olive, Forest Night, Dusty Cedar
Winter Seasons – Black, Cobalt, Ice Blue, Plum, Aegean Teal, Washed Navy, Ocean Teal, Marine Blue, Emerald, Pine, Beetroot, Iris Blue, Garnet, Marionberry, Black Heather, Charcoal Heather, Vintage Blue, Burgundy
Please keep in mind that your personal color attributes will affect which colors work best for you. You may not be able to wear every color listed in the season.
Depending on your season you may be able to wear some from your secondary season as well. These are just guidelines based on the general hue, value, and chroma of the colors produced.
Is Merino Wool Worth the Money?
Let's just get to the elephant in the room. Merino wool clothing is more expensive than what you typically find in stores.
Shirts retail for around $70-80, leggings and dresses for over $100. For those that are used to buying cheaper items, those prices can feel outrageous!
But when you look at the usefulness and wear of merino wool, those numbers balance out quite a bit.
Consider a basic knit dress from a mid-range store like Gap. You're likely buying an item made out of synthetic materials, somewhere in the $30-40 price range.
Because of the synthetic materials, you likely have to wash this dress after a max of 2-3 wears. This frequent washing not only uses more water, but increases the degradation of your dress.
Compare that to a merino wool product, with its odor neutralizing abilities that you can go upwards of 10 wears before washing. That's nearly 3 times the use, plus saving time and money on laundry. This increases the longevity of your item of clothing as well, as it's not constantly being strained through a wash cycle.
Going back to the hypothetical Gap dress, depending on fiber composition, it's likely suitable for 1-2 seasons at best. You likely have to add layers for cold months, combining several to stay warm.
On the other hand, merino wool dresses are great at regulating body temperature, and often require less layers in the winter. However, because of temp regulation, they can also be worn in the hot summer months, as they don't hold odor!
From the outset it can appear that merino wool clothing is expensive, but I challenge you to think of it like an investment. These are fantastic natural fibers that do so much more than cheaper synthetics, and even decent natural fibers. Merino wool is a miracle fabric, and it's well worth the money spent!
Is Merino Wool Itchy?
This is a question that gets brought up a lot! Many people have had an experience with wool that left them feeling scratchy and itchy. Some even think they are allergic due to this experience.
If you are allergic to sheep/wool fibers, I definitely say to avoid merino wool!
However, there are studies suggesting that is is actually the naturally occurring lanolin that people are allergic too, and not the actual wool.
However, merino wool is different from what you likely expect from a wool sock, for example.
The fabric blend for these merino wool dresses is 78% merino wool and 22% nylon. They also use low micron wool, which is higher quality. It is a very lightweight fabric and feels much like a performance item.
The first time I opened the package I was surprised that it felt similar to an athletic type shirt. I assume the similarity is one of the many reasons it does so great for wicking sweat.
My husband remarked when he tried his first shirt prior to washing that it felt a bit itchy, but after a single wash he was content with the feel.
Some women I have spoken to thought they were allergic to wool, but upon trying the merino blend by Wool& have loved it and are completing the 100 day challenge with no itchiness or irritation!
Frequently Asked Questions about Merino Wool
What are the benefits of wearing a merino wool dress?
Merino wool dresses offer several benefits due to the unique properties of merino fibers. They are soft, lightweight, and breathable, providing comfort and temperature regulation. Merino wool has natural moisture-wicking capabilities, which helps to keep you dry and odor-free, making it ideal for wearing in various weather conditions. Additionally, merino wool is known for its durability and resilience, meaning your dress will maintain its shape and quality even after multiple wears and washes.
How to care for a merino wool dress?
Caring for a merino wool dress is relatively straightforward. You can usually hand wash or use the gentle cycle on your washing machine with cold water and mild detergent. Make sure to turn the dress inside out before washing to prevent wear on the outer surface. After washing, gently wring out excess water and lay the dress flat to dry, avoiding direct sunlight, as this can cause the wool to lose its softness and elasticity. If necessary, you can steam the dress to remove wrinkles.
Are merino wool dresses suitable for all seasons?
Yes, merino wool dresses can be suitable for all seasons. The temperature regulating properties of merino wool mean that it can help keep you warm in cold conditions, while its breathability and moisture-wicking capabilities help keep you cool and dry in warmer conditions. This makes merino wool a versatile choice for a comfortable dress all year round.
How does a merino wool dress compare to other wool types?
Merino wool is considered a premium type of wool due to its finer fibers. These finer fibers result in a softer and more lightweight material compared to other types of wool. Additionally, its natural properties like temperature regulation, moisture-wicking, and odor resistance surpass those of traditional wool types, making merino wool dresses more comfortable and suitable for various activities and weather conditions.
What is the sustainability of merino wool production?
Merino wool is a natural, renewable resource that can be produced sustainably and ethically. The wool comes from merino sheep, which are raised on pasture in Australia, where high standards and best practices govern their welfare. As long as the sheep are cared for responsibly, merino wool production will continue to be a sustainable option for the fashion industry.
Final Thoughts on Merino Wool Dresses
I simply adore the dresses from Wool&, and it was no hardship to write this glowing review.
The fabric is divine, and I reach for my pieces almost daily. They have so many options that any woman can find the perfect dress.
When you consider this company is 3 years old, the breadth of their products is fantastic! They are constantly adding new colors and styles within a slow fashion mindset.
Related Style Tips and Tricks
Which style would you love to try? Let me know in the comments!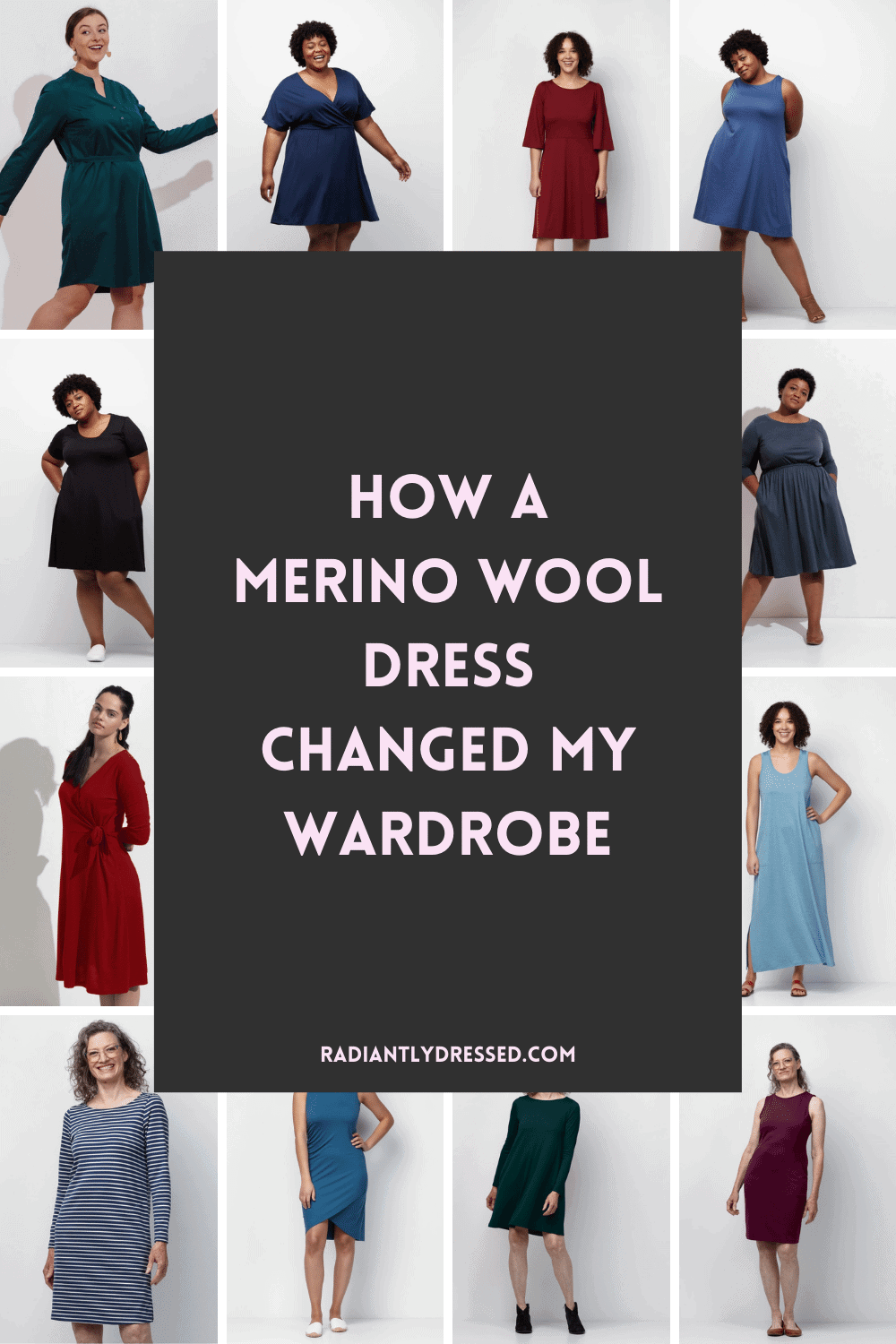 Add a merino wool dress to your wardrobe today to discover this magical wardrobe staple!
Stacey is the owner and creator behind Radiantly Dressed. She is a certified image consultant and AICI member focusing on creating simplicity in wardrobes via color and style.