Struggling to Find Your Personal Style? Look to the Past!
If you're confused about your personal style, try looking to the past to see what used to work for you.
I don't know about you, but attempting to find my personal style over the last decade has been quite the experiment, to say the least. Lifestyle, body changes, career changes, and global pandemics have a way of altering the clothes we choose to wear.
When it comes to our style choices, we have 2 options: let the fashion industry tell us what's trending and what we should wear, OR discover our own personal style type. I prefer option two! Especially as I move towards investing in quality pieces that will stand the test of time. Trends are notoriously fast fashion, and are frequently cheap throwaway items, of which 80% ends up in landfills.
Admittedly, I'm guilty of buying 5 cheap items instead of one expensive quality item, but I'm trying to change my ways! Knowing my color season and personal style has helped tremendously.
Ready to dig into your best colors and create a cohesive palette?

Now, you can take a quiz. I like this one that scores as you go along, and gives you both a primary and secondary type. Keep reading to the end to find out what I got!
But maybe still that leaves you confused and unsure how to move forward. My solution to that? Look to the past!!!!!
How the Past Can Help
As a mom, my fashion vibe has been pajama chic too many days to count. Pajama blah I should say. As my body has changed rapidly (5 kids in 7 years y'all!!!), picking clothes has been a challenge. Choices have often been limited to the needs of my body while growing and feeding a baby. Sometimes the basics in maternity and nursing wear are exactly that: basics, and don't have much personality.
When we look back at the past at the clothes we chose without constraint, often when our body was the shape and size we wanted, we can see elements of our personal style.
Here are 3 areas to examine to determine your personal style: your wedding photo, your prom dress, and the back corner of your closet.
Your Wedding Photo
Depending on how long you've been married, you might get some crazy vintage throwback vibes. Yet still, within whatever decade your wedding occurred, you made specific style choices when you chose your dress. I don't know the percentage of women who just "know" when they find THE dress, but I'd be willing to bet it's pretty high. I vividly remember buying my wedding dress.
Flashback…we had a whirlwind romance and decided to get married in 2 months, intimate family elopement style. I was a very broke graduate student working part-time in early childhood education. He offered to pay for my dress. We barely knew each other and I still feel like this was a defining moment in our relationship. He gave me a budget, and I was determined not to go over.
Since we were having a small intimate ceremony only, I had in mind a cocktail length dress in white. I ended up with something much more elaborate. I put it on, and never wanted to take it off. It was a candlelight color, with an overlay of lace, and covered in magnolias made out of chiffon. It was also over double the budget he gave me.  I won't bore you with the negotiating that went on with both the designer/bridal shop owner and my future husband, but needless to say, I said yes to this dress.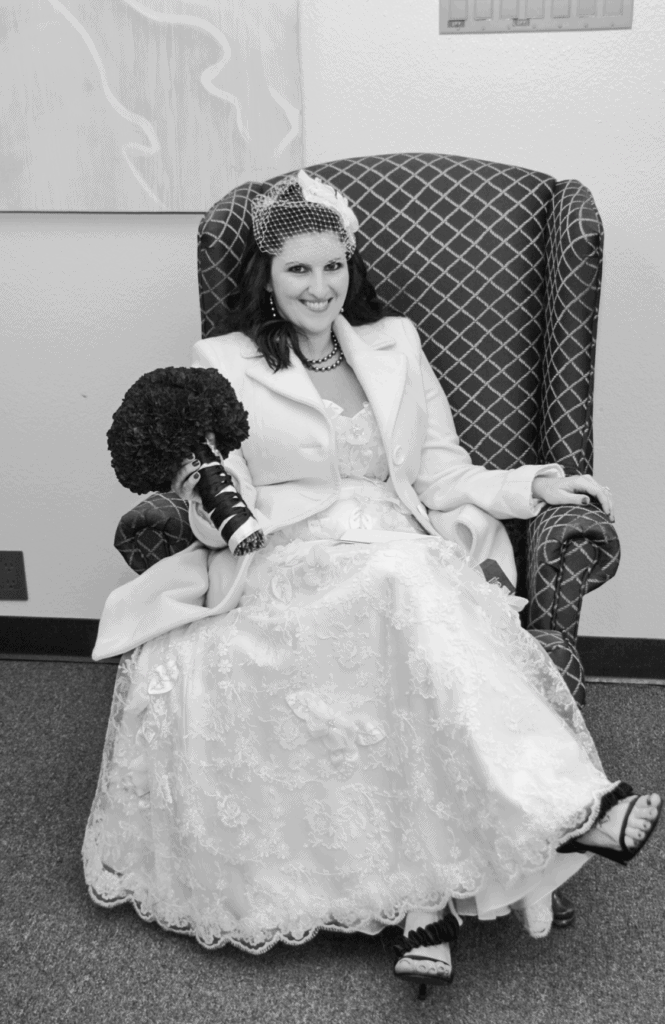 Your dress may scream 1985, but look to the tiny details to see what pulled at your heartstrings. Classic pearls, whimsical chiffon, elegant lace, all of these things are clues to your personal style. Was the color of your dress traditional or did you choose something trending? I'm looking at you pink and gold dresses of the 2000s.
Look also to your headpiece selection. I chose a fascinator that I made myself. It was more casual than a veil, but still gave me something on top. Did you choose the formality of a cathedral veil or the pop of a tiara? All of these aspects offer clues to your personal style.
Your Prom Dress
I just want to preface this section by saying that I currently don't know anything about teen fashion, and I'm not too keen about those years coming. I'll be honest and also say that it's been a looooooong time since I was a teen, and I *think* some of those styles are coming back again. If you know this movie, you get me.
Spaghetti straps aside, think not only about your prom dress, but what you wore your senior year. 17-18 is the the precipice of adulthood, and although bound by the trends of the time, we likely made selections that reflected our personal style. My prom dress was lavender and was actually chiffon PANTS with a beaded bodice. I've since learned than even though I desperately love lavender, it does not love me.
Beyond your prom dress, what style choices were you making? If you had senior portraits done, what did you wear? My best friend always wore khaki colored bottoms and navy nautical style tops. I never ever understood the draw. But preppy is not naturally my style. I remember owning turtleneck short sleeve sweaters, slacks, maxi skirts, and a lace vest. Have you figured out my personal style mix yet from these clues?
The Back Corner of Your Closet
Ah, perhaps my favorite trick to discovering your personal style! What do I mean by the back of your closet? Unless you've been living under a rock, you know about minimalism. Maybe you've Kon Mari'd your closet a few times. As you go through and get rid of clothes and clean out old wardrobe styles, there are likely 5-10 items that you refuse to get rid of.
If not, I applaud you.
For the rest of us, those items we can't let go of say a lot of things about not only our personal style, but probably who we are as a person. The back corner of my closet holds approximately one item of clothing I could currently wear, from a size perspective. It's a navy cocktail dress still holding tags. It would fit, and I *might* need it one day….for what at this point homeschooling 5 children I have no idea, ha! It's a classic piece, so it stays.
But what about the rest? The other items that don't fit that I'm hanging onto? Here's my list:
Gray micro-plaid pantsuit – I bought this for my grandfather's funeral, so there is a lot of sentiment attached to it. Also the styling is perfection, to me. It's a short sleeve cut with a bit of a puff sleeve. It also has a peplum waist which is very flattering in the heavier suiting fabric. It's a size 4, so it definitely doesn't fit.
White GAP turtleneck sweater – The classic elegance of this sweater still pulls me in. If I could find this sweater in my current size I would 100% buy it again.
7FAM jeans – My first time (and last) time buying investment jeans. I'm about 40lb away from fitting into these. #goals
Dark teal shirt with sequins – This shirt is just fun. I actually have pictures from a carnival in this shirt. Aside from being one of my best colors, the sequins make a plain t-shirt fun and exciting.
Winter white corduroy pants from Ann Taylor – ah another investment item in one of my favorite colors to wear. White makes me feel like I can conquer the world. Not so much with tiny toddler hands these days!
The black dress I wore to our first date. Tank style with a tulip hem. Soft jersey fabric.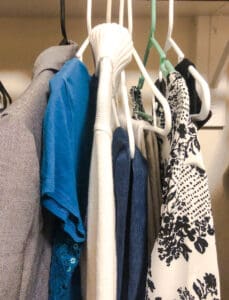 Not pictured: a yellow peacoat – I actually finally got rid of this, and to be honest, I DO feel regret! It was a bright lemon yellow and had a very 60's mod style to it. It wasn't truly a coat as it had 3/4 sleeves, it was more of a fun statement business casual item. I sent it to ThredUp several months back and I kinda wish I could get it back, if nothing else but for the purpose of this post!
Maybe it seems like these items are just sentimental holdovers from the past. But they all speak to elements of my personal style when my choices were unconstrained by size, shape, lifestyle, or budget.
So, What's My Personal Style?
If you haven't figured it out by now, my style type is whimsical classic. I like fun details like sequins, puff sleeves, soft fabrics like chiffon and lace. But I also like classic timeless items like turtleneck sweaters and tailored coats. As I've had these realizations in my own wardrobe, I'm trying to incorporate those elements in specific ways: classic cuts for core items, and whimsy in my accessories and completer pieces/outerwear.
Sometimes having a supportive community helps me hone those details! Join our Facebook Community to learn more about your own style!

What are you finding in your own closet and past that speaks to your personal style? The clothes that we bought for those once in a lifetime moments, and those we save often reflect our deepest sense of self. If you're struggling today to discover if you're classic, boho, somewhere in between, or a little bit of both, take a look at what used to make you happy!
Do you have a clearer picture now of your inner personal style? Tell me what it is in the comments!
Related Style Articles: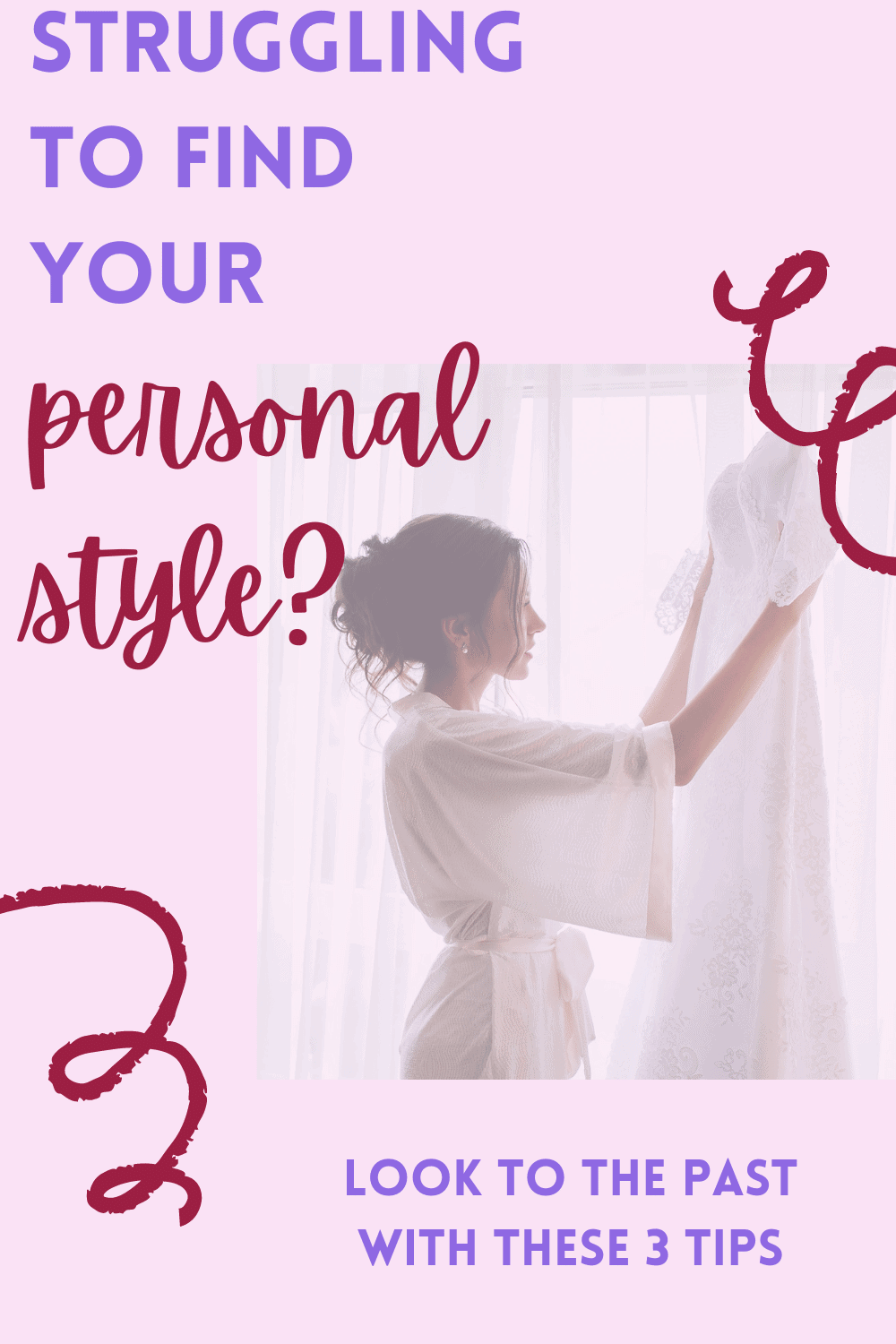 If you're feeling lost about your own personal style, I challenge you to explore these 3 areas of the past to find the answer.
Stacey is the owner and creator behind Radiantly Dressed. She is a certified image consultant and AICI member focusing on creating simplicity in wardrobes via color and style.