Check out Storehouse Flats for low profile flats in amazing colors and prints.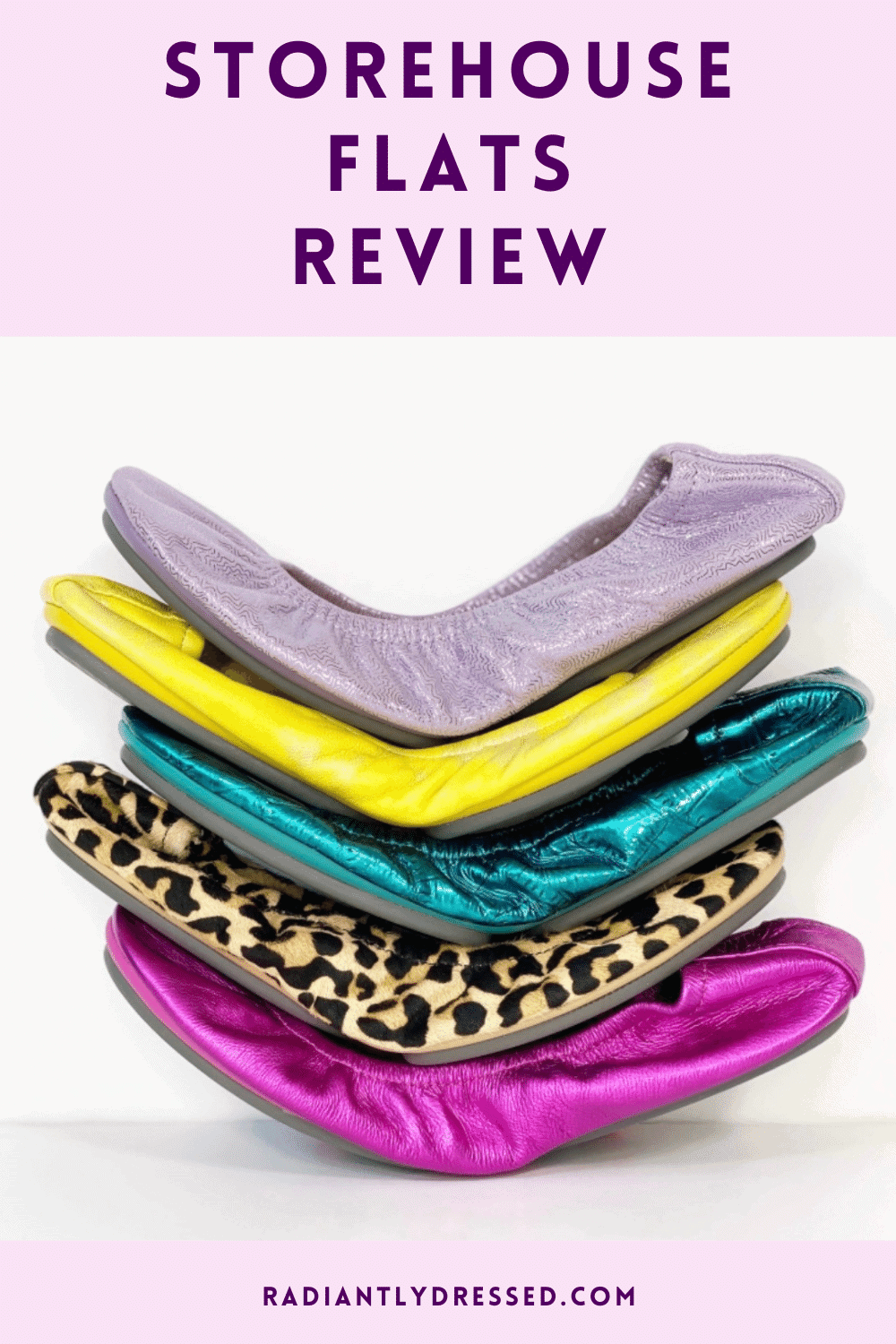 This post contains affiliate links. By clicking on them I may receive a small commission at no extra cost to you! Thank you for your support!
Storehouse Flats are an independently owned shoe brand. They were launched in 2017 by husband and wife team Andrea & Eric. They were previously retailers with a popular MLM fashion company and left to pursue their own product.
They are a family owned business headquartered in Louisiana. The flats are labeled as made in China, but further manufacturing information is unavailable.
The flats are made of genuine leather with a rubber sole. Keep reading to learn more about style, fit, how to care for your flats, plus more!
Stylish Flats under $100
Storehouse Flats are a minimalist style shoe. Research has shown that low profile/minimalist/barefoot shoes are best for increasing foot strength.
These flats are made of supple leather, and do not boast any arch support. You can see that the seams are hidden in the interior. 
When walking, they feel like being barefoot with the slightest hug. The only downside to this, is that they are best on flat surfaces, as stepping on a twig or rock wrong gives a bit of an ouch feeling!
In addition, the sole is divided into 2 parts. This is one of the things that makes these great for storing or traveling, as they take up little space. If you're anything like me and desire variety even on a 4 day trip, then space conservation is of utmost importance. You can easily pack a pair per day and still have room for your essentials!
Similar brands of minimalist flats go for over $200. Storehouse Flats come in at under $100! Not only is the price more amenable, but the options and prints in these are truly unbelievable!
They come in the following finishes:
Classic – traditional coated leather finish.
Oil Tanned – treated leather finish.
Rainbow/Foil/Shimmer/Iridescent – leather with an overlay that creates a metallic effect.
Suede – has a soft nap as opposed to a smooth finish.
Hair on Hide – soft fine "hairs" on top of leather for a true animal hide finish.
Flex – the newest iteration of Storehouse Flats. These are full sole with a bit more support. 
How do Storehouse Flats Fit?
As a minimalist shoe, Storehouse Flats fit close and snug and mimic a near barefoot feel.
The company as a whole recommends your regular size overall. The flats come in whole sizes, so they recommend sizing up if you are in between.
My personal experience is a bit different and I highly recommend sizing up.
My first pair of flats I ordered in my regular whole size of 6. I never, ever wear anything larger than a 6 and can frequently wear a 5.5. Excitedly I opened my first pair and wore them out in public – don't do this, practice at home first to avoid making them non-returnable.
Within an hour the interior seam was cutting into my big toe so badly that it was red and irritated. The next pair I ordered was a 7, and I have been happy sizing up with every pair. Sizing up can cause a bit of gaping, and using Flat Socks can make up the difference.
Too tight flats can also cause some pinching at the heel, but storing your flats folded out as pictured in between wears can help to stretch this area gently.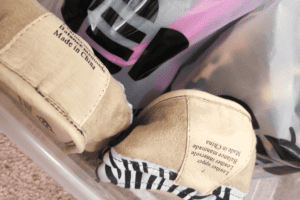 One of the other fit complaints involves big toe popping, also know as the visibility of the big toe through the flat. This seems to improve by sizing up, but die hard fans of Storehouse Flats recommend using moleskin, cutting a small patch and attaching to the upper toe area to conceal the toe.
Caring for your Flats
Storehouse flats are made of genuine leather and come in a variety of finishes. It is normal to experience some scuffing around the sole edges with normal use and wear.
I recommend treating your brand new flats as soon as they come in with a protectant like Carbon Pro. This helps to seal and waterproof your shoe to protect from spills and damage. It's especially important on a light colored shoe like Glisten Suede below.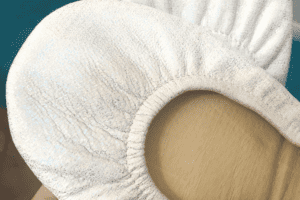 Storehouse Flats come in a plastic drawstring bag which is a great way to store them to keep them protected. Because they are so small, you could easily place your bags in a hanging shoe organizer.
You can also store them folded in these inexpensive Sterilite shoe boxes for a fun pop of color on your shelf and to maximize space.
Storehouse Flats vs Tieks
As as brand, Storehouse Flats takes great care not to compare themselves to Tieks flats. However, this is a common reference for those who are considering this brand. The following are the most common differences between the brands:
Price – Storehouse Flats come in at under $100 as opposed to Tieks which retail for $175 to $295 for specialty designs. Storehouse Flats are under $100 for both solids and basics and the fancier finishes like Hair on Hide.
Toe Box – The toebox in Tieks is much smaller than Storehouse Flats, and those with wider feet find Storehouse to fit better. Because the toe box is larger, toe cleavage is less of an issue if you don't like it.
Leather –  Although both products are made of leather, the leather used in Storehouse Flats is reported to be more supple and soft than that of Tieks.
Less Break In: Tieks owners report having to use multiple methods to break in their shoes for comfort, and the process for Storehouse Flats is either nonexistent or shorter. "Comfortable from the first wear" is a common theme. This may be due to the difference in leather mentioned above.
How to Order Storehouse Flats?
In stock flats can be ordered directly from Storehouse Flats| The Butlers.
Storehouse Flats limited run new releases work on a pre-order model. During standard production times, the pre-order runs from the 1st through the 5th of each month. Orders are placed ahead of production and delivery occurs in 6-8 weeks.
Storehouse Flats are sold through authorized retailers and boutiques.
Final Thoughts on Storehouse Flats
After reading travel blogs several years ago and seeing the popularity of Tieks for comfort and minimalist packing, I really wanted to get some. At such a high price point however, they were far out of my reach for experimenting.
When I discovered Storehouse Flats, I couldn't wait to try them! My initial purchase was a sizing issue, but I loved the construction and styling and couldn't wait to try again! My subsequent purchases have been so much fun!
I get so many compliments on my fun flats. Being so particular with colors, its often difficult to find colorful flats that fit my desires. The broad range of colors and styles is amazing, and honestly anyone should be able to find something to make them happy. From neutrals to solids to iridescent finishes and hide animal print, there's something for everyone!
Related Style Tips and Tricks
Let me know in the comments if you're excited about these shoes!!!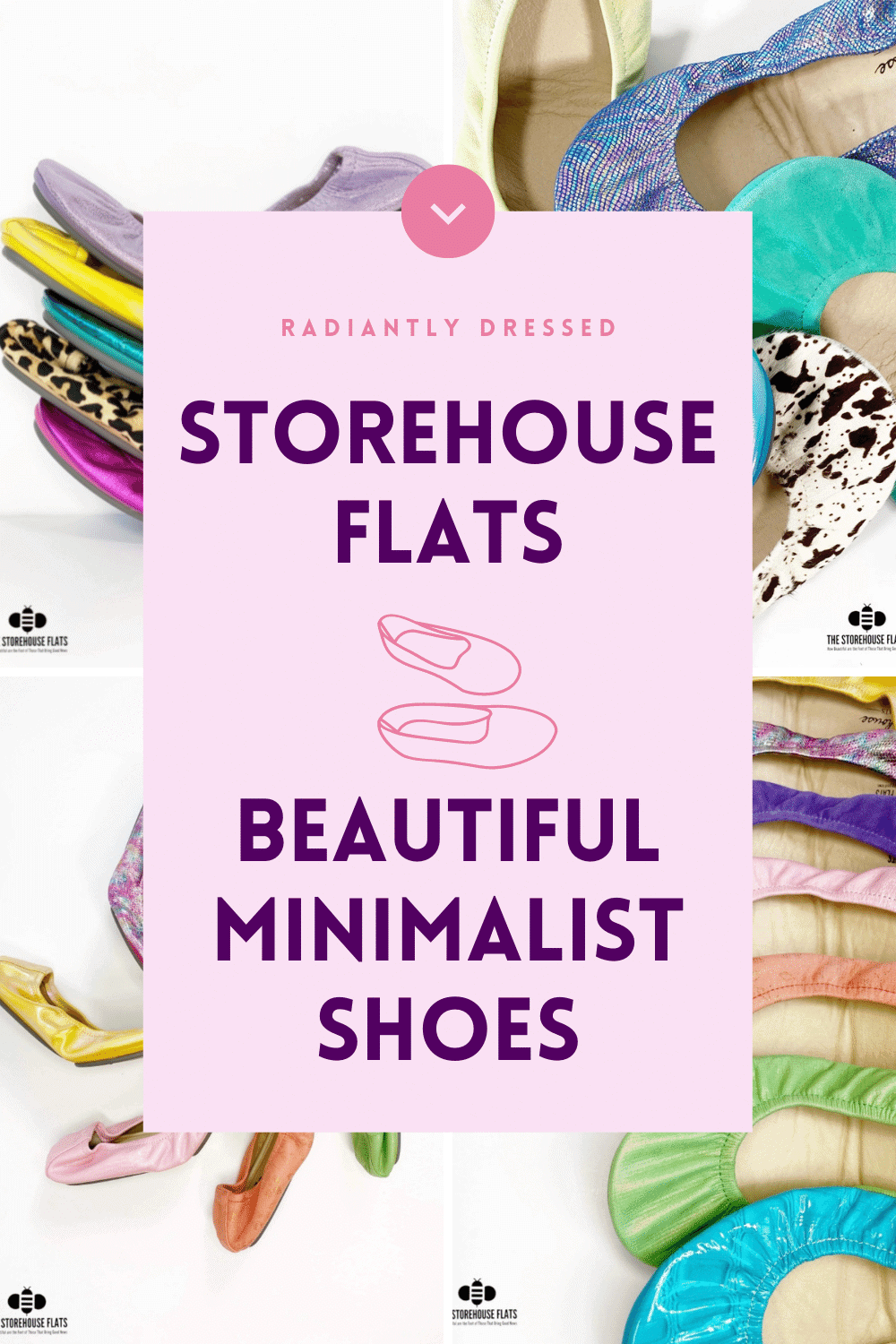 At a fantastic price point and a minimalist comfortable style, Storehouse Flats are one of my favorite brands of shoes!
Stacey is the owner and creator behind Radiantly Dressed. She is a certified image consultant and AICI member focusing on creating simplicity in wardrobes via color and style.