The best Kendra Scott pieces feature customer favorites in colors for everyone.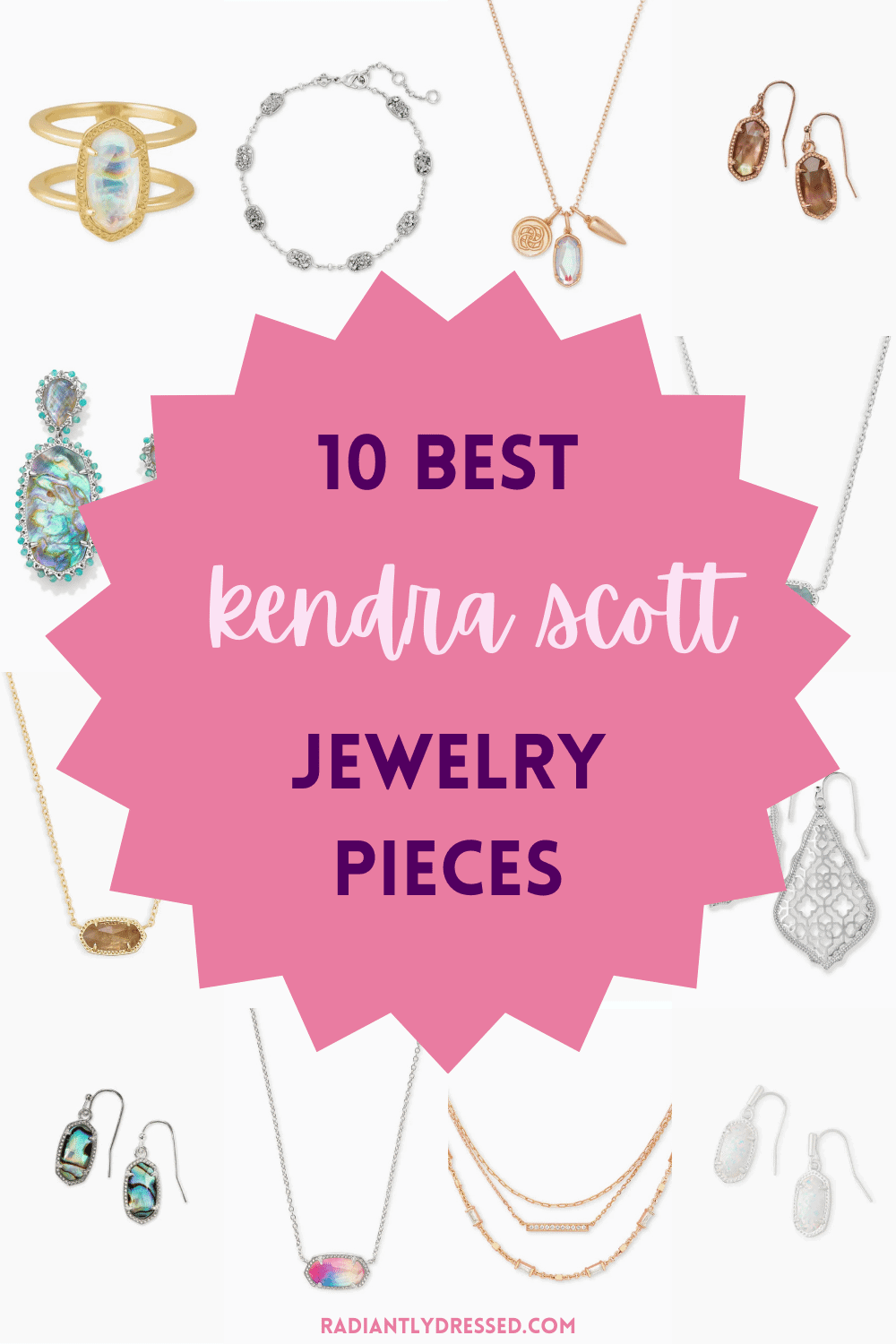 This post contains affiliate links. By clicking on them I may receive a small commission at no extra cost to you! Thank you for your support!
Kendra Scott is a jewelry company headquartered in Austin, Texas. The brand was started by a mom of 3 who wanted to create affordable natural stone jewelry. 
The current offering includes fashion jewelry and fine jewelry, and some home goods. Most recently they have launched a mens' line called Scott Bros. 
Kendra Scott supports organizations for women and children throughout the year with their give back campaigns and items. 
Why I Love Kendra Scott Jewelry
I love Kendra Scott jewelry because it is affordable quality fashion jewelry. Although they do have a fine jewelry line, I am focusing here on the fashion jewelry options. 
Visually the pieces look well made, and I have not had any problems with the metals. A quick summary of their metal selections in the fashion jewelry line include:
Gold tone – 14k gold plated over brass
Silver tone – Rhodium plated over brass
Rose gold – 14k rose gold plated over brass
Black tone – gunmetal plated over brass
I also love the variety and option to customize offered by Kendra Scott, so if I need a particular color item, I know I can find it!
Kendra Scott Birthday Perks
One of my favorite things that KS offers is their birthday month discount! 
My first purchase was actually during my birthday month, when they offer 50% off fashion jewelry, and 25% off fine jewelry.
I even went so far as to sign up my husband during his birthday month, because new Kendra Scott is always on my list for Christmas! 
Make sure to read the fine print for which type falls within which discount tier. This discount is good online or in store! I have not tried it yet for color bar, but that's my plan this year!
Kendra Scott Color Bar
Wait, what? I just mentioned the Color Bar, so let's go over this super awesome customization portal.
Many of the most common and best Kendra Scott pieces can be customized using this feature. 
In some cases you can choose from 3-4 metals including gold, silver, rose gold, and black. Currently there are over 30 stones offered. Fine jewelry finishes are not included in customization options. 
I love this because sometimes I want a combination that isn't already available. An example would be how coral is usually paired with gold. 
With Color Bar you can fix this oversight!
I've noted which of my picks for Kendra Scott best pieces have a color bar option.
Here are my top 10 pics for best Kendra Scott pieces for 2021. Note that I'm only featuring fashion jewelry, as this is the most affordable way to add personality and color to your jewelry collection.
#10 Elyse Double Band Ring 
While I personally do not wear rings other than my wedding set, there are some beautiful options at Kendra Scott. My favorite of all the rings is the Elyse double band ring, which comes in silver and gold, and is also featured as a customizable product.
You may notice this gem shape appears repeatedly, and this is the signature Kendra Scott shape. Many of my favorites feature it, because it makes the pieces distinguishable.
There are many other ring options available, some of which would also be perfect for teen girls. 
Rings are available in whole sizes from 5-9.
#9 Emilie Link Bracelet
The Emilie link bracelet also features the signature stone shape. 
This is a lovely dainty bracelet which comes in metal colors and some new colorful options. 
I really adore the rainbow mix, but would love if better in silver. Unfortunately this bracelet is not available in Color Bar.
The Emilie link bracelet is 6.5 inches with 3 length adjustments. 
#8 Dira Coin Charm Necklace 
Charms are trending again in 2021 and the Dira Coin Charm necklace jumps on the bandwagon. 
This dainty charm necklace features a logo stamped coin, signature shaped stone, and pointed pendant. It is 19 inches with a 3 inch extender.
The charms on this necklace are removable and interchangeable, and you could easily create a custom piece by using another individual charm.
The Dira Coin Charm necklace is a customizable product in Color Bar, so you could get this with your preferred metal with any of 30 available stones. 
This one is on my wish list in rhodium with white kyocera opal and a heart charm added.
#7 Addie Drop Earrings
If simple elegance is more your style, these Addie drop earrings will not disappoint. 
As a larger statement option, these earrings pack a punch with an understated simplicity. 
They come in only three finishes: gold, mixed metal, and silver, and feature a delicate filigree pattern instead a unique shape.
The Addie measures 1.5″ in length and hangs from earwire. 
#6 Jenna Choker Necklace
I love a good pendant, but some of my favorite necklaces are short collarbone skimming creations. 
The Jenna features small beads on a 15″ chain with a 3″ extender. 
#5 Parsons Statement Earrings
The Parson statement earrings were a discontinued customer favorite that has only recently been brought back in a limited offering.
Below you'll see all four options currently available. Only one comes in silver metal, but all are lovely!
These are large head turning earrings, measuring at 2.5 inches on a stud back. If you love them, grab them before they're gone again!
#4 Addison Triple Strand Necklace
The Addison triple stand necklace is another simple option in three metal colors: gold, silver, and rose gold.
The layered necklace look is still going strong in 2021, and this beautiful option features a single chain, bar pendant, and jeweled chain together.
You can be on trend with this delicate version. The short chain measures 16″ and the long chain measures 18″, with an overall 3″ extender. 
#3 Ellie Stud Earrings 
If you're looking for a basic stud earring in a rainbow of colors with a unique shape, then Ellie is your best choice!
This piece is actually my first experience with Kendra Scott, and it was gifted to me by our popular grocery chain as a mother's day surprise. I received a pair in silver with emerald drusy. 
This earring is available in the color bar with 4 metal options and over 30 stone choices, so the sky is the limit for customizing these gorgeous earrings.
The Ellie is half an inch long and barely over quarter inch wide on a post.
#1 Lee Drop Earrings
While my #1 pick for the best Kendra Scott jewelry item isn't their best seller, it's because these earrings are just so underrated.
These were my first KS purchase, after considering a second pair of the Ellie stud. My helpful husband pointed out that I seemed to like dangly earrings and voted for these.
He was spot on!
Which brings home what I love most about the Lee earrings. They are a petite statement earring. They aren't so overwhelming that they are competing with your hair, but they are more noticeable than a stud.
As a color bar item, they are available for customization in four metals and over 30 stones. 
I'll be adding a fuchsia pair in silver next, but honestly every option is beautiful. 
The Lee is slighter over a half inch stone on an earwire. 
If you are looking for a matched set, the Lee earring and Elisa pendant are offered together in a gift set in a limited neutral color selection. 
Final Thoughts on the Best Kendra Scott Pieces
Kendra Scott jewelery is my absolute favorite for many reasons.
I love the quality and design.
I love the ability to customize pieces in colors that are perfect for my season and color palette.
It's affordable and the birthday incentive makes it a great half price gift. 
If you are a new customer to Kendra Scott and your birthday is far way, get $20 off your very first purchase. 
Related Style Tips and Tricks
Which style do you love the most? Which style are you adding next to your collection? Let me know in the comments!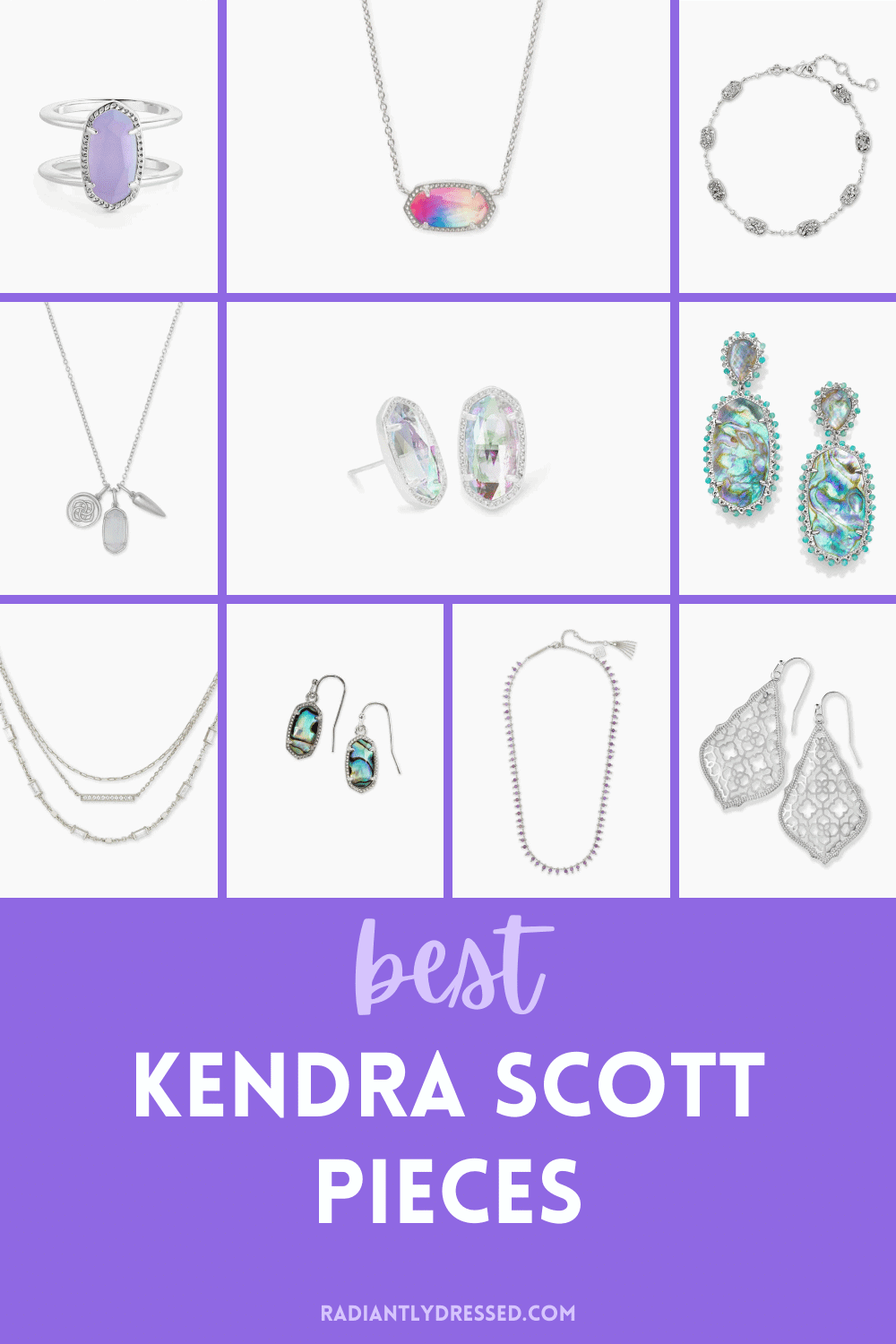 My 10 best Kendra Scott pieces feature customer favorites in every color of the rainbow!
Stacey is the owner and creator behind Radiantly Dressed. She is a certified image consultant and AICI member focusing on creating simplicity in wardrobes via color and style.