You don't need an online quiz to answer the question, "What's my personal style?"
Have you ever taken one of those online quizzes to help you figure out your style? Did it seem useless and confusing? I hear ya!
Those quizzes don't give you actionable steps to move forward; they put you in a box.
Inside this episode, I'm sharing 3 exercises I use  to help clients get a full personal style profile.
Personal style encompasses a lot of different things in your wardrobe. Today we're going to talk specifically about style words, style goals, and style essences. All these define your style type overall. 
I didn't really have a style journey before having kids because it seemed super easy. But after I finally started to try to figure out what was going on with me, and my body, and try to put a cohesive style together, I took some of those online style quizzes.
They were really confusing because they asked you questions and then give you a word.  This is your style type; you might get a blend of two words, but it's really just an idea.
The first time I took one, I got classic and whimsical. I didn't even know what that meant – classic and whimsical. Then I did an exercise where I dug out my wedding pictures to look at my wedding dress. I could totally see what classic and whimsical meant on this one piece of clothing. 
It was very carefully chosen for a very specific day and event – a mountaintop piece of clothing.  You didn't just accidentally buy it at Walmart. You very intentionally made that choice.
I looked at it and I thought, oh, okay, it's a strapless ball gown that's very classic, but it has these very whimsical organza flowers that mimicked a cherry blossom shape.
It had a classic structure and whimsical design elements to it. That was the only aha moment about this quiz that I had. And it took me months to come to this realization. 
The problem with these quizzes is they're supposed to help you with your style, but they're just boxes. They're boxes of words that are intended to fit a large group of people.
But you're not a large group of people. You're one individual unique person and your style cannot be confined to some predetermined label.
Your style can't be put in that box. You need something that's more personal that emphasizes and illustrates who you really are. There are three things I want to share with you today. 
What's My Personal Style: Create a Mood Board
The first thing you can do is create a personal style mood board. This is an activity where you create a collage. Channel your inner 17-year-old by cutting out magazine pictures and putting them in a scrapbook. You can do this digitally too. I've seen it done both ways. 
Collect a group of images, put them all together in a collage, and then interpret your mood board to get ideas about who you are, what you find beautiful, and what different stylistic things you are drawn to that you find beautiful.
This is something that we do in the Radiant Woman Intensive. We talk about it at great length, analyze it all together, and look at the cohesiveness of it and what it means for your style. 
What's My Personal Style: Create a Set of Style Words
The second thing you can do is to create a set of style words. I want to be really clear here that there are two different ways of doing this.
You can create a big list of style words. I've seen these usually in the seven to nine-count range of words. Or you can take it one step further and put your into buckets. Shoot for 3 buckets, or concepts.
You can also come up with what I like to call style goals. Using words that can have hazy meanings can be really difficult. You're taking nine different concepts and trying to apply them to one look.
Style goals on the other hand help guide and dictate how you want to be perceived in the world. They help span more of your wardrobe in a greater range and give you something to aim for that is more concrete.Three style goals is a better choice than using a bunch of random style words. 
What's My Personal Style: Style Essence
The third thing that you can do is to discover your style essence. Now this is a very specific concept. It dates back to the sixties. A man named John Kitchner developed this process. There are seven style essences and they range from stronger types to softer types.
You can go through this process and keep in mind that most people are a blend of two or three. It's rare to be just a single essence, but you can go look and you can study the style essences and you can pick out which ones you think suit you best and then try to apply those to your clothing choices. 
What's My Personal Style: Final Thoughts
These are just a few of the tools I use with my own clients to help them learn more about themselves and their own unique style. We go through all of these processes and then we marry them together to create a style profile that's unique to you.
Then we take this essence part and we look at how that applies to your tops and your bottoms and your completer pieces and fabrics and your hair and your makeup and all these different areas.
These are my top three tips, and my personal style profile lesson. This is how you can really dig in and figure out what works for you: create a mood board, create either a set of style words or style goals, and discover and integrate your style essences with your wardrobe. 
What I would love for you to do is start at step one. It's the easiest one to do. If you are lost and you want to get started on figuring out your own style, start with creating a mood board. 
Related Style Articles: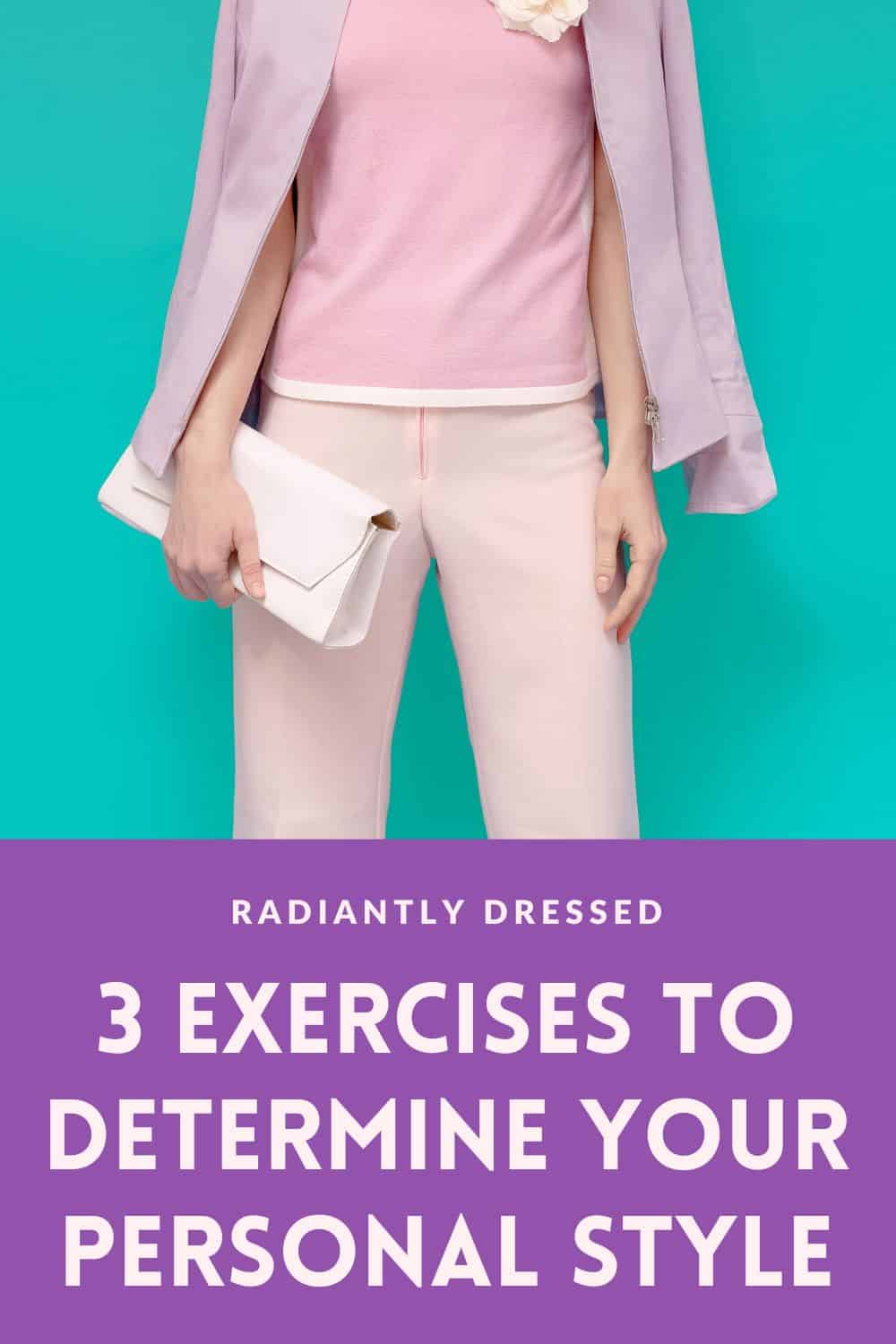 Here are three exercises to help answer the question, "What's my personal style?"
Stacey is the owner and creator behind Radiantly Dressed. She is a certified image consultant and AICI member focusing on creating simplicity in wardrobes via color and style.