Create memorable winter family photo outfits with these timeless palettes.
If you've got holiday cards on your agenda this winter, chances are you've booked winter family pictures. The good news? Winter family photo outfits don't have to be complicated! I'm going to share my three favorite outfit color palettes with shopping links that will make putting together your winter family photo outfits a breeze!
This article contains affiliate links. By clicking on them I may receive a small commission at no extra cost to you. As an Amazon associate I earn from qualifying purchases. Thank you for your support!
How to Decide What to Wear to Winter Family Photos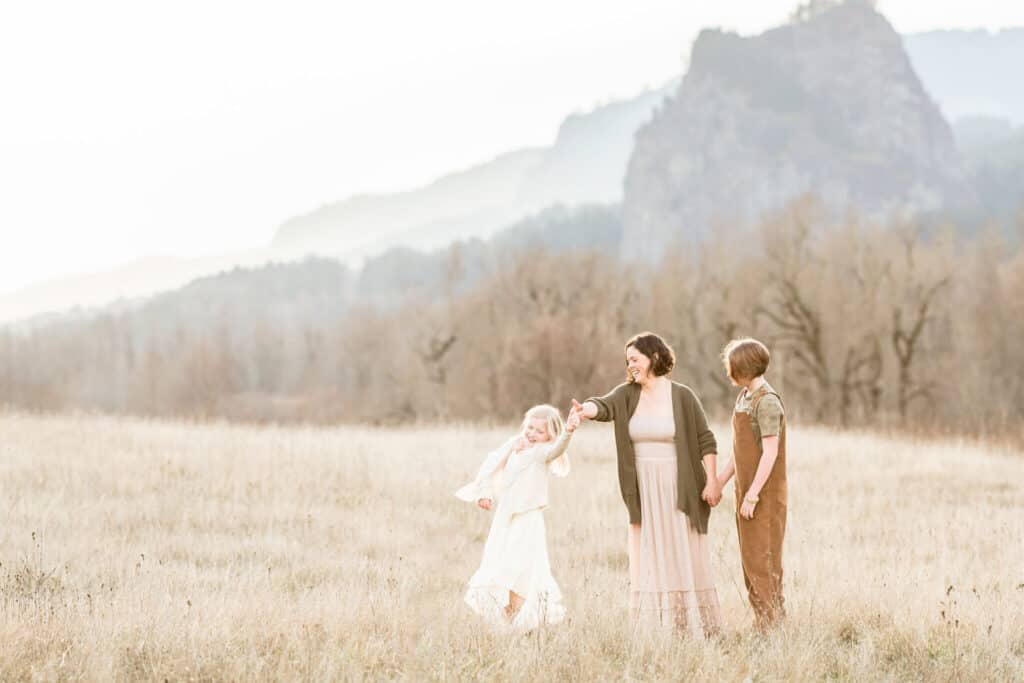 Dress Yourself First
The easiest way to approach dressing your whole family for photos in any season is this: choose your own outfit first! I know it's tempting to start with the cutest kid's outfit you run across in a store. But here's the deal: you'll think almost anything the tiniest member of your family wears is adorable, right? We're much more critical of ourselves than our children, so be gentle on yourself and start building your family's wardrobe around an outfit that makes you feel good about yourself.
Give Yourself Plenty of Time to Shop
There's nothing worse than having to shop at the last minute for family photo outfits. Not only do you limit yourself to items that can be found locally or shipped overnight, it stresses you out. You deserve to feel calm about your family photos, so give yourself plenty of time to pull everyone's outfits together. Ideally, I like to start looking about 4-6 weeks out for mom's outfit. That gives you plenty of time to try several items to find the best fit, and it allows time for searching for everyone else's clothing after finding "the one" for you.
Family Photoshoot Outfit Ideas for Winter
Casual Warm Neutrals with Rust and Olive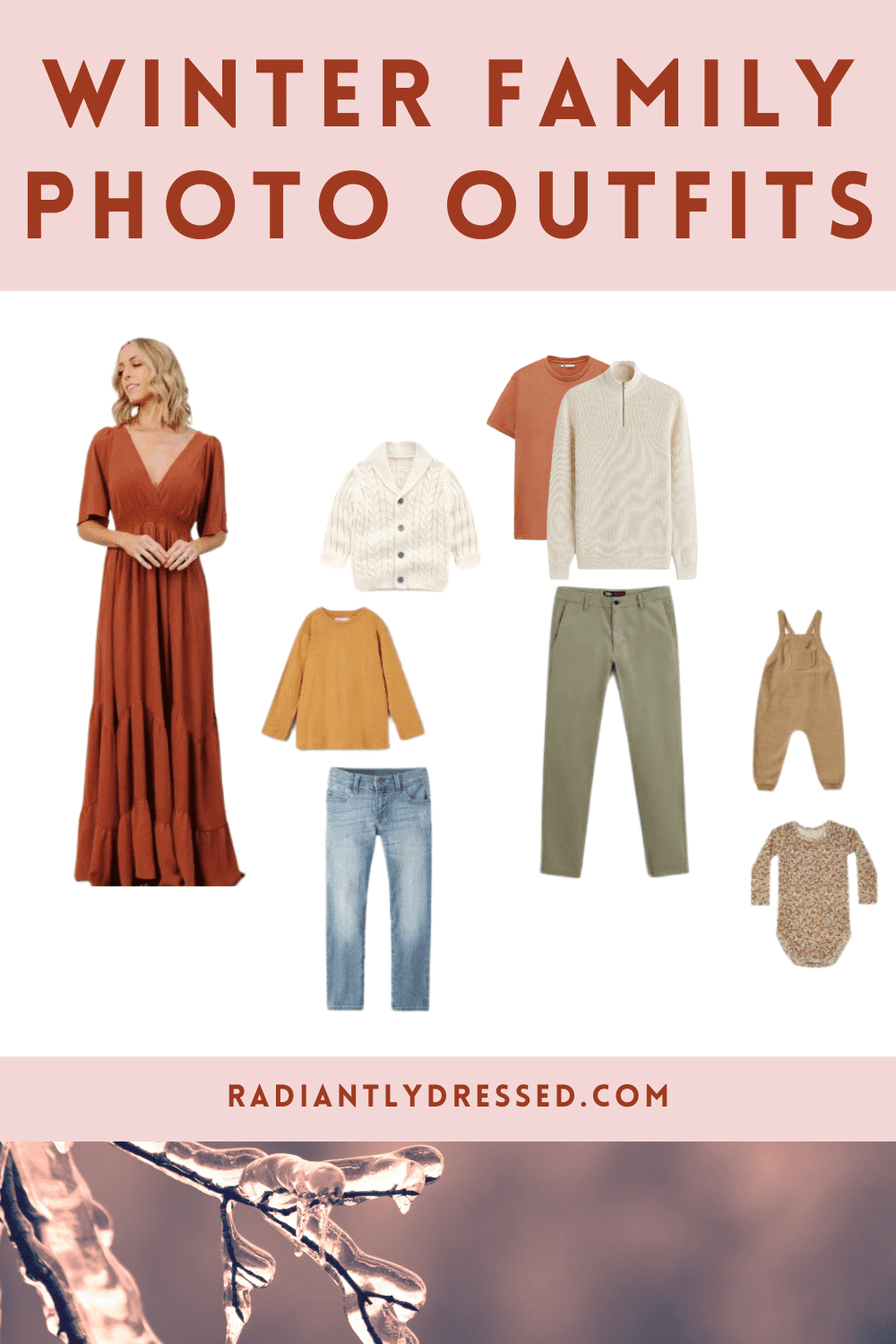 Mom's Dress/ Dad's Sweater/Dad's Tee/Dad's Pants/Boy's Tee/ Boy's Sweater/Boy's Pants/Girl's Bodysuit/Girl's Overalls
This outfit combo relies on cozy knits, plenty of layers, and warm pops of color. If it's a colder day, mom can easily layer leggings under the full maxi skirt for warmth and bring a knit shawl for extra warmth.
Dressy Blue, Gray, and Cream with Tulle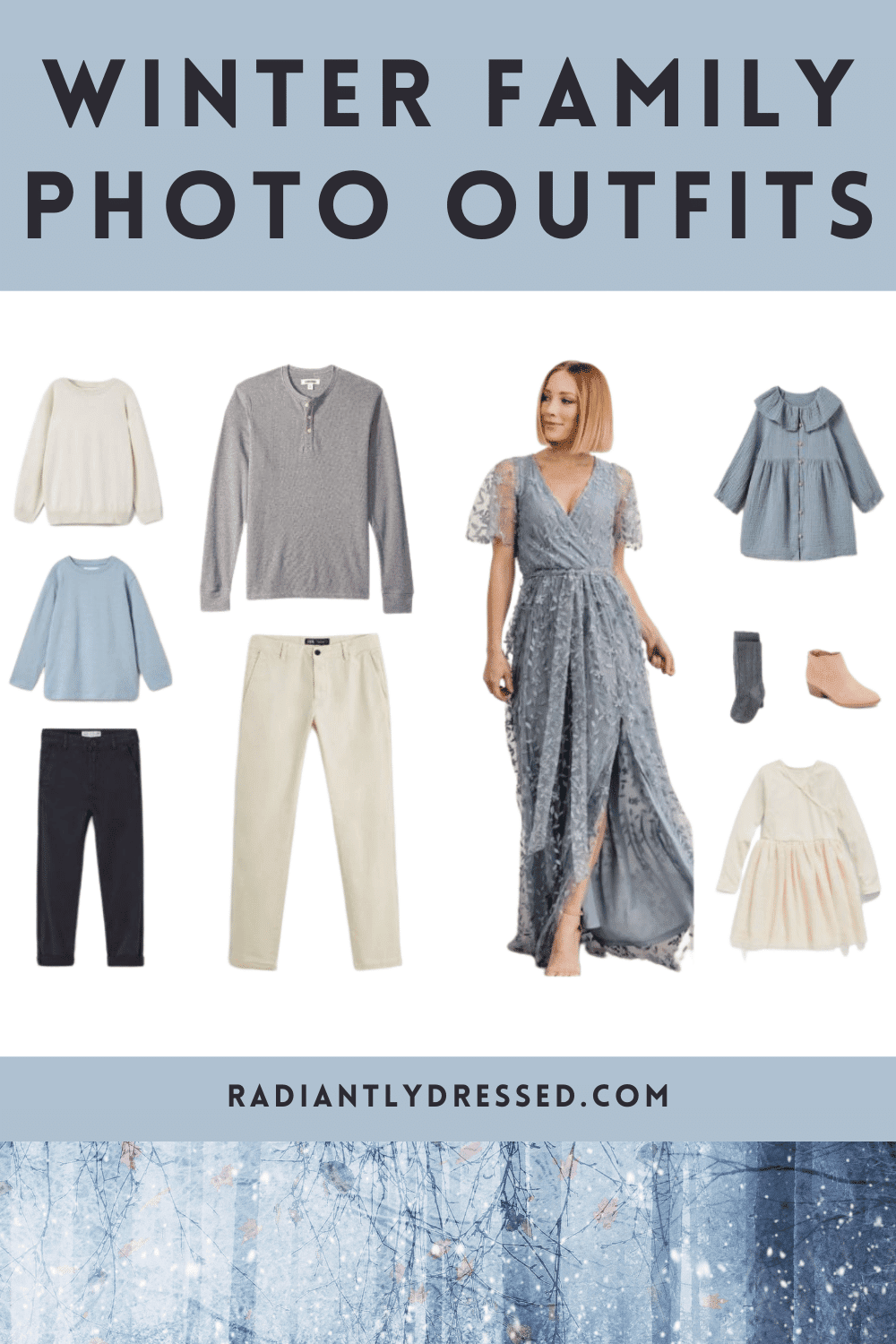 Mom's Dress/Girl's Blue Dress/Girl's Ivory Dress/Girl's Boots/Girl's Tights/Boy's Tee/Boy's Sweater/Boy's Pants/Men's Pants/Men's Thermal
If you're dreaming of a Frozen-inspired winter wonderland, try dusty blues, icy grays, and creams. This dress from Baltic Born makes it feel even more magical with its embroidered tulle layer. Layering the boy's blue tee under the sweater adds extra warmth and ties in just a hint of color.
Winter Whites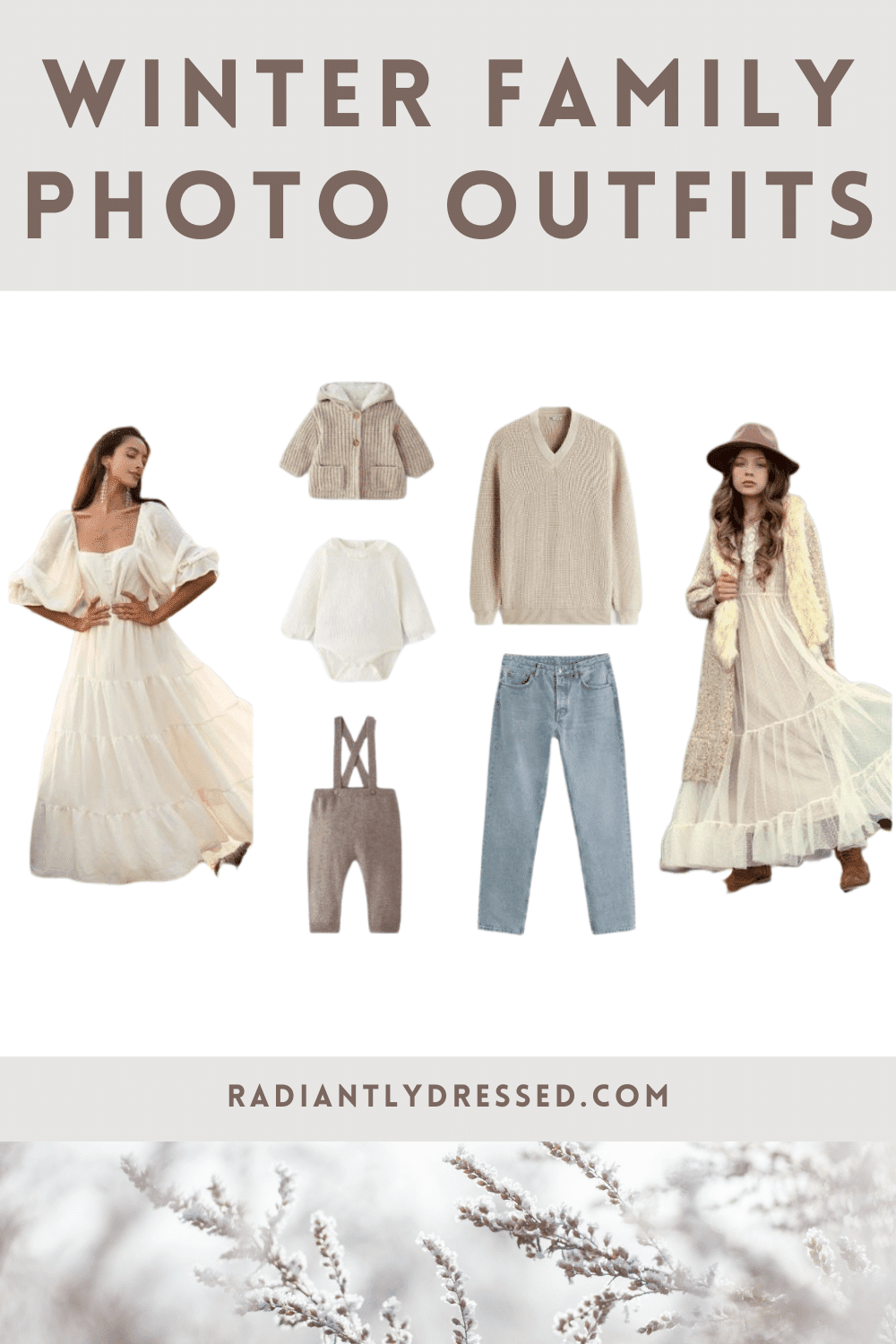 Mom's Dress/Baby's Sweater/Baby's Bodysuit/Baby's Overalls/Dad's Sweater/Dad's Jeans/Girl's Dress/Girl's Duster
Layering warm winter whites can look so clean and timeless. The trick is to include a lot of different textures to create depth. Think: chunky knits, lace, ruffles, and fur. Also make sure to include a lot of different shades of white, not just one single basic white. Here, there's ecru, cream, tan, and a cool light brown.
Best Winter Family Photo Color Schemes: Consider Your Background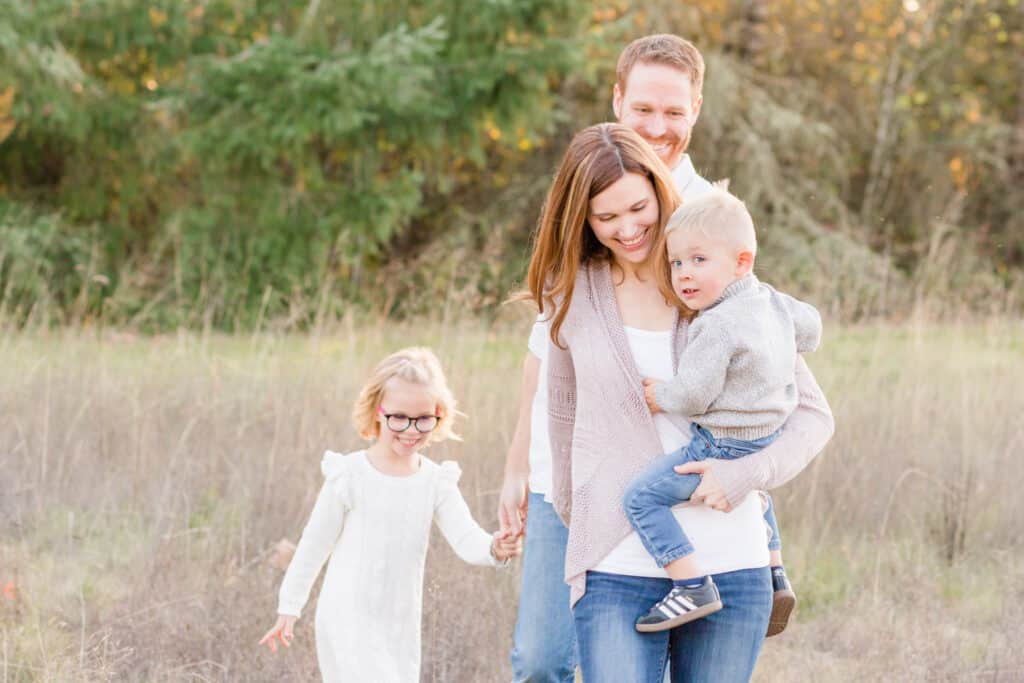 If your photos will be at a place with a lot of color in the background, like fall leaves, consider layering shades of neutrals so the photo doesn't feel overly busy and the focus can be on your faces. However, if it's a wintery scene with snow, rain, or fog, a pop of color can be just the thing to liven up your photos. I love how this mama below chose a pink dress to pop against the neutral, foggy winter field.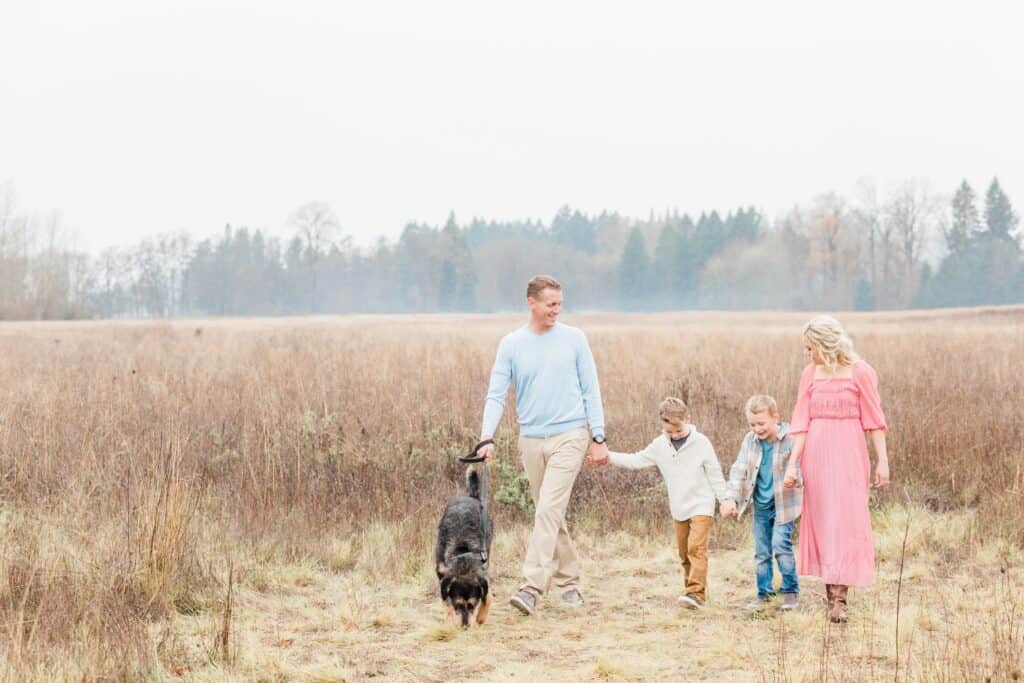 Where to Shop for Winter Family Photo Outfits
My favorite stores for photoshoot worthy outfits all stock items in flattering soft colors and cozy textures. Here are my favorites for moms and kids:
For Mom
Pinkblush (Womens & Maternity)
For Kids
How to Keep Warm at Your Outdoor Winter Family Photo Session
Layer Up
This is especially important for small children, who can get dangerously cold or at the very least unhappy about being cold at an outdoor photo session in winter. Make sure their outfits are seasonally appropriate by dressing them in layers that are photo-ready. Starting off with a long sleeved bodysuit, you can add a knit romper and a cardigan for three adorable warm layers. After adding a hat or bonnet, they'll be cozy and ready for snuggles!

Romper/Bodysuit/Bonnet/Cardigan
Also, remember that you can still choose a dress, even for a winter session. I adore the way a full skirted maxi dress adds movement to photos, so I encourage my clients to choose a dress with that in mind. If it's cold, maxi dresses do double duty because they're easy to layer leggings and cute warm boots underneath without anyone being the wiser! My favorite retailers for photoshoot dresses usually offer long sleeved dresses in fall and winter, but you could also layer a knit shawl over your arms to keep warm.
Bring Heavy Coats for Between Photos
If you're still chilly even with layers, bring heavy winter coats with you to your session. They'll come in handy for walking from your car to the photo location, as well as for in between photos when you or the kids need a quick warm-up break.
Tuck Hand-warmers in your Pockets
My last, but favorite tip for keeping warm at an outdoor winter photo session? Hand-warmers! If your outfits have pockets (and every great dress does, right?), tuck a few small hand-warmers into the pockets. In between shots, you can tuck your hands in your pockets and warm your fingertips up so they'll be ready to cuddle your babies for the next shot!
Final Thoughts on Winter Family Photo Outfits
Because the winter is typically such a busy time of year for everyone, I believe it's important to keep your family photo outfits in winter simple. Start with an outfit that you feel great in.
A dress is an easy outfit because you don't have to worry about matching a top and bottom! From there, layer in coordinating neutrals for everyone else in your family. Add in a few pieces in an accent color, like in a baby's romper or a child's sweater, and you're all set!
Related Style Tips and Tricks:
Which one of these winter family outfit combos do you like less? Let us know in the comments!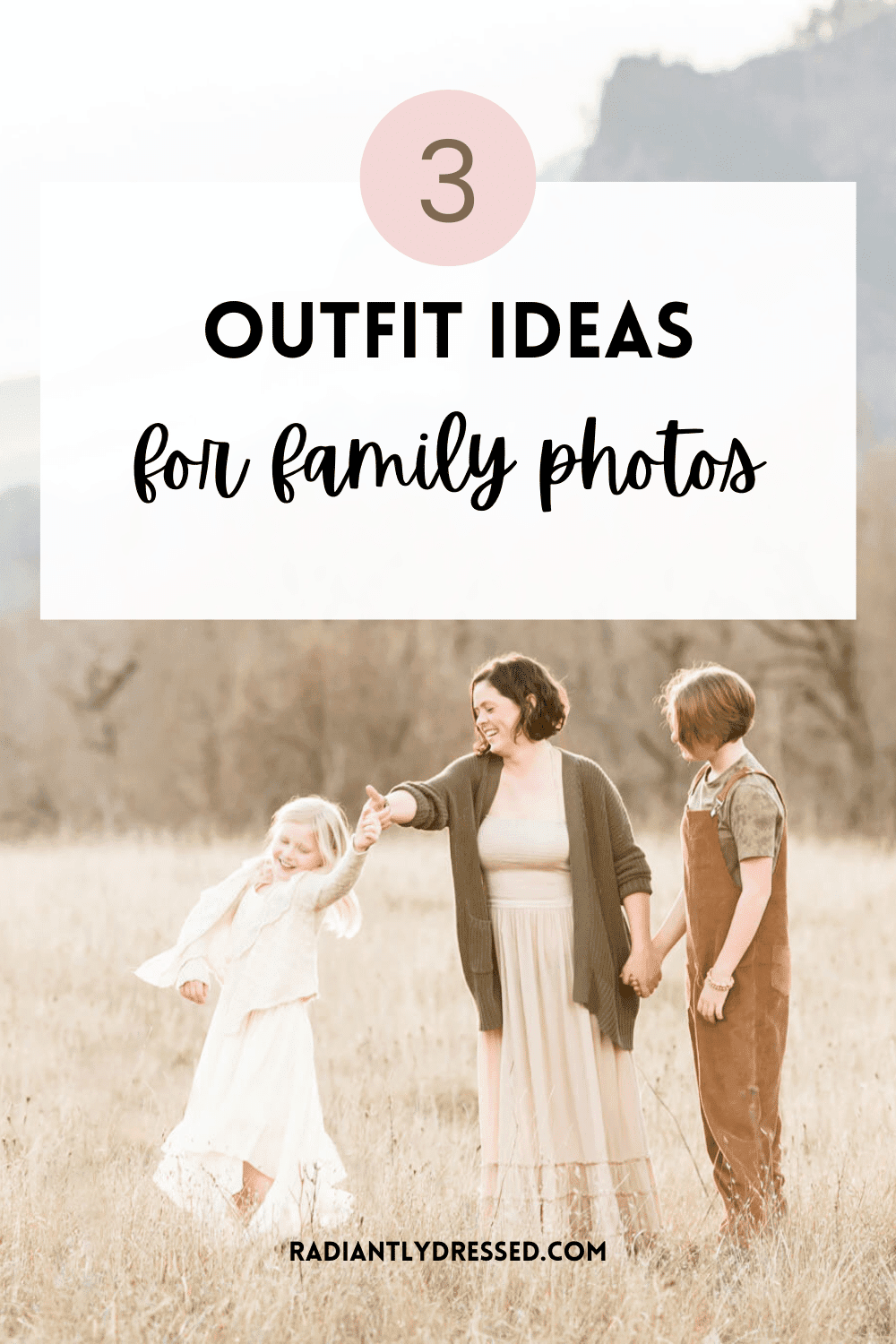 Winter Family Photo Outfits can be beautiful and timeless in layered neutral outfits for the whole family.
Samantha Shannon is a family photographer in Portland, Oregon. She specializes in light-filled, timeless family portraits. Her work has been featured in The Motherhood Anthology and The Kindred Path.