Choosing outfits for family photos can be hard, but with these 10 tips you'll look amazing in no time!
Hey there! It's family photo time of year!!! Get happy! Or if you're my husband, suggest it, then get cranky the day of! Why do most men have such a dislike for family photos? Fortunately mine lets me dress him for this one day of the year.
Do you struggle to choose outfits for your family photos? Believe it or not, it's a very common problem, as indicated by the number of searches and posts on the topic! Imagine how complicated it can get when you have 5 (or more!!) kids.
I used to dabble in family photography, so this topic comes from both the fashion side and the other side of the lens.
1: Dress Mom First
The majority of the time mom is going to be the one organizing everything related to the family photo shoot. If you don't feel beautiful, the photos are doomed from the start.
Decide if you want to use an existing item of clothing, or purchase something new. Perhaps you'll default to your favorite colors or favorite dress, or maybe fall in love with something totally new.
Either way, if you love what you're wearing, the rest will fall into place. As a bonus, your outfit could potentially lead the way for the rest of the color palette.
Looking for advanced help with color schemes? Check out the FREE DOWNLOAD: Color Your Capsule.

There is, however, one exception to this rule…
2: If you have an extremely picky family member, dress them first.
I'm fairly confident that the goal of your photo session isn't listening to someone whine, pout, or cry hysterically.
If one of your children refuses to wear exposed seams, for example, then find their clothing first. Maybe one of your children only wears jeans, or the color pink, or that one pair of Toms. Build from there.
It may not be the perfect image you had in mind, but photos are meant to capture the love and joy of family, so let's stick with creating joy!
3: Don't wear all one color.
This just hurts my eyes.
We can throwback to circa 2007 when it was all the rage to wear black tops and jeans. Yes, black is always classic, but color in an image can become monotonous.
I'm especially firm on this rule when it comes to strong colors: black, white, red, and other saturated hues. As with all rules, I love exceptions to this one as well.
You can pick a tonal based palette featuring all the same color family: ivory/cream/tan, navy/periwinkle/blue, or blush/red/maroon are all some great ideas.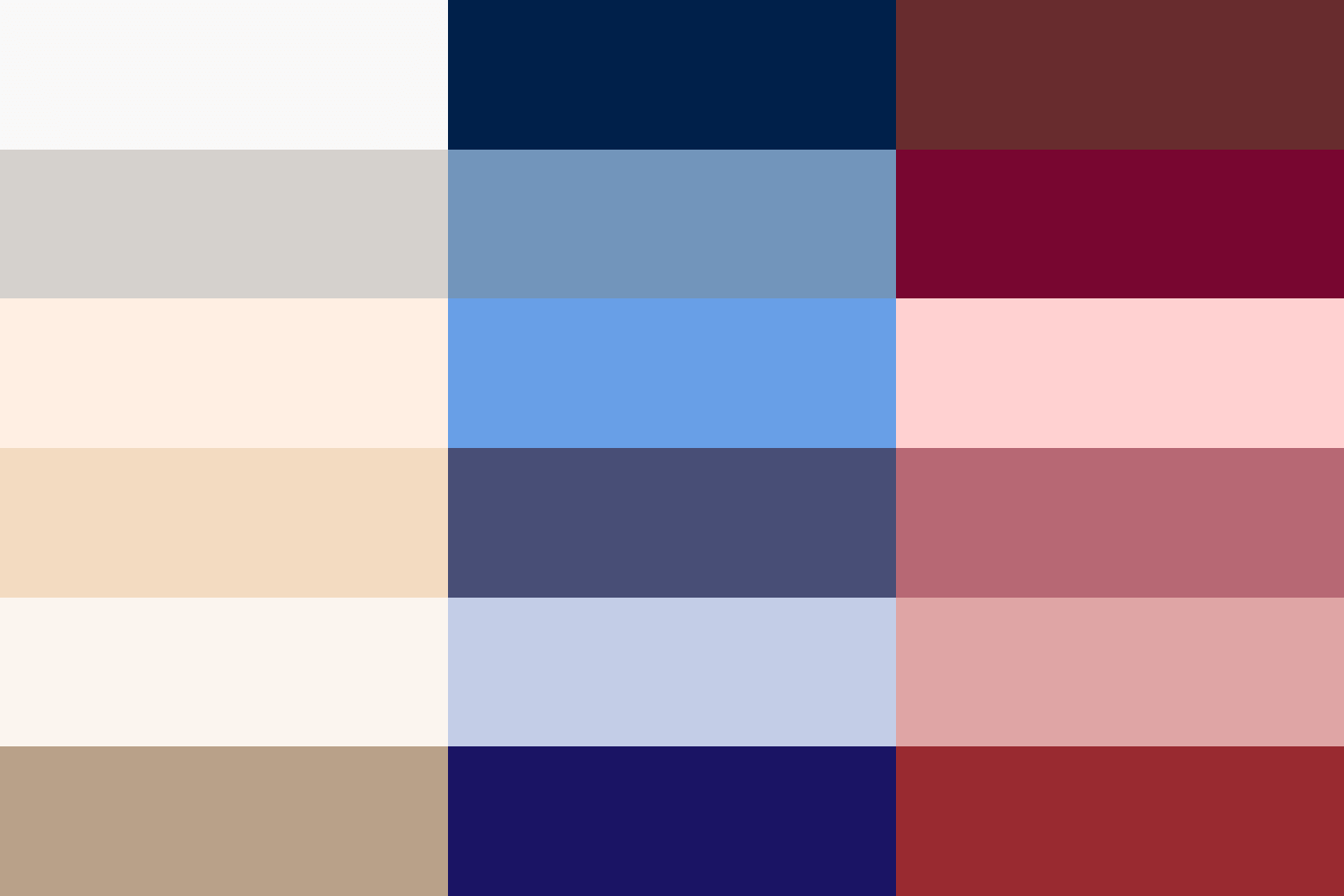 4: Don't use more than 5 colors.
I have lots of thoughts on colors that flatter people and seasonal color analysis. When it comes to choosing family photo outfits, 1-2 neutrals and 1-2 main colors is my limit. I'll allow denim as an extra to that number.
Within that range we're working with a max of 5 colors. The main colors that you choose should be complementary to each other: blue/green, purple/red, yellow/green, pink/blue, or mustard/maroon. Mix those with the appropriate neutrals and you have a great palette.
5: Use a pop of color wisely.
I don't always do this in our family pictures. It really depends on the season. Our whole family is cool toned so many of the seasonal trends like mustard just aren't super flattering.
When using a pop of color, it needs to be done in a way that's unobtrusive. Pops of color are best kept to small accessories: scarves, shoes, jewelry, ties, belts, or as a minor feature in a print.
Here are some guidelines for how many pops of color to have per people in a photo:
1-3 people: 1 pop of color
4-7 people: 2 pops of color
8-12 people: 3 pops of color
13-18 people: 4 pops of color
19+ people: 5 pops of color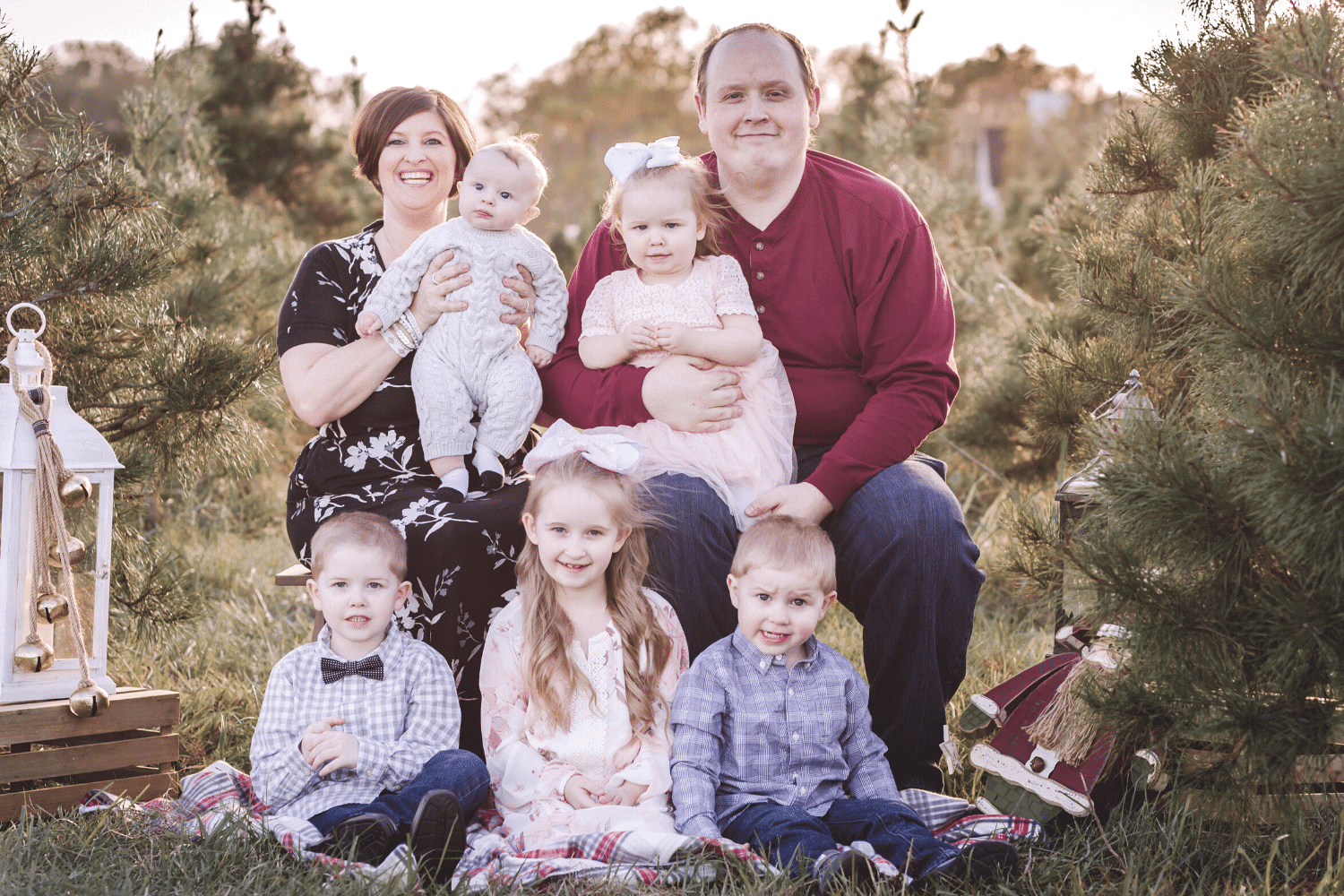 6: Use 2-3 patterns or prints.
Now, disclaimer, I love some pattern mixing. I'm fairly certain it's a holdover from several seasons ago when it was a big deal. I've toned it down quite a bit and there are definitely some go-to combinations that are classic and not garish.
Stripes and florals are the easiest. Since it's separate people wearing it, let's go ahead and say florals with nearly any geometric print are going to do well. Stripes are also fairly easy to pair with most other prints, such as polka dots or animal print.
Plaid is a staple in nearly every photo we take, and it pairs well with other classic prints such as florals or stripes.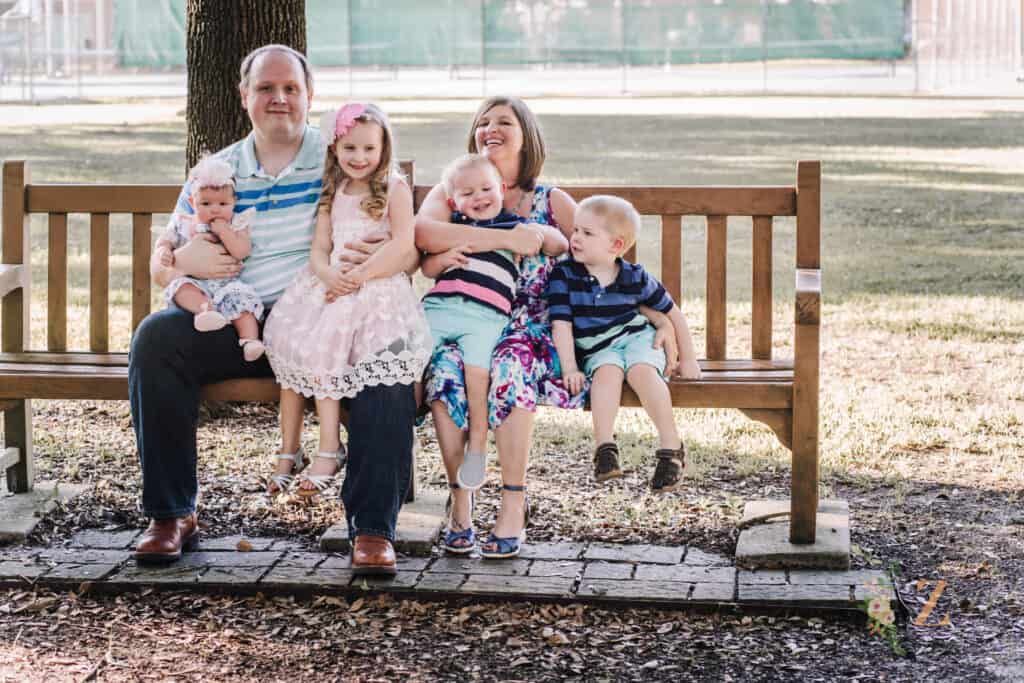 7: Don't forget the solids.
If I've learned any lesson about clothing, it's to wear more solids. As a print lover, this area of my wardrobe used to be in short supply.
When it comes to family photos, solids are important for creating richness in the visual but also grounding the prints discussed above. Depending on the size of your family, I recommend at least one color solid and one neutral solid, or one light/dark of each.
8: Accessories should complement, but not steal the show.
Jewelry is a girl's best friend, at least when it comes to styling. But let's not forget about the little girls and the men in our lives.
For women, remember to use balance when choosing accessories: statement earrings work best with neutral clothing, a necklace shouldn't detract from the clothing, and scarves should be proportionate.
Bowties and hats can be a great fun piece for boys, and don't forget belts for the men.

9: Don't wear trends.
Ah, perhaps one of my most favorite photo rules, but also the one that doesn't account for photographer preference.
Think back with me…you all remember those Olan Mills photos from 30 years ago, right?? I'm dating myself, yikes! You can look at those photos and know they're from the 80's. The hair, the sleeves, the colors, the brown backgrounds and mild sepia overtone.
Decades have overall styles, and you won't be able to avoid that, but specific trends will look dated in just a few years. Consider tie-dye, once relegated to a hippie throwback, but it's currently enjoying prime trend status. It's the type of bold trend that you would not want to feature in family photos.
Of all the things we keep, family photos tend to stick the longest and are often saved for several generations. Your look probably won't be "timeless" but you can stick to colors and cuts that stand the test of time.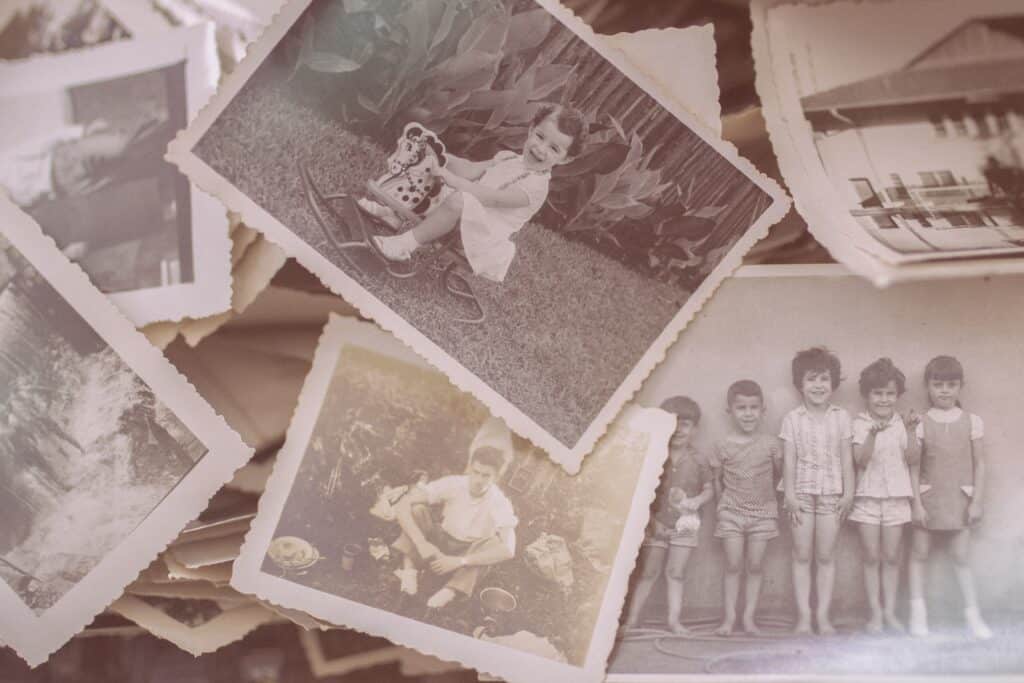 10: Consider the location.
This isn't exactly outfit advice, except it is!
This one comes to you from a fresh set of bramble scratches. We returned to the Christmas tree farm this year for photos. Learning from our first trip there, I chose sensible ankle boots instead of 4" heels. I'm a work in progress.
First thought, if you're going to be doing a LOT of walking, either choose sensible (but CUTE) shoes, or bring along a second pair for trekking between spots.
Second, watch where you step. I happened to be wearing a maxi dress this last time and it picked up a briar and it became embedded in my leg. Perhaps "don't wear a maxi dress" should be a rule, but that seems too rigid.
Essentially, think about any potential pitfalls to the location you've chosen that could result in injury to yourself or your darling family.
BONUS rule:
HAVE FUN!
I love family photos. Don't get me wrong, I really hate the process of taking them: getting a whole bunch of kids dressed, putting on more makeup than normal and hoping I don't look like a clown, trying to keep everyone clean and put together for an hour, the cranky husband mentioned above, and other stressors involved. But I also LOVE family pictures.
Kids grow up way too fast, and being able to capture everyone in their best dressed clothes is truly a gift. In 20-30 years, the dynamic will have greatly changed, and those pictures will bring back treasured memories.
Exude joy, be candid, get the crazy shot. If your toddler or baby cries the whole time, laugh it off and enjoy those pictures too!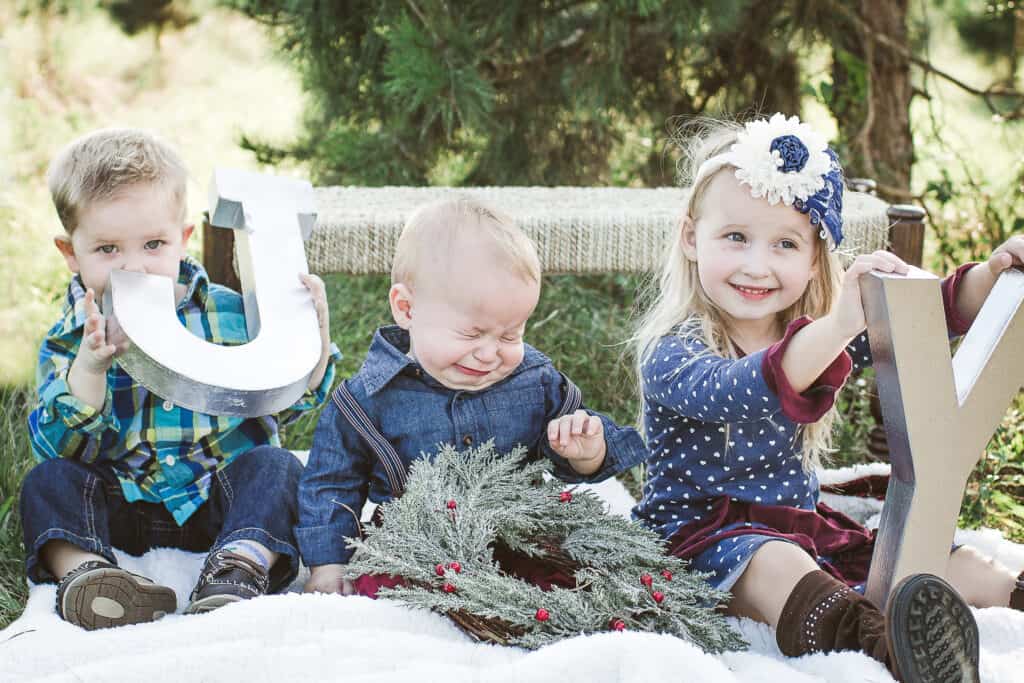 Related Style Tip Articles:
Well that's all I have! I want to hear from you! Did these rules help you choose outfits? Did I miss one you'd like to add? Leave me a comment!
Let your love show, and your family photos will be gorgeous no matter what!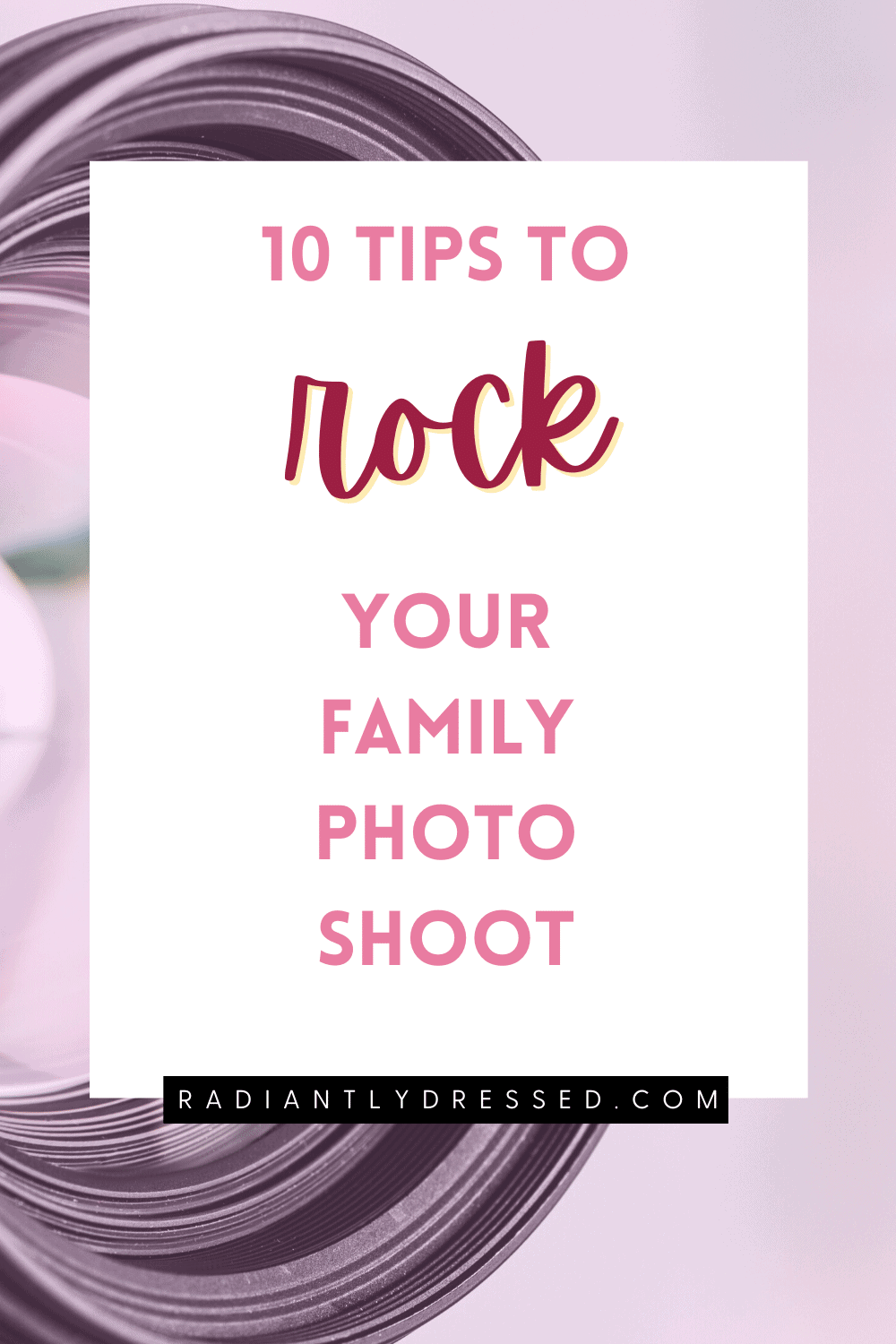 Stacey is the owner and creator behind Radiantly Dressed. She is a certified image consultant and AICI member focusing on creating simplicity in wardrobes via color and style.