Get ready for pumpkin spice and all things nice with this Fall Capsule Wardrobe.
This post contains affiliate links. By clicking on them I may receive a small commission at no extra cost to you. As an Amazon associate I earn from qualifying purchases. Thank you for your support!
It's fall y'all!!
I can say that because I'm actually from the south, right? 
Seriously, here on the Texas coast fall is really a misnomer, it's more like Indian summer til November, then fall til March when it becomes summer again.
Nevertheless, I love a good fall capsule wardrobe.
This year I am not actually creating a capsule wardrobe for myself, because I'm starting a no-buy year on September 21. But this is the the color palette I had planned for myself before committing to shopping my closet for the next year!Fa
What is a Capsule Wardrobe?
I first came across the concept of a capsule wardrobe in 2015 when I was pregnant with my second child. I'm ever drawn towards minimalism, regardless of my high failure rate in that area. 
The capsule wardrobe that I found was the Project 333 Version, and this is a wonderful resource for starting out.
There are numbers all over the internet for how many pieces you should include in a capsule wardrobe, but really this is a personal thing. For a seasonal capsule wardrobe somewhere in the range of 30-40 is a safe bet. 
You want to be sure you have enough tops and bottoms to cover your laundry schedule and rotation, whether that's once or twice a week. You can get away with smaller numbers if you choose sustainable fibers like wool and silk which need to be laundered less frequently.
I just finished re-reading Project 333 and I can't recommend it enough. If you really want to dig into your motivations for dressing more simply and with less, this is the book for you!
Choosing a Color Palette for a Fall Capsule Wardrobe
One crucial element of creating a capsule wardrobe that cannot be overlooked is cohesiveness. You're going to wear these items of clothing for around 90 days. You want them to go well together, and avoid having items that stand out and don't go with anything else.
Fall is great for leaning into warmer, richer hues and getting that pumpkin spice vibe. 
For this fall capsule I've chosen black, tan, white, rose violet, and samoan sun.
Hot pink aka the Pantone color rose violet is super hot right now and very trendy.
It definitely doesn't feel like a fall color, but when paired with a golden yellow, tan, and some leopard pieces it becomes much more fall-feeling.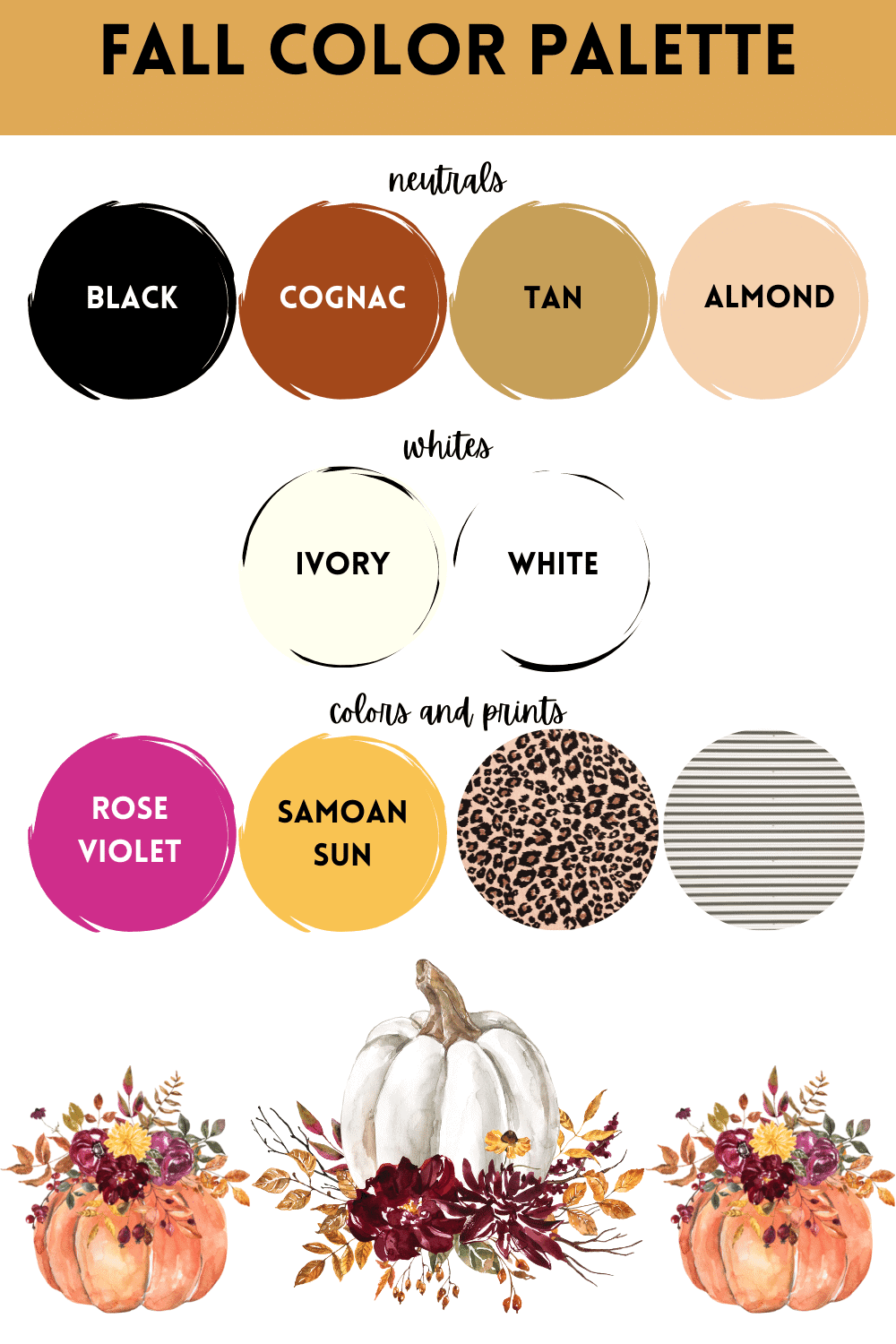 Feel free to use whatever colors you like for your fall capsule wardrobe. 
Any wardrobe should be based primarily on neutral colors, so you can use them year round and get the most bang for you buck.
But adding a few trending pops of color (this wardrobe has less than 10% color) is a great way to update your wardrobe, while avoiding style trends that come and go. 
Colors always come back around.
The Elements of a Fall Capsule Wardrobe
A capsule wardrobe is really personal to each person's individual style and aesthetic. I've built a 36 piece capsule based upon a quote by Coco Chanel that all you really need is a couple good suits.
Granted we are much less formal these days and only high-powered executives wear suits regularly.
But the basis of a suit is 3 pieces: a top, bottom, dress, and "jacket". So with those building blocks we expand to the following:
10 Tops
6 Bottoms
2 Dresses
6 Layering Pieces
4 Shoes
2 Purses
6 Accessories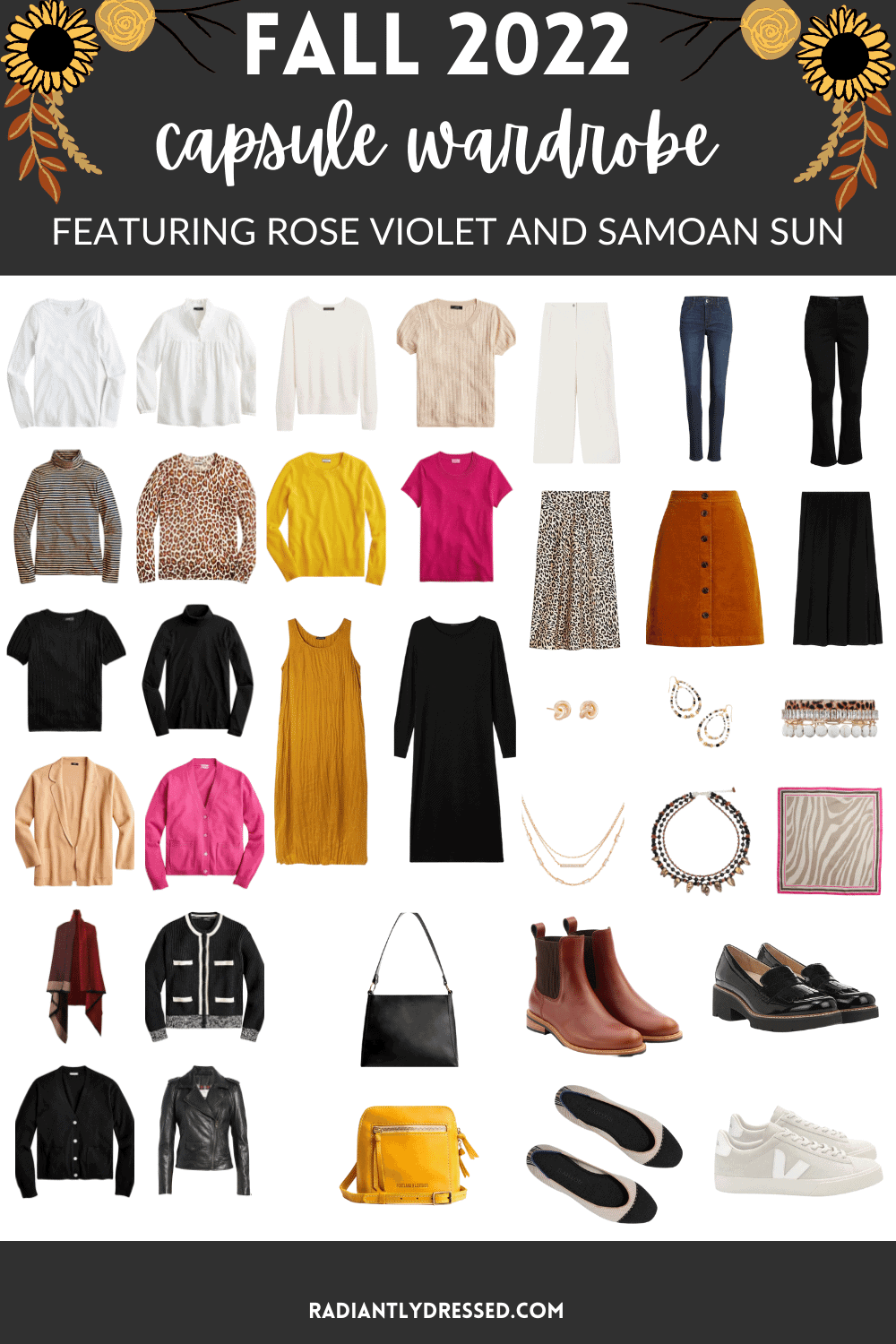 Although it isn't part of the official 36, your fall capsule wardrobe should also includes the following ad-ons:
Bras & Underwear
Tank Tops (for nursing moms)
Leggings for layering
Loungewear for at home days
Trending Pieces for a Fall Capsule Wardrobe
As previously mentioned, hot pink is all over the place this year, so adding a top and cardigan is an easy addition.
Loafers are typically considered quite classic, but the current iteration with platform or lug soles is very trendy. Gives me high school flashback vibes.
Don't let the silk scarf give you flight attendant vibes. These are super versatile, and a great way to add color to a neutral outfit. Besides wearing it as a tied scarf, wear it like a bandana scarf, as a belt, or tied on your purse for a big of fun.
The Chanel style tweed coat is a timeless classic, and tweed is a trending fabric this season. I don't know about you, but my budget doesn't allow for Chanel. This copycat cardigan version is a great nod to the trend without breaking the bank.
Corduroy pants are really big right now. I always think of corduroy as perfect for fall and winter, and a pair in winter white is the ultimate in sophistication when paired with a black top.
Finally, add some golden yellow (aka samoan sun) fun with 2 items to round out your colors. I know yellow is a really hard color for many to wear so choosing a fun crossbody keeps it away from your face.
Fall Capsule Wardrobe Outfits
Now you have all these beautiful clothes, what are you going to do with them?
Creating outfits from existing items seems to be the most difficult aspect for many women.
With this in mind, I've created a collection of 100 outfits based on these 36 items in the capsule wardrobe.
What's Included in the Guide:
Full Wardrobe Plan for the Fall Season featuring trending colors and style.
100 Outfit ideas to keep you fresh and original all season.
A calendar of outfits spanning October 1 through December 31.
Shopping links to all the pieces in the fall capsule wardrobe.
Tips and tricks for creating a color palette and adapting the items to suit what you already own.
How to make substitutions based on your personal style.
And more…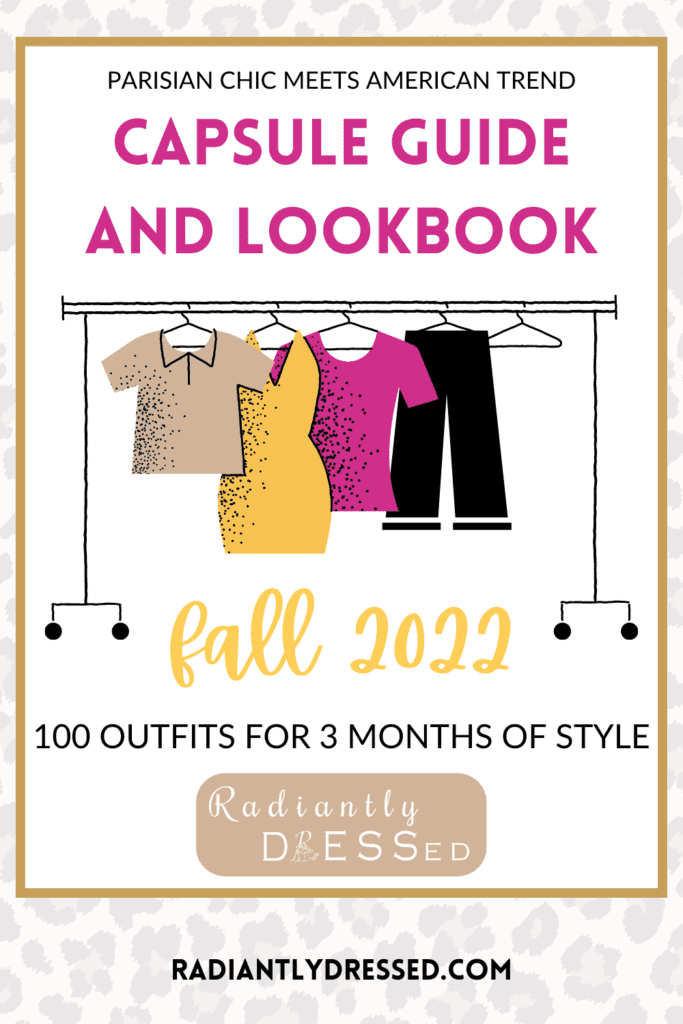 Final Thoughts on a Fall Capsule Wardrobe
Fall is one of my favorite seasons when it comes to fashion. The cooling temps allows for layering, and rich shades which are normally off limits for me are fun to adopt.
Building your fall capsule wardrobe doesn't have to feel overwhelming. You can build a strong, varied wardrobe with only 24 pieces of clothing, plus a dozen accessories.
By choosing strong items in neutral colors, your wardrobe will outlast trends and seasonal whim to serve you for many years.
If you're struggling with outfits, use the Fall Capsule Lookbook to be inspired and get ideas to keep you looking gorgeous all season long.
Starting from scratch? Try these 12 wardrobe essentials for fall and winter to get your closet ready. Together these 12 items make 45 outfits before adding any accessories!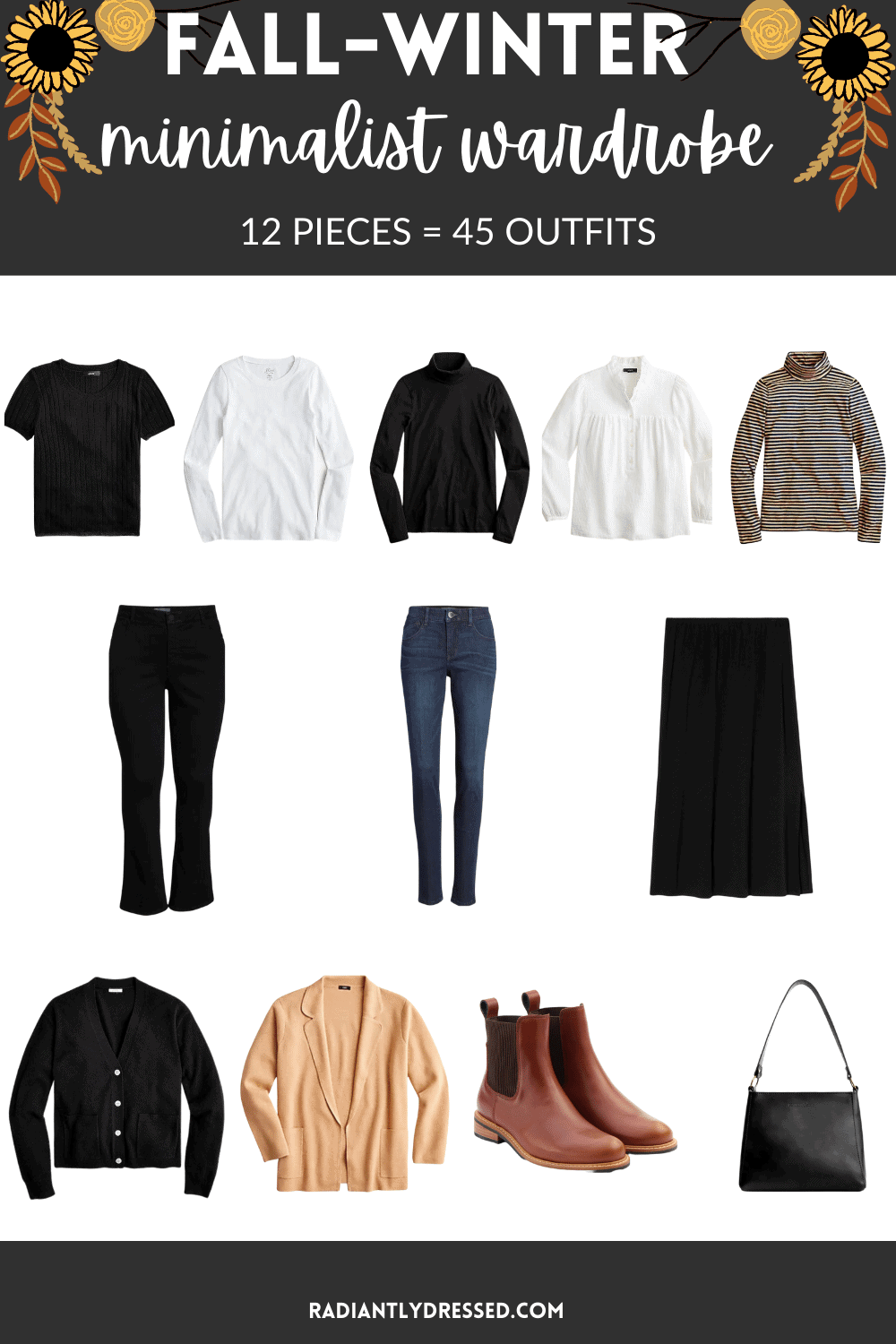 Related Style Articles:

A Fall Capsule Wardrobe gets your through the transition to winter looking fresh and fun.
Stacey is the owner and creator behind Radiantly Dressed. She is a certified image consultant and AICI member focusing on creating simplicity in wardrobes via color and style.