On a whim I decided to only wear dresses and skirts during the month of October. A funny person suggested we hasthag it frocktober, which is fantastic! This was my first experiment only wearing dresses and skirts and here are 7 surprising things I learned.
#frocktober is a big fundraising deal for ovarian cancer in Australia! Someone shared with me at the beginning of the month that she was so excited to start because her mom had battled ovarian cancer. Unfortunately there's no official fundraising set up for this in the states, but wouldn't it be amazing if there were eventually?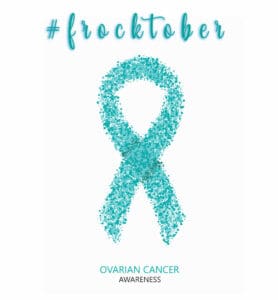 The October Dress project is also a thing. I was shocked! There were a whole population of women adopting dresses during the month of October. Some were using the month to bring awareness to sustainability by wearing one dress for 30 days. Can you even imagine styling the same dress for 30 days in 30 ways? Believe it or not, with the right dress, its possible and even easy! 
Want to really challenge yourself and earn a free dress? Check out the 100 day dress challenge at wool&.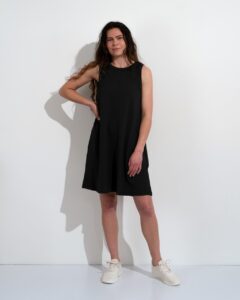 You provide 100 days worth of pictures and they give you a $100 gift card for a second dress. Their products are made of merino wool which is supposed to repel odor, reducing wash wear and water usage. 
I recommend the Sierra tank dress if you go this route. A simple black tank dress will give you endless styling options for the 100 day period. Personally I think this would be easier in the fall/winter when extra layers are comfortable! I'm definitely doing this next year when I don't need constant nursing access.
Dresses are not more work. When the month started I had approximately 5 dresses. Some were basic and some beautiful but they mostly sat untouched. Why? Because I had convinced myself that they were too much work to wear. Oh, pants are just easier, I would tell myself. But let me say, there is nothing more easy than putting on one single item of clothing.
At the end of this experiment I now have about 15 dresses, which means I can go an entire month easily without repeating an entire outfit. You don't need 15, in fact, I can show you how you only need 8!
I felt so beautiful and feminine! This was where the magic really happened. I've had 5 babies in under eight years and I'm 40. That's a lot of wear and tear on my body. It's a strong body that grows and nurtures humans, but let's be honest, clothes sometimes don't hang properly over lumps and bumps.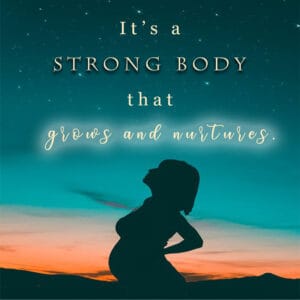 I typically put on jeggings, try 3-5 shirts before finding one that felt alright, then still felt frumpy and not like my best self. One dress, one item of clothing, and I was content. All of my dresses have nursing access and I was comfortable all day while looking feminine and fancy. 
I received more compliments from my husband. Imagine my surprise to learn that my husband prefers me in dresses and skirts. HE views it as more feminine also! All these years and I never knew! I recall receiving compliments at times when I was wearing a dress or skirt, but other times I felt really cute and he said nothing.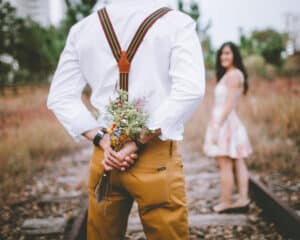 When it comes to fashion and styling I'm a big believer in staying true to yourself and convictions (such as my desire for short hair), but I bet we all do a little happy dance inside when our husband praises how we look! Maybe the femininity of dresses and adopting permanent frocktober makes up for the short hair he doesn't like!
Pants still had limited usefulness. There's a bit of a catch-22 here in all honesty. We had a very specific fall outing planned to a farm festival complete with hill slides, climbing, and other physical activity.I debated with myself multiple times but ended up wearing athleisure leggings to this event. Initially I had decided to wear wear dresses and skirts only for 30 days and since frocktober has 31 there was a freebie in there. Two things happened.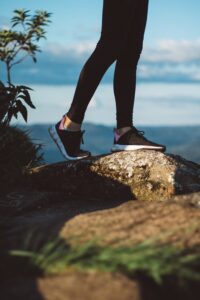 First of all, they were constricting after wearing dresses for weeks! I felt the squeeze and didn't like it. Second I took a tumble while wearing my infant and I was so glad I had on pants at that moment. Lesson of the day, save those pants because they might still be useful! Spoiler: I changed into a skirt AS SOON as I got home that day!
Capsule wardrobes with dresses are complicated. This is the reason I'm here writing to you today. Frocktober taught me that styling dresses is a bit more complicated. It may be one item of clothing to choose, but when accessorizing things get a bit more complex. Proportion, body shape, and dress shape all play a role in picking a cohesive wardrobe. 
My desire falls somewhere between a minimalist capsule and a give me everything mentality. Finding a happy medium in my closet without adhering to a traditional wardrobe capsule is my goal! I'm so excited to be building my first all dress capsule for the coming season.
Now it's your turn! Have you ever done a no pants experiment? Did you do a frocktober in March or July perhaps? Are you an old pro at the skirt lifestyle? I'd love to hear how wearing only dresses and skirts has changed your perspective! Tell me about it in the comments!
Stacey is the owner and creator behind Radiantly Dressed. She is a certified image consultant and AICI member focusing on creating simplicity in wardrobes via color and style.