Be stylish and comfy this summer in the 12 best comfort sandals to treat your feet.
I don't know about you, but as I've gotten older I can no longer stand to wear shoes that hurt my feet. I used to be able to wear gorgeous uncomfortable heels with the attitude of grin and bear it.
That stopped when I was 30. I was in a pretty significant car wreck, injured my back, and my doctor told me to retire the heels. Over a decade later, I much prefer comfort in my footwear, but I don't want to wear frumpy shoes either.
When it comes to finding the perfect pair of comfort sandals for women over 40, it's essential to consider factors such as support, durability, and style. With countless options available in the market, it can be overwhelming to narrow it down to the top 10. We've taken the time to scour the market and put together the ultimate list, focusing on the needs of women over 40, so you can step out in comfort and confidence.
As we age, our feet undergo numerous changes that impact the type of footwear we need. You deserve a sandal that provides proper cushioning, arch support, and alignment to keep your feet healthy and stylish. The selection of sandals featured in this article offers these qualities and more, allowing you to choose the perfect pair that complements your lifestyle and wardrobe.
Whether you're into casual, sporty, or elegant designs, the top 10 comfort sandals for women over 40 on this list will cater to your preferences. Explore these options, and you'll find that both comfort and style can come together in the perfect pair of sandals that you'll love wearing all summer long.
Why Comfort Matters for Women Over 40
As a woman over 40, you may have noticed that comfort has become increasingly important in your choice of footwear. There are several reasons why comfort matters more at this stage in your life.
Firstly, your feet have supported you for four decades, and they may show signs of wear and tear. You may even experience foot-related health issues like bunions, plantar fasciitis, or arthritis. Comfortable shoes, especially sandals, can help alleviate pain and discomfort associated with these conditions.
Another reason is the impact of decades of wearing high heels or improper footwear. This can lead to changes in foot structure and mobility, making it crucial to prioritize comfort over style. Your body will appreciate the extra support and cushioning provided by comfortable sandals.
Lastly, as a woman over 40, your activity levels and daily routines have likely changed. You may find yourself running errands, attending events, or participating in various activities. Comfortable sandals can help reduce fatigue and ensure you feel good throughout your busy day.
In our top 10 list of comfort sandals, we specifically chose options that cater to the needs of women over 40. We focused on features like arch support, cushioned footbeds, and adjustable straps. These are essential elements in providing the comfort and support you deserve.
Features to Look for in a Comfort Sandal
When searching for the perfect comfort sandal, there are a few key features to consider. These essential elements will help provide the support and comfort you require.
First, look for an arch support. Your sandal should have a sufficient arch to help support your feet throughout the day, reducing strain on your joints and muscles.
Secondly, consider a sandal with a contoured footbed. This is particularly important for women over 40, as it offers additional cushioning and can mold to your foot's shape, alleviating pressure points and providing all-day comfort. This is my number one feature to look for in comfort sandals.
Next, focus on adjustable straps. Sandals with adjustable straps allow you to customize the fit to your unique foot shape, ensuring a secure and comfortable fit. This will help prevent your feet from sliding and reduce the risk of blisters.
Additionally, seek out sandals with a shock-absorbing sole. This feature absorbs the impact of your steps, minimizing discomfort and protecting your joints from the additional strain commonly experienced with age.
Finally, make sure to choose a sandal made from high-quality materials. This will ensure durability and longevity, allowing you to enjoy your comfort sandals for multiple seasons.
By focusing on these features, you'll be able to confidently select a comfortable and supportive sandal that meets your specific needs.
12 Best Comfort Sandals for Women Over 40
As a woman over 40, you deserve comfort and style in your footwear. Here's a list of the top 12 best comfort sandals that cater to your needs:
#1: Birkenstock Arizona: These classic sandals offer excellent support and a timeless design, perfect for any casual occasion. These sandals are also trendy for now, and come in a wide variety of finishes and colors. I particularly like the pearl options for a great comfortable sandal that will keep you going all day.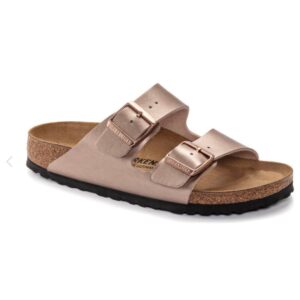 Also available are beautiful pastel suede options for a luxe summertime feel.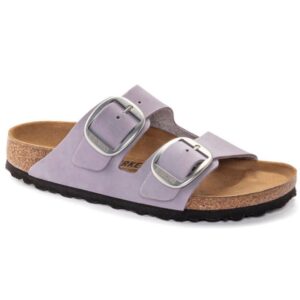 #2: Clarks Breeze Sea: Clarks is known for their comfort footwear. These are super amazing sandals that come in a variety of colors to match any color season. I personally have a silver pair and they are a go to for comfy summer days.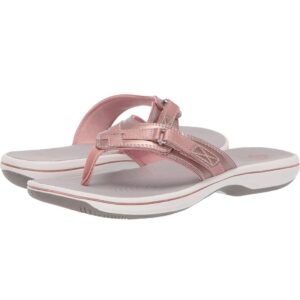 #3: Crocs Tulum: With a sleek and feminine design, these versatile sandals offer the Crocs' signature comfort. I used to swear I'd never wear Crocs, but now I admit to owning an embarrassing number of their comfortable, washable shoes. These are fantastic because they LOOK like leather sandals while giving you the comfort of Crocs.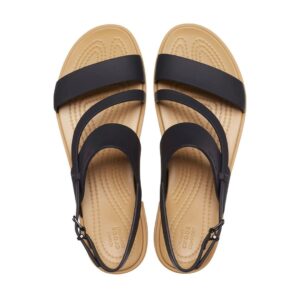 #4: ECCO Flash Gladiator: Boasting a stylish yet comfortable design, these are ideal for long walks and casual outings. Ecco is another brand well known for creating amazing comfort shoes. These offer amazing support and protect your feet while allowing you to show off your toes.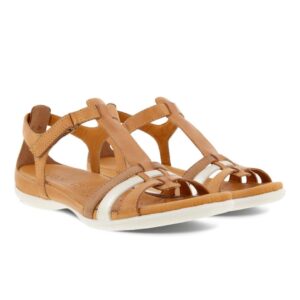 #5: FitFlop Lulu: These sandals have a cushioned footbed that adapts to the shape of your feet, making them perfect for all-day wear. These are simple but boast a little bit of lift to help you feel more dressed up. Even a slight heel makes me feel a little bit extra fancy, and this is one is moderate and comfortable.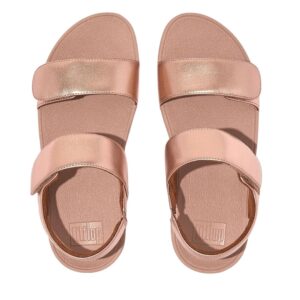 #6: KEEN Whisper: These sporty sandals are not only stylish but also cater to your active lifestyle with their excellent traction and support. Keen is another brand known for craftsmanship and promoting optimum foot health. If you're looking for something more sturdy with a closed toe, this is your best bet.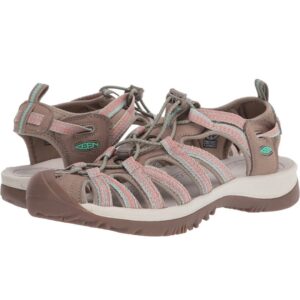 #7: Skechers On-The-Go 600: Featuring a lightweight design and responsive cushioning, these sandals are great for daily wear. This is another flip flop option featuring comfort at a great price point.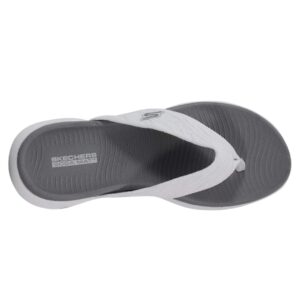 #8: Teva Tirra: With adjustable straps and a supportive footbed, these sandals ensure a comfortable and secure fit for all-day adventures. I love Teva for sporty sandals, and these are an upgrade my from my basic pair that come in lots of colors for your wardrobe.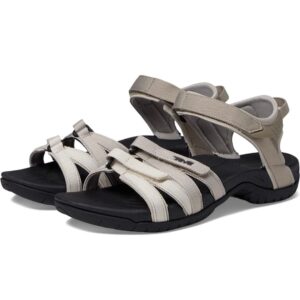 #9: Vionic Rest Farra: Designed with a podiatrist-recommended footbed, these fashionable sandals provide the support needed for women over 40. Vionic is a brand I associate with fantastic arch support and style. You can't go wrong with any style Vionic! I recommend a metallic to go with more of your wardrobe.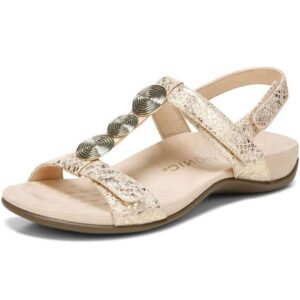 #10: Olukai 'Ohana: The last pair on the list brings back salt and from my time living in Florida. These comfortable flip-flops are not only water-resistant but also have a contoured footbed, suitable for various foot shapes. Choose a floral print pair to channel your own Hawaiian vacation.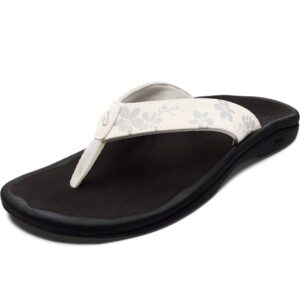 #11: Born Inlet: If you're looking for a classic leather sandal, you can't go wrong with Born products. With comfort footbeds and lasting style, these sandals will work for casual outings and summer date nights. They come in lots of colors as well to suit your wardrobe needs.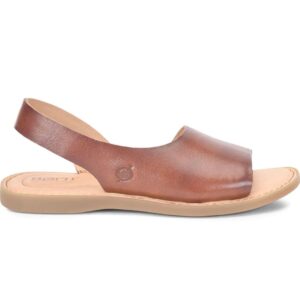 #12: Dansko Reece: Dansko is another brand known for providing excellent arch support and well reviewed by women over 40. This style is simplistic but offers fun options with a back strap to keep your feet in place. Grab a leopard print pair to add some personality.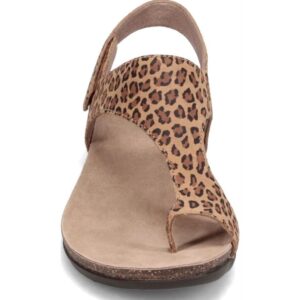 Each of these comfort sandals has been carefully selected based on their support, cushioning, and style to ensure that you enjoy the best possible experience while wearing them.
Making a Smart Purchase
When choosing the perfect comfort sandals for women over 40, it's essential to consider the factors that ensure a smart purchase. We have curated a list of top 10 comfort sandals keeping these aspects in mind:
| Factors | Reason |
| --- | --- |
| Arch support | As you age, proper arch support becomes crucial to prevent foot pain and promote a natural walking motion. |
| High-quality materials | Durable materials like leather and cork not only provide long-lasting comfort but also conform to your foot shape over time. |
| Adjustability | Adjustable straps allow you to customize the fit, ensuring secure and comfortable wear throughout the day. |
| Cushioning | Adequate cushioning helps to absorb shock and provides relief to your feet while walking or standing for long periods. |
| Non-slip soles | Non-slip soles offer increased safety and stability on various terrains, reducing the risk of slips and falls. |
Each comfort sandal in our top 10 list offers a combination of these essential factors, ensuring you can confidently and comfortably stride through life. Remember that your individual needs may vary, so prioritize the factors that matter most to your daily activities and style preferences when selecting your perfect pair.
Final Thoughts on Best Comfort Sandals
Your search for the perfect comfort sandals is now over. Each pair in this top 10 list has been carefully chosen to cater to the unique needs of women over 40. You can trust that these selections will provide the comfort and support your feet deserve.
These sandals not only prioritize comfort, but also ensure style and versatility. This means you can enjoy a whole day of walking without having to compromise on looking fabulous. With these top 10 comfort sandals at your disposal, you can step out with confidence, knowing that you're making a smart and stylish decision for your feet.
So, take the time to explore and find the perfect pair that suits your preferences and needs. You won't be disappointed in the quality and comfort these top 10 selections offer. Happy walking!
Related Wardrobe Articles:

Choose one of these 12 best comfort sandals this summer to look beautiful and stylish.
Stacey is the owner and creator behind Radiantly Dressed. She is a certified image consultant and AICI member focusing on creating simplicity in wardrobes via color and style.