A style uniform can give you wardrobe freedom by reducing decision fatigue and giving you a closet full of clothes you actually want to wear.
When I was growing up, my grandfather wore the same clothes every day. Not the exact same clothes, but I peeked in his closet one time and he had the exact same shirt and pants times ten.
I used to think it was weird. So, so weird. Until I realized that many successful people around the world are doing the exact same thing. Spoiler: even my husband does it.
The concept of a style uniform isn't completely new, but it is revolutionary, especially for women. We are so used to thinking we need to have the latest fashion, and never to be seen in the same outfit more than once.
But a style uniform based wardrobe offers variety whilst removing the difficult parts of getting dressed and looking great.
Read on to discover what a style uniform actually is, and the steps to create your own.
What is a Style Uniform?
A style uniform is a specific outfit that you wear on repeat, like jeans, a black turtleneck, and sneakers a la Steve Jobs.
Unlike his iconic uniform, a style uniform can be loosely interpreted as a personal uniform or signature look. Expanding upon this idea, a wardrobe based on the style uniform concept has several uniform outfit options, built upon multiple colors and prints for variety. 
Benefits of a Style Uniform
Having a style uniform makes your life easier in multiple ways.
Removes the proportion problem. If you've ever encountered a specific top not working well with a certain bottom, it's likely a proportion problem. This can cause outlier garments in your wardrobe because they just don't play well with everything else. A style uniform is carefully constructed to look good together, so you know that the black shirt goes with the red pants, and the red shirt also works with the red pants. The silhouettes are the same, so the problem of mismatched proportions is gone.

Reduces decision fatigue. Creatively making outfits on the fly can take a lot of time. It's common for women to take up to 20 minutes daily to select clothing. This taxes your brain, and reduces the amount of energy you can spend on other things. A style uniform offers a small number of options, all of which have been previously vetted to work for you. 

Promotes success. There are studies showing that individuals who wear a style uniform are more successful. It is due to the aspect of reducing decision fatigue as mentioned above. They have cleared the mind of useless decision making, and are able to focus on other areas of their life. 

Reduces spending. You won't be tempted to buy the random dress that catches your eye if you know it's not part of your uniform based wardrobe. When you see something lovely, you have parameters for deciding whether it works in your existing clothing lineup. Eliminating impulse buys saves you money, but curating your closet also causes you to decide what's really worth purchasing.

Gives you true style and confidence. Gone are the days of copying outfits you saw on Pinterest, or following the recommendation of influencers and style bloggers or trends. You get to decide what clothes are suitable for your lifestyle, and choose based on how they make you look and feel. You get dressed each day with excitement, because you really do love your clothes and know they make you look your authentic best.
Should I wear the same thing every day?
No. And Yes.
It's common to hear the word "uniform" and think we're going to be bored wearing the same shirt and jeans every day. While you can do that if you want, and it certainly works for reducing decision fatigue, you don't have to.
We are women. We typically like pretty things and variety (hello rearranging the furniture twice a year!). 
A style uniform is more like an outfit skeleton. To add variety you are changing up colors and creating more than one single uniform for your lifestyle. 
If you're a teacher you might decide to wear the same uniform for work each day, have a different uniform for church, and another for Saturday family time. 
But even still, if you did wear the thing every day, why does it matter?
If you think everyone will notice, you're mistaken. Experiments have shown that a woman can wear the same thing day after day (100 days even!)  and very few people will actually notice. We focus more on the feelings we get around other people, rather than what they are wearing. I dare you to remember what your best friend was wearing the last time you saw each other. 
How to Create a Style Uniform
Step 1: Create a Color Palette
The first step to create a style uniform is to create a color palette. Since you're limiting your wardrobe, you don't want to be tempted by an odd colored item that doesn't fit with the rest of your clothes. 
You can do a small palette with 3 neutrals and 2 colors, or go much larger with 8 neutrals and 7 colors. It's up to you and what makes you happy.
You can choose your favorite colors, but for the most impact, choose colors from your seasonal color family. These are the colors that are the most flattering based on your natural skin, hair, and eyes. Since these are features you are born with, colors based on this won't change. So it's a one and done process! 
Ready to get started? Create your palette here, or discover your best colors here.
Step 2: Audit your Lifestyle
One of my least favorite things are the lists of "essential wardrobe items" floating around the internet. Mostly because they don't work for everyone, nor are they necessary for everyone.
Consider your life over a 2 week period, noting down every event that needs an outfit. Try and see if you can find similar types of activities that could have the same uniform. You should be able to group your activities into 3-5 for purposes of creating uniforms.
Step 3: Consider your Personal Style
This goes back into step 2 just a little bit, but don't build a uniform based on slacks if you don't like them. Your uniforms should reflect your personal style, body type, and style archetype. 
Start by creating a mood board to give you ideas about what you find beautiful. Look for common themes to create style goals. 
Want more help? Join the waitlist for Simplify Your Style.
Step 4: Build your Uniform Base Layers
At this point you have a color palette, 3-5 activities to build uniforms around, and an understanding of your personal style.
The next step is to build the base portion of your uniform. By this, I mean the 1-2 pieces that you wear on top/bottom, or a dress/jumpsuit. For each of your activities, choose a silhouette for your base layer. 
You want to consider silhouette when choosing these pieces, and find ones that make you feel good and flatter you.
Here you can see four different ideas for what a base layer could be, from a single dress, to a simple tank and shorts, or tee and jeans, even a tunic sweater and velvet leggings (yum!).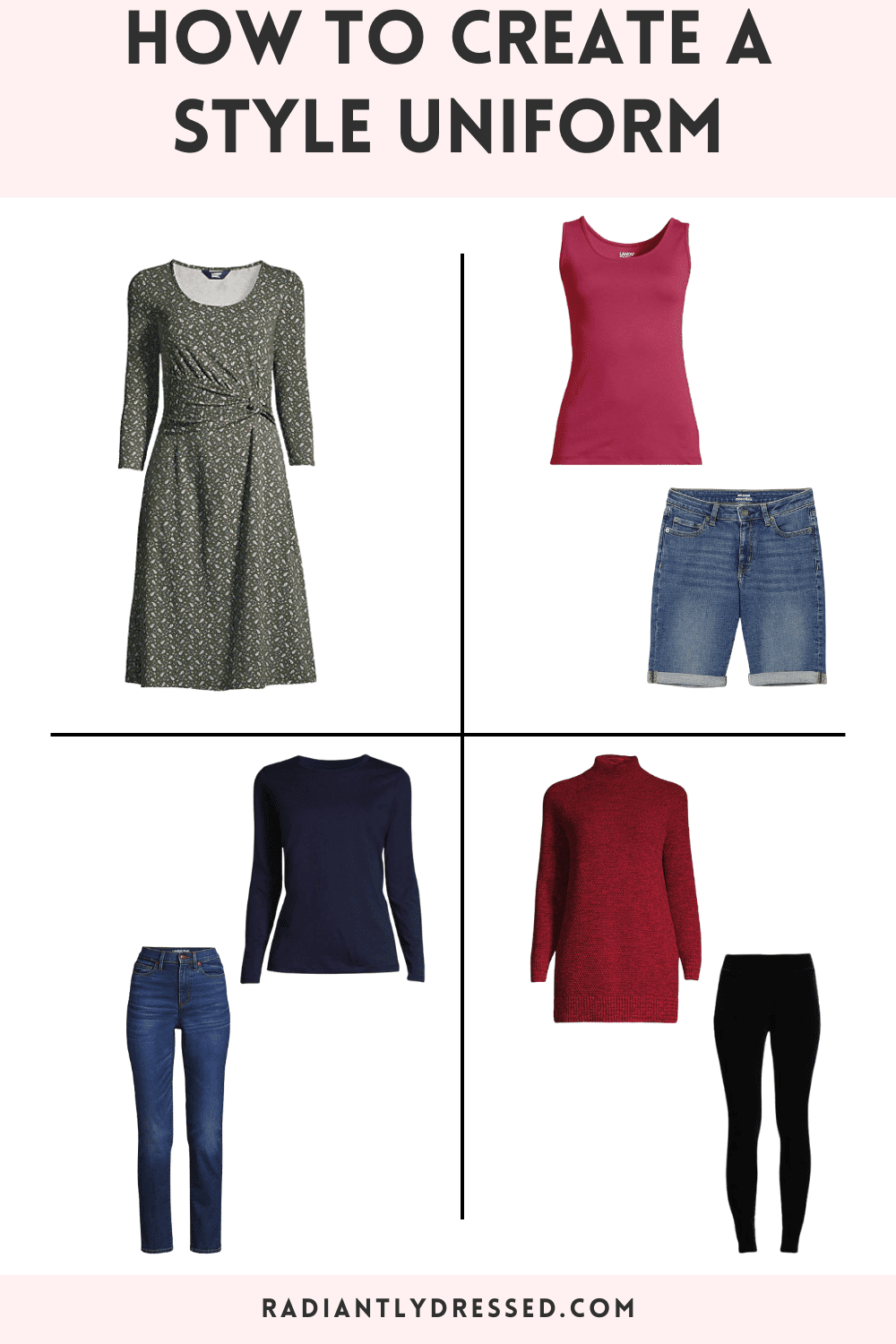 Step 5: Choose Layers for each Uniform
You now have a basic silhouette for each of your uniform needs. Now it's time to add a third piece/layer/completer piece. 
Why are we doing this?
Because this is the element that makes an outfit go from bland to brilliant.
Layers make an outfit look finished. For each uniform you've created, you're going to choose a layer that is authentic, functions with your lifestyle, and fits the silhouette of the outfit.
Using our previous base layers above, here are some ideas for adding a layer. You can choose jackets, vests, kimonos, cardigans, or even a scarf can be a completer piece.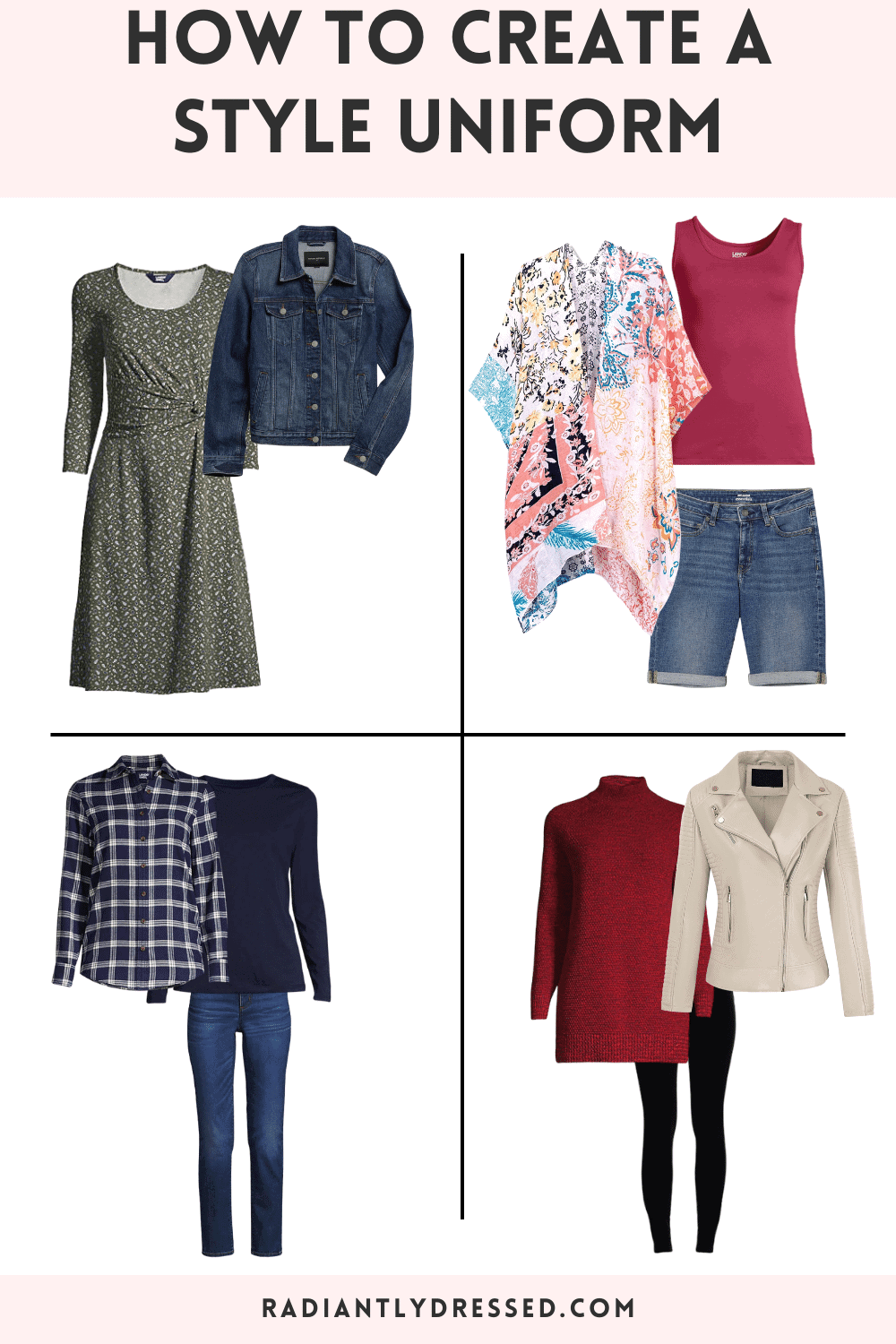 Step 6: Shop for your Uniforms
Now that you know what you're going to wear, you're going to duplicate the uniforms. Using information from your lifestyle audit, consider how often you need a specific uniform within a 1-2 week time frame (depending on your laundry schedule).
For most uniforms I recommend aiming for 3-7 copies.
So, using our 3rd uniform option of a long sleeve crew neck tee, straight leg jeans, and a button up top, you might look for 5 tees, 3 jeans, and 5 shirts.
To make it all mixable, stick to your color palette, and make sure at least 2 of each item features neutral colors. Building on our example, your entire uniform module might look like this.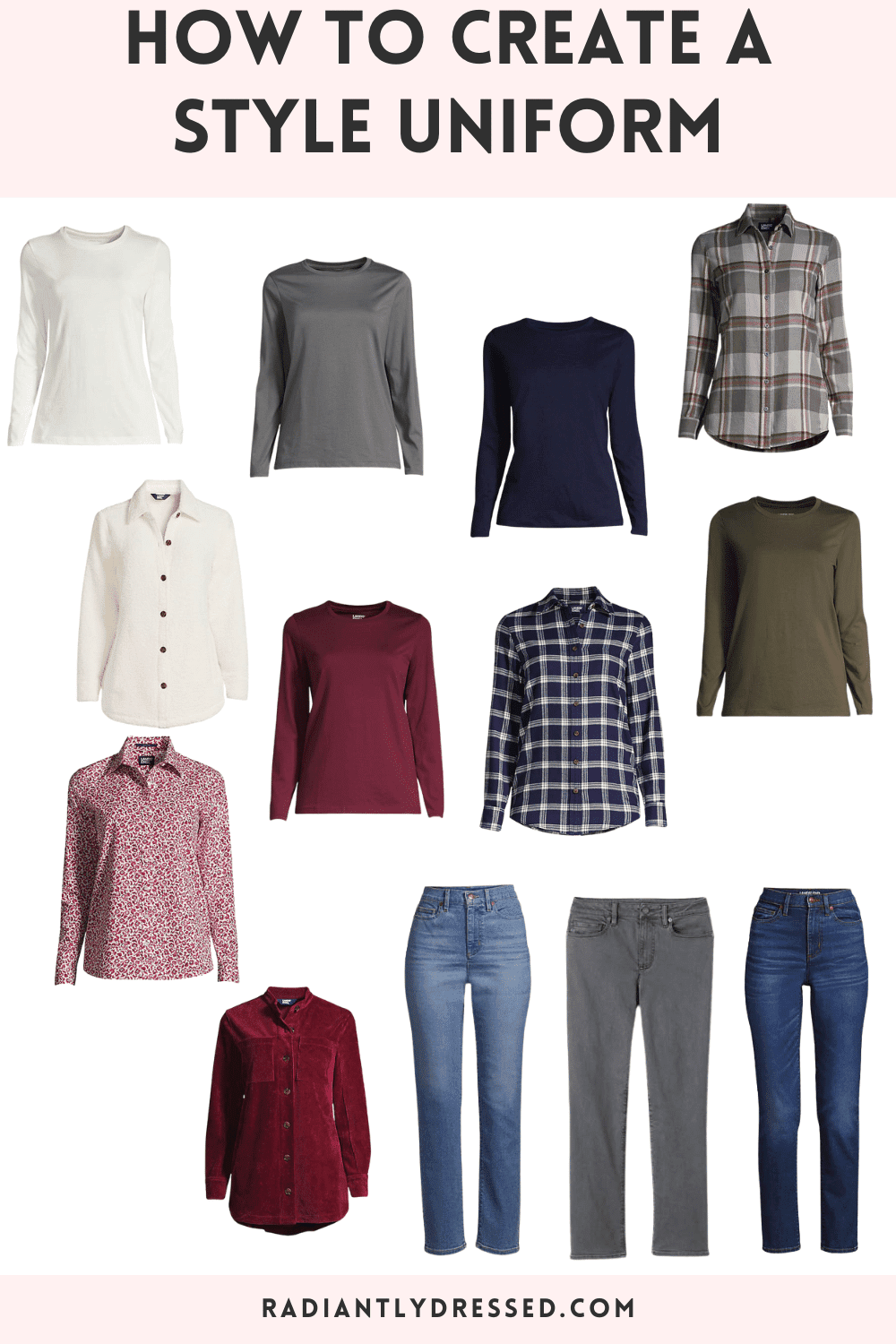 Based on the numbers here you can create 75 unique iterations of your uniform, without repeating. Here are 8 options just to get started.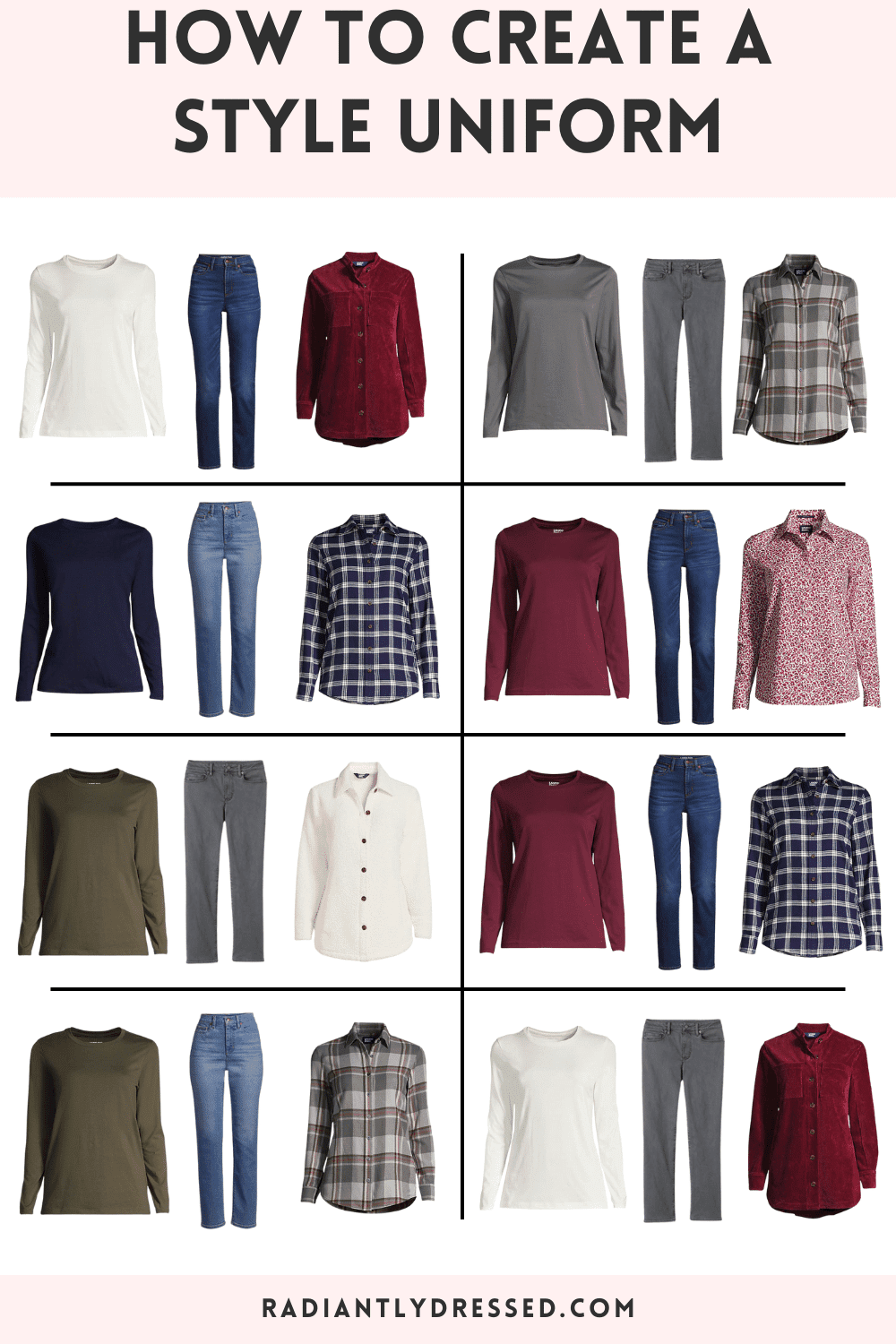 Step 7: Use Shoes and Accessories to add variety.
When choosing shoes and accessories it's important to consider lifestyle, personal style, and silhouette. Boots, for example, pair specifically with some pants better than others. These style trends can be cyclical, so focus on what works best for YOU, rather than what's in fashion.
If we add 2 pair of shoes, a vest and scarf, and a few pieces of jewelry, we've greatly expanded what we can do with our basic style uniform.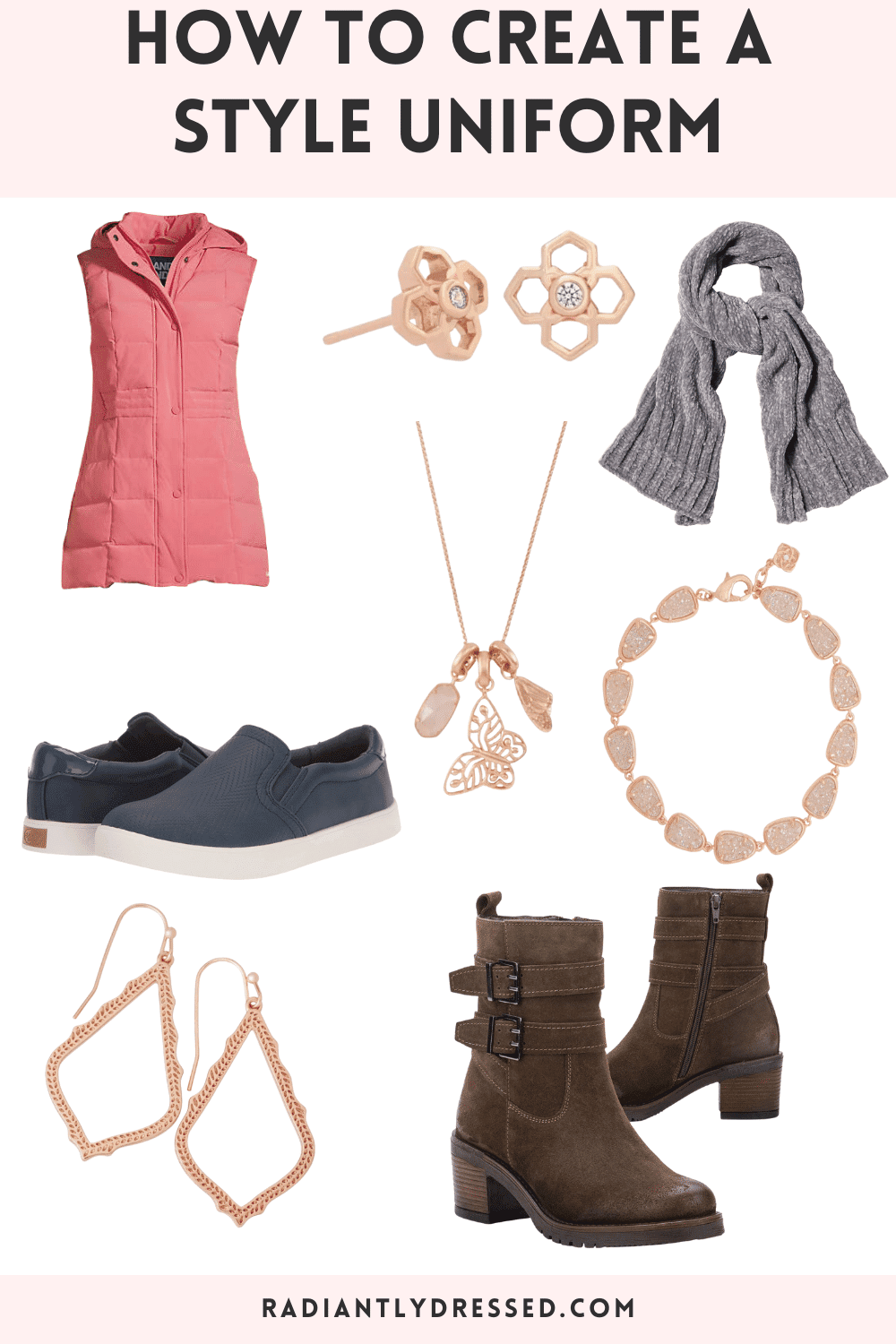 Wow, look how stunning our single style uniform looks now!!!
The really exciting thing I'm not going to cover in depth, is that you actually have 2 style uniforms here. You could in theory buy another vest or two and wear them without the button up shirt, and you would have 2 style uniforms built upon the same base layer. This is why style uniforms are such a ground breaking concept!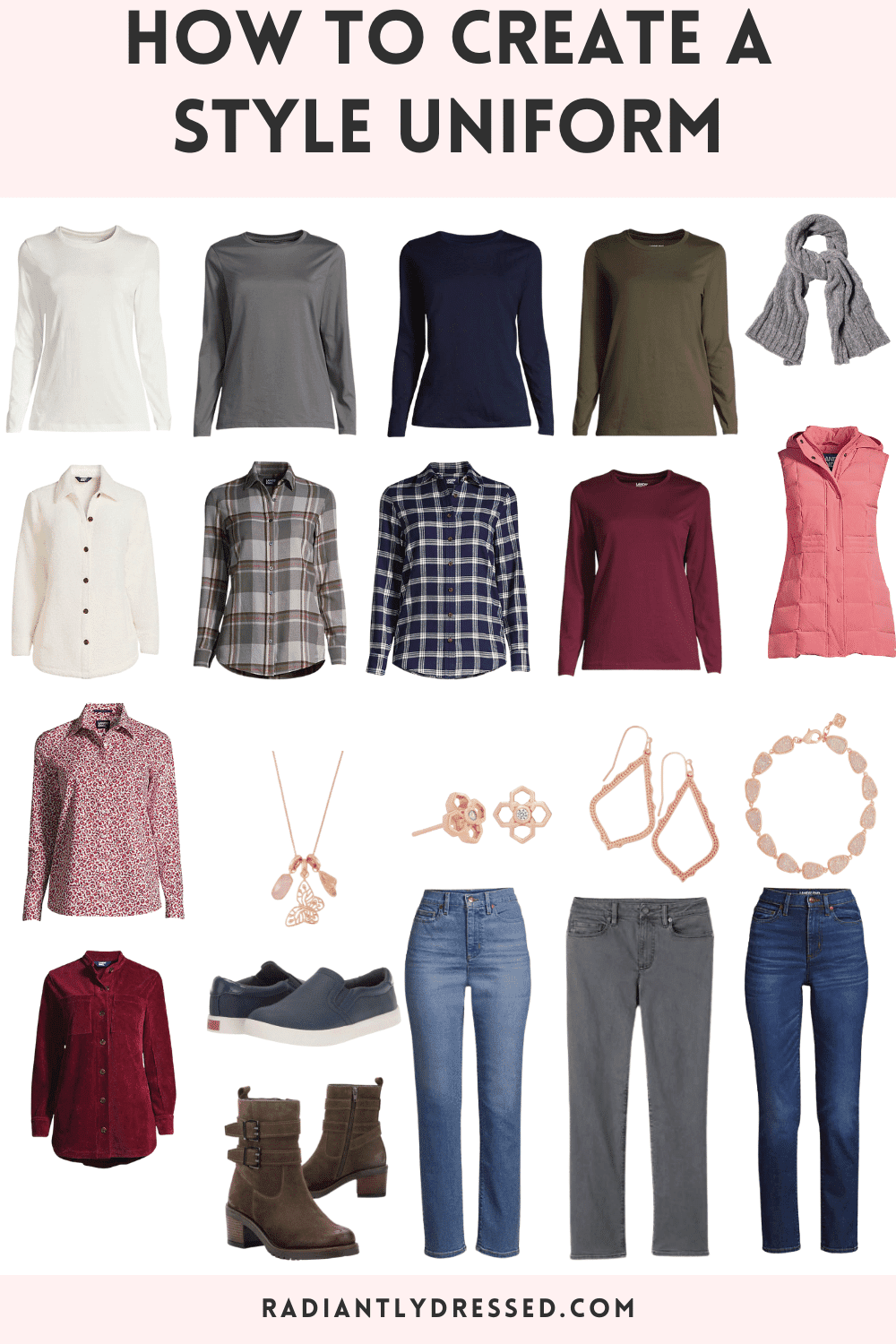 The second great thing about these accessories is that you can use them across your entire wardrobe in your other style uniforms!
Bonus: Create and Modify your Uniforms as your Life Changes
You've done the work. You've put in the time to discover your best colors, you've honed in your personal style, you know your body and style archetype.
Those are hard parts of nailing your style and creating a wardrobe.
You can use these concepts and steps every time you need a uniform, your body changes, or you just want something different. They work again and again, and your wardrobe stays easy.
Final Thoughts on Creating a Style Uniform
A closet based on the style uniform concept is the ultimate in wardrobe freedom. When you move past societal expectations to discover what you really love, then wear it on repeat, you free yourself up to grow. You can present yourself authentically each day, and get down to the more important business of living out your calling in life. 
I'm curious to know if this is a new concept for you, and if it could change your wardrobe? Leave me a comment and let me know!
Related Style Articles: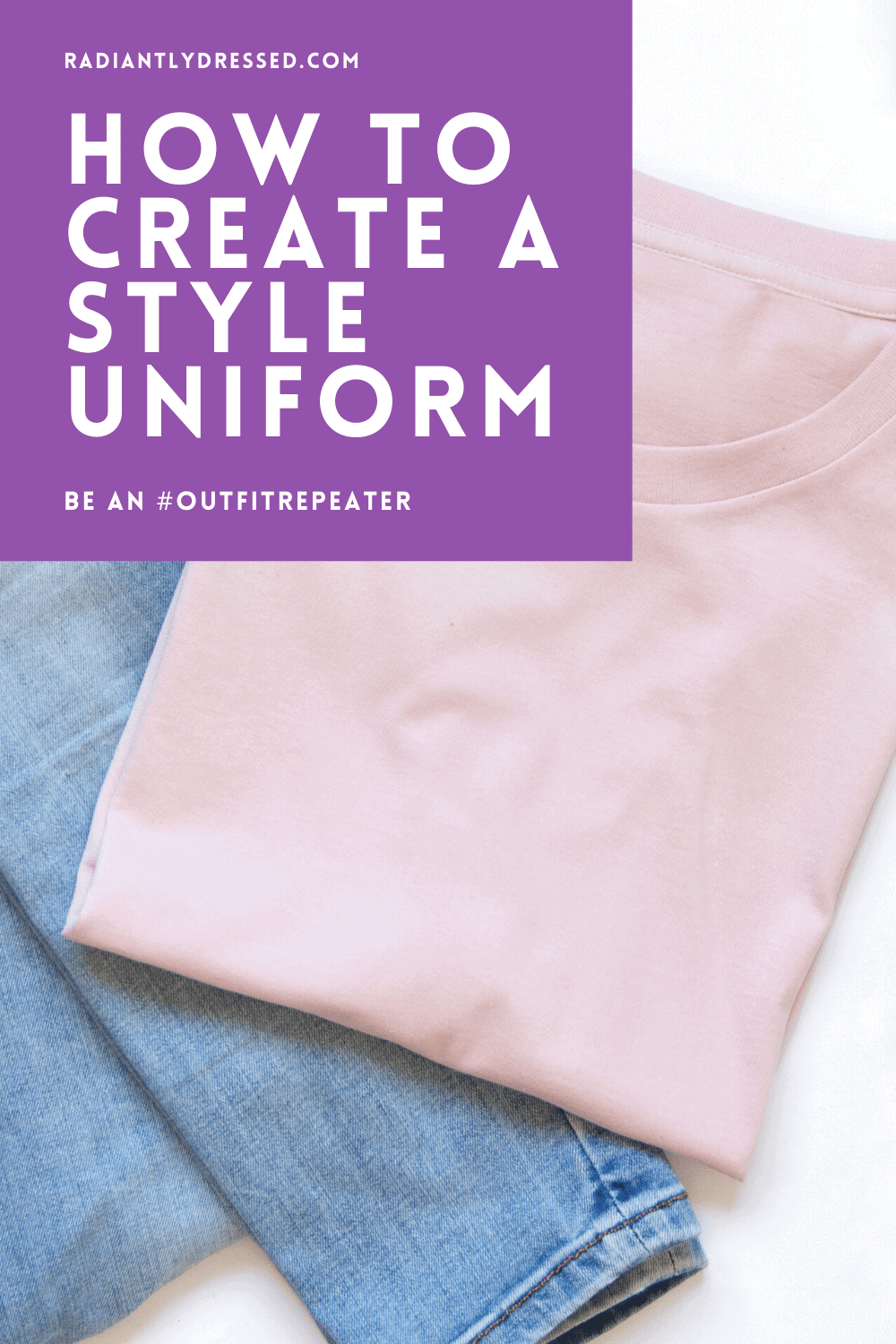 A style uniform based wardrobe will give you the ability to get dressed everyday quickly and confidently, while making sure that you are presenting your authentic self to the world.
Stacey is the owner and creator behind Radiantly Dressed. She is a certified image consultant and AICI member focusing on creating simplicity in wardrobes via color and style.