A grid capsule wardrobe is an easy way to create a cohesive capsule.
Do you love the idea of a capsule wardrobe but the implementation feels too complicated?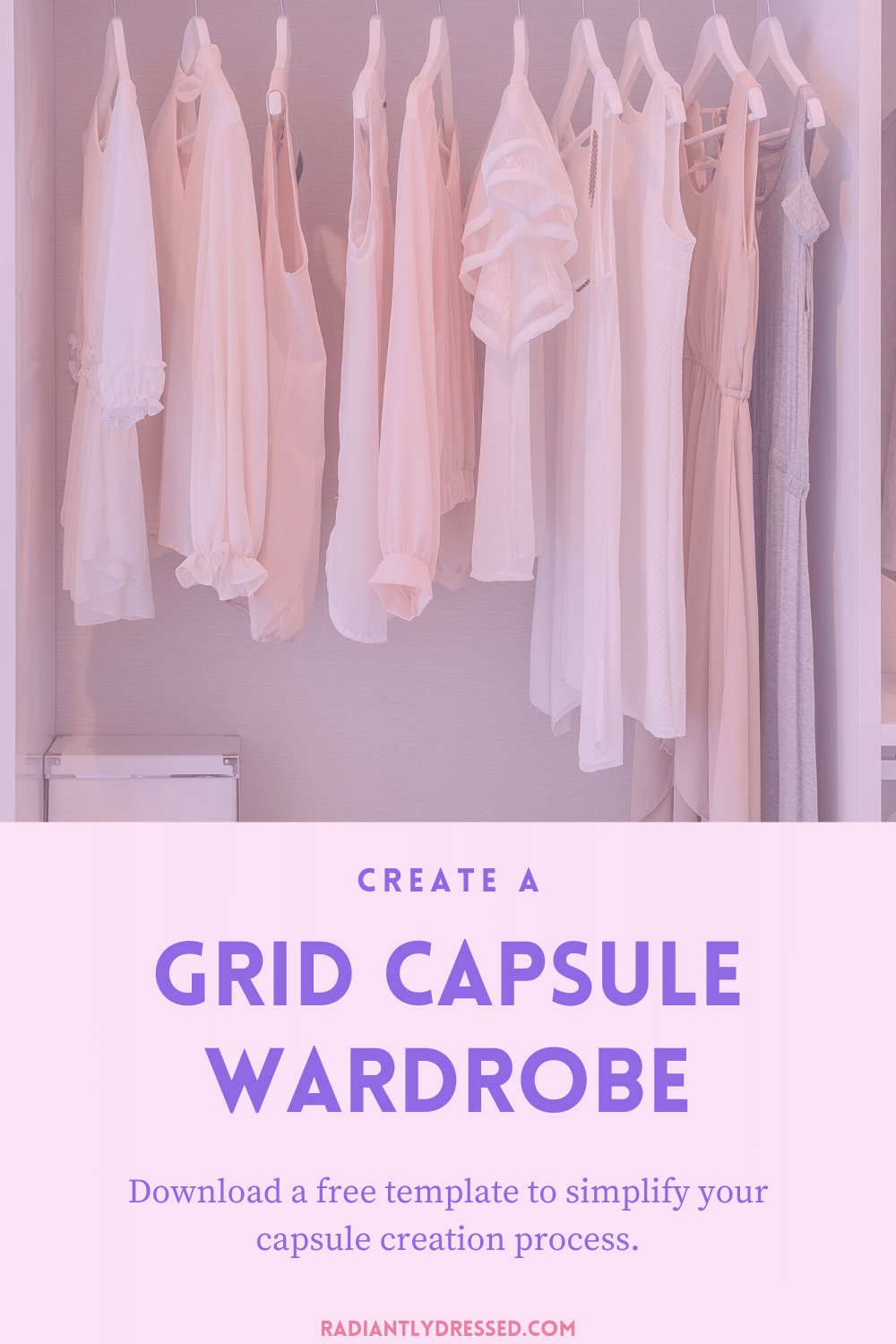 When I first discovered the concept of a capsule wardrobe back in 2015, I immediately fell in love with the idea. Owning less clothes, but loving them all, and having them coordinate well? Sounded like a dream.
The problem came when I tried to enact this perfect wardrobe.
My intro came through Project 333 and this is still fantastic place to start. But other than some rules and guidelines, it doesn't actually tell you what to choose or how.
So you're still left confused with a closet full of clothes feeling like you have nothing to wear. To add insult, everything seems disjointed and you don't know how to pair items.
Now, maybe you think the solution is to have capsule wardrobe full of black and camel, because that's what "real" minimalists do.
Wrong. 
You can have a capsule wardrobe filled with the colors you love, and not feel like you're overwhelmed in the process.
This post features an easy to use method using a grid capsule wardrobe.
Discover this simple way to define and determine your capsule wardrobe items, even if you've tried before and failed!
Looking for accountability and encouragement with your style?

What is a Capsule Wardrobe?
In case you have no clue what I'm talking about, let's go back to the basics and define a capsule wardrobe.
A capsule wardrobe is limited. Raise your hand if you've Marie Kondo'd the tar out of your life? Or maybe just one drawer perfectly folded and you gave up in defeat? *raises hand*
The minimalist nature of the capsule wardrobe is in limiting the items you allow. Standard numbers average 30-40 items of clothing/shoes/accessories for a season. The limitation is not meant to feel confining, rather to hone your style to only wearing items that you love.
Which brings us to the next part…
A capsule wardrobe is curated. There is not place in a limited capsule wardrobe for clothing items that are meh. As you make selections for a capsule wardrobe, your heart needs to feel joy at the prospect of wearing each item.
There can be a place for placeholder items if you intend to replace with something better, but as a rule, only near perfect items can make the capsule cut.
A capsule wardrobe is fiscally responsible. Ah, money. I've been known to make some pricey financial mistakes in my life, and my closet could certainly be considered one of them.
We've all been guilty of buying things for the wrong reason: because its on sale, it looked good on the mannequin, it made us feel something that wasn't true, and on and on.
But when you adapt a capsule wardrobe mentality, you prevent yourself from buying things just because. Every item is considered carefully and chosen for it's place within the overall capsule.
Instead of buying a new wardrobe every season, you consciously choose a few items to refresh your wardrobe and move on.
A capsule wardrobe is sustainable.  And this is the sustainable in the stop throwing clothing into landfills kind of way.
There is a litany of problems with fast fashion, from the manufacturing processes to the environmental impacts and everything in between. Consciously choosing to limit your wardrobe and buy things that you truly love and fit with your style reduces your impact in this cycle.
A capsule wardrobe simplifies your life. 
This is the biggest one for me. I'm a busy mom of many. I don't have the time or energy to dig through hundreds of pieces of clothing every day to choose a single outfit.
The desire to do so makes me feel ill and go in the other direction, choosing to spend the day in pajamas. And I'm better than that (pregnancy nausea notwithstanding).
YOU ARE ALSO BETTER THAN THAT.
You deserve to spend that time with your family, taking care of yourself, spending time in your spiritual life, doing hobbies you love.
Anything, except wasting headspace on what you're going to wear.
Now that I've ranted about my love of capsule wardrobes and why you should love them too, let's talk about the grid capsule method and how it can simplify the process!
What is a Grid Capsule Wardrobe?
I came across the concept about a year ago, and at the time I had no idea where it came from. Just as it sounds, it's a calendar like grid filled with clothing items that you mix and match.
As I began researching the origin for this article, I came across several examples of a grid capsule in use.
The first I came across is called a Sudoku grid capsule. In this 4×4 grid, you align the items in rows and columns in a way that provides 10 outfits for the 16 items.
I created an example out of some of the items I used in the final grid example.
This is simplistic in design and makes creating outfits easy because you've already done the work of putting it all together. I think this is a great method for a travel capsule specifically.
It's definitely very minimalist. But for a longer length capsule it lacks the diversity and number of items needed.
Digging deeper, I was able to trace the grid capsule primarily back to The Vivienne Files. She has done dozens of these in every conceivable color palette, so I'm not going to reinvent the wheel.
Giving credit where credit is due, we're simply going to expand on her concept to create a 5×6 grid, for a total of 30 items (including 4 shoes). Accessories will not be included, as 30 items is fairly minimalist and this isn't supposed to be an exercise in suffering!
How to Create Your Grid Capsule Wardrobe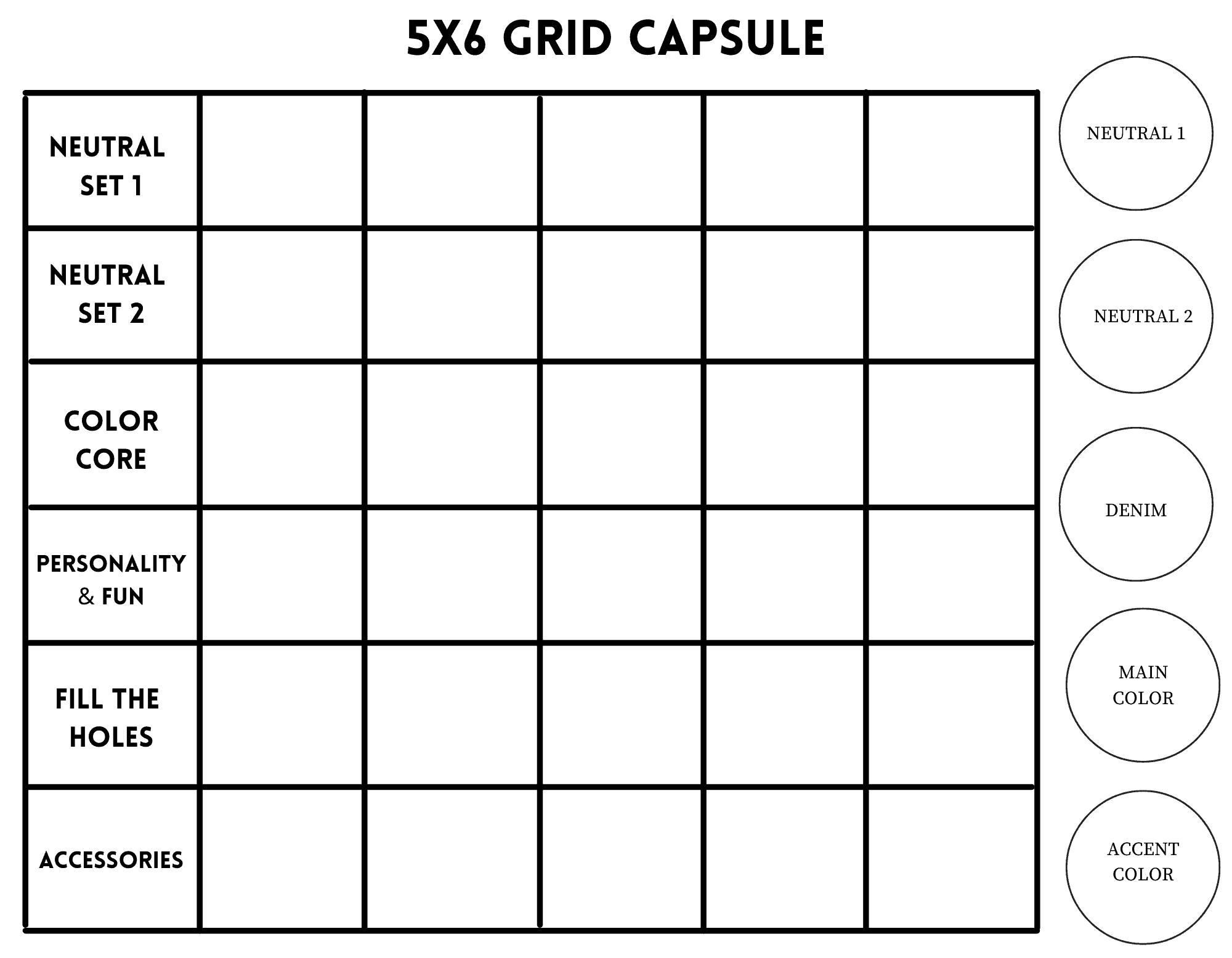 To create our grid capsule, the first step is going to be to choose colors. For a minimalist capsule it's best to choose minimal colors. This will prevent the "nothing goes with anything else" problem.
For our grid capsule, we're going to choose two neutrals, plus denim, and 2 coordinating colors.
If you want to go all in and figure out your best colors,  check out the my color analysis services.
As you look at this grid, you'll notice that it's broken up into 6 rows or categories.
The first two rows are the backbone of your wardrobe: your neutrals. Try to place core pieces here like solid tops, bottoms, and dresses. These are classic pieces that will pair well with your color choices and other fun items.
The third row is your color core, which should feature 5 items in your two chosen colors. Try to choose solids or minute prints here as this will go a bit further in your wardrobe.
The next row is where I want you to dig deep into your personality and choose items and prints that reflect you. These might be bold geometric patterns, flowy kaftans, animal print shoes, or bold florals.
At this point I want you to jump down to the final accessory row, and fill in shoes and any must have accessories. When you've finished, you should only have one row remaining: fill the holes.
As you look through what you've chosen already, consider how everything works together. Count your tops and bottoms and see if you need more of anything in particular. Look at your neutrals and see if you're missing a core piece.
To provide an example, I've created a gird using black, white, denim, teal, and red and put mostly my own preferences and style in here.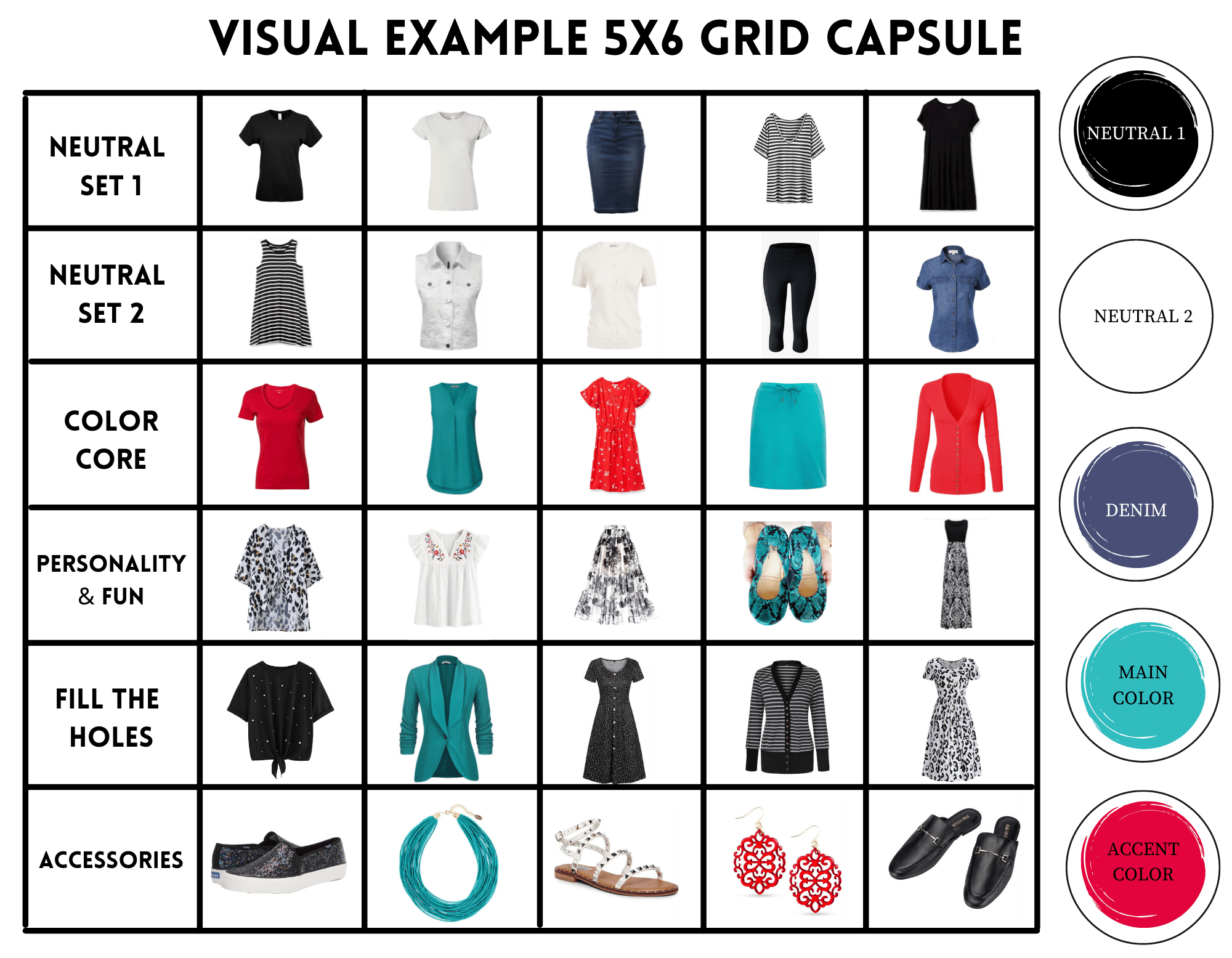 You can see that it looks cohesive, but also offers visual interest in the colors, patterns, and styling.
A capsule wardrobe DOES NOT HAVE TO BE BORING!!!!!
It should fit your, your lifestyle, and make your life easier, not the other way around!
Final Thoughts on a Grid Capsule Wardrobe
I truly believe in the power of reducing your wardrobe to a manageable capsule. Not only does it reduce money spent and environmental waste, but the biggest takeaway is the mental freedom you get from reducing your wardrobe decision making.
Blanket advice for creating a wardrobe doesn't help with the particulars and can make the process seem overwhelming. On the other end, done for you capsules often don't suit your personality and style and can result in more money wasted on the wrong items.
Are you ready to create your own grid capsule wardrobe? Grab the free download with a printable template, tips, and examples to get started!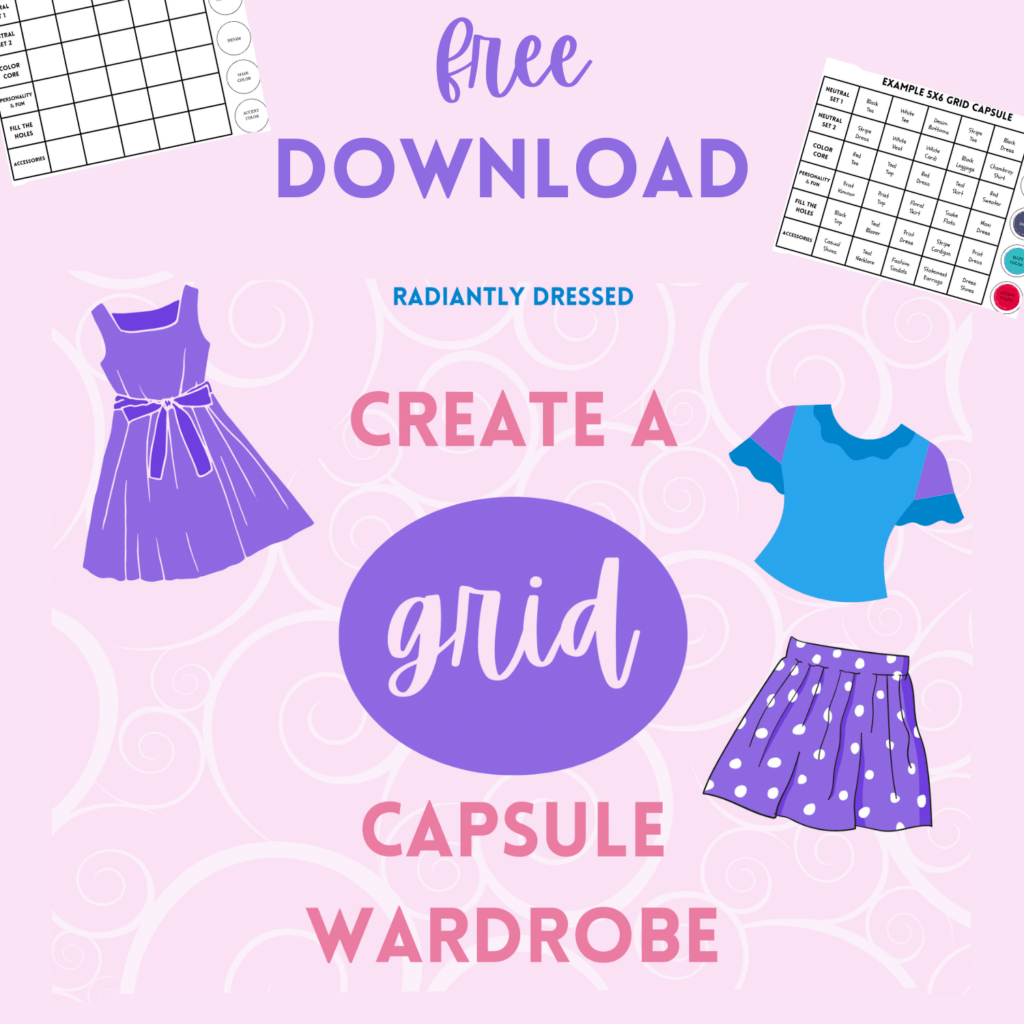 Related Wardrobe Articles:
Have any questions about creating a grid? Leave them for me in the comments! Happy planning!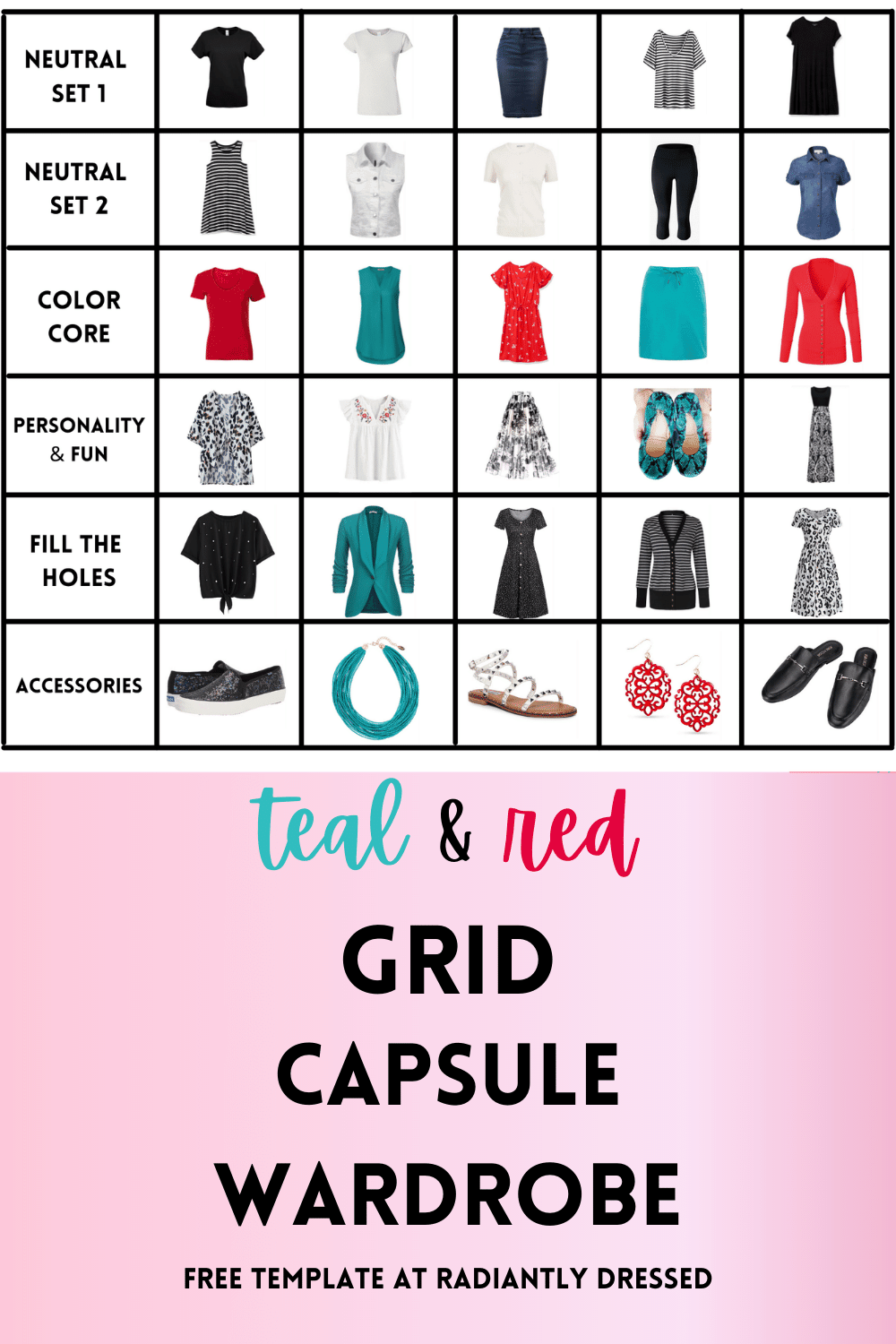 Create an easy capsule wardrobe using this pre-planned grid capsule method.
Stacey is the owner and creator behind Radiantly Dressed. She is a certified image consultant and AICI member focusing on creating simplicity in wardrobes via color and style.