Today's post is a bit of a departure from the usual style tips. Perhaps it's a selfish ramble to soothe my soul, but to pretend that it doesn't matter would be untrue. If you choose to keep reading, let it fall under inspiration.
How Do You Want to Be Remembered?
Almost a week ago my 93 year old grandmother went to be with Jesus. She wasn't particularly sick, although she was a chronic hypochondriac. She was in pretty good health overall. The last month or so she had been experiencing decline, and my mom and I had begun to acknowledge that we were seeing some end of life issues. She went to rehab for breathing issues, and after 2 weeks there it appears she had some kind of event, and her heart just gave up. She was preceded in death 17 years ago by my grandfather.
It still seems strangely surreal to me, even after the funeral. Maybe because she had lived so long and beaten some strange odds already, she seemed rather invincible.
Alas, we are not.
It's been a strange week, hastily packing clothes for myself and 5 children in less than 24 hours. Driving 4 hours to help my mom with arrangements and all the "afters". Explaining the abstract concept of death to young children. Doing all of these things while the baby decides to have the worst sleep regression in the history of sleep regressions.
There has been sadness. But it's hard to be deeply sad over a life well lived. And hers was most definitely that.
Family
Alone with my thoughts on the drive home, I was overwhelmed the first time by memories of tiny magnets. She had these two bird magnets on her fridge and my kids LOVED to play with them. I was overcome remembering how much she loved my babies. Several years ago she moved in with my parents and on our regular visits my kids would clamor to go down there and drink coke and eat sweets.
I would venture down to check on them, and find them watching something on her television. I shrugged these choices off as "grandmother's privilege" and I feel grateful that my children had these moments with her. I found 2 boxes of their favorite muffins still stored in her pantry. She kept crayons and coloring books in a drawer for them, and my oldest would frequently write her short love notes on whatever paper she could find. They enriched each other's lives.
As we went through her things last week we found boxes of pictures. Old, old pictures, black and white, some charred on the edges from a fire nearly 40 years ago. Pictures of her with her parents, her brothers, her babies, my grandfather. She saved everything. Multiple pictures of my mom and uncle during every school year. It was a joy to see her memories saved this way. She had dozens of pictures of family reunions with her aunts and cousins. She even had pictures of beloved family members in their caskets.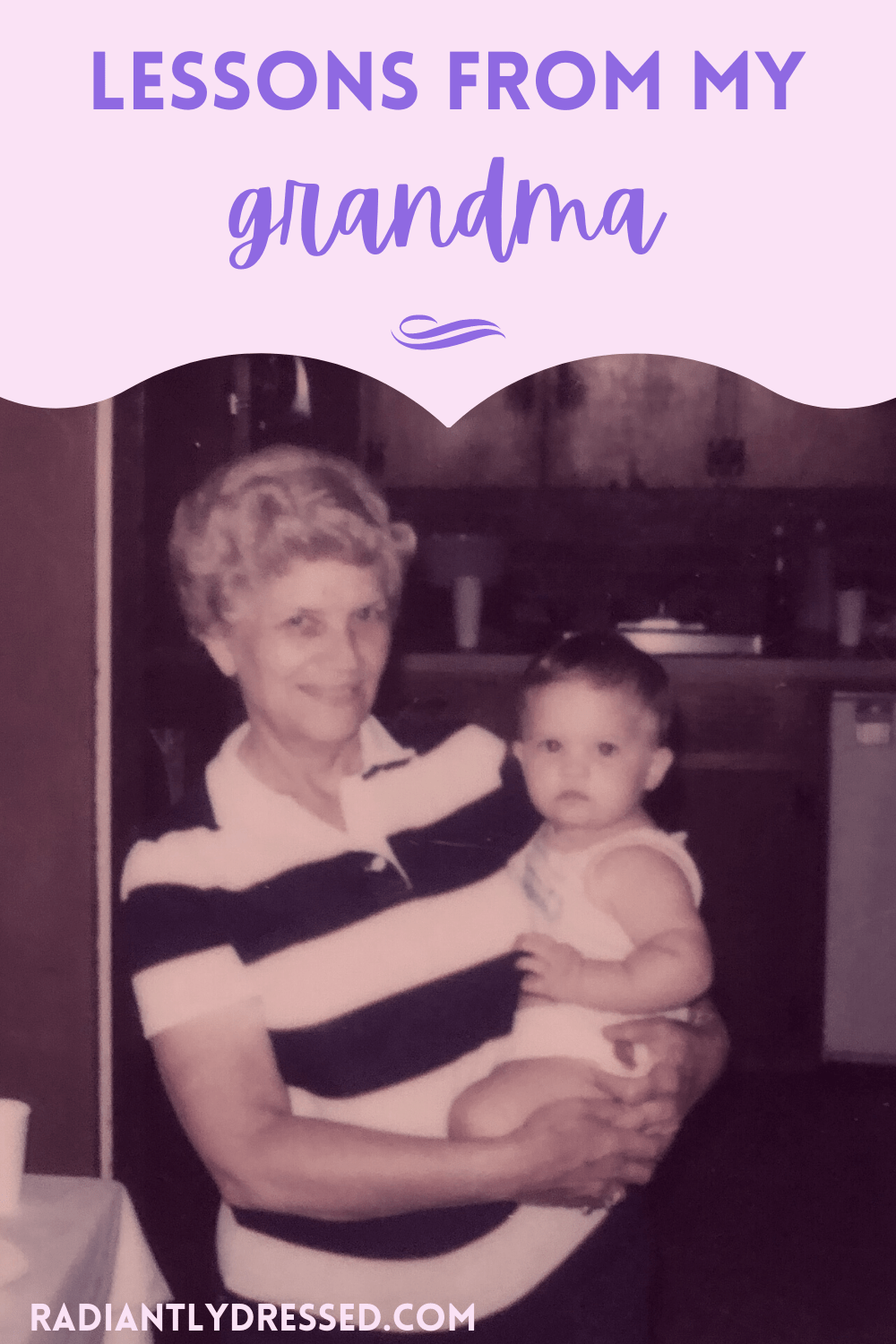 She exhibited her love of family with me and my children, but it was something so deeply embedded in who she was.
Faith
I can't exactly recall what my earliest memories of my grandma are. There are pictures of her holding me as a small baby and I know I spent lots of time at their house after my mom returned to work. But my memories of time with her are largely dominated by going to church every Sunday.
It seems there was never an excuse to miss church, and I remember she carried a huge Bible with her every Sunday. She was a staunch supporter of her denomination, the Church of Christ, and went to her death believing the tenets therein.
When I was young we attended a church with very few young children, and when I turned 12 she switched churches so that I would have access to a thriving youth group. She was the image of hospitality as she frequently hosted Bible studies and youth activities in her home.
We were never allowed to say the Lord's name in vain, and saying "Oh my God" was a serious infraction. Although I strayed from church in my 20s and changed denominations in my 30s, I credit my foundation of faith in her influence those many years, even when I begged not to go to church.
Fashion
As an adult I look back and always remember my grandma being well dressed and completely put together. As a child she had a closet full of heels that I thought were amazing.
Looking through her old pictures its interesting to see how she dressed from being a young bride to a older woman.
She was of the old school group that went to the salon once a week and had her hair done, only to wear it and refresh it the entire week without washing. I never understood that concept ha!
Going back to my church memories, the Saturday evening ritual was a home mani and pedi to get ready for the next day. I remember the joy on Sunday mornings of watching her choose her jewelry, and when we went through her things I found a tiny pair of gold rose earrings that I kept.
These last months when I went to visit, she always had a compliment for what I was wearing, and one day in sweater boots and a vest she told me I looked like a model. Considering that she binged on celebrity gossip I take that as a compliment!
JOIN US: Looking for a group of faith filled women to discuss fashion? Join the Radiantly Dressed Facebook Group.
Saying Goodbye
My mom sat at her bedside as she passed away, and so my final images of my grandmother in my head are those at her funeral. I took pictures because she apparently valued those, as I found several pictures of deceased family members in caskets when I went through them.
But those pictures actually provide my lasting images of her. I remember her as being "difficult" in a way, she was frequently hurting other family members' feelings with her often sharp, unfiltered tongue. She said a lot of wacky things to me over the years, but I was always able to shrug them off in a way others couldn't.
When my mom was struggling with her I always joked that I would handle her, and sometimes I did, but I never minded standing up to her. Perhaps she and I were alike in many ways, some that I shouldn't be proud of, but she impacted my life for 40 years and for that I am grateful.
It's a fortunate thing to live 90+ years on this earth, and to have those years preserved in photos is a blessing to us remaining. I know that she is happy and content now to be reunited with her love of 60+ years, as she lived single as a widow for the last 17. She is also reunited with her parents and multiple brothers and sisters who had all passed.
As we chose the service specifics, my contribution was my favorite Psalm, 27, and this song I leave you with. I can remember singing this with her to the sound of other robust a cappella voices in my youth.
I only hope I can leave a legacy such as this.
Stacey is the owner and creator behind Radiantly Dressed. She is a certified image consultant and AICI member focusing on creating simplicity in wardrobes via color and style.