This is the journal covering the first month of my no buy year, October low buy.
On September 21, 2022 I started a year long low buy/no buy. My goal is to get a grip on my shopping and learn to be more content with the great clothes I already have. Follow along each month as I document my experiences and how I did.
September 23
Today I took my daughter out on a few shopping errands and was faced with the first temptations and realities of not shopping.
The first stop was the Hallmark store, and they carry jewelry. I was absentmindedly looking at earrings with intent to choose, when I remembered (because I actually forgot) that I wasn't supposed to be buying anything.
The next step was a shoe store, and I wasn't tempted. I did put a couple display pairs on my feet, but I definitely didn't feel the urge to buy anything. Which is probably a good thing, since they had a BOGO 50% off. My daughters each got a new pair of tennis shoes (kid shopping isn't out of control so not an issue on my no-buy). Kids needs shoes anyway.
It's ironic that I went physically shopping so early into my challenge since it's such a rare occurrence. I find it amusing that I literally forgot that I was doing a no-buy until the thought to buy something popped into my head. There were pair of blue-green butterfly earrings that made me remember. I had the immediate FOMO that I am so familiar with: "what if I never find this item again" and my rational side took over and reminded me that it didn't matter anyway because I had at least one pair of earrings I liked better.
Some items I ordered leading up to my birthday are arriving, and I'm really looking at those purchases with discerning eyes. 
September 30
Yesterday the jumpsuit I've been eyeing became available, so I purchased it in accordance with the exceptions in my low-buy rules. I don't usually wear pants, so I'm not sure if I'll keep it.
The company also started a new pre-order option for certain items in production. This caused me to take a deep dive into how many dresses I own, how many I want to own, and whether the current collection is serving my lifestyle and needs RIGHT NOW. 
I have on my exception list a new dress as long as it's breastfeeding friendly. One of the new options is a long sleeve fit and flare dress with a vneck. Honestly my dream silhouette with a nursing friendly neckline.
I pondered this situation for awhile. I'm not doing a no-buy, there is room to make adjustments to my wardrobe in this year long low-buy. What I am trying to avoid is impulsive over-buying, especially of items I don't actually wear.
I also began to assess my long term goals for the dress portion of my wardrobe. I settled upon having 4 wool dresses per each calendar season, for a total of 16. I feel this is certainly adequate, especially when combined with a wardrobe of other staples. 
I currently have more than 16. 
But I do have 4 long sleeve dresses that I can't wear for the foreseeable future because they are too hard to breastfeed in. Going with my replacement exception of in/out, I listed 2 of them for sale with the intention of replacing with 2 of the new v-neck dresses. 
One of my big reasons is to learn contentment with what I have, but also to finish the honing of a wardrobe that I love, and that serves the life I'm living right now. I want clothes in my wardrobe that get worn, and there needs to be no place for those that do not. By rehoming 2 items that I have never worn because of neckline, and replacing with 2 similar replacements, I am honoring all of my goals.
November 1
I thought to myself I should write an entry several times during my October low buy. But then I inevitably got distracted trying to distract myself from thinking about shopping.
I had a couple temptations come up during the last month, and I purchased one thing.
I started to think about Black Friday and regret not adding more exceptions. It really forced me to think about what would be important enough to except for Black Friday, which caused me to think about my wardrobe and whether or not there were any missing gaps.
For several months I've been thinking about getting one nice wool sweatshirt/hoodie. One day I noticed that one of my favorite companies had one in pre-production in perfect colors. This was actually before I started this no-buy. I told myself it could wait, and that I would think about getting it maybe when it was on super sale. As time as gone on I've considered grabbing the item I found for Black Friday, knowing the price would be amazing.
Then…a friend who knows I've been waiting on this, sent me a special limited coupon for 50% off.  I bought it. It got here, and it doesn't fit the way I was hoping. I've exchanged it for a roomier size, but we shall see if it feels important enough to keep, even at half off.
This lesson is one that has been profound. It seems the less I am buying things, the less I want to buy, and the more discriminating I am about what I'm keeping.
There was an incredible sale on a favorite brand of flats (best I've ever seen). I held off.
Several new nursing clothing items released. Not very interested. 
As far as Black Friday, there are a few things I definitely want to get with a great price:
A pink wool turtleneck

Dressy wool top

2 new nursing hoodies for sleep
Final Thoughts on Low-Buy October
Here's the simplified recap on October:
Items Purchased: 4
Items Returned: 1
Items Exchanged: 1
Items Decluttered: 4
Net Change: -1
Looks like my net change in trying to keep to a 1:1 in:out ratio is working so far. If my exchanged item is a keeper I'll have to find something to let go in its place.
I'm really happy with my wardrobe, and other than a few cozy items there's nothing that feels missing. I wonder if the whole Black month sales drama will get me excited that I'm holding off, or regretting something?
Did you enjoy this recap? What would have been your tempatation?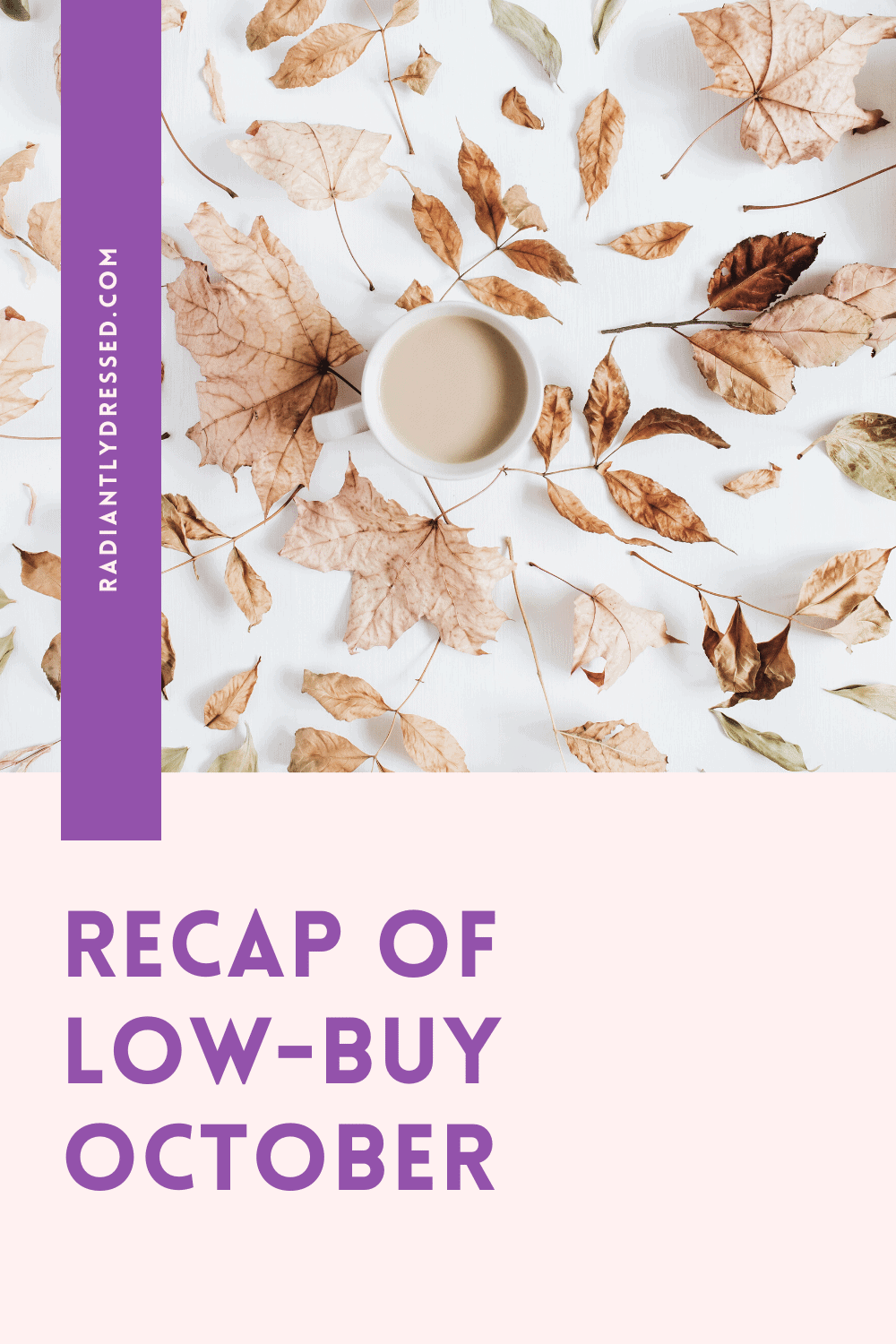 Stacey is the owner and creator behind Radiantly Dressed. She is a certified image consultant and AICI member focusing on creating simplicity in wardrobes via color and style.