The Definitive Guide to Deep Autumn: Explore the 12 Seasons
Deep Autumn is warm and dark and shares characteristics with autumn and winter in the 12 season system of color analysis.
Deep Autumn is a unique blend that marries the warm, rich hues of autumn with the dark, intense shades of winter, according to the 12-season system of color analysis.
Are you captivated by the rich, dark colors that emerge when autumn begins its transition into winter? Do the deep reds of changing maples, the complex browns of decomposing leaves, and the mysterious teal of dwindling daylight resonate with you?
If these colors not only catch your eye but also seem to amplify your natural beauty, you're likely a deep autumn.
The is a comprehensive guide to deep autumn in the 12 season system of color analysis. Keep reading to learn the physical characteristics, best makeup, a color palette, wardrobe staples for deep autumn, and how to create your own custom palette.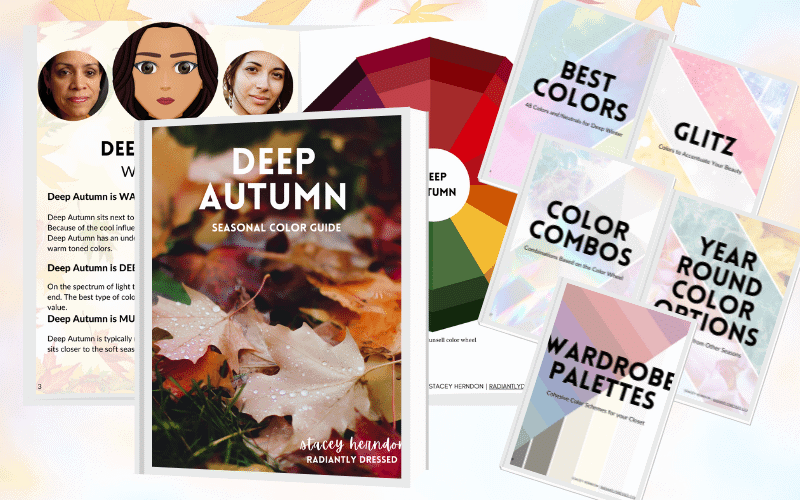 PURCHASE THE DEEP AUTUMN COLOR GUIDE

The 12 Seasons of Color Analysis
Seasonal color analysis is a transformative approach that helps you discover which colors make you look and feel your best. By examining the undertones of your skin, eyes, and hair, this system categorizes you into one of the 12 distinct color families.
The result? A curated palette that enhances your natural beauty and instills a newfound sense of confidence.
In the realm of seasonal color analysis, we examine the three key elements of your appearance: skin, eyes, and hair, to identify a color family that best complements you. The six primary components we consider are warm, cool, deep, light, soft, and bright.
The autumn color family is predominantly warm, and it encompasses three distinct types including soft autumn, true/warm autumn, and deep autumn.
Deep Autumn (you are here)
In this guide, we delve into the rich, complex beauty of Deep Autumn, a unique blend that captures both the warmth of autumnal shades and the depth of wintry hues.

This site contains affiliate links. As an Amazon associate I earn from qualifying purchases. Thank you for your support!
Deep Autumn is Dark and Warm
Deep Autumn is classified in the following ways: warm hue, dark value, neutral chroma.
Warm hue – the undertone is always red, but various overtones of gray or violet may give a cooler or occasional blue appearance, causing confusion when determining the difference between deep autumn and deep winter.
Dark value – this is one of the seasons characterized by depth and darkness of color. This is one of the defining characteristics and holds true for all deep autumns.
Neutral chroma – there is some variation here. Some deep autumn types may exhibit much more muting as seen in the need for grayer toned colors, while others may be able to handle more brightness.
The hint of warmth we identify is mainly noticeable in the skin, but also subtly present in the eyes. Unlike True Warm Autumn, Deep Autumn leans more neutral, especially as it shares characteristics with its sister season, Deep Winter.
Deep autumn eyes are typically brown, hazel, or green. Some individuals may also have a gray-brown mix, giving their eyes a muddy appearance.
While hair color is a less essential feature in determining one's seasonal palette, it often serves as a complementary trait in Deep Autumn types. The hair is dark – brown or black – with hints of mahogany, red, auburn, or gold.
The overall appearance is low/medium contrast, rich brown tones upon each other. Lighter shades of caramel or gray may exist as well.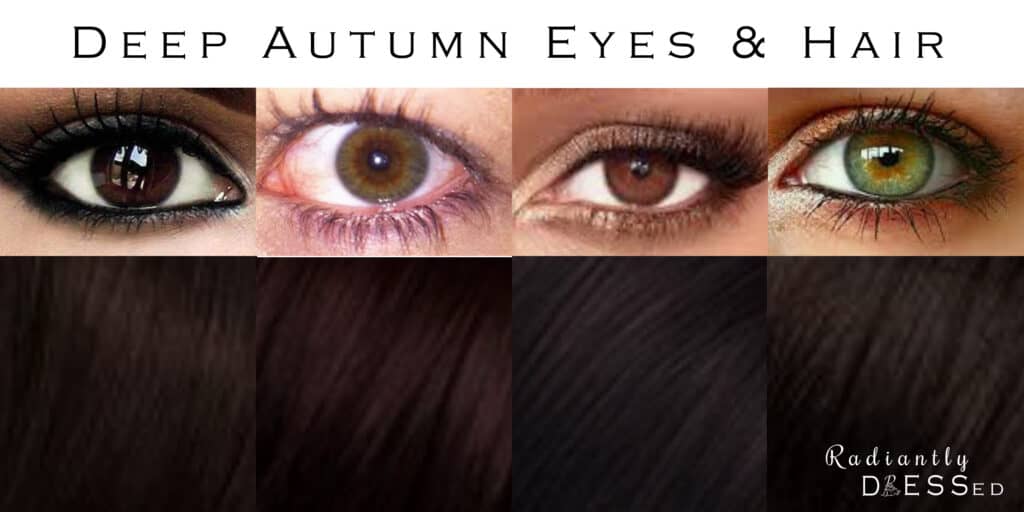 Deep Autumn shares a unique trait with its sister season, Deep Winter: both are characterized by darker values. While Deep Autumn can embrace somewhat richer colors due to its proximity to Deep Winter, it's essential to maintain a low overall contrast level to align with its own characteristics of neutral to slightly muted chroma and medium-to-dark value.
The colors often associated with Deep Autumn are reminiscent of fallen leaves, winter vegetables, and lush forests, capturing both the warmth and depth that define this season.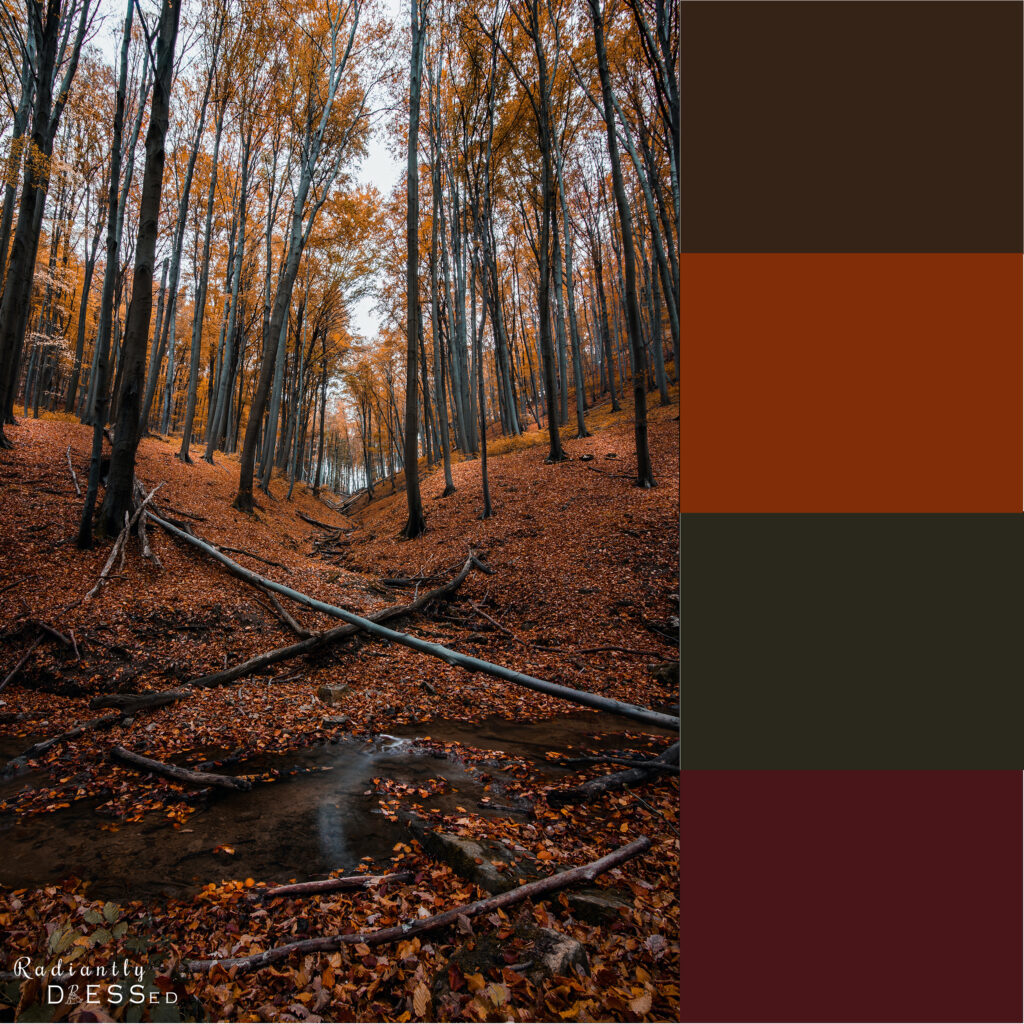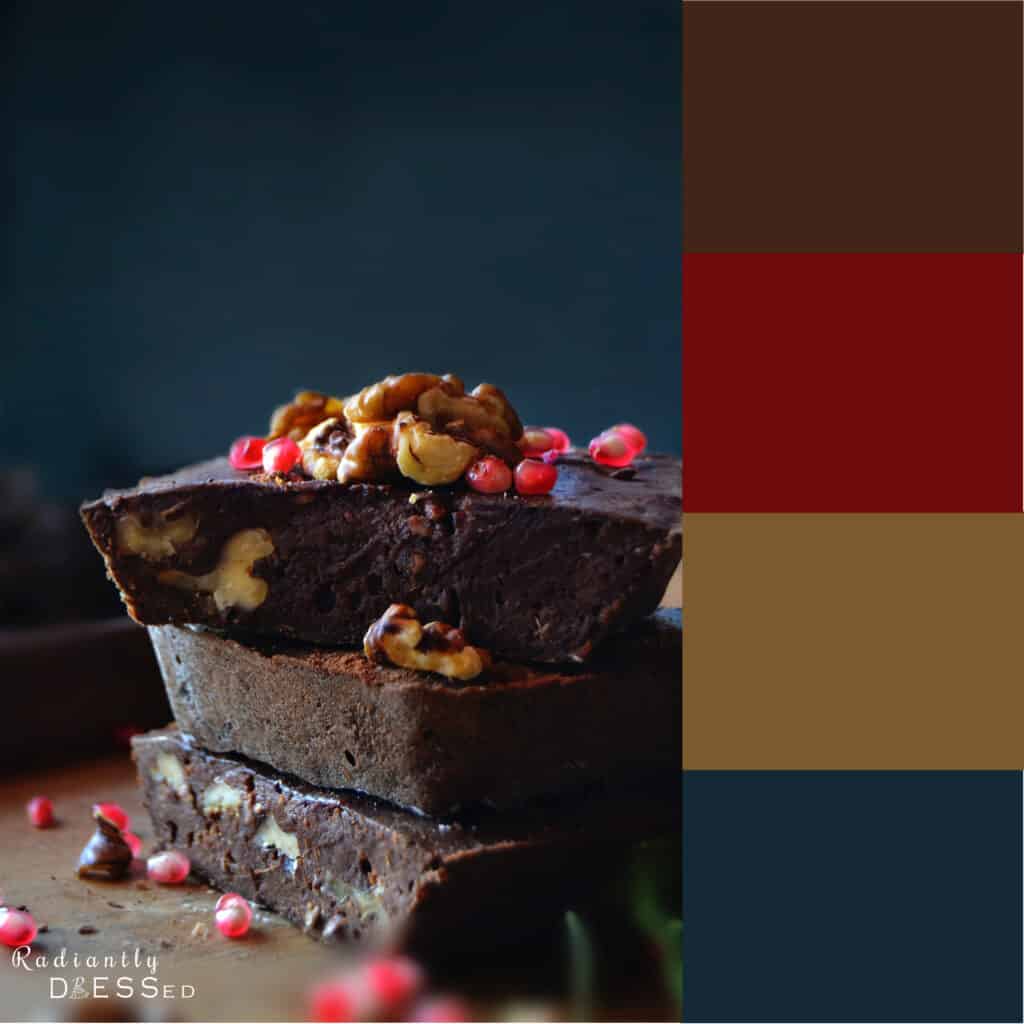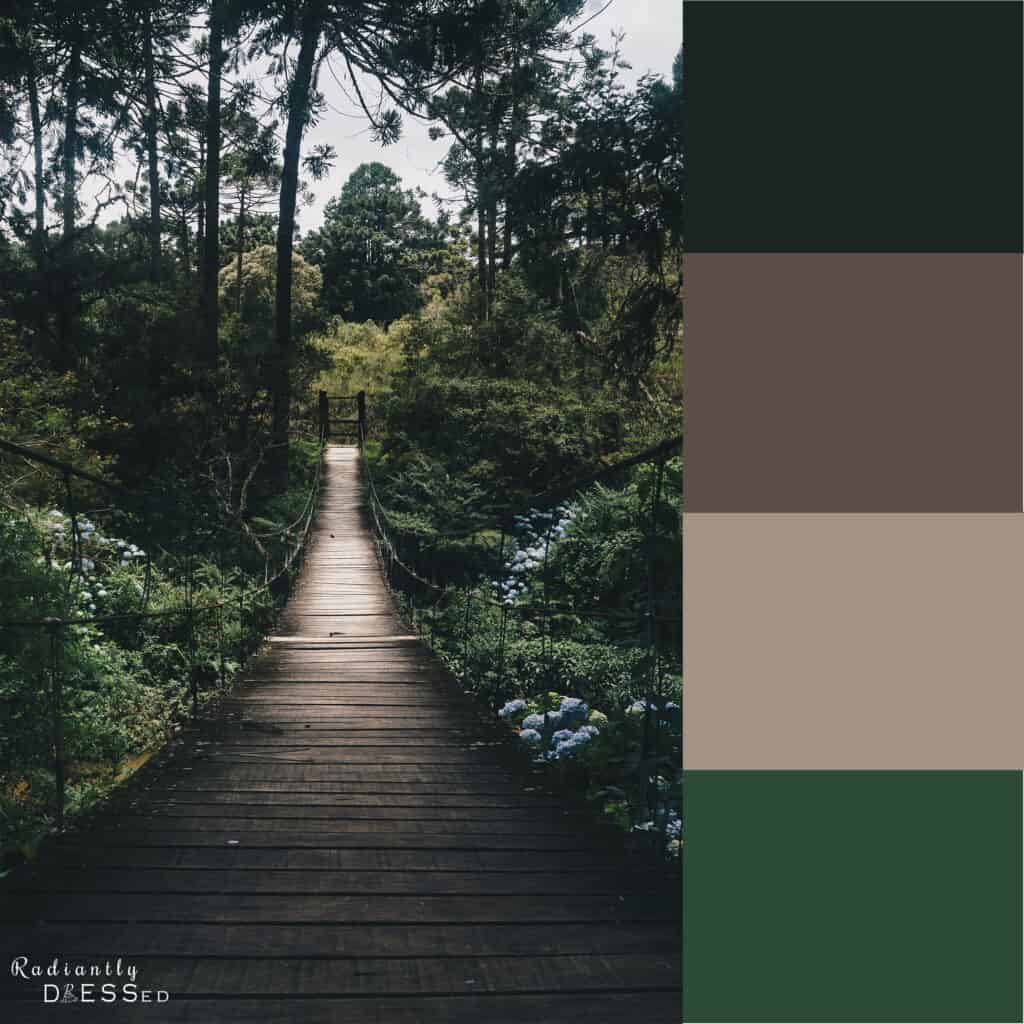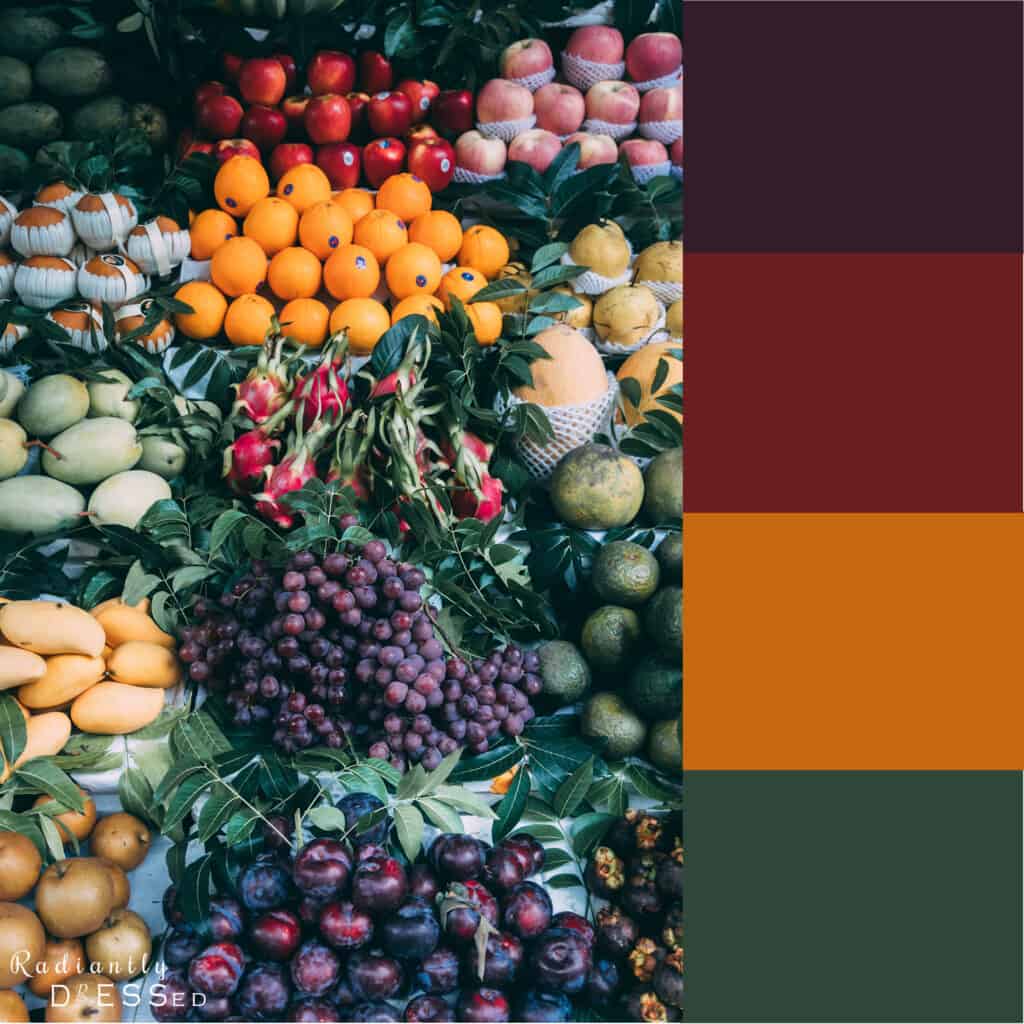 Makeup for the Deep Autumn Woman
To truly accentuate the deep autumn features, your makeup palette should harmonize with your natural warmth and depth.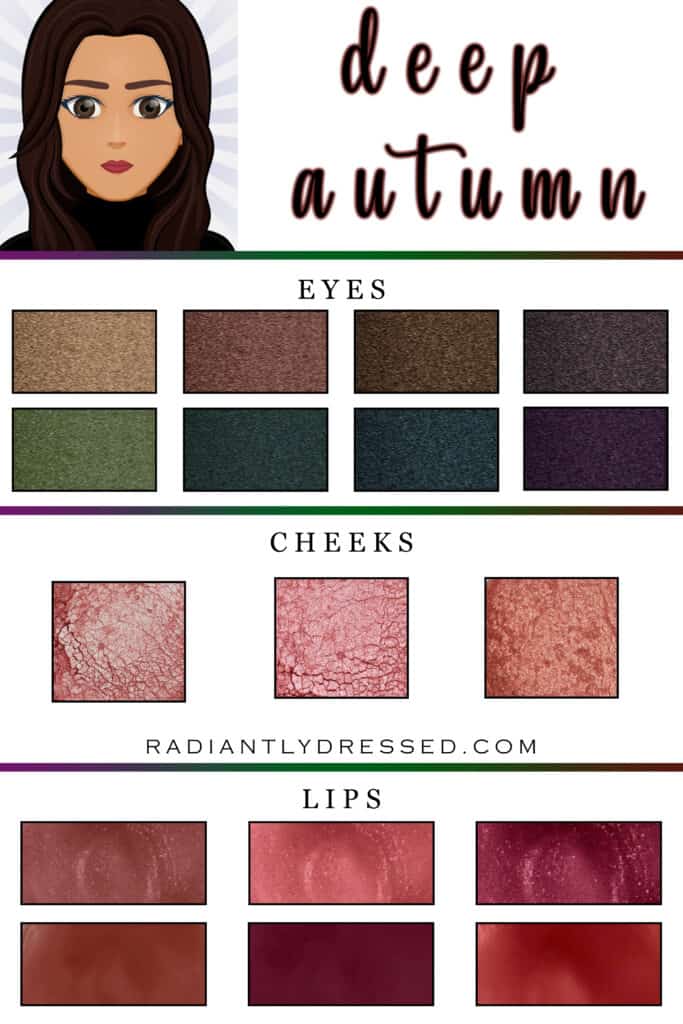 For the eyes, choose medium and dark brown neutrals. When you're in the mood for a pop of color reach for olive green, forest green, deep teal, and dark purple.
To flatter your warm, dark skin, choose blushes in rich shades of coral, peach. These colors don't just complement; they enhance.
Forget the idea of a nude lip; it won't do justice to your deep autumn characteristics.Instead, consider a caramel shade as your go-to neutral lip color.
If you're in the mood for something bolder,the darkest warm shades wine, raisin, and espresso will serve you well.
Steer clear of any makeup colors that lean towards cool tones. Pink or berry red lipsticks, cool blue and green eyeshadows, and soft pink blushes are not your friends.
This makeup advice aligns with your natural coloring, allowing you to emphasize what makes you uniquely 'Deep Autumn.'"
Inspiration for Deep Autumn: A Palette of Depth and Warmth
Deep Autumn revels in a tapestry of rich, intense colors. Think chocolate brown, ripe aubergine, forest green, deep mustard, pumpkin, wine, and midnight teal. These are the shades that illuminate the beauty of a Deep Autumn woman.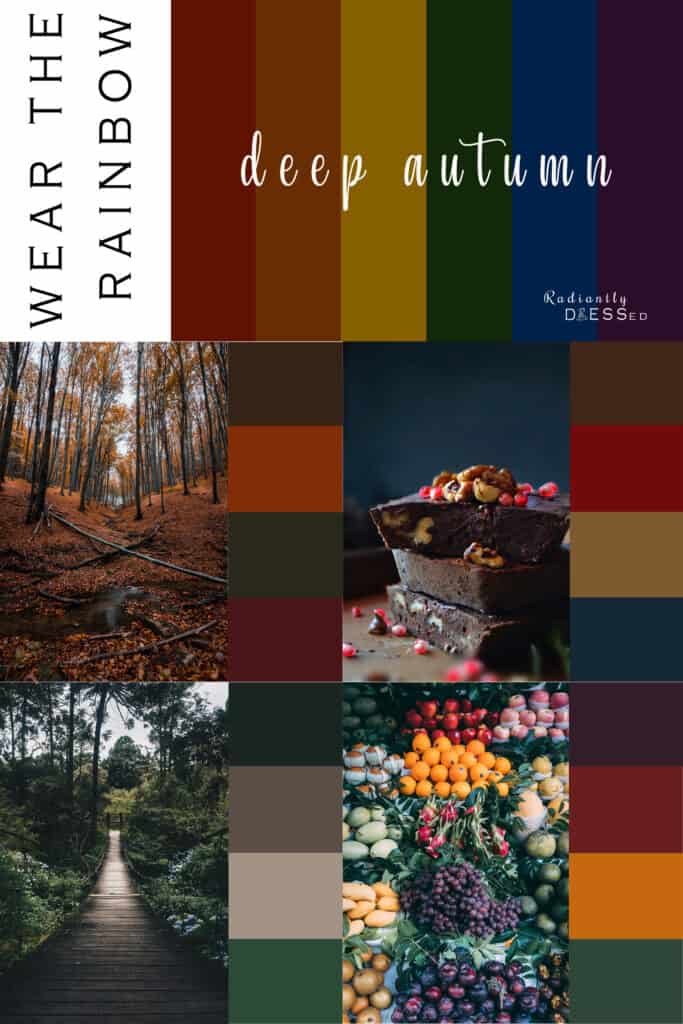 Here we see some different elements where deep autumn is naturally found. The 6 color rainbow depicts the truest, most neutral form of colors, but the deep autumn rainbow is warmer and greatly shaded.
Visual Inspiration
To truly visualize the Deep Autumn color spectrum, consider the following natural elements, each of which encapsulates the essence of this season:
Autumn Forest: Deep oranges and reds from fallen leaves, accompanied by browns and dark olives from the surrounding trees.
Evergreen Forest: A mixture of greens and brownish-grays that resonate with the Deep Autumn palette.
Chocolate and Pomegranate: Rich browns with pops of pomegranate reds encapsulate indulgent and bold color choices.
Harvest Vegetables: A spectrum from mustard yellow to plum purple, offering a rich variation in your palette.
By aligning your wardrobe with these inspirations, you can truly bring out the Deep Autumn in you.
Deep Autumn Color Palette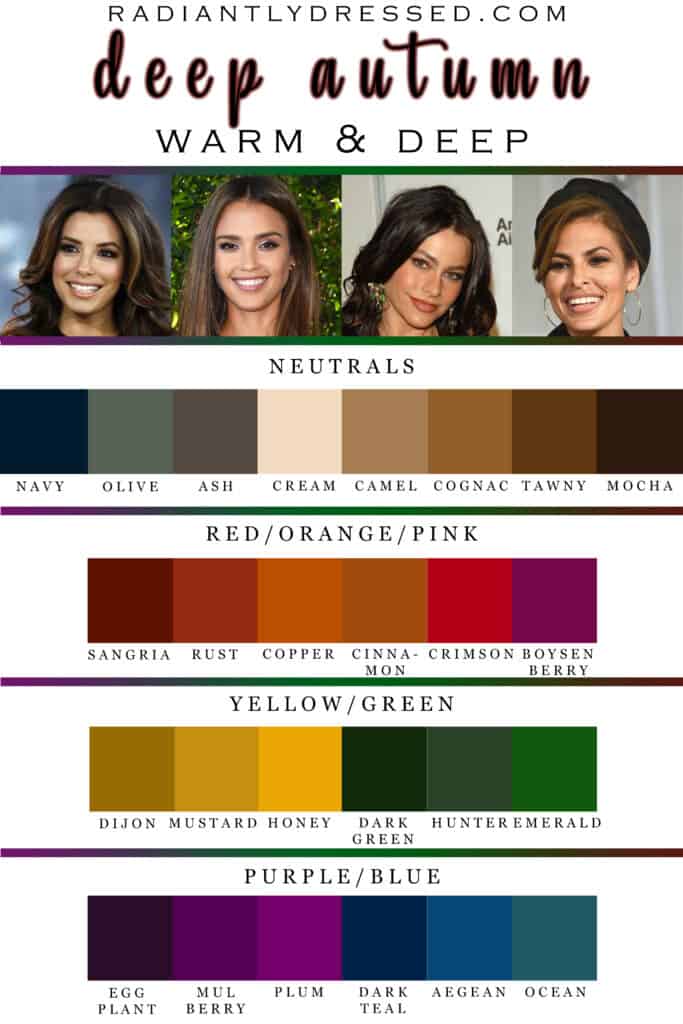 In the world of Deep Autumn, traditional neutrals like black and white take a back seat. Instead, the wardrobe thrives on the richness of browns and navies, and cream rises as the new white.
Olive and camel serve as the colored neutrals, seamlessly blending into the canvas of a Deep Autumn's clothing ensemble.
When it comes to warm colors, reds and oranges dominate, adding a splash of vitality. But don't overlook shades like boysenberry—a warm pink that holds its own against the season's fiery tones.
Yellows, meanwhile, borrow their hues from culinary delights like Dijon mustard and warm honey, rounding out the warmer end of the spectrum.
For those who love green, Deep Autumn offers a range of dark, forest-inspired shades that evoke the richness of nature.
Blues, often a tricky color for this palette, become wearable with a dash of green, effectively warming them up.
Purples that lean toward the red end of the spectrum best complement the Deep Autumn skin tone, creating a harmonious visual impact.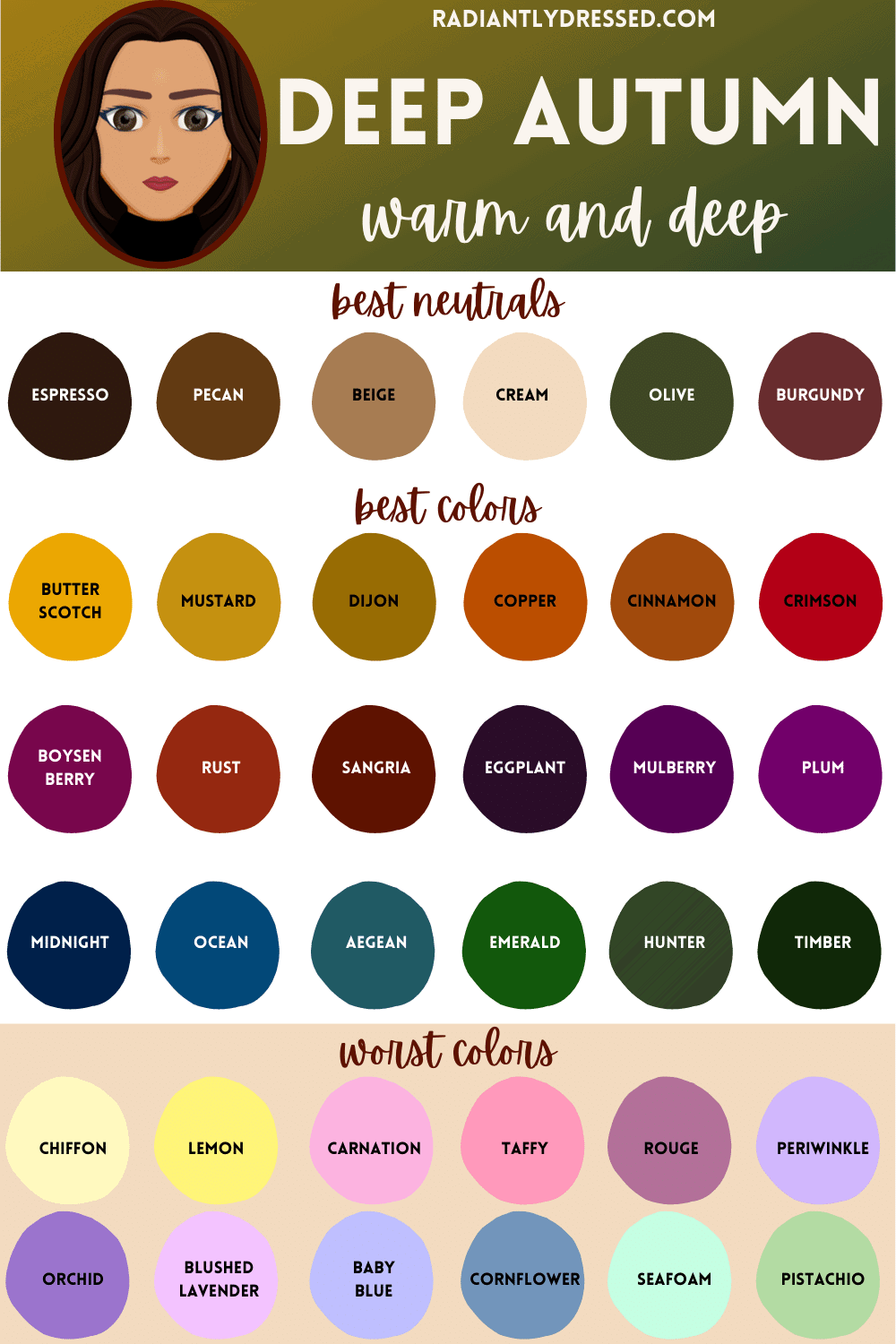 While every color family has a variant that can work for a Deep Autumn, some shades are easier to incorporate than others. For instance, warm pinks might shift into deeper corals, while some reds and blues may require adjustments to better suit your season.
It's crucial to avoid blacks, whites, and pastels, as they don't align with the warm and muted characteristics of Deep Autumn.
Aim for colors that offer a balanced match to your natural chroma—neither overly vibrant nor overly muted. This ensures a harmonious look that complements Deep Autumn's unique features.
Choosing Prints for Deep Autumn
Choosing the right prints can add an extra layer of sophistication and personality to your Deep Autumn wardrobe. But not all prints are created equal for this color season. Here are some guidelines to help you make the most informed choices:
Color Composition: Aim for prints that have less than 10% of colors outside your Deep Autumn palette. This ensures that the print complements your natural coloring.
Scale: Medium to large-scale prints work best for Deep Autumn. Smaller prints can become too busy and detract from the richness of your natural hues.
Contrast Level: Stick with prints that have a low level of contrast. High contrast patterns can overwhelm your features and disrupt the overall harmony of your look.
Value: Opt for prints with a darker value to align with the overall depth of the Deep Autumn color spectrum.
By keeping these factors in mind, you'll be better equipped to select prints that not only align with your color palette but also enhance your natural beauty and personal style. And don't forget, the most important factor is how you feel in these prints.
Confidence shines through, no matter what you're wearing.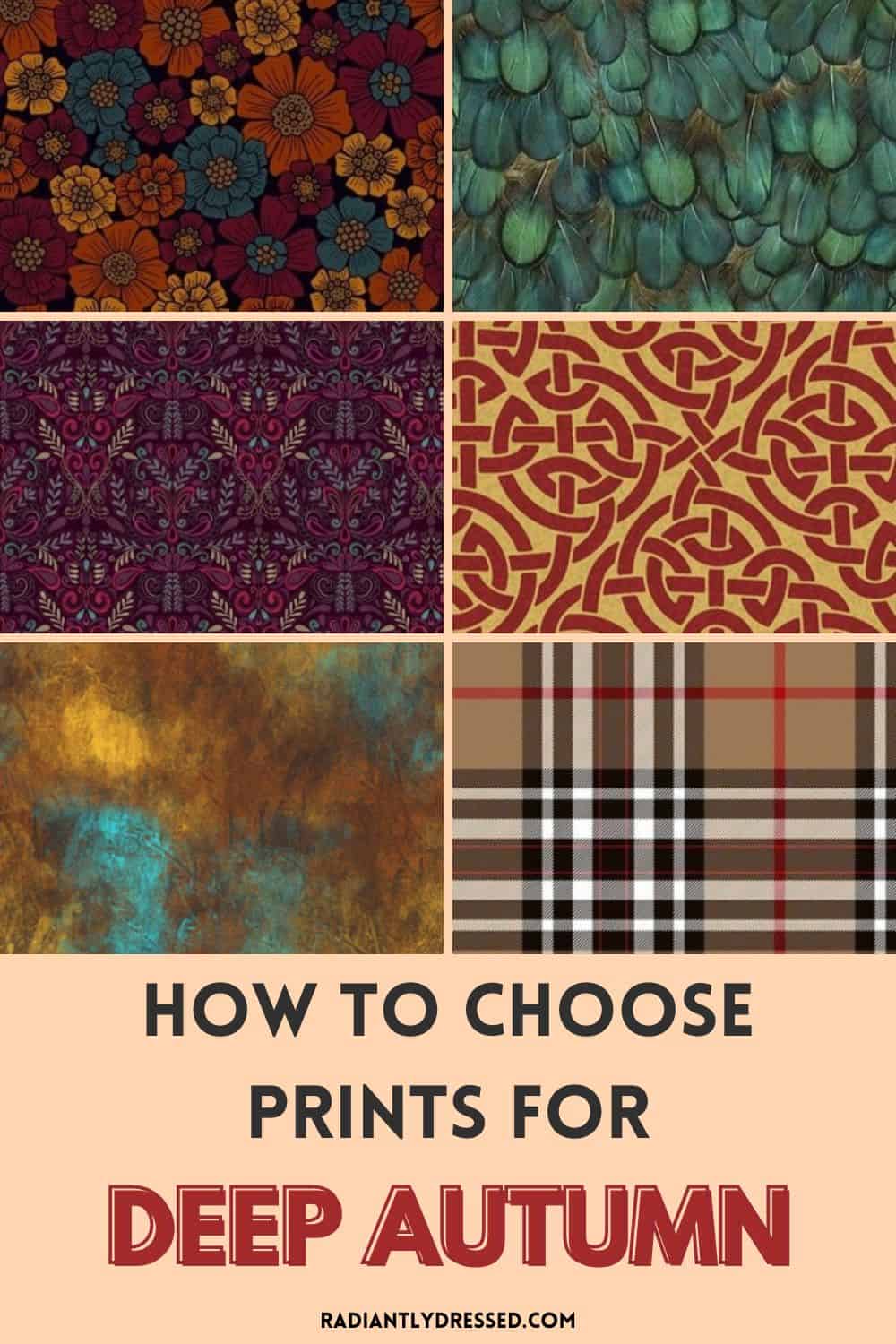 Wardrobe Essentials for Deep and Warm Coloring
When putting together outfits, low contrast options featuring mostly darker colors in the palette will be best. Using light neutrals is still a suitable outfit, however.
Patterns should feature mostly dark colors with a hint of light, such as traditional leopard.
When choosing other patterns such as florals, plaids, and stripes, look for options that have a dark background with smaller elements as contrast.
Dark wash denim is preferred over medium and light wash. Leather should be in the brown family, like mocha or cognac.
Yellow and rose gold are great metals for deep autumn.
Frequently Asked Questions about Deep Autumn
Is Deep Autumn the same as Dark Autumn?
Yes, they are the same thing. Both terms refer to the same color season characterized by a dark value and muted chroma, leaning towards warm undertones.
What is the difference between Deep Autumn and Deep Winter?
Deep Autumn and Dark Winter are sister palettes and can share some colors. However, their core differences lie in the temperature of the colors and the overall feel. Deep Autumn colors are warm and earthy, with a sense of coziness and richness. Dark Winter features cooler and more high-contrast shades, focusing on hues like wine red, royal blue, and charcoal gray. People with Deep Autumn coloring may find some Dark Winter colors flattering, but it's important to prioritize warmth in their palette.
Which colors should Deep Autumn individuals avoid?
Deep autumn individuals should avoid overly cool, bright, or pastel colors, as these may not complement their natural warm undertones. Steer clear of colors that are too icy or light, such as cool grays, lavender, and pale blue. Instead, opt for the warm and dark colors that flatter your deep autumn palette.
What are some outfit ideas for Deep Autumn colors?
When building an outfit with deep autumn colors, focus on combining warm and dark shades to create a rich and harmonious look. You can start with a base of dark red, deep teal, or rich brown, and then add complementary colors and accents to bring out the warmth and depth of your palette. For instance, pair a deep red blouse with dark brown trousers, or layer a warm-toned scarf over a deep teal jacket. Don't be afraid to play with textures and patterns that enhance the cozy, autumnal feel of your deep autumn outfits.
Can Deep Autumn wear red?
Yes, Deep Autumn can certainly wear red, especially if it leans on the warm side. Think in terms of rich, deep reds like brick or crimson rather than bright, fiery reds. These deeper reds complement the warm and dark aspects of the Deep Autumn palette.
Can deep autumn wear burgundy?
Absolutely, burgundy is an excellent choice for Deep Autumn. It aligns well with the dark value and slightly muted chroma characteristics of this season. Burgundy can serve as a rich, versatile neutral or as a statement color in your wardrobe.
Can deep autumn wear pink?
Yes, but opt for warm and deep shades of pink like coral or boysenberry. Light, pastel pinks may not be as flattering because they can wash out the deep, warm tones that characterize Deep Autumn.
Can I still wear black?
Of COURSE you can still wear black. I personally believe that black is a staple in any wardrobe. Any season can wear black, but some may find it is overwhelming. Fortunately as a deep autumn that is less likely than someone who is a light season. Black isn't your BEST color, however, as you'll find dark brown and even dark navy are more flattering. However, if you are building a capsule wardrobe around dresses, I highly recommend using black as a base simply because you'll be able to find items easier.
I hate these colors, could my season be wrong?
Yes absolutely, it could be true. But I want to challenge you, what is it that you hate? Is it the neutrals that you don't like? Perhaps you don't like brown? Refer back to my statements above about wearing black. Is it one of the color families, yellow or orange perhaps? Don't wear them! Just because a palette includes all these colors doesn't mean you should wear them all. I dare you to look at your closet and see if you naturally gravitate to any of these colors. If the answer is no, and you still feel this is completely wrong, let me know! I can help!
How Do I Build a Deep Autumn Capsule Wardrobe?
To build a Deep Autumn capsule wardrobe, start with key neutral staples that align with your season's characteristics. For Deep Autumn, good choices include dark brown, navy, olive, and camel. Consider having essential items like pants, skirts, and jackets in these neutrals.
Next, incorporate your main color and 2-3 accent colors. You might choose a warm red, a deep orange, or a dark mustard as your main color, and then pick accent colors that can be easily mixed and matched with your main and neutral colors.
Here's a simple guide to create a color palette include:
Base Colors: Black (if you still want to include black)
Dark Neutral: Dark brown or Navy
Light Neutral: Cream or Camel
Main Color: Deep red or Mustard
Accent Colors: Pick 2-3 from your palette, like deep teal, burgundy, or warm purple
Can I only wear these colors?
Absolutely not! You should wear colors that make you feel confident and happy. That said, you may find that understanding your Deep Autumn season changes how you feel in certain hues. For example, if you've always wanted to wear pastel blue or pink, go ahead! Just know that these shades might not highlight your natural beauty the way deep autumn colors would. If you're eager to experiment, consider looking into your sister seasons for more options.
The following are sister seasons for deep autumn: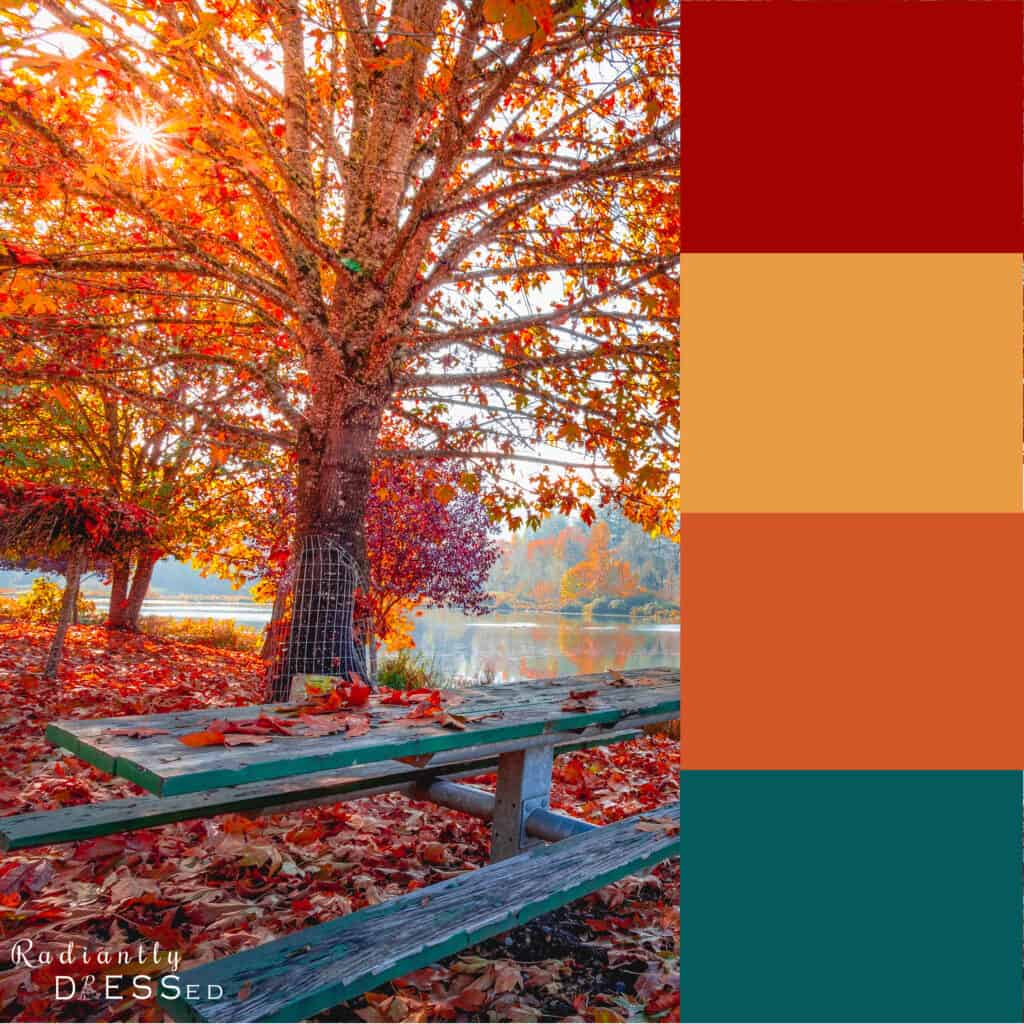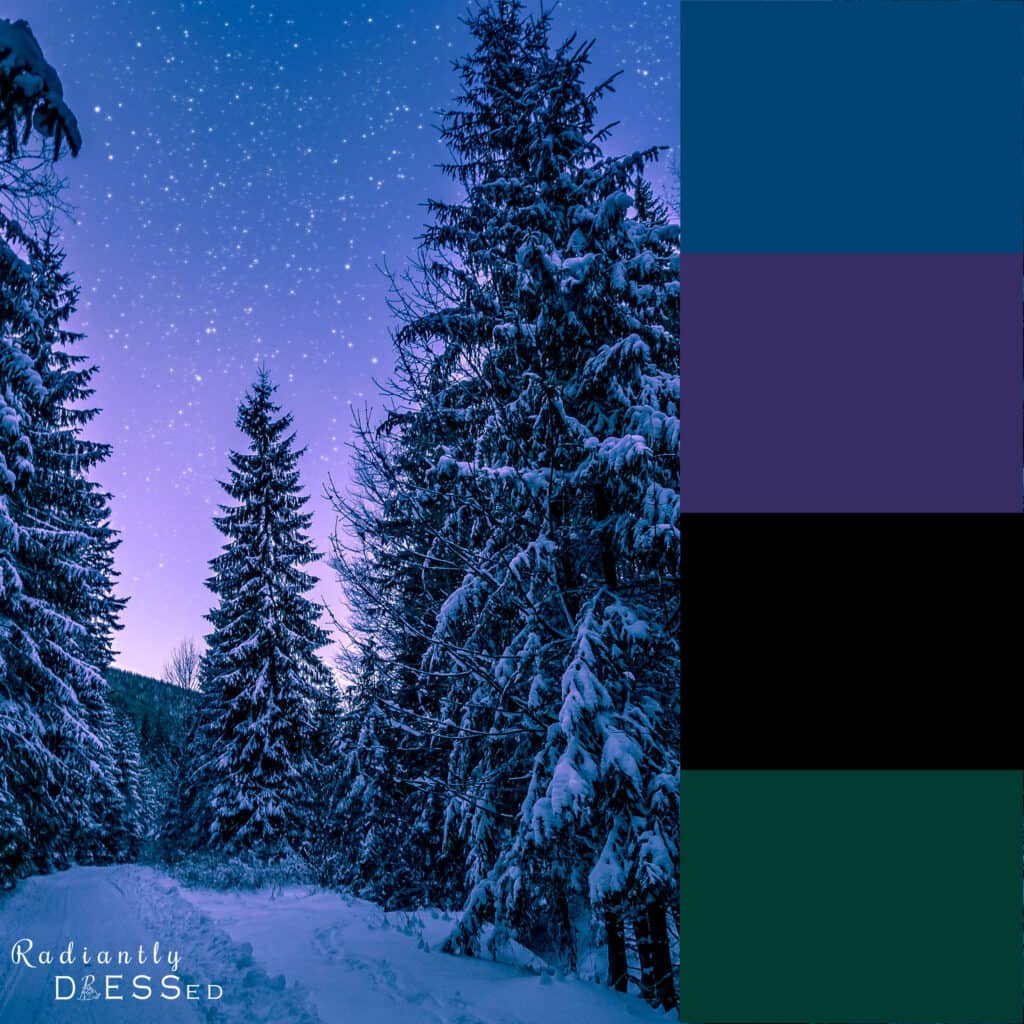 Deep Autumn Colors for the Whole Year
When borrowing from other seasons, it's helpful to consider those which share attributes.
Many women like to choose colors that help them feel in touch with the calendar season, like bright green in the spring.
For Deep Autumn, the following borrowing recommendations work across the whole year.
In Spring, borrow colors from warm autumn to embody the brightness of spring.
In Summer, borrow colors from soft autumn to get a lighter, summery feel to your wardrobe.
In Fall, wear any colors from the 3 autumn seasons.
In Winter, borrow from deep winter to get the icy richness of the cold air.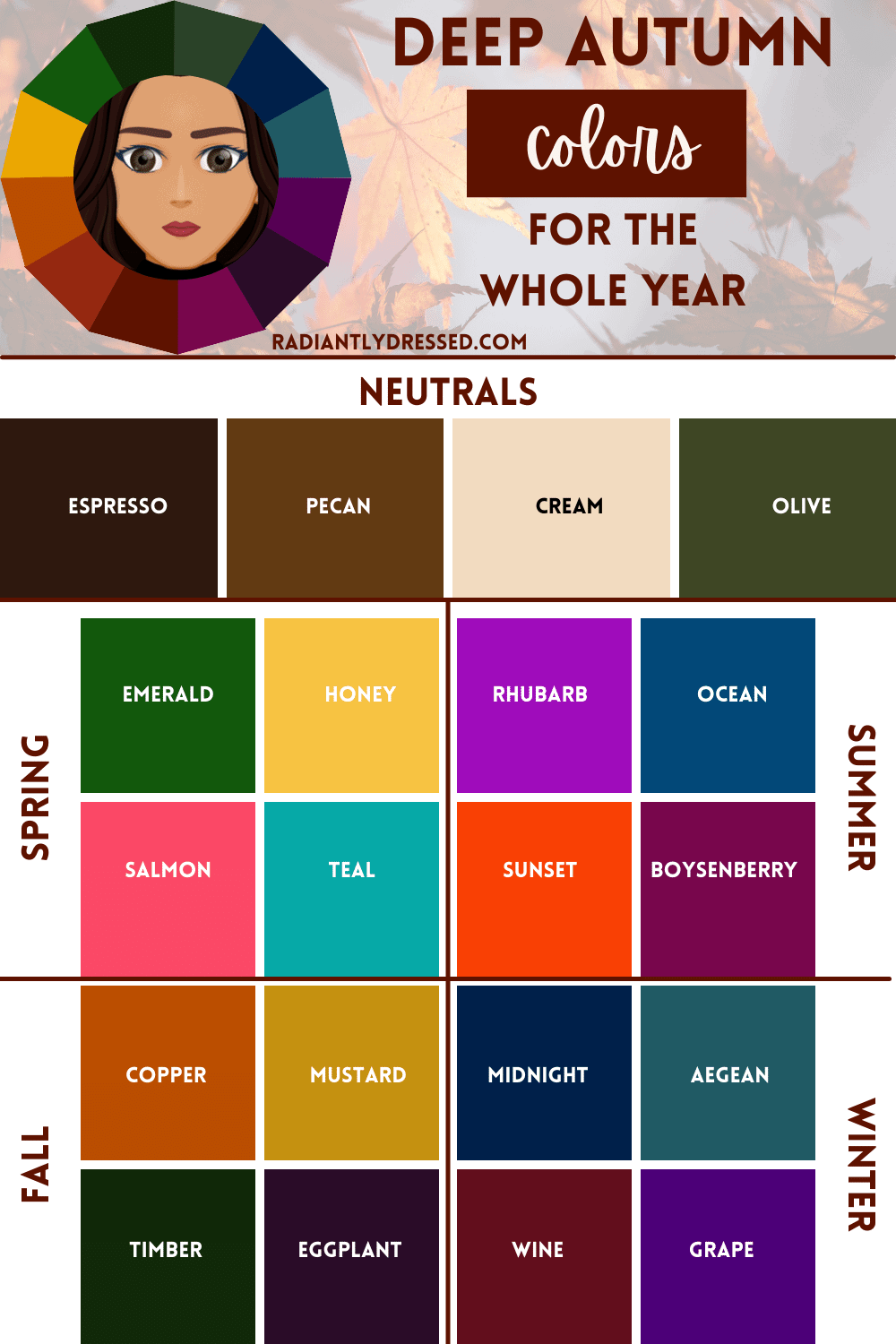 Action Steps for Embracing Your Deep Autumn Color Palette
Identify Your Colors: Start by familiarizing yourself with the Deep Autumn color palette. Keep it handy on your phone or print it out for quick reference when shopping.
Purge Your Closet: Remove items that are far from your Deep Autumn colors or don't make you feel good. Consider donating or reselling them.
Invest in Neutrals: Buy wardrobe staples in your best neutral colors like espresso, camel, and cream. These will be the backbone of your wardrobe.
Choose Your Best Colors: Pick 2-3 signature colors from your Deep Autumn palette that you love the most. These will give your capsule wardrobe some variety.
Plan Your Capsule: Following the 100 Piece Wardrobe Framework, build a capsule wardrobe around your neutrals and accent colors. Aim for versatility and cohesiveness.
Shop Smart: When shopping for new items, always have your palette in mind. This will save you both time and money in the long run.
Trial and Adjust: Don't be afraid to experiment a bit. Wear your new colors and pay attention to the compliments you receive and how you feel in them. Make adjustments as needed.
Seek Guidance: If you're struggling to implement your Deep Autumn palette, consider seeking professional help. A color analysis session can be a transformative experience.
Celebrate You: Embrace your Deep Autumn qualities as a testament to the unique beauty God has bestowed upon you.
By following these steps, you'll be well on your way to simplifying your wardrobe while looking your best, feeling confident, and honoring your uniqueness.
Final Thoughts on Deep Autumn
As we conclude this in-depth guide on Deep Autumn, let's appreciate the richness and warmth that define this unique color palette. From the sophistication of dark olive and deep mustard to the luxurious tones of wine and dark navy, the Deep Autumn woman embodies an effortlessly refined style.
But remember, your color palette is merely a guide, not a rulebook. The ultimate goal is to build a wardrobe that aligns with your own personality and comfort level, all while accentuating your natural beauty. Whether you choose to follow a capsule wardrobe strategy or opt for a more expansive array of choices, the key is to find what truly resonates with you.
So go ahead and explore. Dive into new hues, test out different combinations, and discover what makes you feel like the best version of yourself. The journey to embracing your Deep Autumn attributes is not just about fashion; it's about self-discovery and confidence, making each day a little brighter and more beautiful.
Related Color Analysis Articles:
Ready to create your own color palette based on your season?

Are you a Deep Autumn? If so, say hello in the comments!

Deep Autumn sits on the cusp of autumn and winter and is warm and dark.
Stacey is the owner and creator behind Radiantly Dressed. She is a certified image consultant and AICI member focusing on creating simplicity in wardrobes via color and style.