Spring is here, and it feels like it in Texas! My spring capsule wardrobe is mostly ready.  I've carefully selected pieces that I plan to wear in various outfits over the next 90-ish days.
From March 21 through June 20 these are the things I'll be wearing! It's so exciting!
Disclaimer: This post contains affiliate links. By clicking on them I may receive a small commission which helps with the upkeep of this blog. Thanks for your support!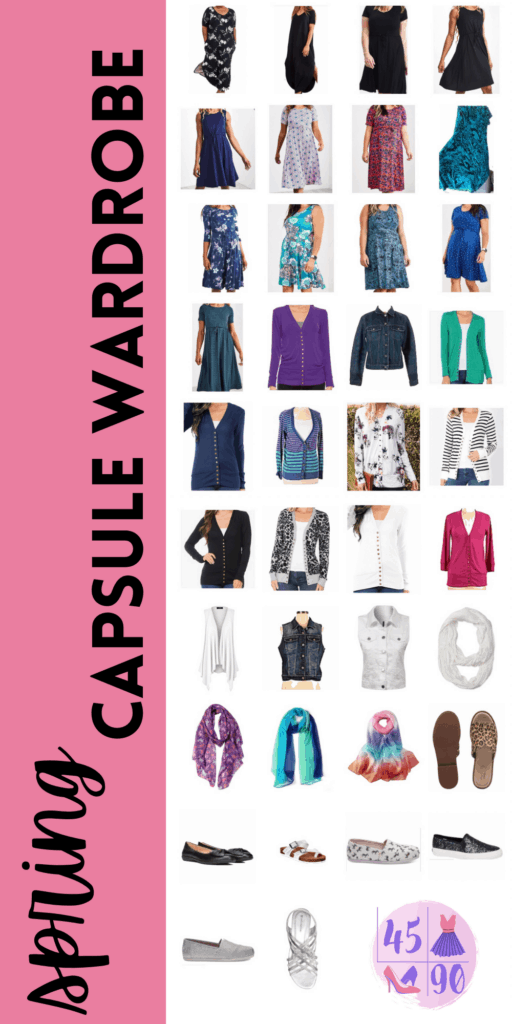 What is a Capsule Wardrobe?
My first introduction to a capsule wardrobe was in 2015 with Project 333. I was pregnant with my second child and had few items that were still in good condition. It made sense to me to have a smaller number of clothing items that matched each other so I could get more out of my wardrobe.
My process has evolved quite a bit, as the 33 pieces recommended was too stifling when you considered shoes and accessories were included. I have since developed my own process, called 45 for 90, which includes everything but accessories. Using this large number gives me flexibility with colors and styles and I don't feel limited to my shoe selection.
If you look carefully and count this season you'll see there aren't 45 pieces. Two thoughts:
You don't have to have 45 pieces. This is a rather generous number, and you could most certainly have less and be content.
I'm in a weird body changing season, and I left a few holes that I could fill as I rediscovered some fit issues. A few items haven't even been delivered yet, and if I like them I may order another color or style, for instance.
I definitely need to find a pair of black sandals, but I'm shoe picky so that may take awhile.
Color Palette
One crucial element of creating a capsule wardrobe that cannot be overlooked is cohesiveness. You're going to wear these items of clothing for around 90 days. You want them to go well together, and avoid having items that stand out and don't go with anything else.
I usually have a pretty simple formula for a winter capsule wardrobe that includes 6 colors: 4 neutrals and 2 colors. However, this season I really feel the urge to go back to basics, so I've only used 2 neutrals and 3 colors.
I'm adjusting my overall approach to neutrals, and getting rid of all the charcoal items in my wardrobe (except for the snow leopard). I wasn't feeling navy this season, so I kept it simple with just black and white.
For a year round color palette I recommend a signature color, and I use this methodology when purchasing dresses, so blue is that color for me. I was longing for vibrance these next few months so I kept my best colors of fuchsia and purple as accent.
In a perfect world I would have black, white, fuchsia, and leopard this season, but I don't have enough of all of those to build a strong capsule, so I improvised.
READ MORE: Download a FREE color template and Ebook "Color Your Capsule"
The Elements of a Capsule
A capsule wardrobe is really personal to each person's individual style and aesthetic. For a winter capsule these are the items I've included.
13 dresses
14 layers
4 scarves
7 shoes
Although it isn't part of the official 45, my capsule also encompasses the following ad-ons:
Well let's get to all the elements!
Dresses
I had an epiphany this season when creating my capsule. After spending three months trying to love skirts and failing, I took them out. I redid my capsule 3 times trying to make it "look" like a style blogger. And you know what? That's not what I'm about.
I wear dresses because I love the way they make me feel, the ease of making an outfit, and the femininity they bestow. To pretend like I am someone I am not is the antithesis of the purpose of my blog: finding your style, simplifying your life, and feeling beautiful and confident.
Short summary: find your uniform.
All the dresses in my capsule can be found at Latched Mama and are brilliant for nursing and pregnancy.
Layers
This is where your wardrobe can really explode! I love third or completer pieces! They take an outfit from basic to brilliant. The most numerous item in my spring capsule are these snap cardigans.
They're inexpensive, and I really like them because they're fitted so they don't look baggy with dresses, they have a v-neck which is great for a large bust, and they come in a rainbow of colors!
I also have a few vests, a flowy option that isn't quite as flattering, and 2 denim vests in both dark wash and white. I also have my trusty denim jacket for a classic look!
I also have a couple boyfriend style cardigans that are ancient. I love cardigans, and although its definitely part of my best "uniform", I like having a few options!
One of these days I'd love to hunt down a white linen blazer that fits me well, but so far no luck!
Snap Cardigans
Flowy Vest
Denim Jacket
Denim Vest
Shoes
I love shoes. My 45/90 process allows for 8 pair, but since I have a few gaps I may end up using more than 8.
I'm really craving a pair of black or white sandals. I keep looking at the platform styles and loving them, but haven't made a decision yet.
Leopard Slides
Black Flats
TOMS
Sandals
Accessories
Your accessories are the final touch to your outfits, and can make the same outfit look completely different.
I'm really into scarves this spring as an inexpensive way to add color to my wardrobe. They're especially fun to wear with sleeveless items when it's too hot for an official layer.
Dainty Earrings
Color Trendy Earrings
Neutral Statement Earrings
Dainty Necklace
Long Pendant Necklace
Trendy Statement Necklace
Outfits
Now that we've covered all the pieces, how do they work together?
Well, a quick calculation produces over 500 outfit combinations, well over what I could wear in a single season!
In truth, I tend to wear some of my favorite outfits more than once, but you're really not limited at all by a small capsule.
One of my favorite ways to make outfits is through StyleBook on iOS. It's a great little app that lets you plug in your clothing pieces, and has a shuffle button to create outfits.
Often when I'm too tired to make decisions I use this feature to find new ideas! Here are a few that I created using the app and I've already tried a couple of them!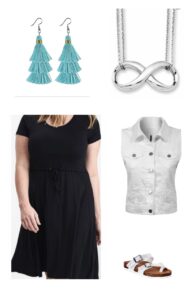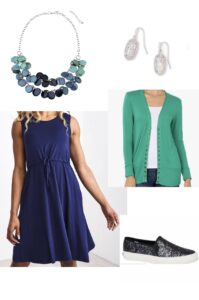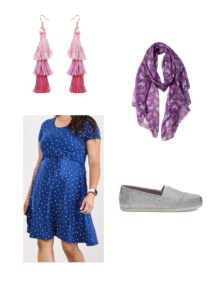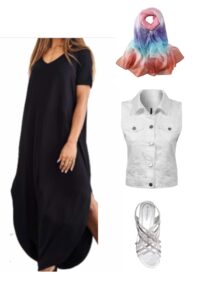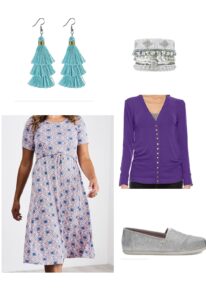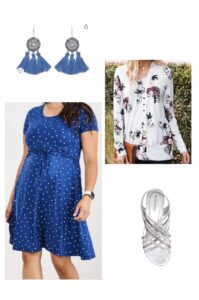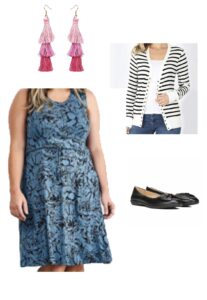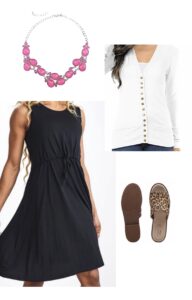 Previous
Next
Create Your Own
I wanted to try something a little different this season. I recognize that my style and my "uniform" isn't for everyone!
So! I scoured 2 amazing stores, Old Navy and Loft, to show you how you can create a cohesive spring capsule wardrobe with minimal pieces!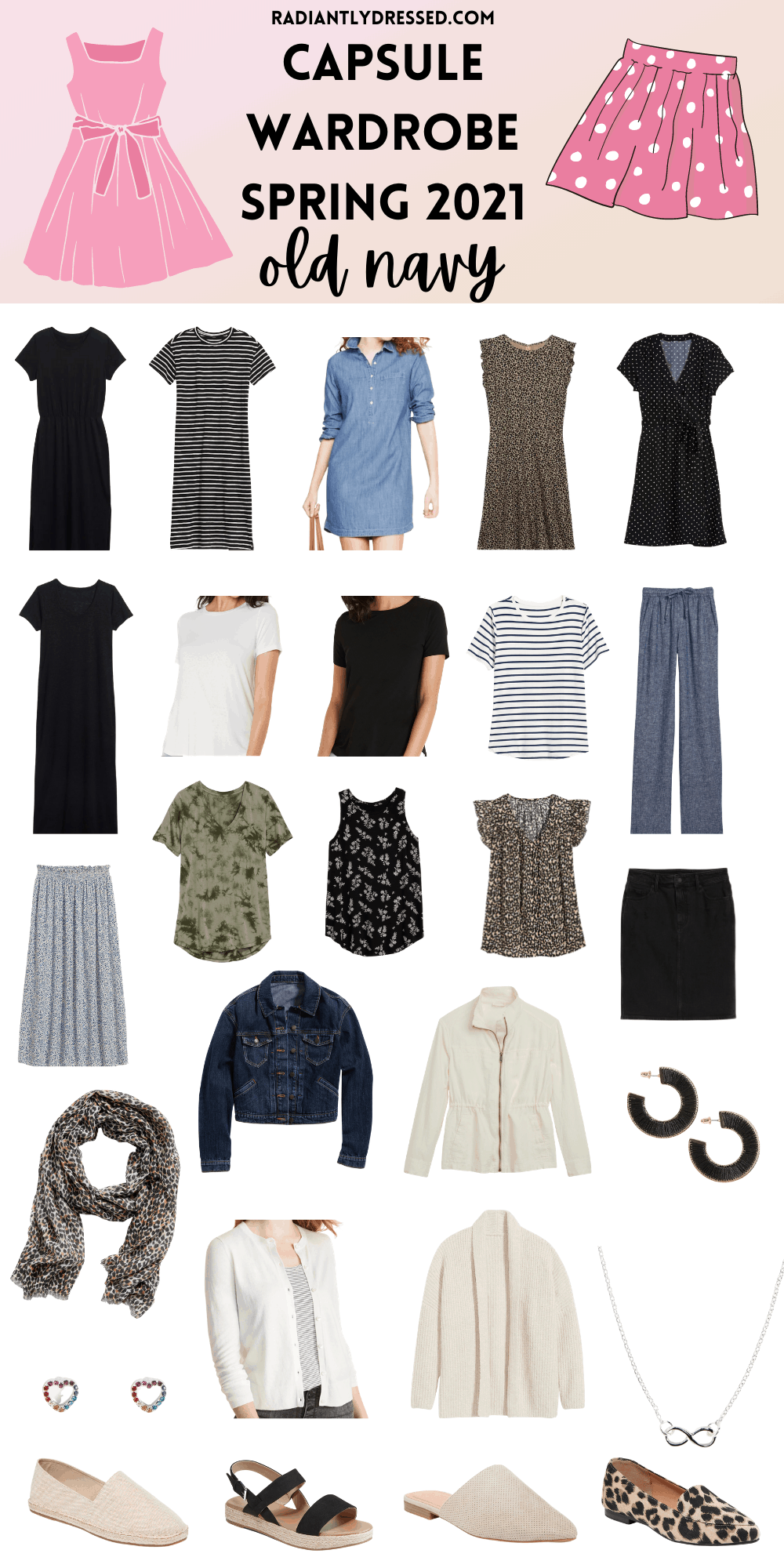 Black Dress | Stripe Dress | Chambray Dress | Leopard Dress | Polka Dot Dress
Maxi Dress | White Tee | Black Tee | Stripe Tee | Linen Pants
Floral Skirt | Tie Dye Tee | Floral Tank | Leopard Blouse | Denim Skirt
Leopard Scarf | Denim Jacket | Cream Jacket | Black Earrings
Heart Earrings | White Cardigan | Cream Cardigan | Infinity Necklace
Cream Espadrilles | Black Sandals | Beige Mules | Leopard Flats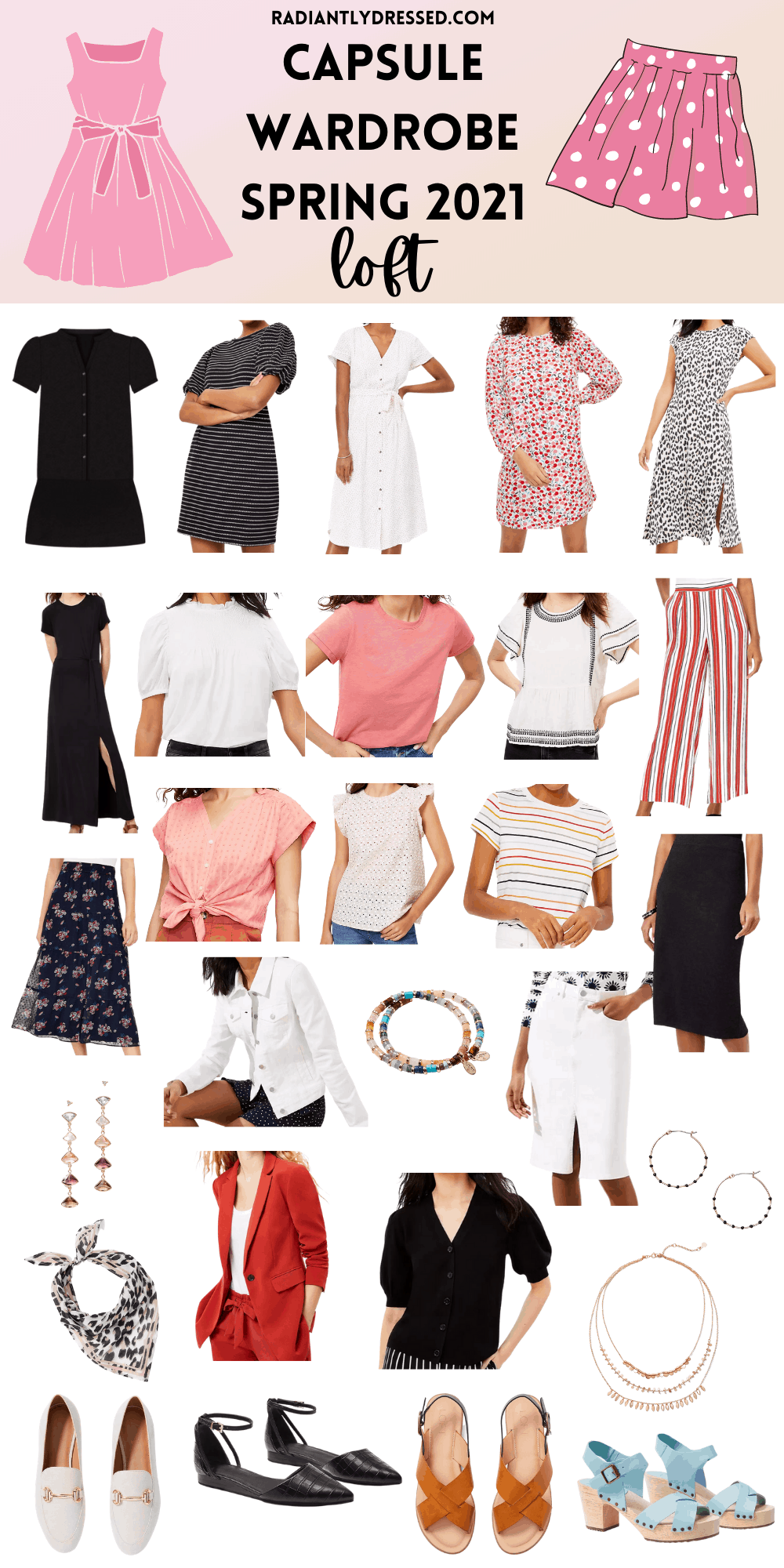 Black Dress | Stripe Dress | White Dress | Cherry Dress | Leopard Dress
Black Maxi | White Tee | Coral Tee | White Blouse | Stripe Pants
Floral Skirt | Coral Blouse | Pink Blouse | Stripe Tee | Black Skirt
Drop Earrings | White Jacket | Bracelet | White Skirt | Hoop Earrings
Leopard Scarf | Blazer | Cardigan | Necklace
White Loafers | Black Flats | Tan Sandals | Blue Sandals
Are you a fan of capsule wardrobes? What do you think of these spring capsule wardrobe options?
Let me know in the comments which is your favorite!
Stacey is the owner and creator behind Radiantly Dressed. She is a certified image consultant and AICI member focusing on creating simplicity in wardrobes via color and style.