Sweater Weather: 5 Chic Pieces to Invest in This Fall 
Everyone loves sweater weather, and it's time to get fall fabulous with these 5 ways to style your iconic knits.
Fall is one of the most anticipated events of the fashion calendar. As much as we love summer, it's hard not look forward to crisp autumn air and the cozy sweater weather style that goes along with it.
Whether or not you're feeling the tingle in the breeze or seeing the change in the leaves, fall is just around the corner, and there are so many fabulous trends to go with it!
This year, sweaters are huge, literally. And no matter how much we adore our flip-flops, no one is going to say no to a cute new pair of boots. If you love color, this fall's palette is for you, with red right at the top of the list.
On the accessory front, there's lots to look forward to, including unique and architectural bling. Overall, the watch word for the trends this year is versatile, a welcome direction as many of us are still feeling the pinch of inflation.
Celebrate the season by investing in these five chic pieces this fall.
Sweater Weather Pieces: Oversize Knitwear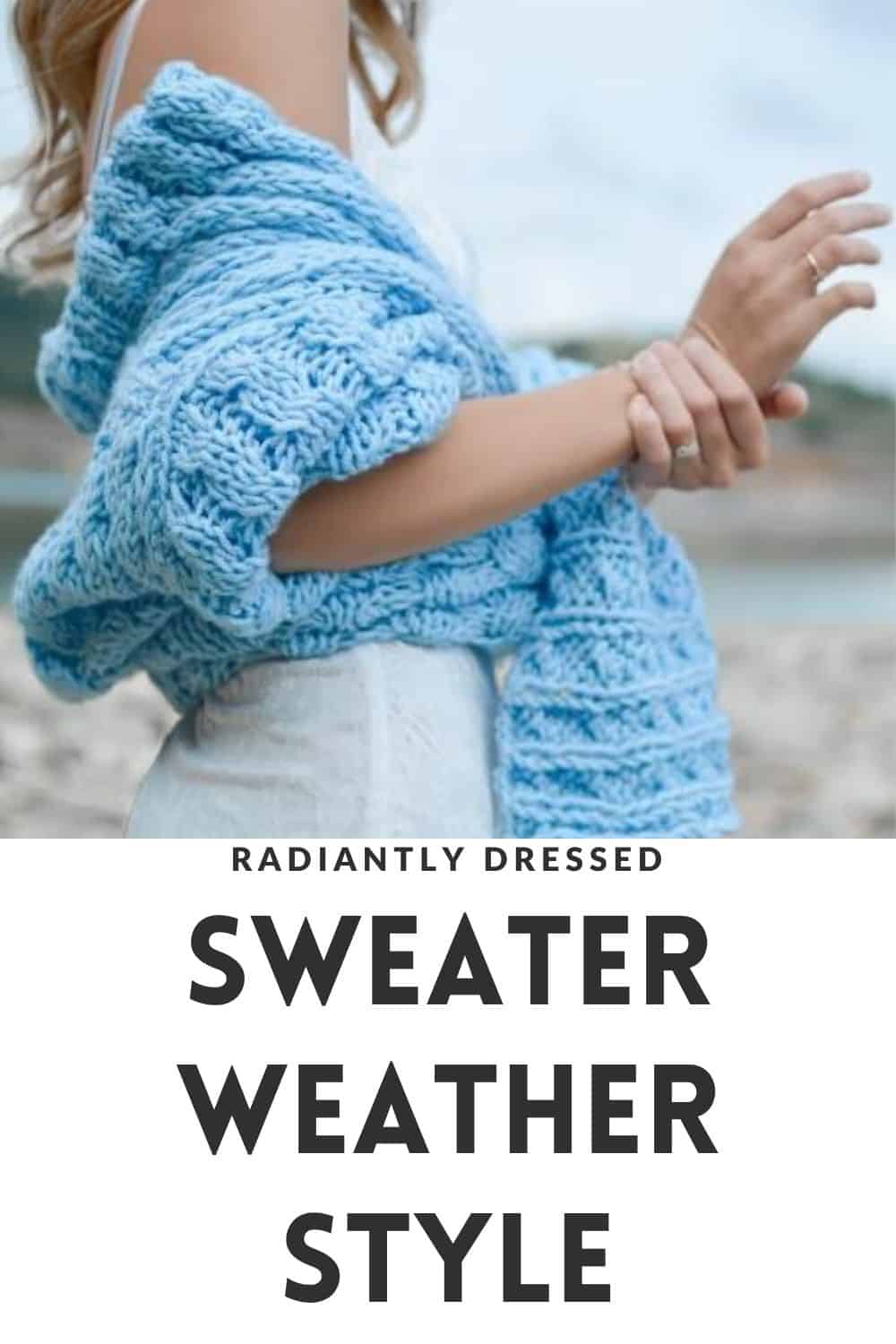 Image source: unsplash.com 
This season, sweater weather style means oversize chunky knits. Cable sweaters, originally worn by fishermen to defend against the elements, are a natural pick for unpredictable fall weather. Pair yours with flared wool trousers (see item #2), ankle boots (item #3) and a few sculptural types of rings (#4) for a classic yet chic look.
Also popular are bold patterned sweaters — think Fair Isle on steroids. Bright colors and daring patterns reflect and inspire confidence! Checks, stripes, houndstooth, embroidered florals, and even tie-dye, you'll see it all this fall.
Sweater Weather Pieces: Tailored Pants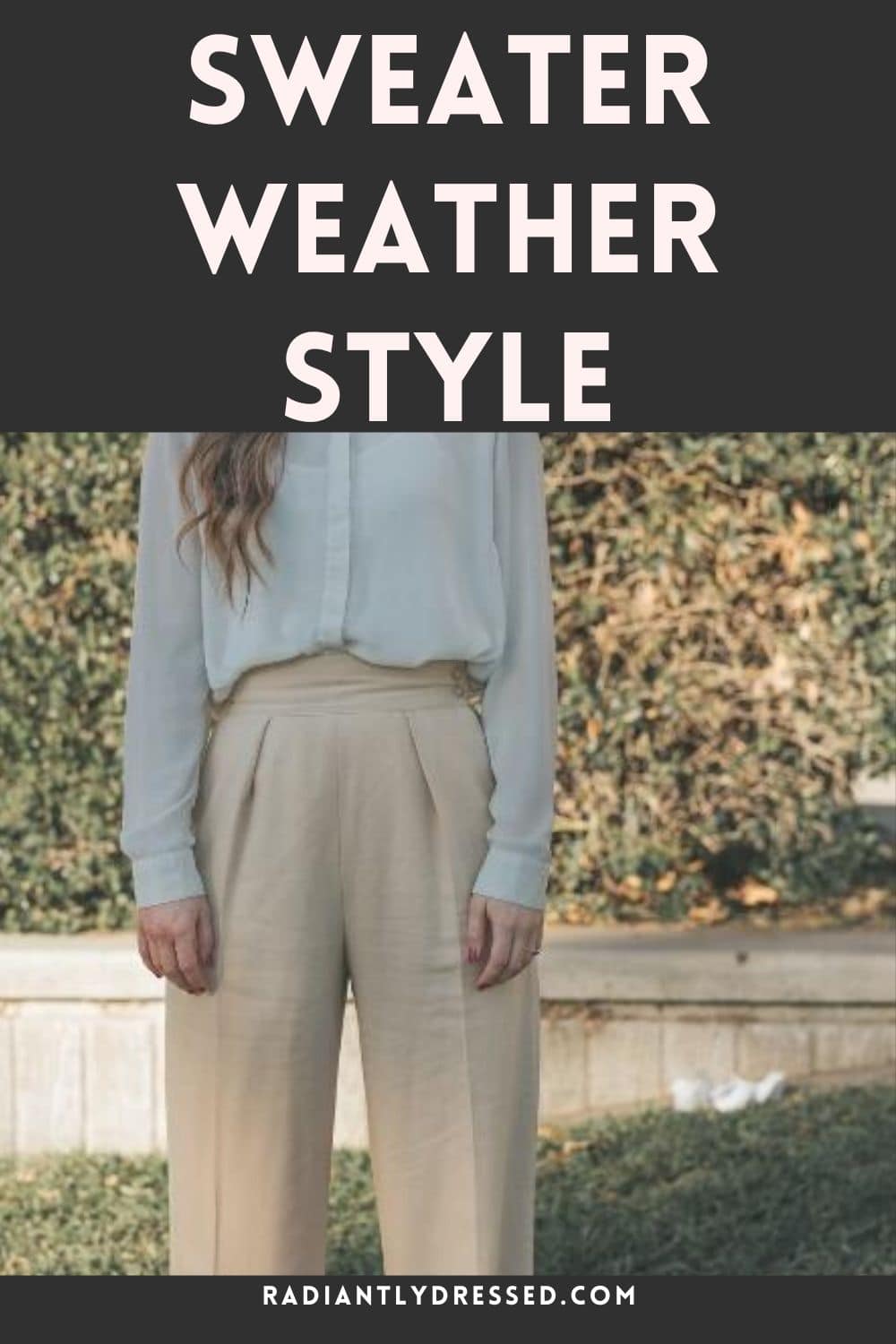 Image source: unsplash.com 
While skirts never go out of style, pants are trending very strong this fall. Balance is an essential rule of fashion when you're creating your own style uniform.
If you're going to go loose and flowy up top, then it's best to go trim and tailored on the bottom. This guideline coordinates perfectly with tailored pants, another essential item for this fall's sweater weather style.
Tailored pants team up with so many things: big, chunky knits (#1), but also chic silk blouses, sleeveless knit tops, and of course classic blazers. Tailored pants also look great with boots (#3) and heels, but also sneakers for a casual-chic look.
Thanks to their classic lines, they'll always be in style, easily becoming a core item of your capsule wardrobe. Owning a sustainable wardrobe is becoming de rigeur for fashionistas everywhere, and tailored pants will always be a top choice for office and casual wear.
Sweater Weather Pieces: Versatile Boots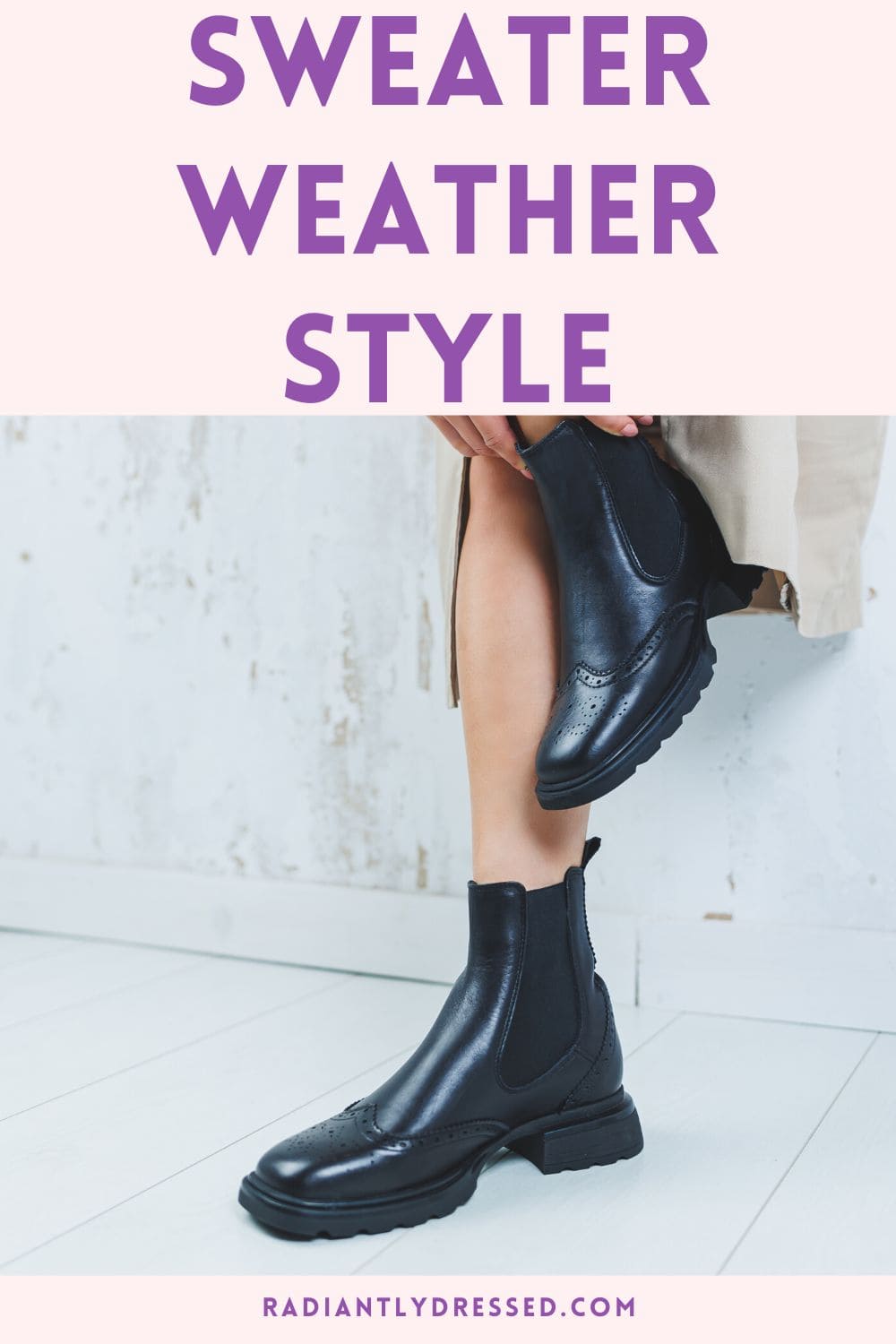 The name of the game this fall is functional. Sweater weather style footwear means protecting the peds from cold and wet weather, making versatile boots a great pick. Of course, what versatile means for you is a personal decision.
For some, it might be a classic pair of Doc Marten combat boots, or maybe it's cowboy boots, or even Uggs. For others, it may mean a pair of suede pull-on heeled sock booties. For still others, it could mean a pair of waterproof (but still stylish!) calfskin lace-ups.
Boots are the perfect complement to feminine styles of dress. They're also a smart pick from an economical point of view: invest in one good pair of boots and you save on money and closet space.
Boots look great with minis, maxis, trousers, and of course jeans. The over-the-knee boot is also a trend this fall. While bold, over-the-knees pair well with a chunky knit dress (#1) or a statement coat (#5), you'll have to decide if it's practical enough for you to want to invest.
Elevate your sweater weather style — literally — with a pair of versatile boots.
Sweater Weather Pieces: Sculptural Accessories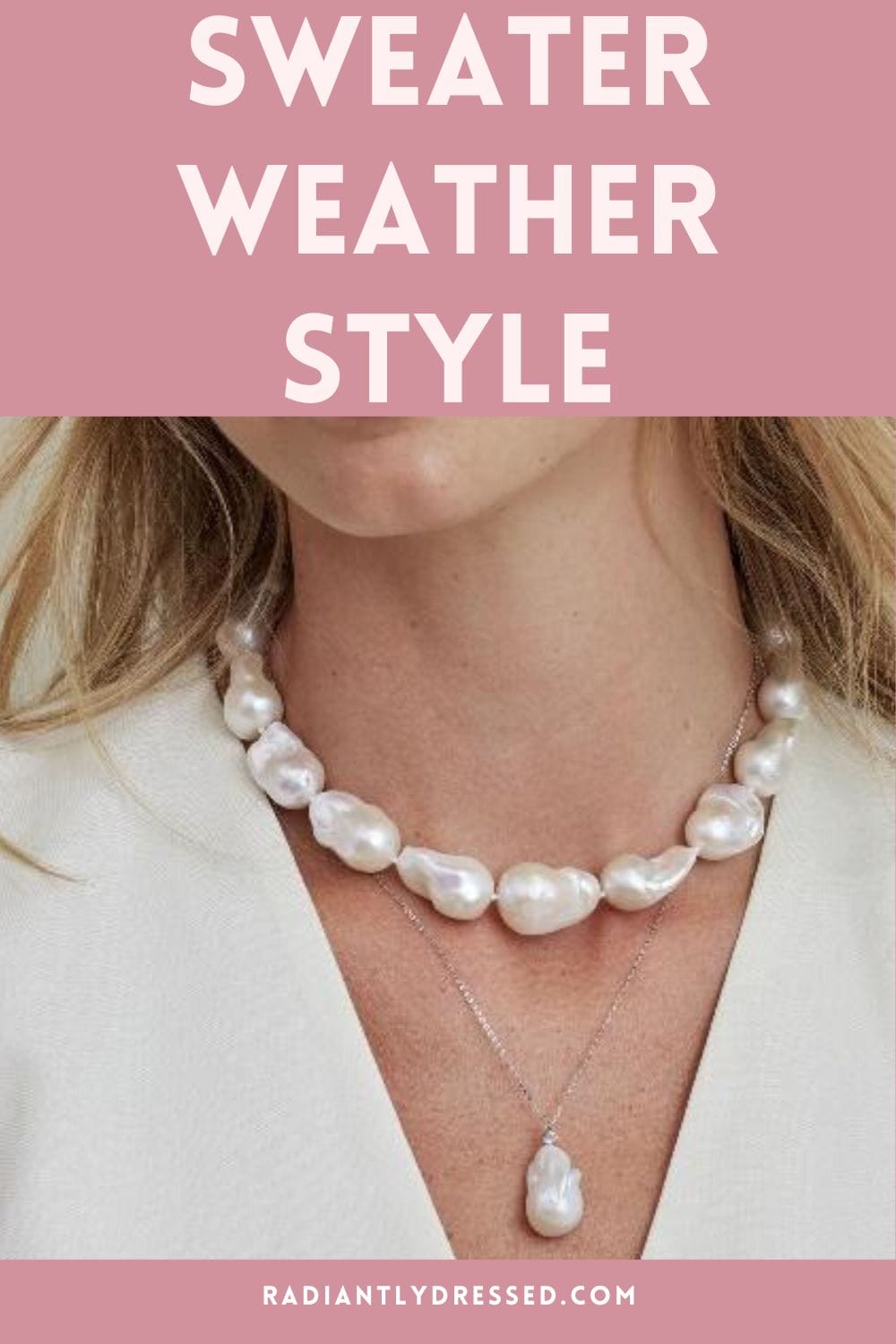 Image source: thepearlsource.com
One of the best things about new fashion is the accessories. This fall, sweater weather style accessories include bold pieces, like oversize baroque pearls, architectural earrings, and uniquely-shaped handbags.
Personal expression continues as a strong trend, making one-of-a-kind accessories the perfect mode of personal expression. From a financial perspective, pearls are a smart investment because they never go out of style.
Boldness is also a top trend, which is why you'll see strong shapes in earrings, necklaces, and bracelets. Even old-school brooches are turning up as part of sweater weather style.
Oversize studs, dramatic pendants and chunky cuffs make a statement without your having to say a word. As for color, both gold and silver are trending, so pick the one that speaks to you, or go two-tone if that's your vibe!
Crystals are beautiful as precious gems, but they don't cost an arm and a leg. When it comes to accessorizing this fall, go big or go home.
Sweater Weather Pieces: Statement Outerwear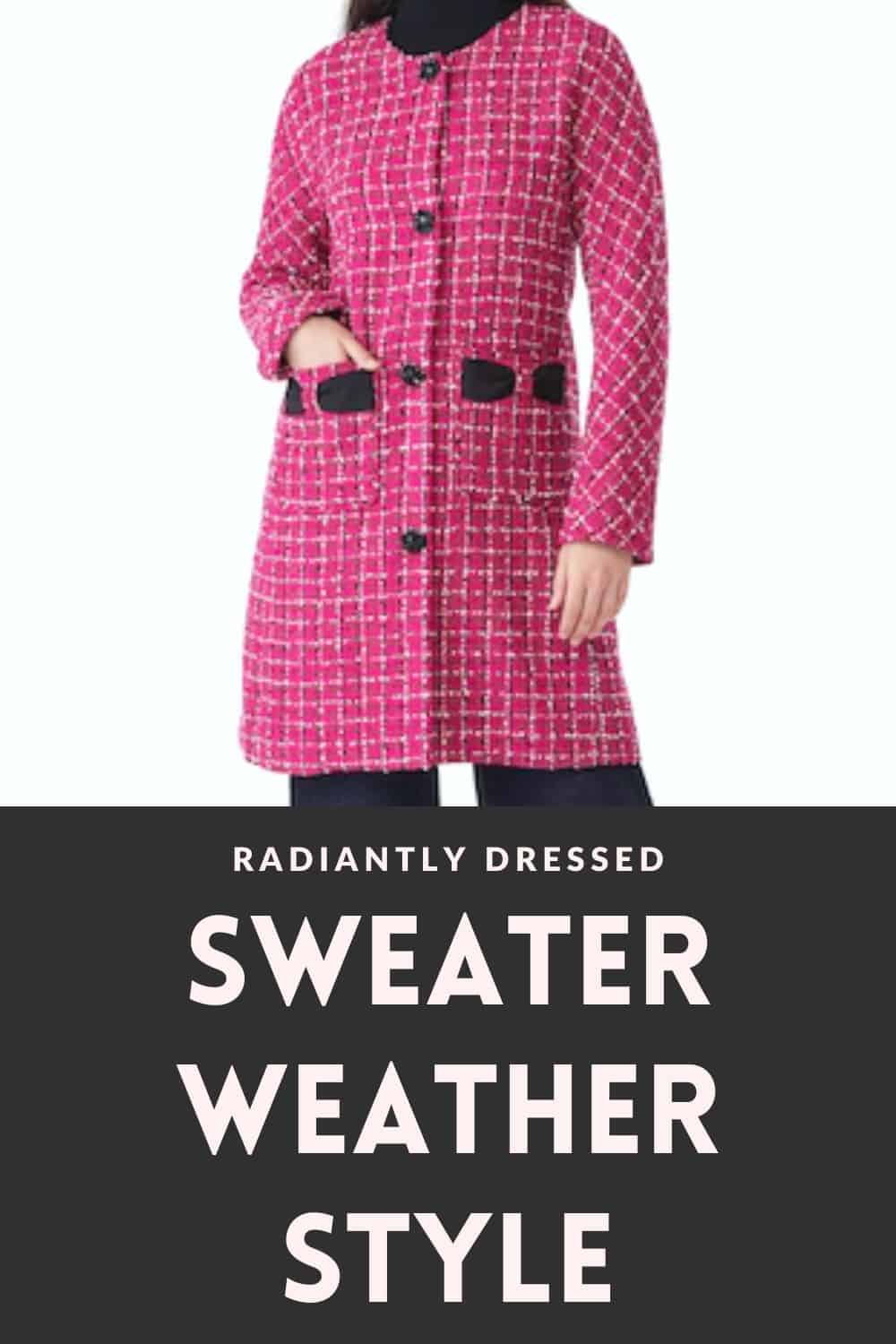 Forget neutral colors for cool cold weather style. The absolute must-have for fall 2023 sweater weather style isn't a sweater at all; it's a statement coat.
Power dressing is back and the trench coat is a classic. You'll see it in everything from practical wool and luxurious cashmere to faux leather and fun fur.
As to style, you also have tons of options. Tailored versions abound, but if flowy and fuzzy is more your vibe, you can find it. A blanket coat is the ultimate of cozy sweater weather style.
As for color, basic black is one way to go, but it's not at all standard this year if you'd rather be bolder. Harness the power of color and show the true you, literally!
Red is particularly hot hue this fall, so if you love it, get it. No one is saying you have to stick with a single tone either. Wild color combos are also hot, like neon pink and green, and if rainbow is your groove, rock it.
Nothing is more eye-catching than a bold coat, and statement outwear makes an instant conversation piece.
Final Thoughts on Sweater Weather for Fall
As we bid farewell to the heat of summer and welcome the embrace of fall, let's remember that this season's fashion isn't just about keeping up with trends—it's about authentically representing who you are.
The pieces you choose should be both bold and practical, versatile enough to go from a casual family outing to a church event.
Fall fashion is your canvas, inviting you to paint your unique style in the colors and textures that resonate with you.
So as you invest in oversized knits, tailored trousers, and statement outerwear, make sure they not only elevate your wardrobe but also speak volumes about the one-of-a-kind, beautiful individual you are.
Let your fall fashion statement be autobiographical, showing that true, one-of-a-kind beautiful you!
Related Fashion Tips and Tricks: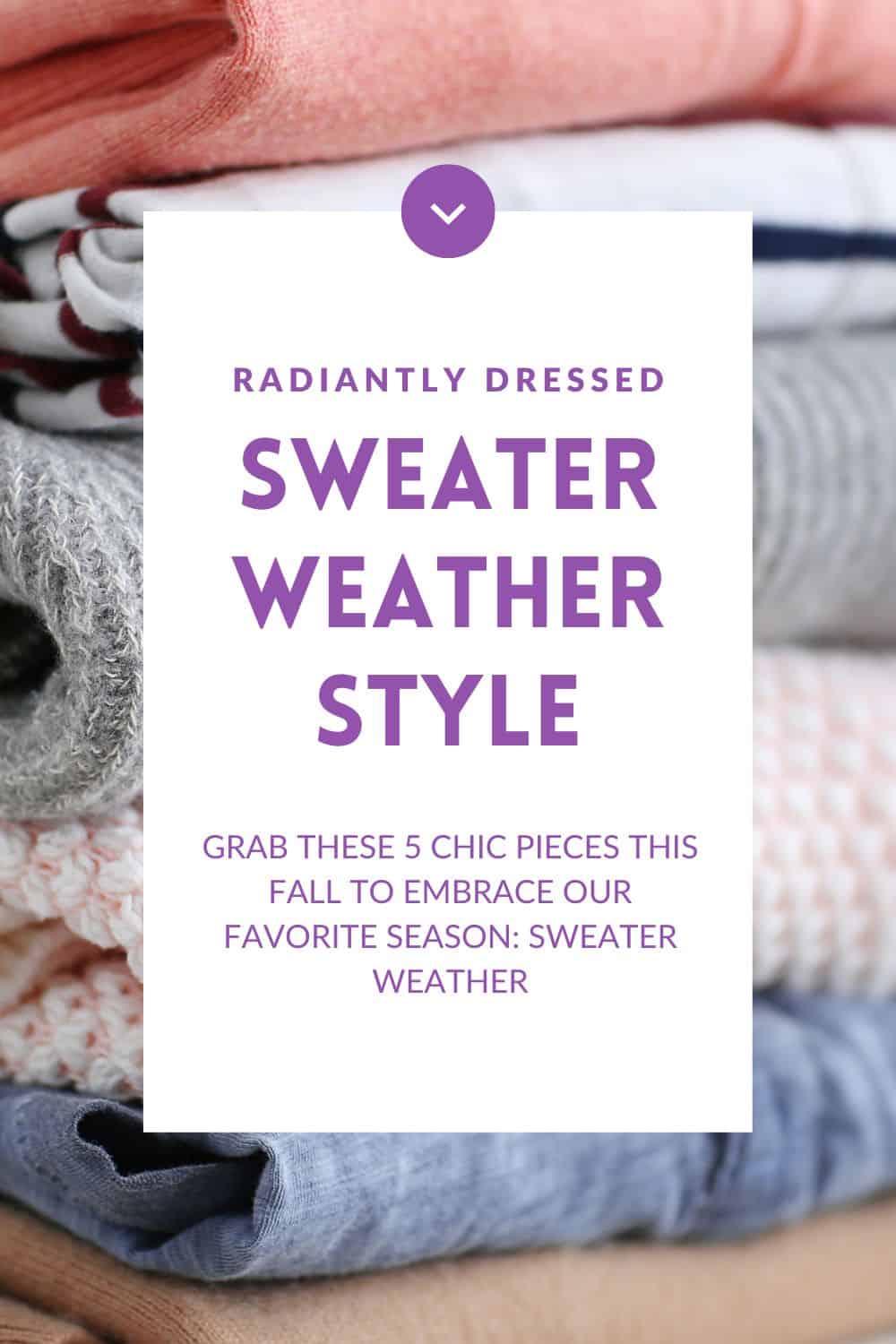 Embrace your unique beauty this fall and make sweater weather your signature style.
Sue Seabury is passionate about sharing fashion news with her readers, and she especially loves sweater weather! She is a regular contributor to The Pearl Source blog.