Discover 5 options for fashion summer accessories.
Are you curious how to elevate your wardrobe basics during the hot summer months? I don't know about you, but its is swelteringly hot where I live.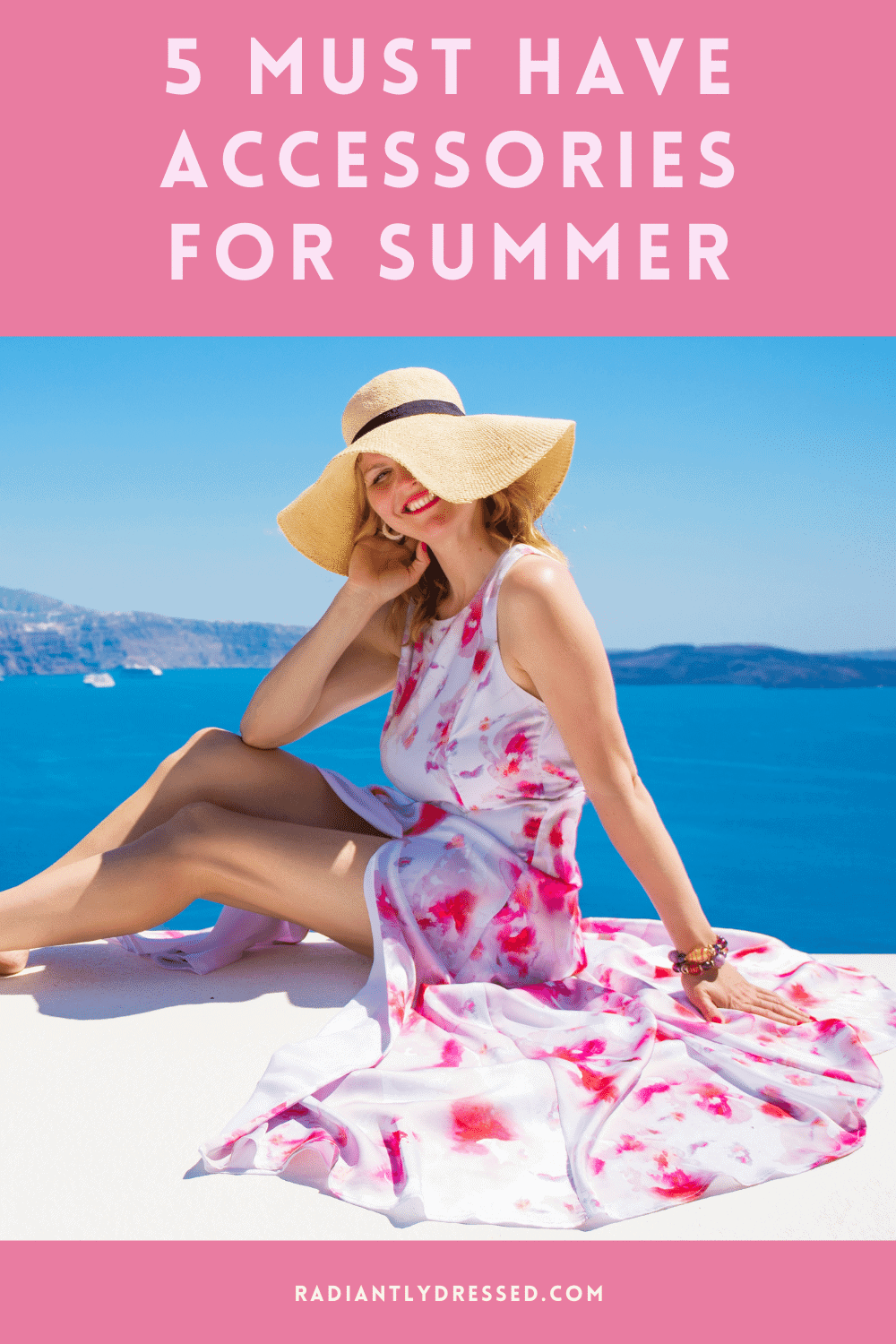 Layers and accessories make an outfit look complete but this is tough in the summer. I personally hate that sticky icky feeling of sweat mixing with items on the skin.
But maybe you're thinking this isn't for you because you're not really into accessories.
Boy do I get that!
I have had a child under 2 for the last 8 years, so I 100% get this perspective. But even small items can really take an outfit and make it look polished and complete.
I'm going to show you 5 KEY accessories to add to your wardrobe during the summer.
Discover which items will make you look great without feeling sticky and icky.
Find out which items are on trend and see real examples. Even if you're not into accessories.
Looking for accountability and encouragement with your style?

Fashionable Summer Accessory 1: Statement Earrings
Lightweight earrings are a great summer accessory to avoid the sticky feeling of other jewelry types. Necklaces and bracelets lie against the skin in a way that earrings do not.
They go perfectly with hair up days to really show them off.
My favorite are faux leather. These are very lightweight and come in a million options. My favorite set is a neutral/multi set that's perfect for every season.
Curious about color analysis and your best season? 

Hoop earrings are trending this year, the bigger the better. Stick with a lightweight pair to get the best effect.
Although the focus here is on statement earrings, dainty earrings can be statement. The Lee earrings from Kendra Scott are the perfect mix of small statement. 
If none of these work for you, remember that studs will always be a classic.
Fashionable Summer Accessory #2: Fashion Sandals
This one isn't hard for me at all! I used to choose my outfit based on what shoes I wanted to wear.
Shoes are a perfect accessory for any time of year. This allows you to elevate basics quickly with your personality.
Platform sandals are really in this year. You could give a nod to the 90s with tall platforms, or stick to something more sedate.
Studded sandals are also a popular option and come in variety of colors and finishes.
Animal print is my personal favorite this season. I love a good leopard print, and I personally own these classic slides below!
Don't forget the toenail polish. When the shutdowns first began one of the first thing I missed was my pedicure appointments. 
I found a couple amazing ladies that sold ColorStreet, so if you ask around you've probably got a friend you can support!
Fashionable Summer Accessory #3: Kimono
Ah the kimono! This is a bit of a controversial item.
People either love it or hate it! More likely to work for those who prefer flowy styles.
I love the lightness and color it adds to an outfit. I've found the best way to wear this is tp pay close attention to proportions.
Don't be afraid to have a kimono altered if it's not quite right! I cut four inches off of one because I'm short.
Play with details like lace and fringe for variety. 
Fashionable Summer Accessory #4: Hair Accessories/Bling
I love this trend as it works for all hair lengths. Sometimes with short hair I feel left out of the hair fun!
Hair scarf scrunchies are a fun way to dress up a basic pony or mom bun.
Fashion clips are very mod and trendy. Wear them on one side above the ear.
If you have short hair, look for jeweled bobbies and hair pins to hold your hair back. 
My favorite find this year for hair has been Lilla Rose. This is another "support your friends" category, so ask around and find a rep.
I love these because they come in sizes from tiny to huge and work for all hair types and lengths! Plus they're pretty!
Fashionable Summer Accessory #5: Sunglasses
I'm a fan of sunglasses for practical reasons. My husband actually jokes that I'm a vampire because I can't stand to be outside without them.
These also work great as a hair accessory if you're running errands! Be sure to choose sunglasses without nose pieces if putting in your hair!
I'm not sure there's anything more fun that oversized sunglasses, so go wild with styling. Square and odd shapes are in this year as well. 
Final Thoughts on Fashion Summer Accessories
Small lightweight accessories are great for the heat of summer. 
Avoid large, heavy items to avoid the hot sticky feeling.
Try things like statement earrings, fashion sandals, a kimono, hair accessories, and sunglasses to elevate your summer basics.
Related Style Articles:
Which one of these is your favorite? Tell me in the comments!
Choose lightweight fashion summer accessories to stay cool and look amazing!
Stacey is the owner and creator behind Radiantly Dressed. She is a certified image consultant and AICI member focusing on creating simplicity in wardrobes via color and style.