Ditch the neutrals and explore a colorful dress based summer capsule wardrobe.
This post contains affiliate links. By clicking on them I may receive a small commission at no extra cost to you! Thank you for your support!
It's felt like summer for awhile down here on the gulf coast, so what better time to share my summer capsule wardrobe?
I always find it really helpful to see how other people have curated a small seasonal wardrobe, so I love sharing mine here on the blog.
I went about it a bit differently this year, since I've adopted a style uniform based wardrobe. 
In Simplify Your Style we learned how to make a uniform based wardrobe and I pointed out that this is an ongoing process as your needs and body change. For me this hits close to home as I'm newly postpartum and my body is in a funk.
My summer capsule this year is made up of my trusty wool dresses, bright sari skirts, a few tops for modesty, kimonos out both ears, and all the shoes and jewelry my heart desires. 
What is a Capsule Wardrobe?
I first came across the concept of a capsule wardrobe in 2015 when I was pregnant with my second child. I'm ever drawn towards minimalism, regardless of my high failure rate in that area. 
The capsule wardrobe that I found was the Project 333 Version, which is what I currently use, slightly adapted.
The basic premise is that you choose 33 pieces from your closet, pieces that you love and wear, that make you feel and look good, and you commit to wearing only those clothes for the next season. Then you put everything else away, and you mix and match your 33 pieces.
The original 33/3 method asks you to include clothes, shoes, accessories, and jewelry, but I personally find that a bit too limiting. I am only including clothing this go around, because I've fully embraced my maximalist love of shoes and accessories! 
I just finished re-reading Project 333 and I can't recommend it enough. If you really want to dig into your motivations for dressing more simply and with less, this is the book for you!
Choosing a Color Palette for a Summer Capsule Wardrobe
One crucial element of creating a capsule wardrobe that cannot be overlooked is cohesiveness. You're going to wear these 33 items of clothing for around 90 days. You want them to go well together, and avoid having items that stand out and don't go with anything else.
Summer is a great time to go lighter on your neutrals and focus on some of the fresh cooler colors in your palette or a sister season.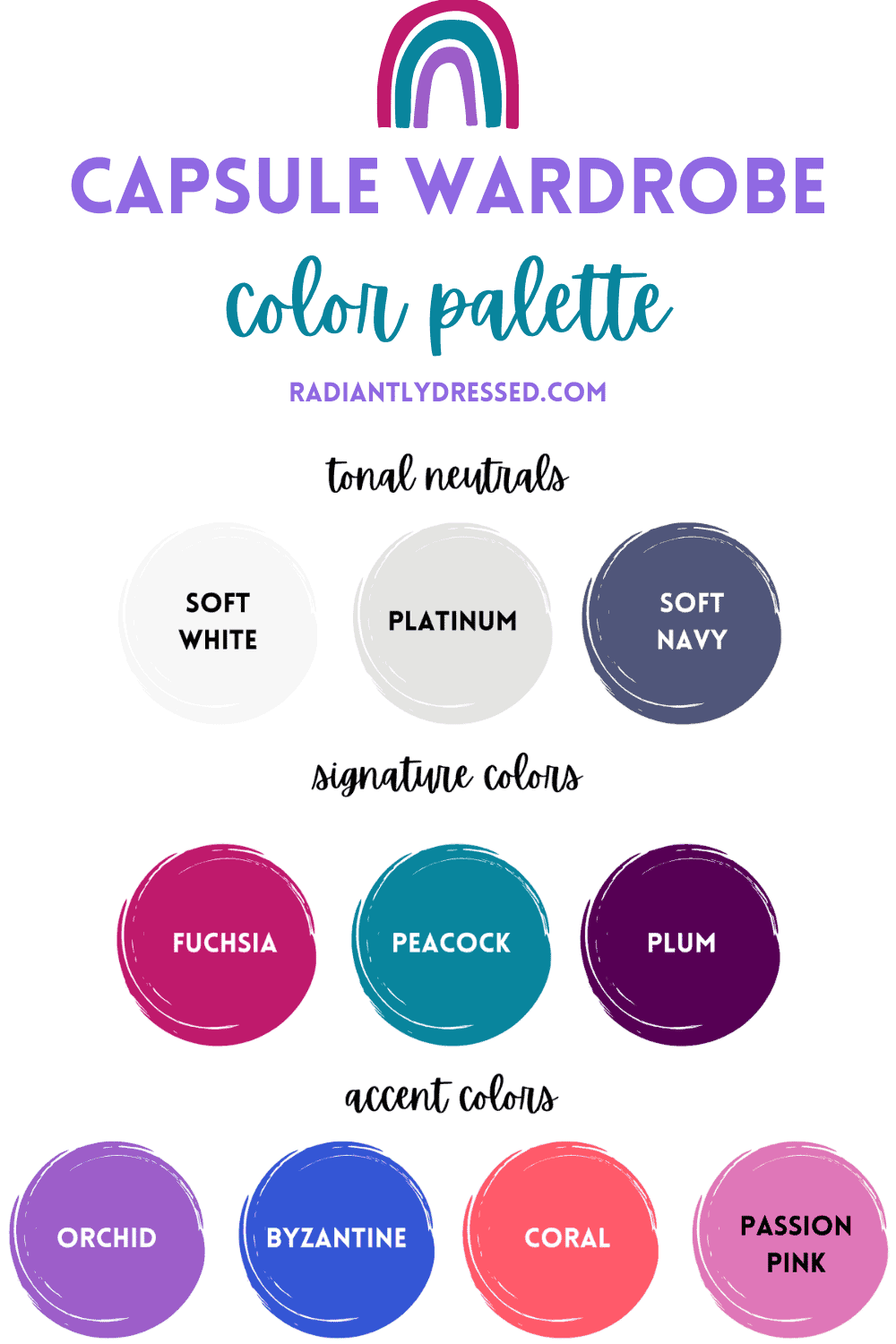 I've stuck with my normal core neutrals or black, charcoal, white, and navy.
I've recently added a set of tonal neutrals to my palette and for my summer capsule wardrobe I'm sticking with cool off-whites and a lighter version of navy.
My year round wardrobe is build off my signature colors of fuchsia, peacock, and plum, and many pieces can fit all year in these categories.
My accent colors are those which I only have a few items. I might adjust one or two over the course of the year as to what's trending and available.
Since I didn't limit shoes or accessories, I can indulge my love of bold color by adding different elements that go. My entire wardrobe is cohesive due to a year round palette.
The Elements of a Summer Capsule
A capsule wardrobe is really personal to each person's individual style and aesthetic. For a summer capsule these are the items I've included.
10 Dresses
4 Shirts
6 Skirts
4 Cardigans
6 Kimonos
2 Vests
If you're doing the math, it's actually only 32 items. I left one undecided hanger in case I felt like something was missing. So far so good!
Although it isn't part of the official 33, my capsule also encompasses the following ad-ons:
Shoes
Scarves
Earrings
Necklaces
Tank Tops (for nursing moms)
Bras & Underwear
Leggings for layering
Loungewear for at home days
Well let's get to all the elements!
Summer Wardrobe Dresses
When it comes to dresses, I actually own at least double this amount. However, when creating a capsule wardrobe I like to narrow it down.
When I did the first 30 day dress challenge I didn't limit myself at all, and I wore about 15 dresses through that month. I'm working on curating a collection of dresses I 100% love so I'm practicing limitation in the seasonal capsule.
I'm really trying hard to reduce decision fatigue, while playing with a few more uniform options for my postpartum body. As such, I'm trying to limit myself to 2-4 options in a single style with a variety of colors. You'll see this repeating theme in several summer capsule wardrobe elements. 
I've included the following 10 dresses in my summer capsule: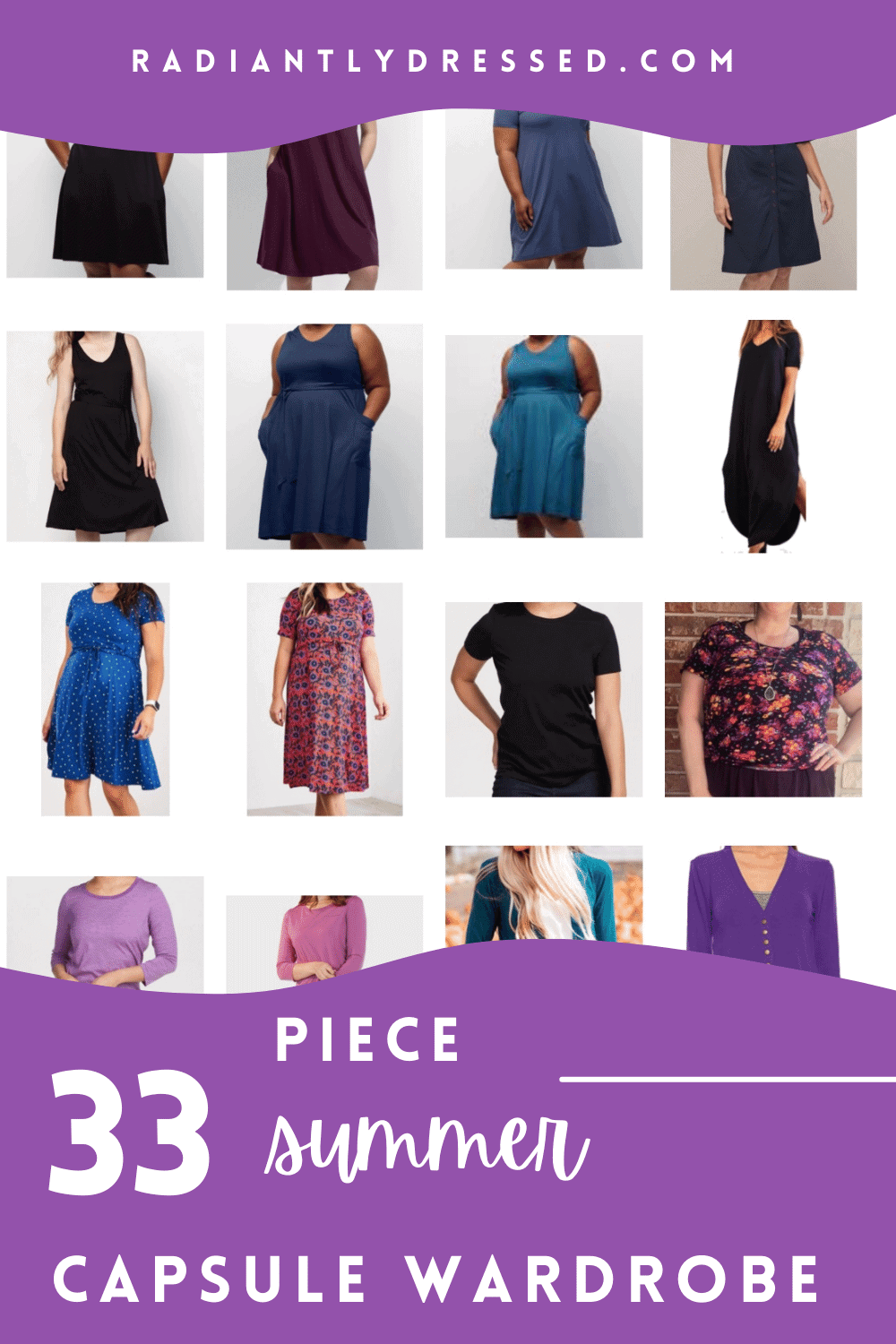 Summer Wardrobe Tops
I include a few separates in my capsules, with skirts as the bottom in the summer. These do double duty for layering over dresses for nursing modesty.
I've transitioned to wool for the most part and I love how these tops from WoolX keep me so cool and comfortable.
Get a $20 code off with this link.
My additional floral print tee is an oldie from Lularoe, one that's not pattern-vomit. I'm really trying to adopt a sustainable wardrobe, but using what you already have until it wears out is one of the most sustainable choices you can make!
Summer Wardrobe Bottoms 
This season I've fallen in love with recycled sari wrap skirts from Darn Good Yarn (get $10 off).
I'll admit I went a little crazy here. There's something about mystery purchases combined with wearable art that has a bit of a Pokemon obsession (gotta collect them all – my son is into Pokemon ok???). 
I've learned that I'm super picky and like very specific styles, so I've limited the summer collection to 5 shorter versions.
The final skirt in the summer collection is a custom linen skirt from Simply Darling Shop Co.
It's so beautiful that I'm a bit terrified to wear it with toddlers. My love of style forgot about my lifestyle, but I'm going to wear it a few times this summer then lovingly keep it clean.
Summer Capsule Layers
This is where your wardrobe can really explode! I love layers (also called third or completer pieces)!  They take an outfit from basic to brilliant.
Unfortunately, they can be a really hard piece to use in the hot summer months. I know this better than most living in a hot, humid climate.
I can tolerate a 3/4 sleeve lightweight cardigan, especially at home. I've included teal, purple, and a cobalt puff sleeve version.
The stripe cardigan is undergoing a sleeve alteration to be elbow length so I'll have a print option. 
I also have 2 vests for summer, one denim that I love. It may not be for everyone, but if you can find the right one you might fall in love too!
I also included my leopard print flowy vest because it's perfectly me.
Kimonos though are the real star of the summer show. These are another item that is hit and miss, and I have several different cuts, from flowy to more like a fitted cardigan.
Shoes
I just want to stop and say right now that it's impossible for a woman to have too many shoes. I love shoes. They're the greatest accessory in my honest opinion.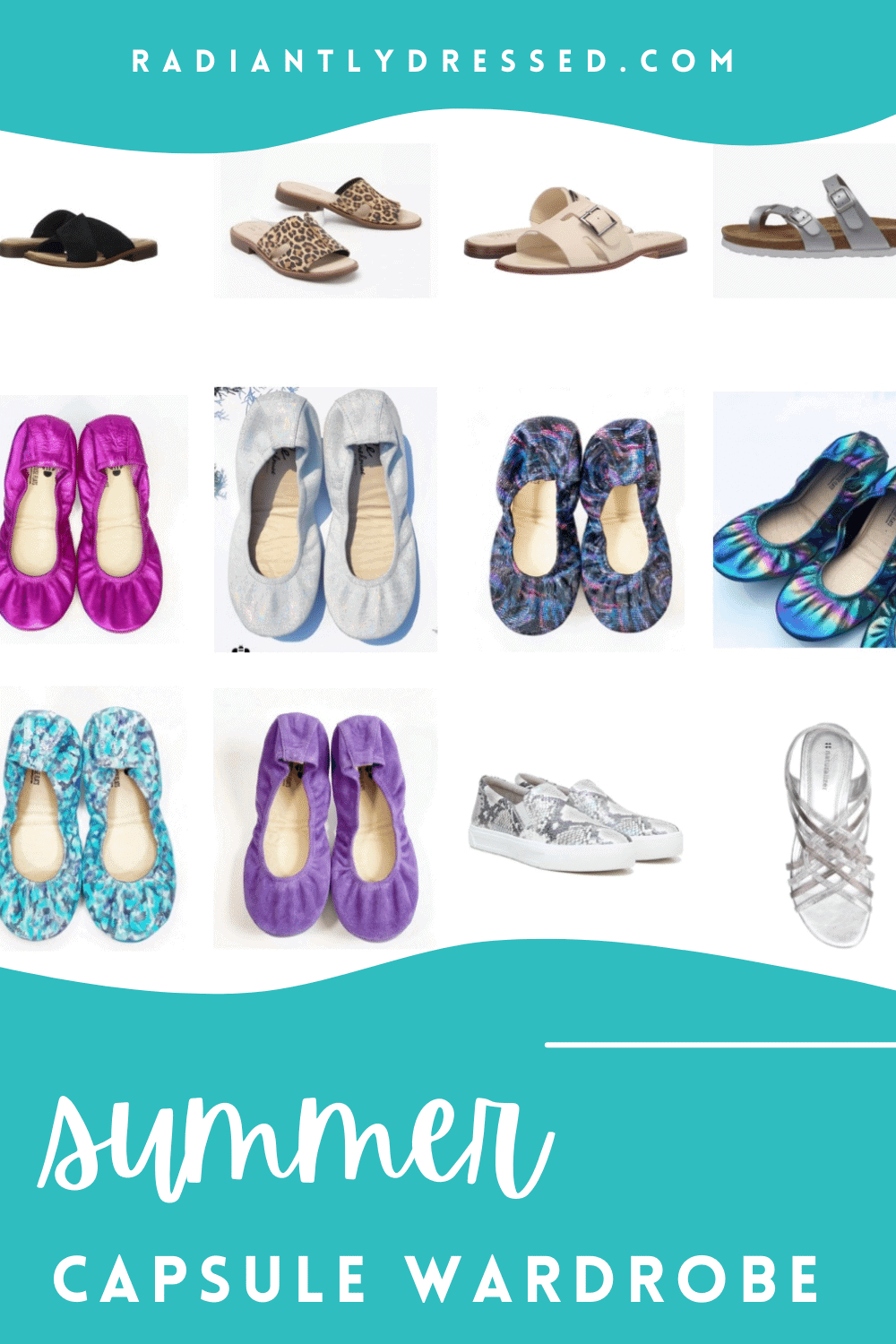 I don't limit shoes because it feels restricting and not authentic. You should never curate a capsule wardrobe (or any wardrobe) that doesn't suit you!
I love sandals, and I'm strongly focusing on classic styles that will last many years. Slides in black, leopard, and ivory are perfection.
My Birkenstock knock-offs have become a favorite, and I tend to reach for those first for comfort and ease. I bought fakes because I wasn't sure they were for me, but when they wear out I will definitely invest in the real deal.
I've been obsessed with French girl fashion lately as well, and bought a pair of mom-friendly wedge espadrilles this year as a nod to the style. 
I have a collection of rainbow flats for fun, and for those days when my toenail polish is peeling and I need to cover them up.
My summer shoe collection finishes with some fashion sneakers for those days when I need to chase a toddler quickly. Plus a pair of dressy wedge sandals.
Accessories
Your accessories are the final touch to your outfits, and can make the same outfit look completely different. I'm not limiting my accessories, but summer definitely puts a kink in accessorizing.
Like shoes, I have quite a bit of jewelry. Most of my pieces are Kendra Scott and I wear a version of the Lee earrings almost every day!
I also have flashier leather drop earrings, tassel earrings, and I enjoy small dainty necklaces to avoid being choked by a toddler! 
I picked up a couple of the silicone "nursing/teething" necklaces from another mom that makes them by hand in my best colors, and with grabby hands they are getting a lot of use!
I also recently upgraded my Apple watch strap for a bit of glamour to my daily look. 
Longing for a supportive community to work on style and fashion? Come join us in the Radiantly Dressed Facebook Group!


Final Thoughts on a Summer Capsule Wardrobe
Although I've structured my closet based on a style uniform concept, the reality is that I'm still a work in progress. 
At 3 months postpartum my personal style is all over the place. Comfort, blistering hot weather, breastfeeding access, and non-existent weight loss have me in a funk.
Colors and patterns make me feel bright and cheery, while natural fibers keep me cool and comfy.
I used to see posts about capsule wardrobes and they always felt so basic blah and boring. I want you to know that your capsule doesn't have to be black and tan classic pieces. 
It can (and SHOULD) be authentically you!
My hope is that you'll be inspired by color and something a little different next time you create a capsule wardrobe.
Related Style Articles:

A Summer Capsule Wardrobe can be colorful and unique and made up of any style you choose.
Stacey is the owner and creator behind Radiantly Dressed. She is a certified image consultant and AICI member focusing on creating simplicity in wardrobes via color and style.