Create a colorful winter capsule wardrobe to make over 100 outfits.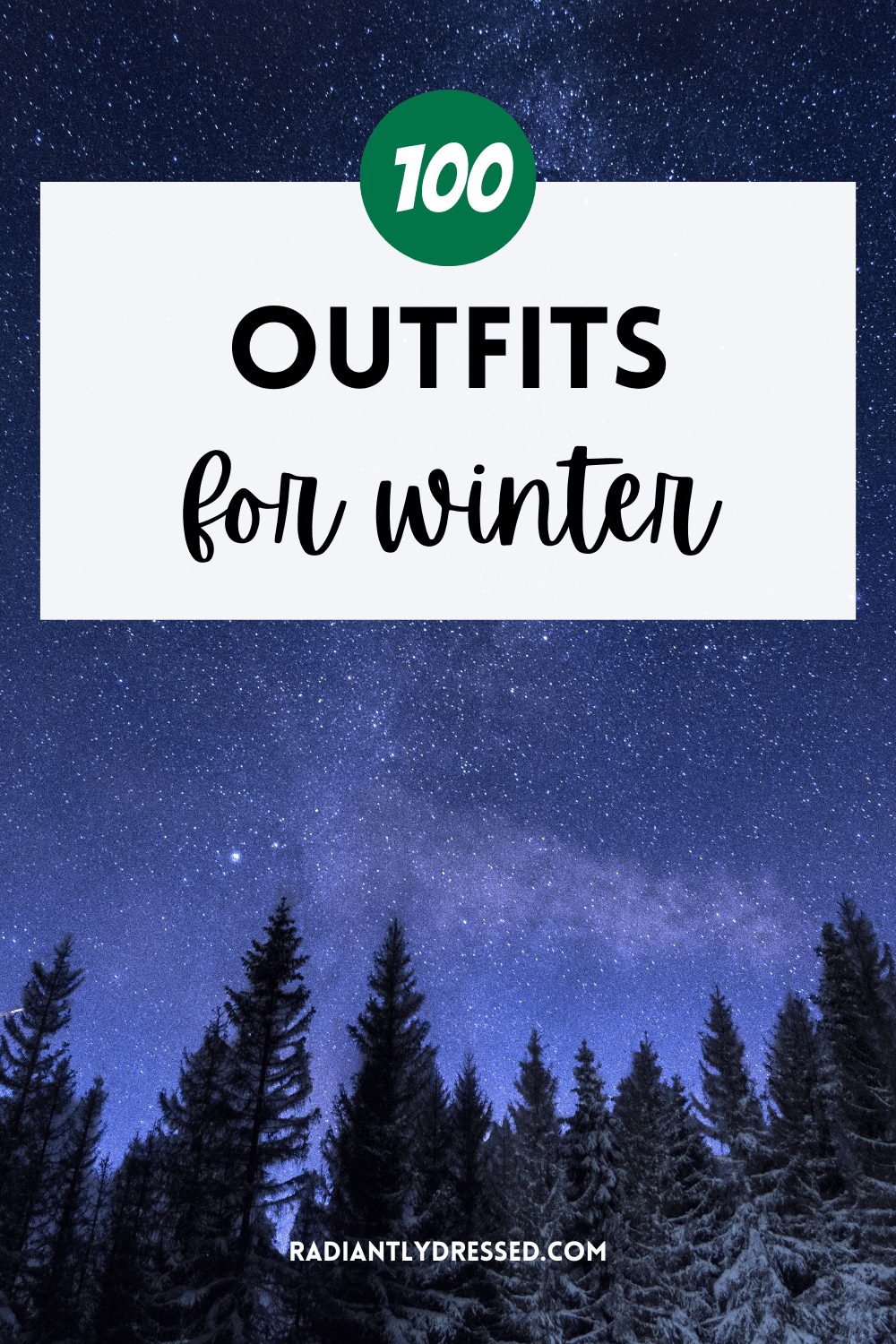 This post contains affiliate links. By clicking on them I may receive a small commission at no extra cost to you! Thank you for your support!
Winter is here, and down here in Texas we are actually looking at a cold, frozen Christmas! 
Creating a winter capsule wardrobe is really fun because you have so many layering options, but this doesn't mean you need to have a huge wardrobe.
You can get by for the whole season with just 24 pieces of clothing! 
Keep reading for a full list of all the pieces you need, and how to get the most with over 100 outfit ideas.
Longing for a supportive community to work on style and fashion? Come join us in the Radiantly Dressed Facebook Group!


How to Create Winter Outfits
Are you tired of walking into your closet faced with lots of clothes and no idea how they work together?
Does it take you 20 minutes to put together a complete outfit, only to feel insecure and unsure whether it works?
Unsure what should go into a winter capsule wardrobe without buying all neutrals?
With this in mind, I've created a winter capsule wardrobe guide to simplify the process for you.
Take the guesswork out of getting dressed, and be ready with 100 outfits to cover the entire winter season.
What's Included in the 2023 Winter Capsule Wardrobe Guide:
Full Wardrobe Plan for the Winter Season featuring trending colors and style.
100 Outfit ideas to keep you fresh and original all season.
A calendar of outfits spanning January 1 through March 31.
Shopping links to all the pieces in the winter capsule wardrobe.
Tips and tricks for creating a color palette and adapting the items to suit what you already own.
How to make substitutions based on your personal style.
And more… 
What is a Capsule Wardrobe?
I first came across the concept of a capsule wardrobe in 2015 when I was pregnant with my second child. I'm ever drawn towards minimalism, regardless of my high failure rate in that area. 
The capsule wardrobe that I found was the Project 333 Version.
The basic premise is that you choose 33 pieces from your closet, pieces that you love and wear, that make you feel and look good, and you commit to wearing only those clothes for the next season. Then you put everything else away, and you mix and match your 33 pieces.
The original 33/3 method asks you to include clothes, shoes, accessories, and jewelry. I have found that 24 clothing items is a great number for a seasonal capsule, mixed with quality accessories to last longer.
I just finished re-reading Project 333 and I can't recommend it enough. If you really want to dig into your motivations for dressing more simply and with less, this is the book for you!
Choosing a Color Palette for a Capsule Wardrobe
One crucial element of creating a capsule wardrobe that cannot be overlooked is cohesiveness. You're going to wear these items of clothing for around 90 days. You want them to go well together, and avoid having items that stand out and don't go with anything else.
Winter is the perfect time to choose high contrast colors like deep jewel tones mixed with icy versions of pastels.
For this fall capsule I've chosen black, navy, off-white, amazon green , and waterspout (Pantone trending colors).
Emerald green (Pantone's Amazon) is so crazy trending that every item I looked at for this capsule sold out before publishing this post.
So run, girl, and get you some green this winter!
Waterspout is a warm, light turquoise or sky-blue color. It make a lovely contrast for winter and mimics the clear sky against dark winter trees and white snowy landscapes.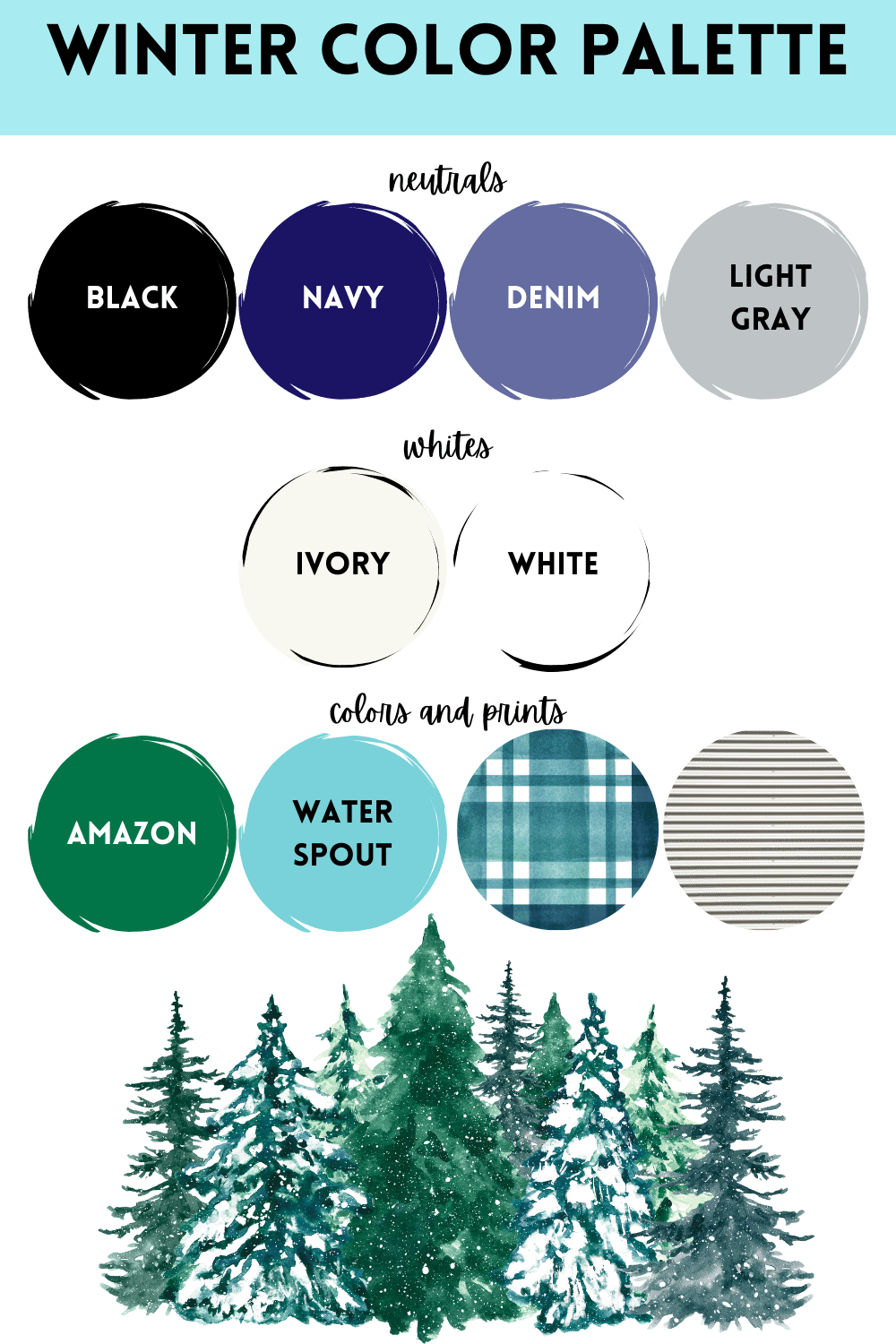 Feel free to use whatever colors you like for your fall capsule wardrobe. 
Any wardrobe should be based primarily on neutral colors, so you can use them year round and get the most bang for your buck.
But adding a few trending pops of color (this wardrobe has less than 10% color) is a great way to update your wardrobe, while avoiding style trends that come and go. 
Colors always come back around.
The Elements of a Winter Capsule Wardrobe
A capsule wardrobe is really personal to each person's individual style and aesthetic. I've built a 24 piece capsule based upon a quote by Coco Chanel that all you really need is a couple good suits.
Granted we are much less formal these days and only high-powered executives wear suits regularly.
But the basis of a suit is 3 pieces: a top, bottom, dress, and "jacket". So with those building blocks we expand to the following 28 items for a basic seasonal capsule wardrobe:
10 Tops
6 Bottoms
2 Dresses
6 Layering Pieces
4 Shoes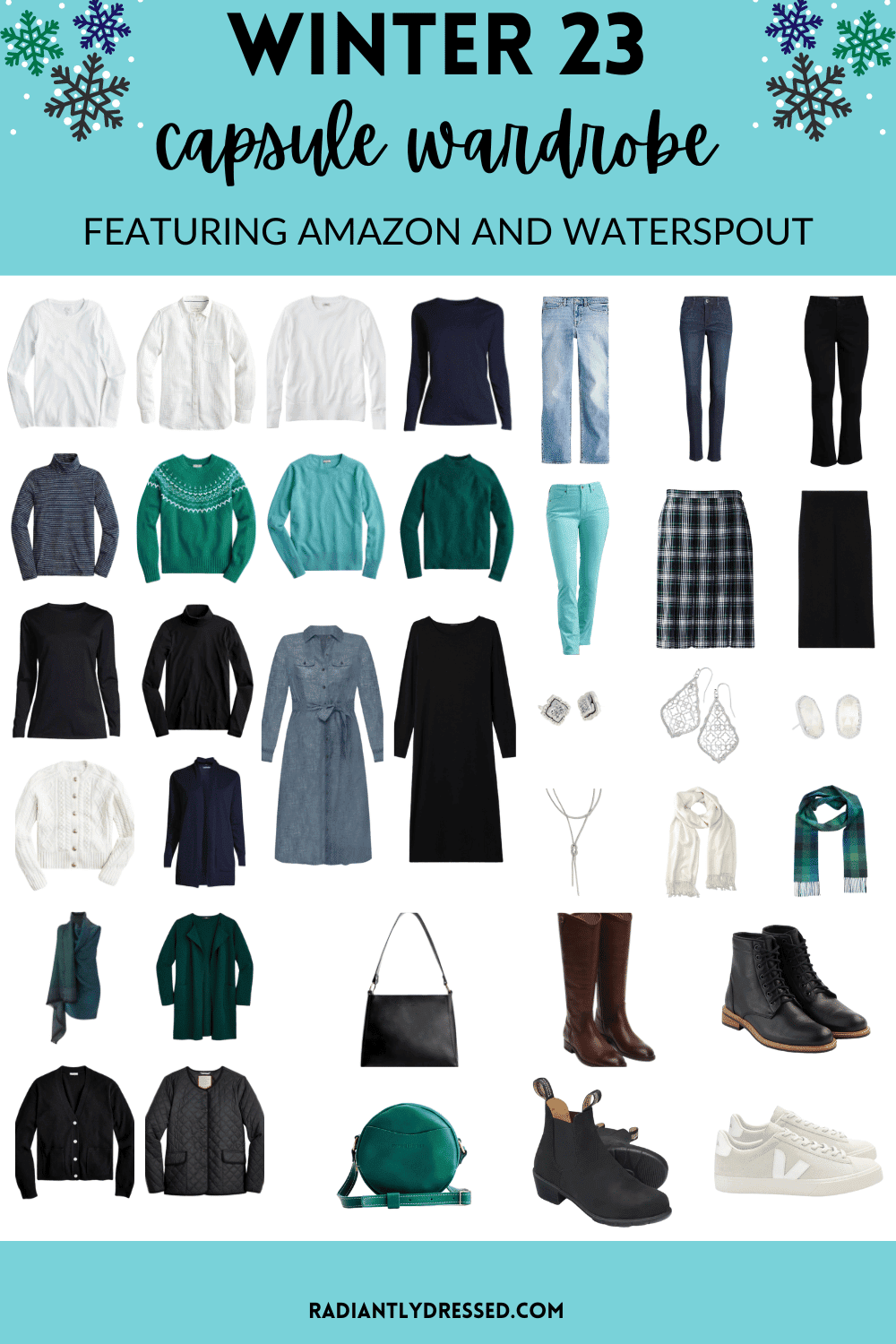 Although it isn't part of the official count, your winter capsule wardrobe should also includes the following ad-ons:
Winter Capsule Wardrobe Checklist
If you want to look at your wardrobe to fill holes, here is the full list of 42 items that make up this winter capsule wardrobe.
Long sleeve white tee
White button-up shirt
White sweater
Long sleeve neutral tee shirt
Colorful print sweater
Solid color sweater x2
Long sleeve black tee
Neutral turtleneck sweater
Light colored jeans
Dark wash jeans
Black jeans/pants
Solid color bottoms
Print skirt
Solid skirt
Neutral shirt dress
Black winter dress
White cable knit cardigan
Neutral cardigan/blazer
Solid color cardigan
Black cardigan
Black jacket
Wool vest
Lace up boots
Riding boots
Ankle boots
Neutral sneakers
Neutral purse
Colorful crossbody
Stud earrings
Statement earrings
Pearl earrings
Long lariat style necklace
Solid scarf
Plaid scarf
Fleece lined tights
Winter coat
Plaid hat
Knit hat
Leg warmers
Gloves
Creating Outfits for a Winter Capsule Wardrobe
With 24 pieces of clothing you can easily create over 400 outfits without even adding shoes or accessories. 
Adding shoes expands that number times four. A 24 piece wardrobe is plenty for a full year, and especially for a single season.
Here are just a few outfits you can create with this winter capsule wardrobe.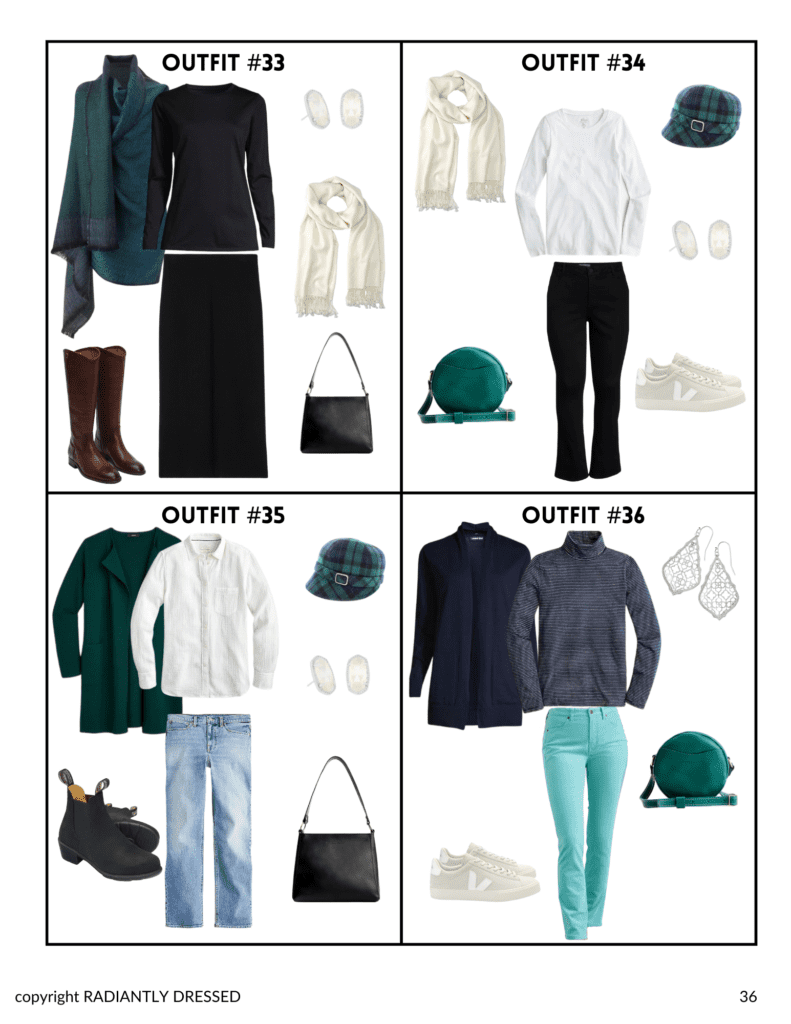 Final Thoughts on a Winter Capsule Wardrobe
Winter dressing can be both fun for layers, and difficult for keeping warm. Minimizing your wardrobe during this busy season can be a challenge.
Building your winter capsule wardrobe doesn't have to feel overwhelming. You can build a strong, varied wardrobe with only 24 pieces of clothing, plus well-chosen accessories.
By choosing strong items in neutral colors, your wardrobe will outlast trends and seasonal whim to serve you for many years.
If you're struggling with outfits, use the Winter Capsule Lookbook to be inspired and get ideas to keep you looking gorgeous all season long.
Starting from scratch? Try these 12 wardrobe essentials for fall and winter to get your closet ready. Together these 12 items make 45 outfits before adding any accessories!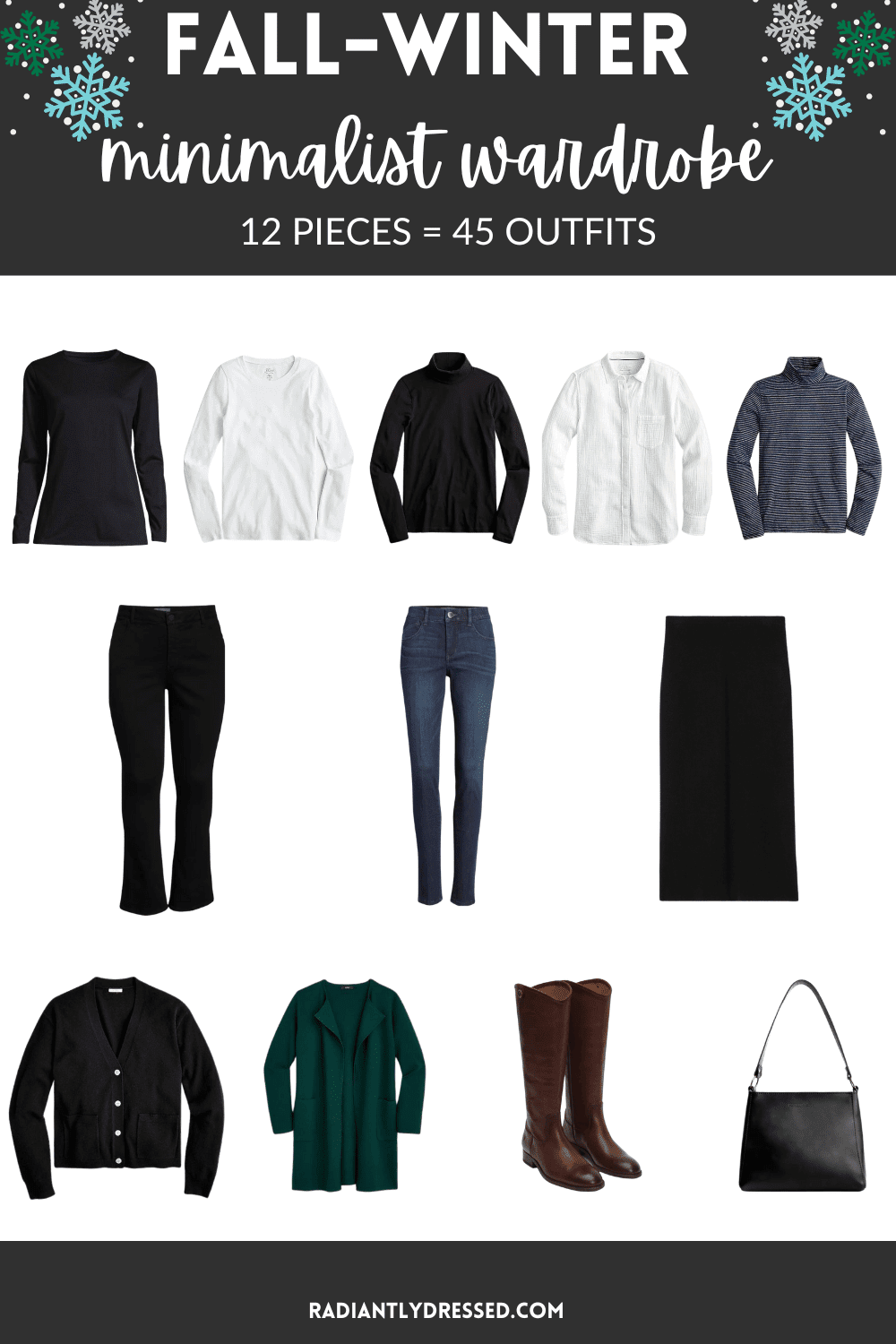 Rela
ted
Style Articles: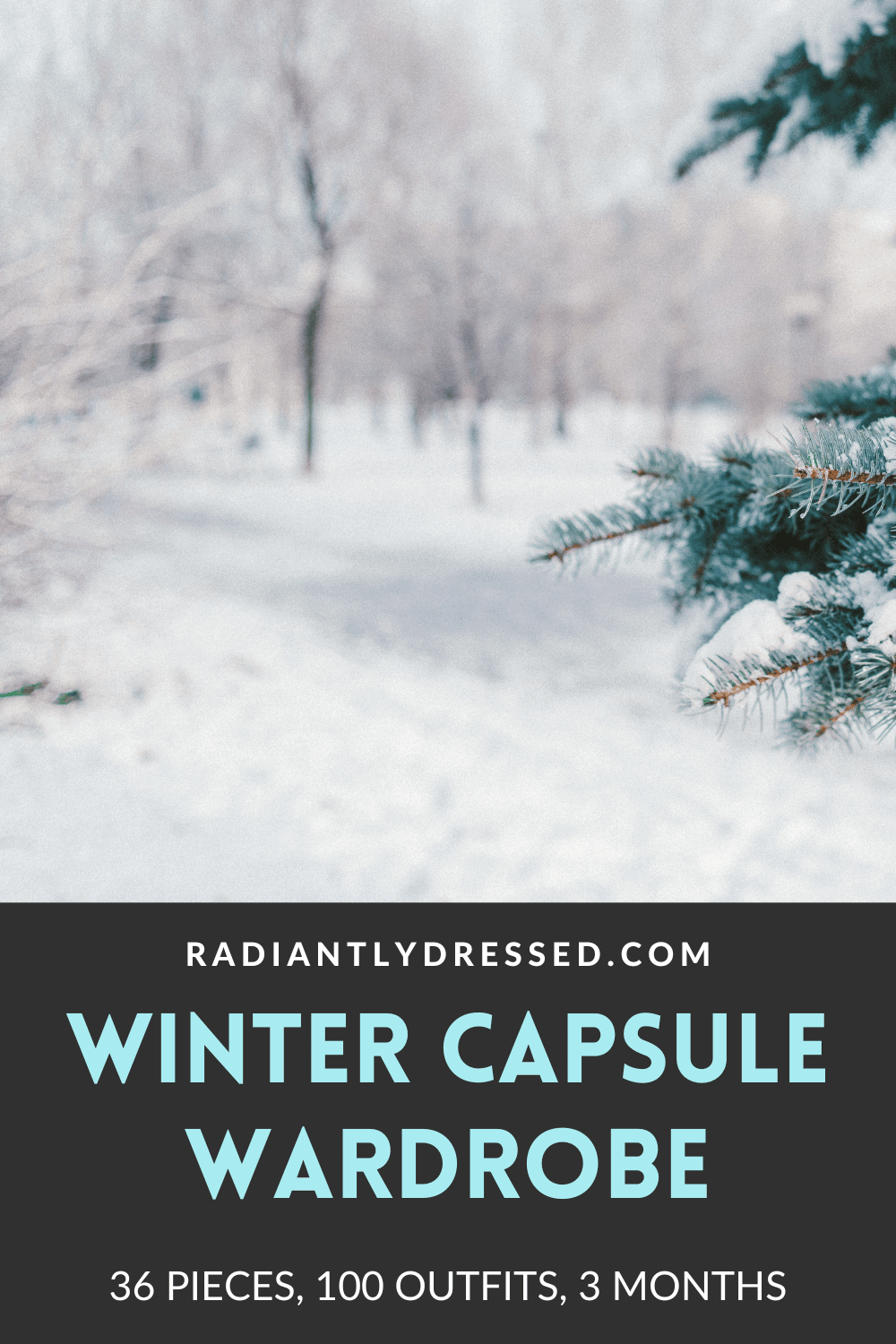 Build a minimalist winter capsule wardrobe to have over 100 outfits for the whole season.
Stacey is the owner and creator behind Radiantly Dressed. She is a certified image consultant and AICI member focusing on creating simplicity in wardrobes via color and style.