All About Warm Autumn: Explore the 12 Seasons
Warm Autumn is warm and leans dark and shares characteristics with autumn and spring in the 12 season system of color analysis.
Are bright red maples and golden sunsets your favorite time of year? Do you love the orange of pumpkin spice, the red of a freshly picked apple, and the golden hay of a farm ride?
If you feel drawn to these colors and feel they accentuate your beauty, you might be a warm autumn!
The is a comprehensive guide to warm autumn in the 12 season system of color analysis. Keep reading to learn the physical characteristics, the best makeup, a beautiful color palette to wear, how to put together some outfits for each season, and how to create your own custom palette.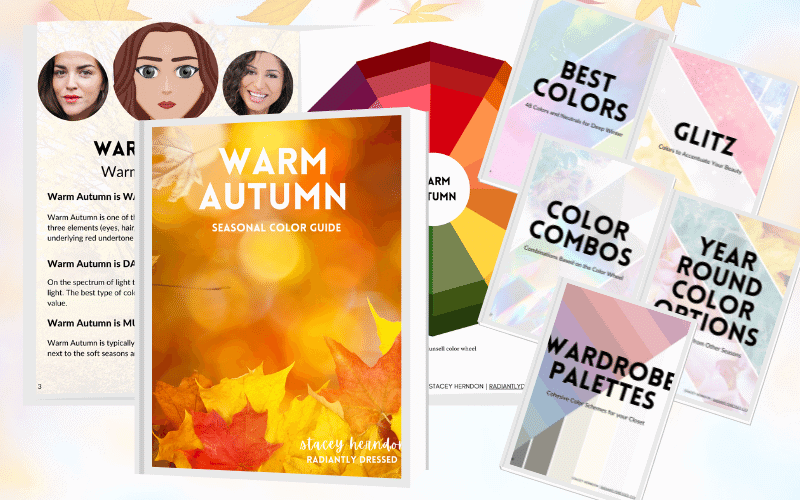 PURCHASE THE WARM AUTUMN COLOR GUIDE

The 12 Seasons
In seasonal color analysis we look at the skin, eyes, and hair to find a common color family. The 6 main color components are warm, cool, deep, light, soft, and bright.
The autumn color family is warm and includes soft autumn, true/warm autumn, and deep autumn.
Today we'll be exploring the warm beauty of true autumn.


Warm, Leaning Dark
Warm Autumn is classified in the following ways: warm hue, leaning dark value, leaning muted chroma.
Warm hue
Leaning dark value
Leaning muted chroma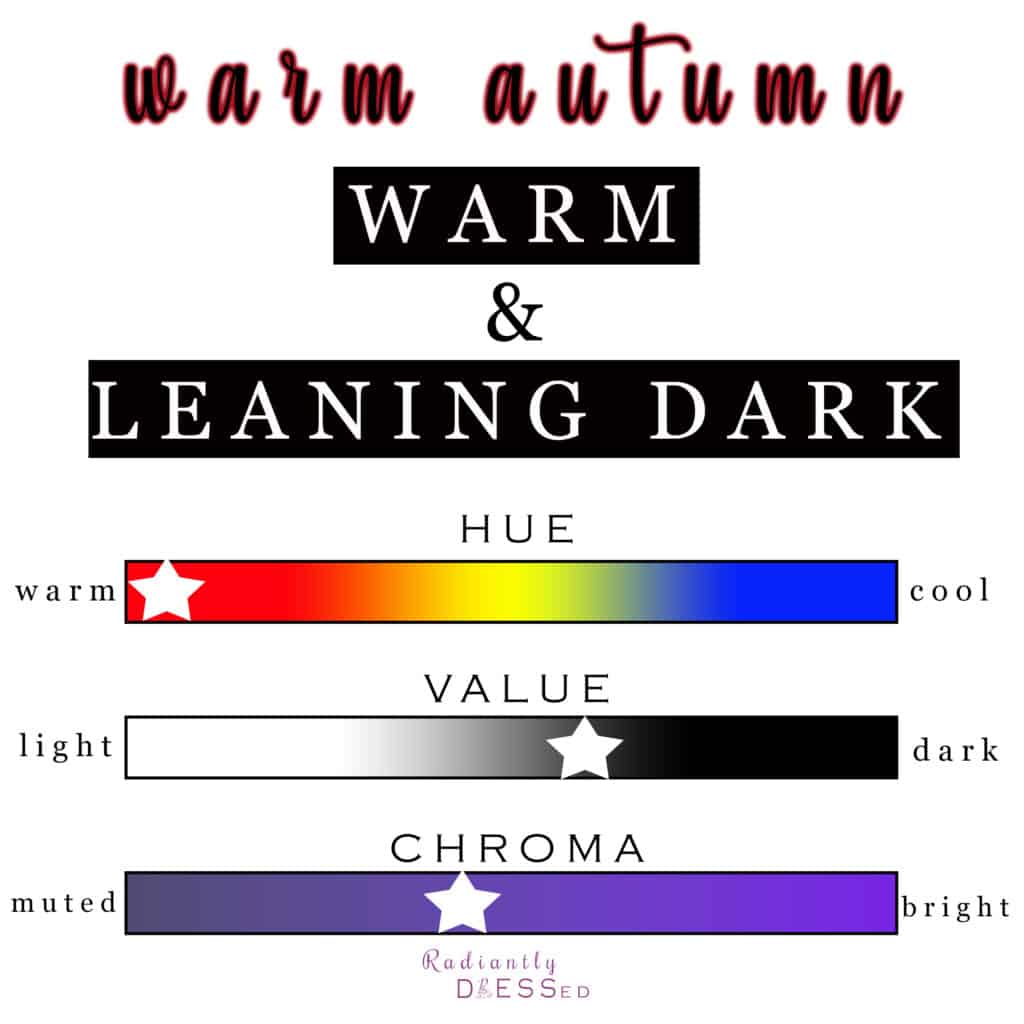 Warm autumn is one of the pure seasons, and as such all the features are warm. It is distinguished from the other true warm season of spring in value and chroma, with warm autumn leaning both dark and muted.
The warmth of deep autumn has a glowing bright quality. Bronze and copper are elements of this autumn subtype.
The eyes will be brown or green, and often have a bright burst around the pupil. Hair of warm autumn will be dark red, auburn, or brown with gold or red highlights.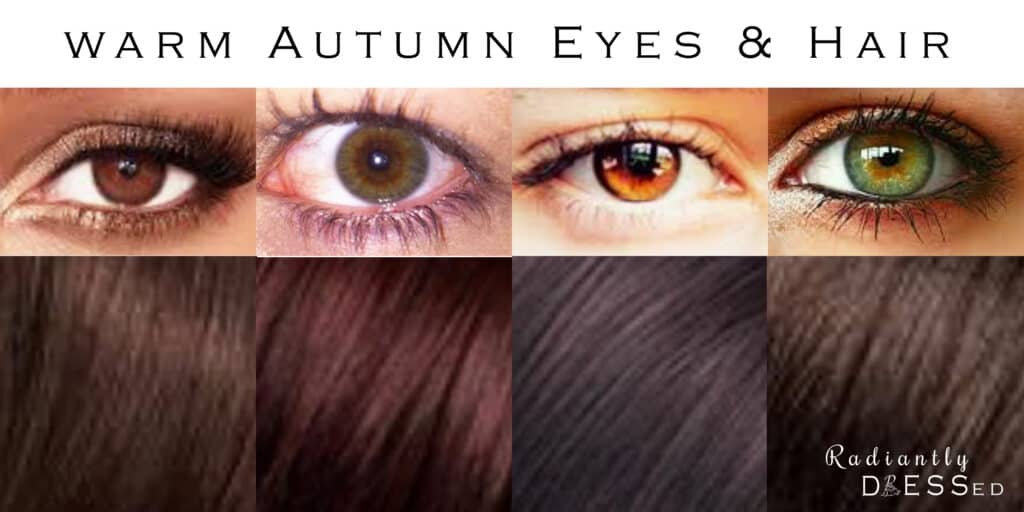 Situated between deep and soft autumn, true/warm autumn is dominated by overall warmth. Warm tones upon warm tones, different than true spring in darkness and softness.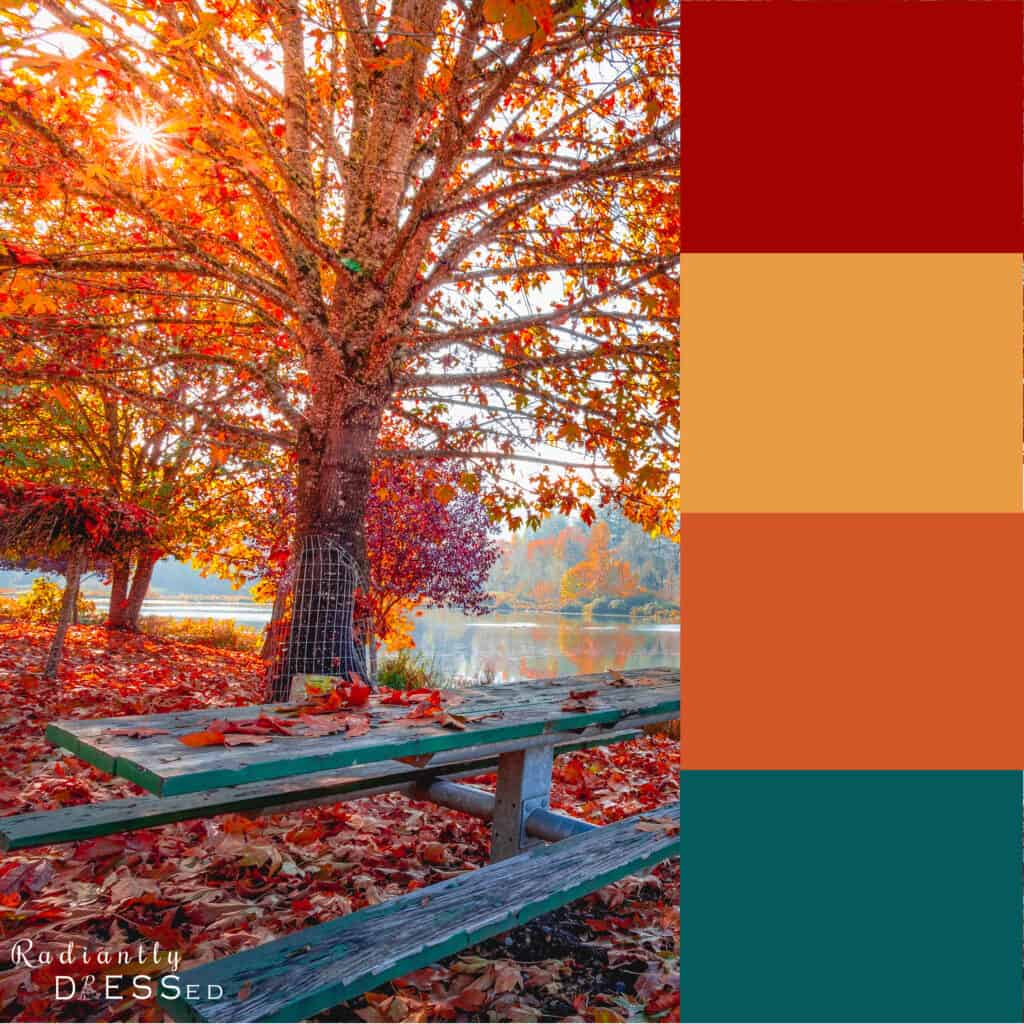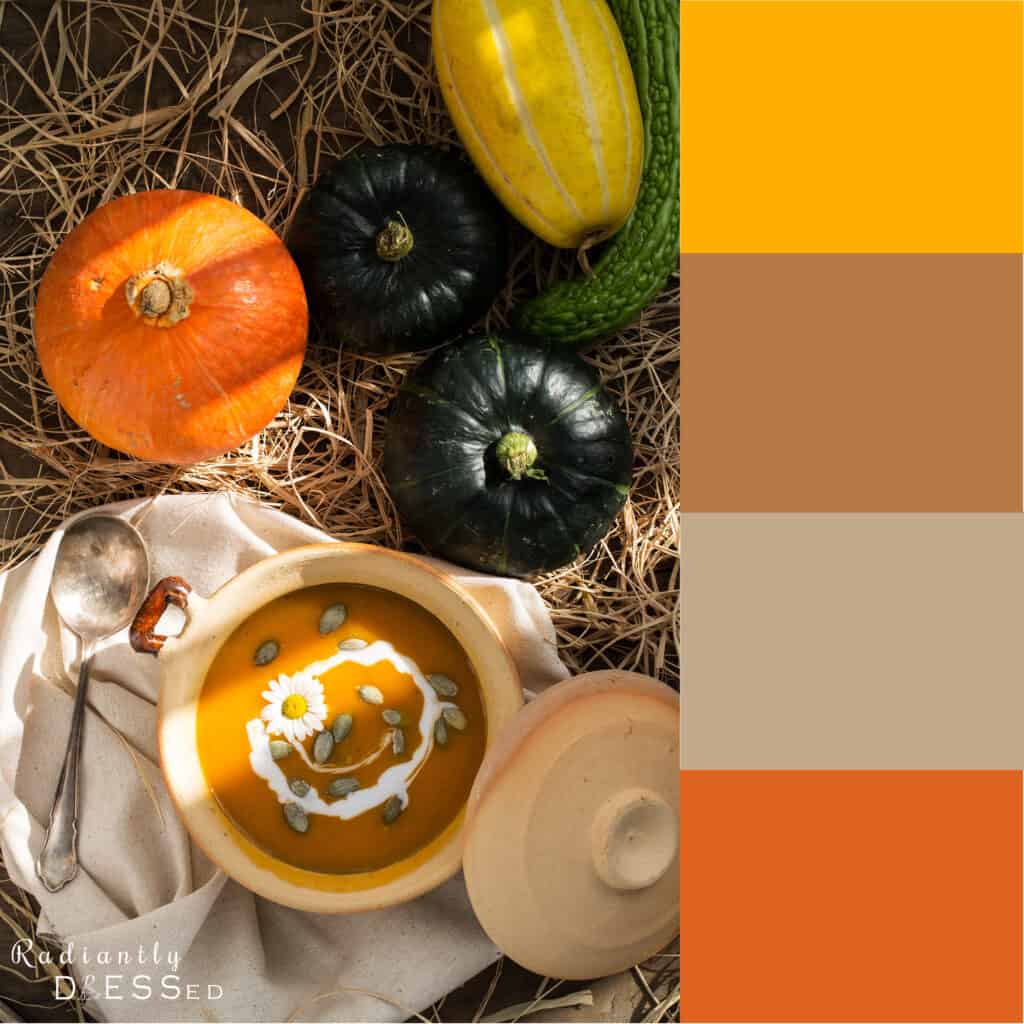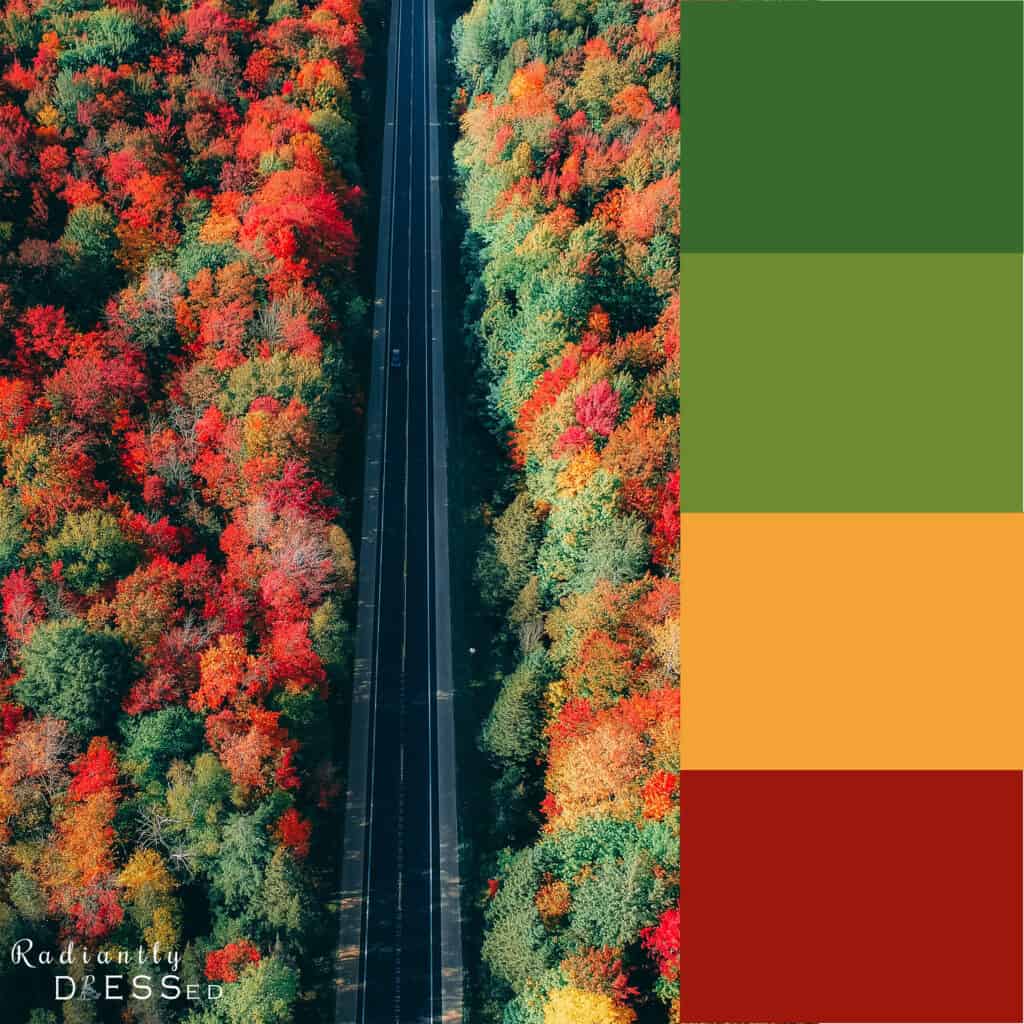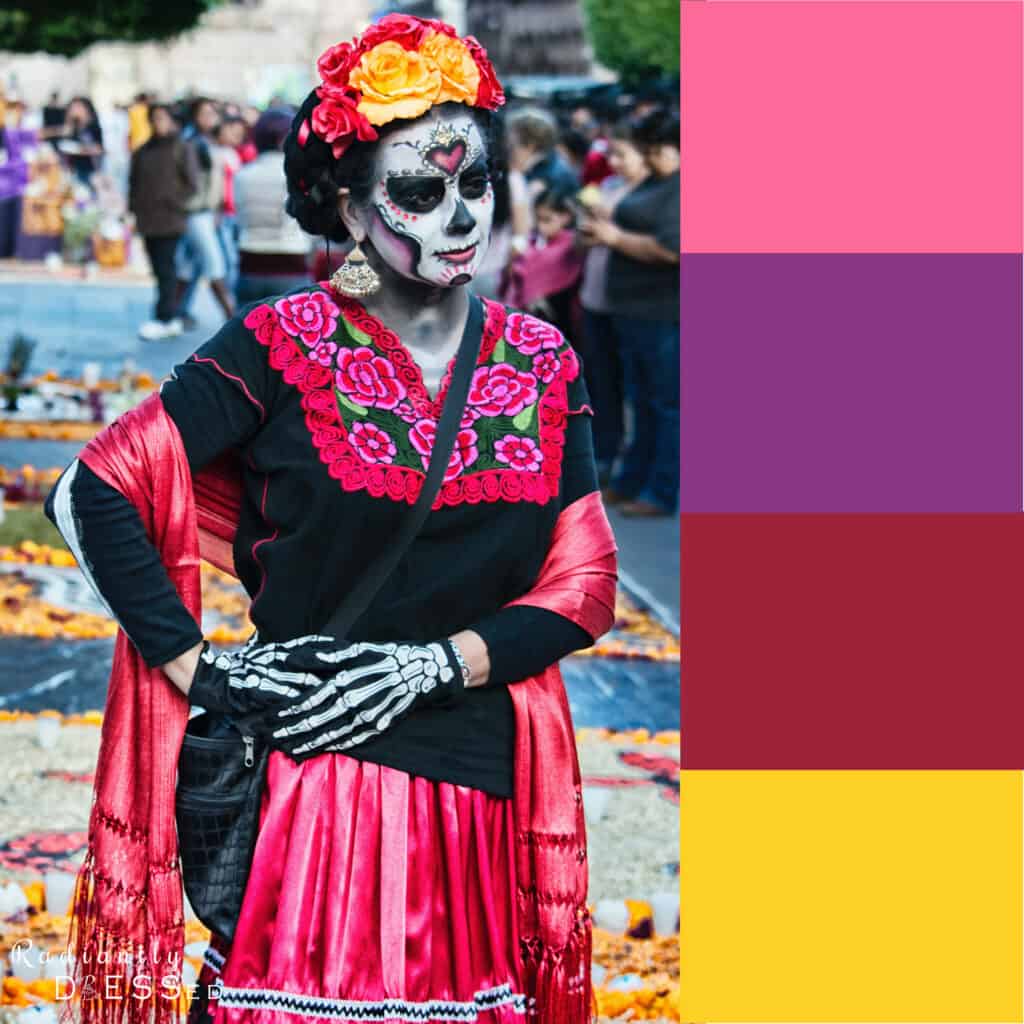 Makeup
To emphasize the features of warm autumn, makeup colors should be both warm and brightly rich as well.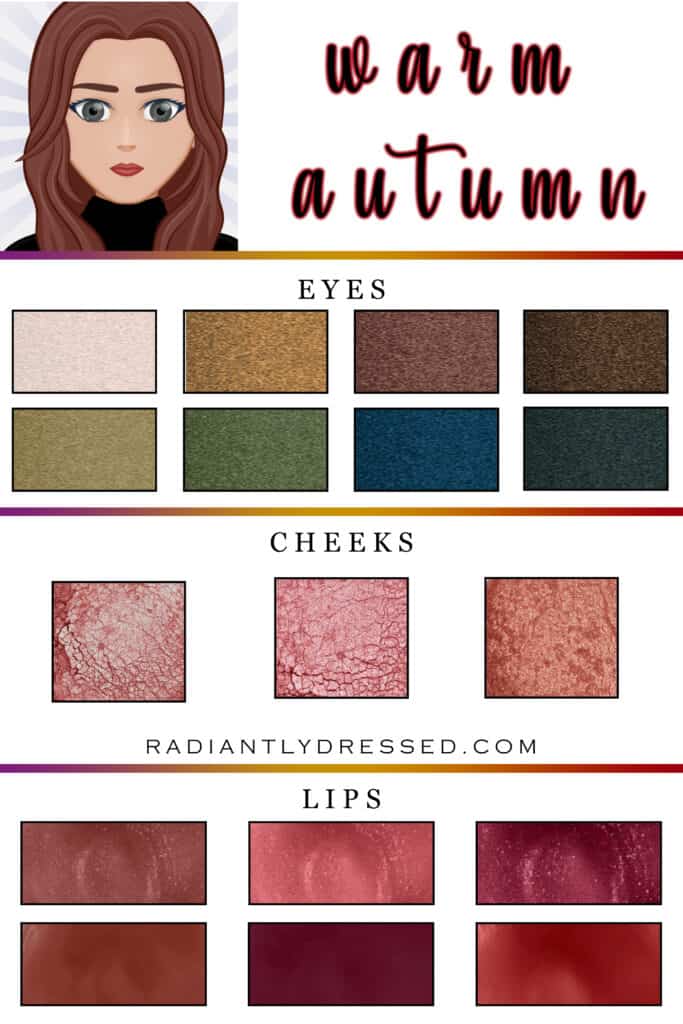 For the eyes, choose bright gold and brown neutrals. For accent colors, think olive green, forest green, deep teal, and cream.
For the cheeks, rich warm shades of coral, peach, and copper are wonderful against the rich skin of warm autumn.
On the lips, never wear nude! The neutral lip for a warm autumn woman will in actuality be more of a toffee color. Wearing a light color such as nude will clash with the warmth of the other features.
Warm autumn can also wear the darker shades of wine, raisin, and espresso. All these will offer a very bold option for lip color.
Avoid cool tones like pink or berry red lipstick, cool blue and green eyeshadows, and soft pink cheek colors.
Inspiration
Warm autumn is characterized by a warm and subdued richness in color. Deep toffee, brick red, fire engine orange, olive, cerulean, and plum are all colors that shine on a warm autumn woman.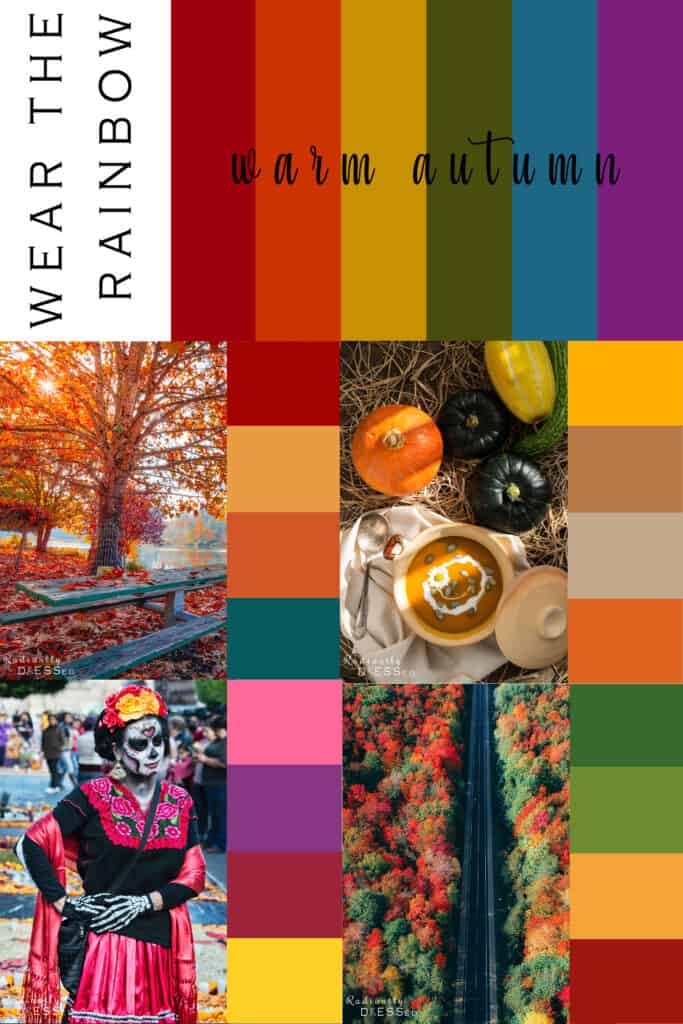 Here we see some different elements where warm autumn is naturally found. The 6 color rainbow depicts the truest, most neutral form of colors, but the warm autumn rainbow is much warmer and a bit shaded.
The brilliant gold and red of a fall scene gives the warmest options.
Pumpkin everything is the theme of fall, and provides burnt orange, tan, and marigold. Dia de las meurtos is symbolic in its rich colors of red, yellow, and pink, which can be worn as a coral.
Finally, a winding stretch of scenic highway during the changing seasons gives us natures beauty of green, red, and orange.
The Palette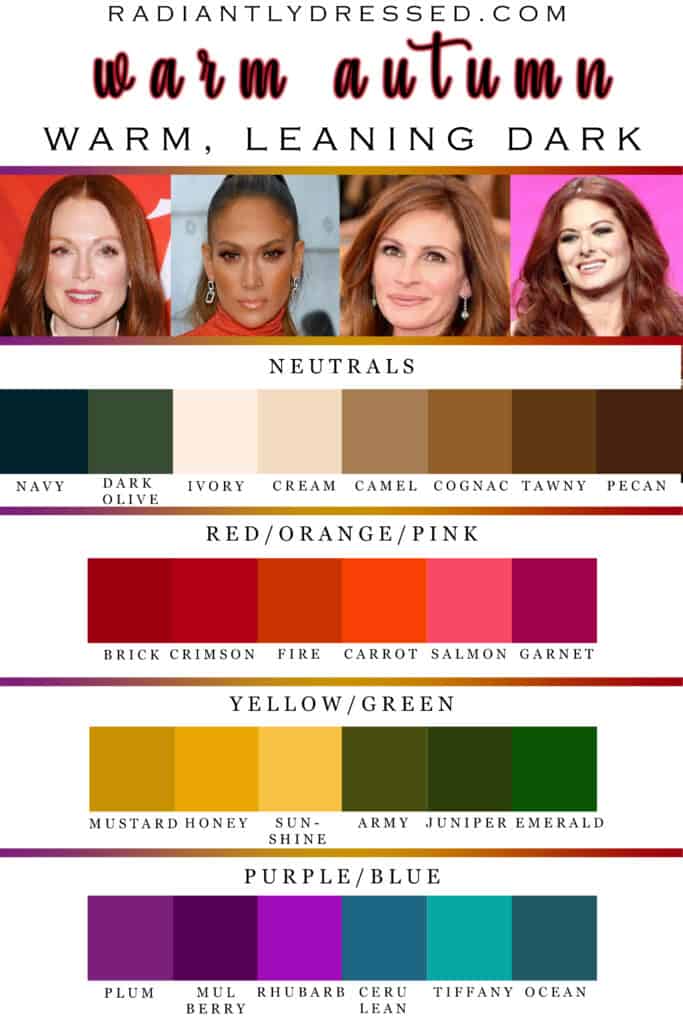 In creating a palette for warm autumn we start with neutrals, and work through the major color families.
Black and white are out for autumn with pecan and ivory taking their place. Midnight navy and dark olive work well as neutrals, as do medium tans.
Warm autumn can wear the most brilliant and rich shades of red and orange. In the pink family, coral will work, as will garnet.
Yellows and greens are also prominent in the warm autumn palette, ranging from mustard through sunshine, warm army and deep juniper.
Warm blues and purples accentuate the bolder colors as well.
There is usually a version of every color that can be worn by any season, but some may be more difficult to match and find. Warm pinks often become deep coral, some reds may be too cool, any blue without green is also too cool. Purples are best that lean towards red instead of blue.
There are some colors that warm autumn should always avoid. Black and white have been mentioned as they are too stark and high contrast for warm autumn. Pastels should always be avoided as they lack the shaded aspect of warm autumn's features. Colors should be neither overly saturated or muted with gray to match the neutrality of warm autumn's chroma.
Outfit Ideas
Here we see some outfits for warm autumn. I've included two outfits for each season, one with a dress and another with skirt separates.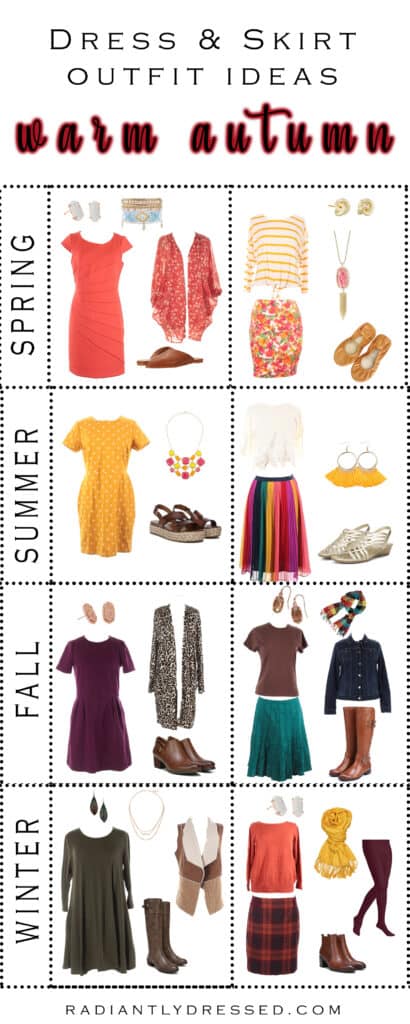 When putting together outfits, use bright colors in the palette with neutrals. All the neutrals can be used together to create an outfit.
Patterns can be bold and colorful. Mustard, bright coral, and dark teal are great statement colors.
Medium to dark wash denim is preferred over light wash. Leather should be in the brown family, like mocha or cognac. Yellow and rose gold are great metals for warm autumn.
Frequently Asked Questions
Can I still wear black?
Of COURSE you can still wear black. I personally believe that black is a staple in any wardrobe. Any season can wear black, but some may find it is overwhelming. As a warm autumn black is best kept to pieces worn on the lower half of the body. Black isn't your BEST color, however, as you'll find mocha, cognac and olive are more flattering. However, if you are building a capsule wardrobe around dresses, I highly recommend using black as a base simply because you'll be able to find items easier.
I hate these colors, could my season be wrong?
Yes absolutely, it could be true. But I want to challenge you, what is it that you hate? Is it the neutrals that you don't like? Perhaps you don't like brown? Refer back to my statements above about wearing black. Is it one of the color families, yellow or orange perhaps? Don't wear them! Just because a palette includes all these colors doesn't mean you should wear them all. I dare you to look at your closet and see if you naturally gravitate to any of these colors. If the answer is no, and you still feel this is completely wrong, let me know! I can help!
Should I wear all of these colors?
Well, that depends on you and what you consider minimalism! If you like a lot of variety, then go for it! However, when building a small capsule, you'll find that limiting your color options is the best idea. I recommend the following:
Black base
Dark neutral
Light neutral
Main color
2-3 Accent colors
Get Your Free Color Palette
Ready to create your own color palette and simplify your wardrobe?

Click Here
Can I only wear these colors?
No way! You should wear what you love! If you want to wear lavender, then go for it! You may find, however, that learning your season affects how other colors make you feel. If you feel confident rocking a color, then it's yours to own. But if you don't, feel free to leave it to the seasons that wear it well. If you're looking to expand your palette, you can also consider sister seasons.
The following are sister seasons for warm autumn: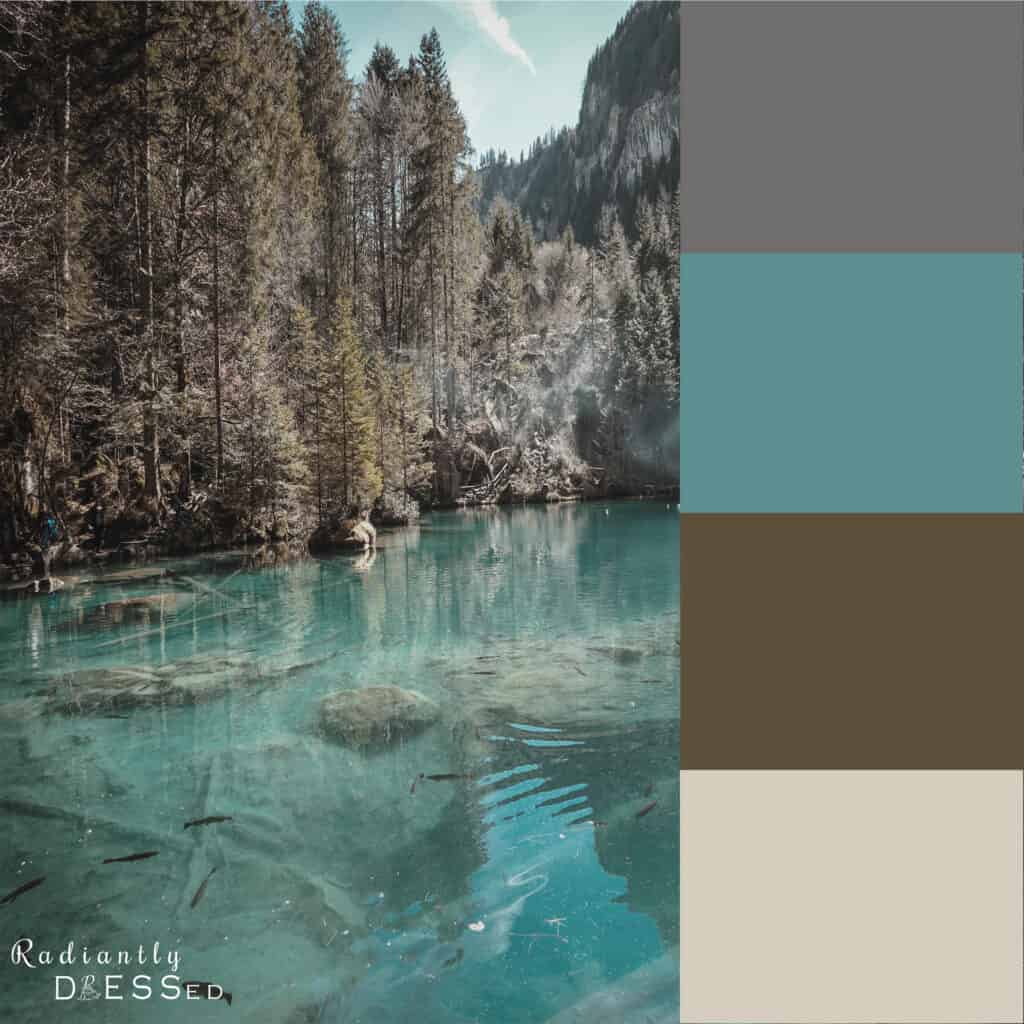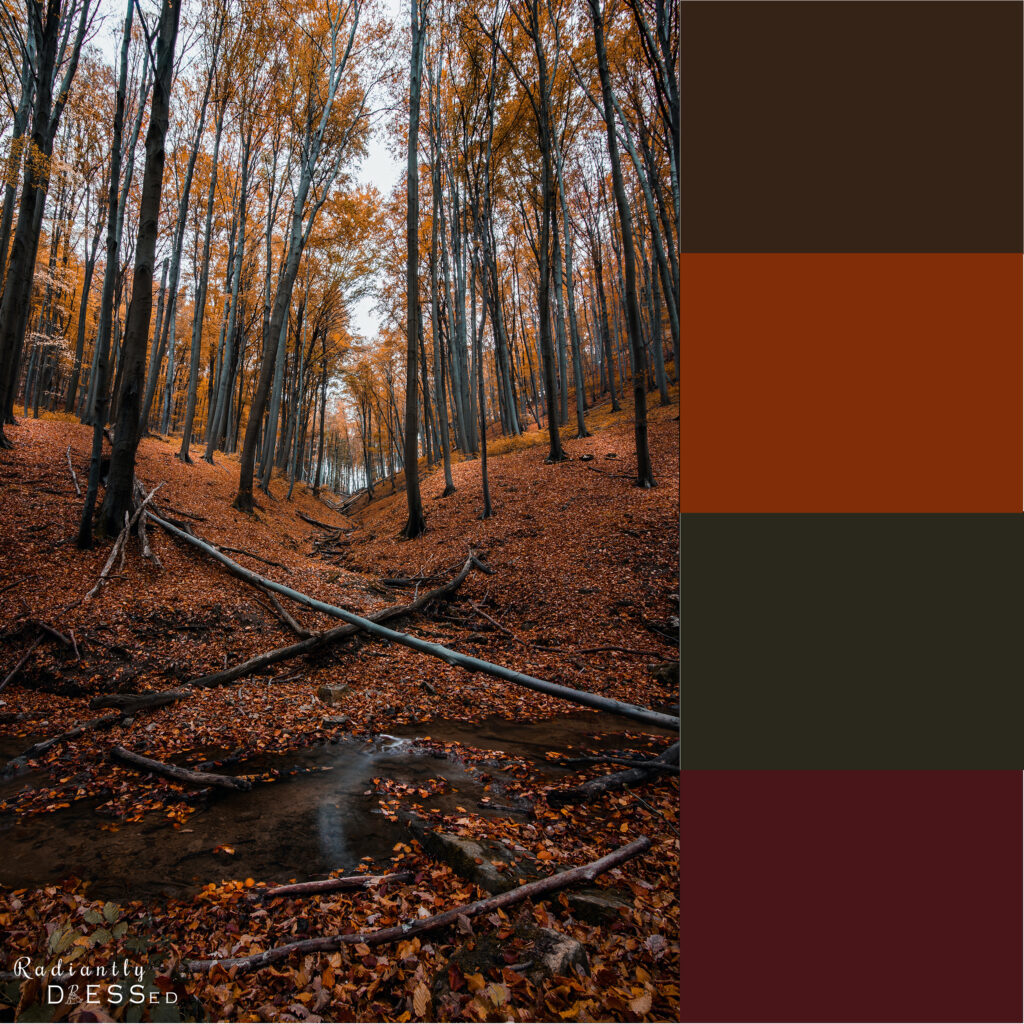 I hope you've enjoyed reading about the lovely attributes of warm autumn. These individuals have so much warmth and brightness in their features, like a bronze goddess.
Are you a Warm Autumn? If so, say hello in the comments!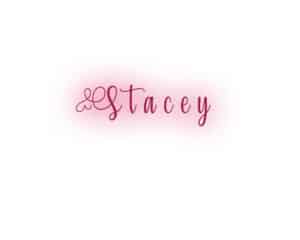 Stacey is the owner and creator behind Radiantly Dressed. She is a certified image consultant and AICI member focusing on creating simplicity in wardrobes via color and style.